This Easy & Healthy Spaghetti Squash Mac and Cheese Recipe is low-carb and keto! It's a delicious gluten-free dinner, side dish or meal prep idea!
This post is sponsored by Cabot Cheese. As always, all opinions, recipes, photos, etc. are completely my own!
I was craving something comforting and cheesy without the high calorie and carb count of pasta (it is January, after all)! 😉 So I decided to create this Spaghetti Squash Mac and Cheese as a satisfying, but healthier, alternative everyone's favorite classic pasta dish!
This Easy & Healthy Spaghetti Squash Mac and Cheese Recipe is low-carb and is a delicious gluten-free dinner, side dish or meal prep idea! It's perfect to reheat for lunch with a nice salad or side of veggies!
This Spaghetti Squash Mac and Cheese recipe is also keto-friendly! However, I need to make it clear that I am not a proponent of diets! I am a firm believer in the motto, "everything in moderation."
What's a life without cinnamon rolls, right?! I just wanted to mention that this Spaghetti Squash Mac and Cheese is a keto-friendly dish, for those of you who may be trying to eat that way to kick start your healthy New Year's goals!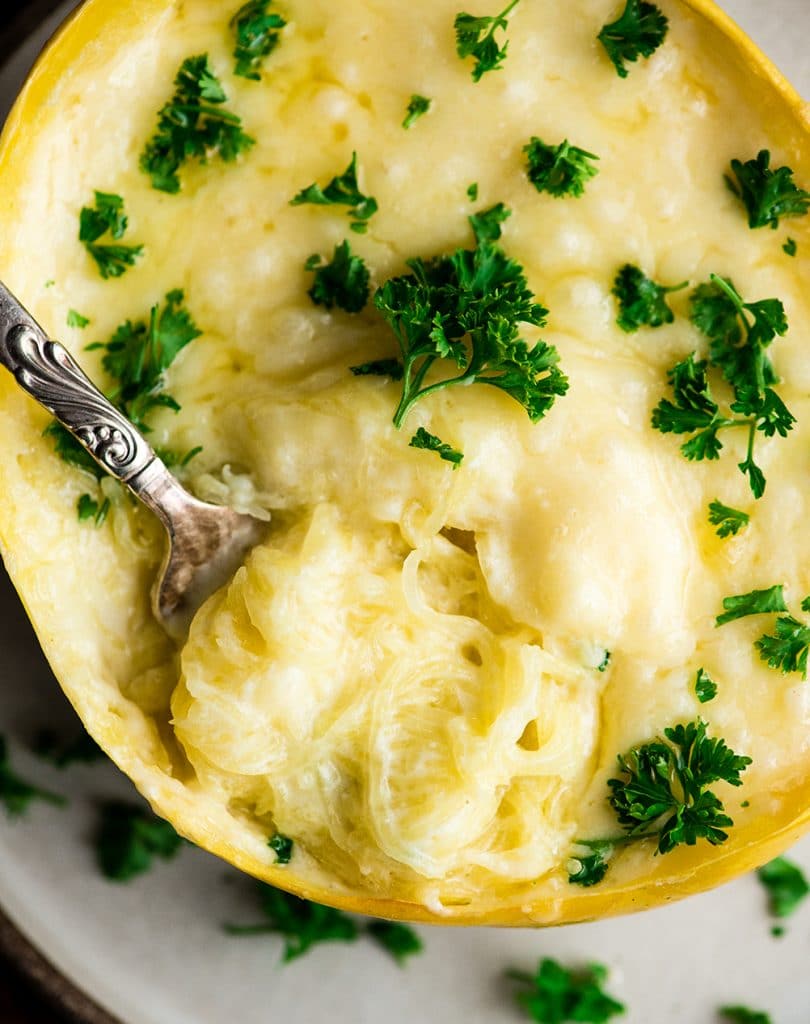 How do you make Spaghetti Squash Mac and Cheese?
I made sure to thoroughly document exactly how to make this baked Spaghetti Squash Mac and Cheese recipe for you! It may seem like a lot of steps, but it's really easy! Here is an overview of the process:
Roast & shred the spaghetti squash
Make the cheese sauce & add it to the shredded squash!
Top with more cheese, bake and enjoy!
However, now I will break it down step-by-step to ensure your success when making this baked spaghetti squash recipe!
Step 1: Shred the Cheese
The first thing to do in this recipe is prepare all the ingredients. I like to start by shredding the cheese, since it's simple and can easily be set aside to use later in the recipe.
Quality ingredients matter!
The quality of the cheese you use in this recipe matters! If your cheese is strong, flavorful and creamy, your Spaghetti Squash Mac and Cheese will be too!
I chose to use Cabot cheddar cheese for about a million reasons! I used a mixture of their cheddars (including Vermont Sharp, and Seriously Sharp), but you can use your favorite variety! The taste, texture and quality of Cabot cheese is absolute perfection! All Cabot cheddars are naturally aged, naturally gluten-free and best of all....naturally Lactose-free!
So, if you're like me and lactose isn't your friend, then choosing Cabot cheese is a wonderful way to enjoy cheesy dishes like this Spaghetti Squash Mac and Cheese without upsetting your stomach!
Not only is Cabot cheese amazing, but I love supporting US owned & operated businesses that support small farms and families, which is exactly what Cabot is all about!
In 2019 Cabot is celebrating their 100th year as a co-operative owned by 1,000 farm families throughout New England & New York and 100% of profits go back to the farmers. SO great!
Step 2: Cut the spaghetti squash in half
Next, cut the squash in half lengthwise. Be very careful to try to cut it into two equal halves (for the sake of even baking times). Since the Spaghetti Squash Mac and Cheese will be baked inside of the shells, it's important to try to keep them intact and in a good shape!
Step 3: Remove the seeds & guts of the Spaghetti Squash
This process is very simple! Just use a firm metal spoon or even an ice cream scooper and scrape the insides out of the squash as you would before carving a pumpkin on Halloween.
Throw the insides/seeds away in the garbage. I don't recommend putting them down the garbage disposal, as the seeds are pretty tough!

Step 4: How do you roast a spaghetti squash?
For perfectly roasted spaghetti squash every time, I recommend using the method I will outline here!
1. Spray the inside with oil & Spices.
I use a spray avocado oil for this step. However, you can also simply rub olive oil on the inside and then sprinkle the the squash with garlic salt (or any other spices you choose). Please don't skip this step. It adds so much flavor to the squash as it roasts!
2. Place the spaghetti squash cut-side down in a rimmed baking pan and fill the pan with boiling water.
After coating the inside with oil & spices, flip the spaghetti squash halves over so they are face-down in a large baking sheet.
Pour boiling water into the pan to fill it so that about ¼ to ½" of the bottom of the spaghetti squash is submerged in water. Baking the Spaghetti Squash in water helps make it moist and easy to shred.
3. Cover with foil and bake
Next, cover the baking sheet with foil (to retain the water as long as possible) and place in the preheated oven. Roast for 45-60 minutes (depending on the size of your squash).
How can you tell when spaghetti squash is cooked?
You will know the spaghetti squash is cooked when you can easily press the top down with your hand and it stays depressed.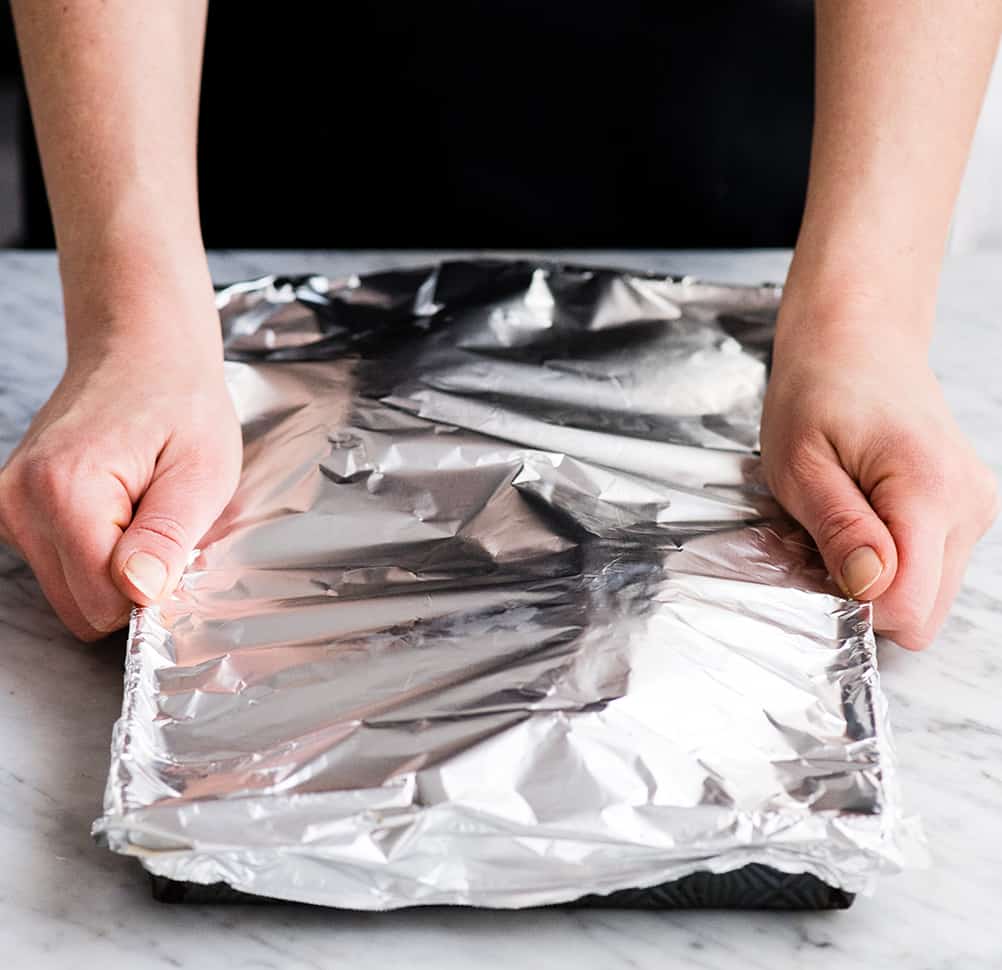 Step 5. Shred the Spaghetti Squash
Next, very carefully take a fork and run it lengthwise across the spaghetti squash until all the insides are shredded (as pictured below).
Since the cheese sauce will be mixed with the squash inside of the shells and baked, it's important to shred the squash very carefully and gently to avoid breaking the shells!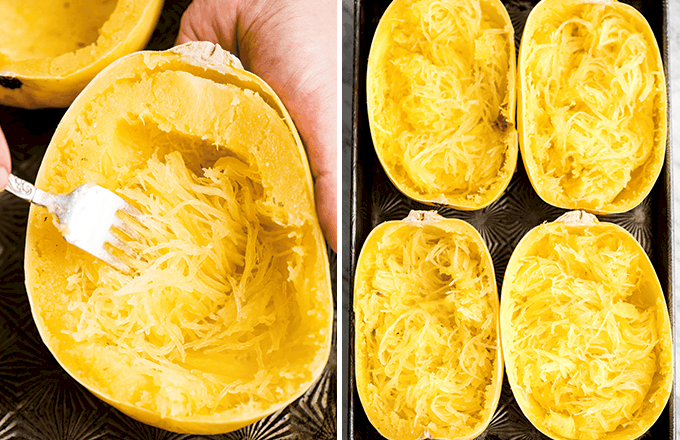 Step 6. Make the Spaghetti Squash Mac and Cheese Sauce
I recommend making the cheese sauce while the squash is roasting in the oven to save time! Then keeping it covered with a lid until you're ready to use it.
To make the cheese sauce, start by making a roux. To do this, melt the butter, mix the dry ingredients together and then add them to the butter in the saucepan.
Use a wire whisk and whisk until the dry ingredients are incorporated into the melted butter. Then cook for about 1 minute, or until bubbles begin to form in the mixture (see picture below on the right hand side).
Next, pour the milk into the roux in the saucepan while whisking constantly. Cook the milk/roux mixture for about 5 minutes, or until it becomes thick.
Once the milk mixture is thick, add the shredded cheese and turn off the heat (or at least reduce it to low). Whisk until the cheese is completely melted and the sauce is smooth.
The mixture (before the cheese is added) will release steam as it cooks. This is part of the thickening process (water evaporating) and is normal and critical to a thick melty cheese sauce!
The cheese sauce will also thicken as it cools, which is something to be aware of if you prepare it long before the spaghetti squash has finished roasting. If it becomes too thick as it sits, simply re-warm it on the burner over low heat!
Step 7: Add the Cheese Sauce to the Spaghetti Squash
Add ½ cup of the cheese sauce to each of the four spaghetti squash halves. Then go back and add 1-2 TBS more sauce to each squash.
For the small spaghetti squashes I used (about 2 LBS each), I found ½ cup plus 2 TBS sauce was the perfect amount to fill each squash-half and use all the sauce. However this amount will vary depending on the size of your squash.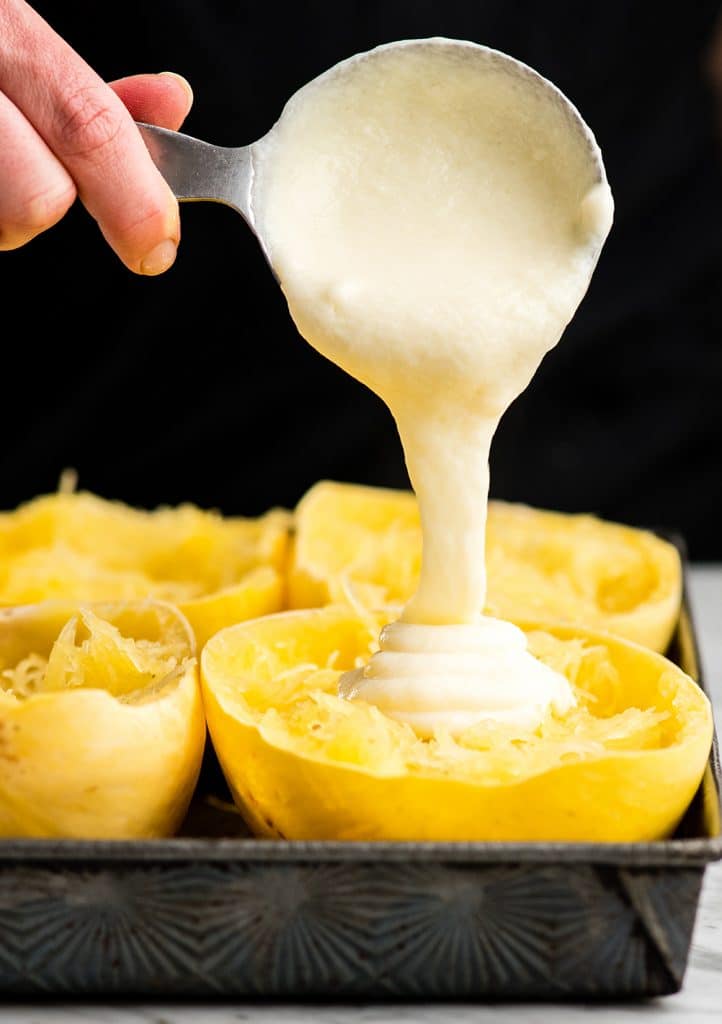 Step 8: Mix the cheese sauce into the shredded Spaghetti Squash
Use a fork to gently incorporate the cheese sauce into the shredded spaghetti squash. As you can see, the mixture should be thick and not at all runny.
Place the cheesy spaghetti squash halves on a large baking sheet to prepare to finish this baked Spaghetti Squash Mac and Cheese!
Step 9: Top with more cheese and bake
Sprinkle some more cheese on top of each squash and then bake in the preheated oven until the cheese is melted.
The longer you bake the Spaghetti Squash Mac and Cheese recipe, the firmer the cheese on top will be. Use your discretion and bake as long as it takes to reach the texture you would enjoy the most!
Step 10: ENJOY!
Finally! It's time to eat! 😉 Stick a fork in there and go to town! I found half of one of these Spaghetti Squash Mac and Cheese halves with a salad made a wonderful dinner for me and my family!
Serve with some of our favorite dishes:
FAQs about Spaghetti Squash Mac and Cheese!
Here are a few FAQs about this Spaghetti Squash Mac and Cheese recipe!
Is Spaghetti Squash Keto?
Spaghetti squash is very low carb, but it is not carb-free. ½ cup of spaghetti squash contains roughly 20 calories and 5 g of carbs. So while it fits in the keto diet, you still need to watch your portion size!
How many carbs are in baked spaghetti squash?
½ cup baked spaghetti squash has 20 calories and 5 g of carbs.
Is Spaghetti Squash better for you than pasta?
Again, I am a proponent of everything in moderation. I would not say that pasta is "bad for you!" However, spaghetti squash definitely has a few health benefits over regular pasta. Spaghetti squash is...
Lower in calories (only 40 calories in 1 cup as opposed to over 200 in most cases for pasta)
Relatively high in fiber (1 cup has 2.2 g of fiber).
Contains many vitamins & minerals (vitamin C, potassium, iron, Vitamin B6, magnanese, etc.)
Very low in carbs (only 5 g in ½ cup).
Spaghetti Squash Mac & Cheese: Ingredients & Substitutions
Let's take a minute and chat about the ingredients in this Spaghetti Squash Mac and Cheese recipe, as well as possible substitutions!
Spaghetti Squash. I do not recommend making substituions for the spaghetti squash in this Spaghetti Squash Mac and Cheese recipe! If you're looking for another version of a lightend-up mac and cheese, check out this Greek Yogurt Mac and Cheese! The only thing that might vary in regards to the squash is the size. You could use one very large 4 lb. squash and only cut it into two halves instead of four if that is what you can find! Just note you will have to adjust the roasting time accordingly.
Olive Oil. Any neutral oil works perfectly in this Spaghetti Squash Mac and Cheese recipe. The purpose of the oil is to help the salt/pepper/spices adhere to the squash before roasting. I recommend olive oil or avocado oil!
Butter. The butter adds such a great flavor and texture to the cheese sauce, that I cannot (in good conscience) suggest substituting it for anything else! There are only 2 TBS of butter in the entire recipe, no need to worry!
All-purpose flour. There are actually lots of different substitutions that can be made for the all-purpose flour in this recipe! I have used gluten-free all-purpose flour, tapioca flour and cornstarch with great success. Choose whichever variety best fits your dietary needs.
Cabot Cheddar Cheese. Obviously I do not recommend substituting the Cabot cheddar in this recipe! However, the sharpness and flavor of the cheese is totally up to you to choose! We like extra sharp cheddar in our house, but the sky's the limit with what you can use! You can also use their pre-shredded cheddar cheeses to save the step of having to shred them yourself!
How do I make this Spaghetti Squash Mac & Cheese Keto?
Disclaimer: I am not an expert on the Keto diet, but from what I understand the main concern is consuming less than 30 g of carbs per day.
The recipe calls for whole milk and there is 11 g of carbs per serving (without making a low-carb substitute for the flour). You can use heavy cream instead of whole milk, which has an even lower carb count and tapioca flour instead of all-purpose flour...and get a net carb count of 9.4 g per serving.
You can also try substituting unsweetened coconut milk, almond milk, pea milk, hemp milk or flax milk, but be aware that the flavor and texture of those milks will change the final flavor of the dish!
IF YOU MAKE SOMETHING FROM JOYFOODSUNSHINE I WOULD LOVE TO SEE YOUR CREATIONS! DON'T FORGET TO RATE THIS RECIPE AND LEAVE A COMMENT BELOW! ALSO, FOLLOW ALONG WITH ME ON INSTAGRAM, PINTEREST, FACEBOOK, YOUTUBE AND TWITTER FOR MORE RECIPE INSPIRATION AND A GLIMPSE INTO OUR EVERYDAY LIFE!
Spaghetti Squash Mac and Cheese
This Easy & Healthy Spaghetti Squash Mac and Cheese Recipe is low-carb and keto! It's a delicious gluten-free dinner, side dish or meal prep idea!
Instructions
Roast the spaghetti squash:
Preheat oven to 400 degrees F.

Cut both spaghetti squash in half and remove the seeds (scoop them out with a metal spoon).

Brush the inside with olive oil (or spray with an olive oil spray) and sprinkle with sea salt and pepper.

Place cut-side down in a baking dish.

Fill baking dish ¼" with water.

Cover baking dish with aluminum foil.

Bake in the preheated oven for 45-60 minutes or until the squash is soft to the touch (it will compress down when pushed lightly).

Remove from the oven and turn the cut-side to the top.

Let cool.

Use a fork to shred the spaghetti squash, being careful not to poke holes in the shell.

Leave shredded spaghetti squash in the shell while you make the cheese sauce.
Make the cheese sauce:
Preheat oven to 375 degrees F.

In a small bowl, combine flour sea salt and garlic powder. Set aside.

Melt butter in a medium saucepan over medium heat.

Add dry ingredients and whisk to combine.

Whisk constantly until ingredients just start to brown (about 1-2 minutes).

Add milk and whisk until mixture is smooth.

Continue cooking over medium-high heat until the mixture comes to a boil and starts to thicken (about 3-5 minutes).

Once mixture is thick, add 2 cups of shredded cheese and whisk until the cheese is completely melted.

Once cheese sauce is smooth, remove the saucepan from the heat.
Putting it together:
Distribute cheese sauce evenly among the four halves of shredded spaghetti squash (with the size squashes I had, I used about ½ cup plus 2 TBS of cheese sauce for each of the four halves).

Use a fork to gently stir the cheese sauce into each half of shredded spaghetti squash.

Once the sauce is evenly distributed in the squash, use the fork or a spatula to smooth out the surface of each squash half.

Top with remaining ½ cup of cheese and bake in preheated oven for 15 minutes, or until the cheese on the top is melted and lightly brown.

Serve warm!
Notes
*for an even lower carb count than listed in the nutritional information (which was calculated using all-purpose flour), use tapioca starch! 
Nutrition
Serving:
0.5
spaghetti squash
Calories:
251.3
kcal
Carbohydrates:
11.4
g
Protein:
12.9
g
Fat:
18.1
g
Saturated Fat:
11.8
g
Polyunsaturated Fat:
0.2
g
Monounsaturated Fat:
0.8
g
Cholesterol:
59.3
mg
Sodium:
396
mg
Potassium:
118
mg
Fiber:
1.4
g
Sugar:
4.5
g
Vitamin A:
700
IU
Vitamin C:
5.3
mg
Calcium:
378
mg
Iron:
0.4
mg
More delicious mac and cheese recipes:
This post contains affiliate links, which means that if you purchase a product through a link you clicked on here, I receive a portion of the sale. Thank you for supporting JoyFoodSunshine!