This recipe for Baked Kale Chips is seriously the best! This delicious, healthy, kid-friendly snack is made with only 5 ingredients and is a fantastic way to sneak some greens into your day!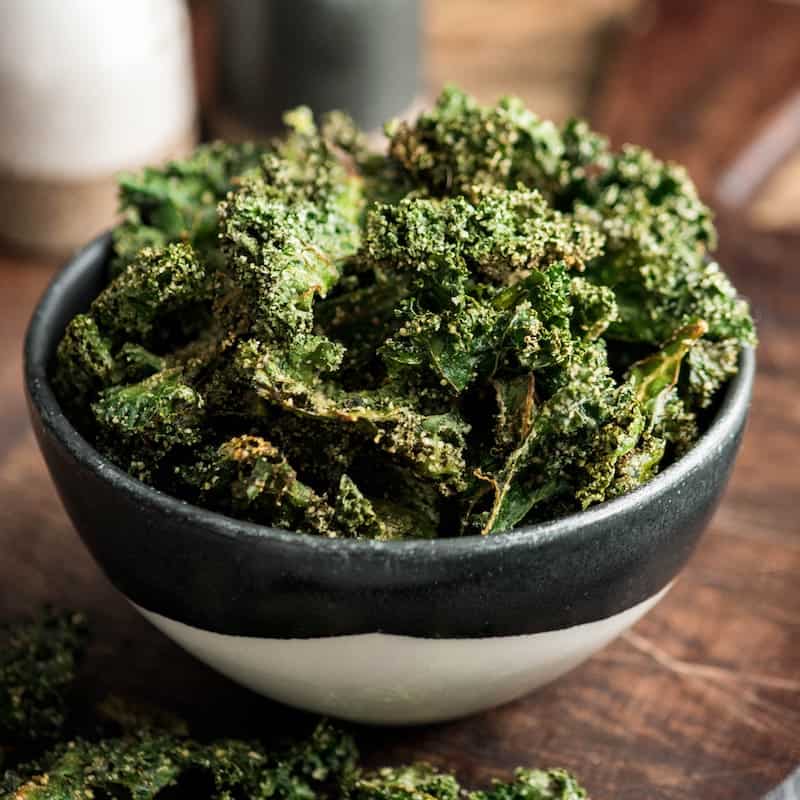 Can I just tell you how much I love these baked kale chips?!
And I'm not the only one. My oldest daughter has been not only eating, but requesting these healthy kale chips since she first learned how to talk.
I'm not kidding, at the store she would point to the kale and say, "chips!" I knew exactly what she meant and would, obviously, oblige her remarkable request.
Because what kid requests kale at the grocery store?! I guess, in chip form, this leafy green vegetable can be enjoyed by all! And this is seriously the best kale chip recipe out there. No joke.
It's baked low and slow, covered in a delicious almond coating and stays crispy for days (if they ever last that long)! Plus these baked kale chips are paleo, vegan, grain-free, sugar-free and are made with only 5 ingredients! Have I convinced you that you need these in your life yet?!
How To make Baked Kale Chips
In order to ensure that your kale chips turn out amazing, it's important to understand that the way you make them is critical. Yep, the method is a key part to mastering the art of making the best ever healthy kale chips! So I'm going to walk you through it step by step!
1. Only use the kale leaves.
Since the stalk of most kale varieties is very tough, be sure to remove the leaves from the stalk and then discard it! Even baking doesn't making chewing that stalk any easier! 🙂
2. Use a good olive oil.
When it comes to olive oils, you get what you pay for. For the best tasting baked kale chips, choose a high-quality variety!
3. Massage the kale.
This is so important. After the oil is added ot the kale, use your hands to really work the olive oil into the kale leaves. This tenderizes the kale and ensures that the oil is evenly and completely distributed.
4. Bake them low and slow
Good things take time. Depending on the variety of kale you choose and the size of the leaves, these kale chips can bake for up to 40 minutes at 325. This ensures that they dry out completely and remain crispy for days
So I implore you not to rush the process and turn the heat up. You will end up with kale chips that are burnt but still somehow soggy, and you won't be a happy camper!
5. How to store baked kale chips
I know most recipes call for storing in an airtight container, but NOT these baked kale chips! They remain crispy longer if you store them in a container with a loosely-fitting lid or one that is loosely covered in plastic wrap.
Also, please wait until these healthy kale chips cool completely before tossing them in a storage container!
Are baked kale chips good for you?
YES! It is kale, after all! 😉 This baked kale chip recipe, in particular, is a very healthy and delicious alternative to regular chips! These healthy kale chips are low in calories, high in protein, fiber and nutrients!
More healthy snacks
We are big on snacks around here. If you love these, then you'll enjoy our favorite roasted chickpeas, these paleo energy balls, and this chocolate hummus!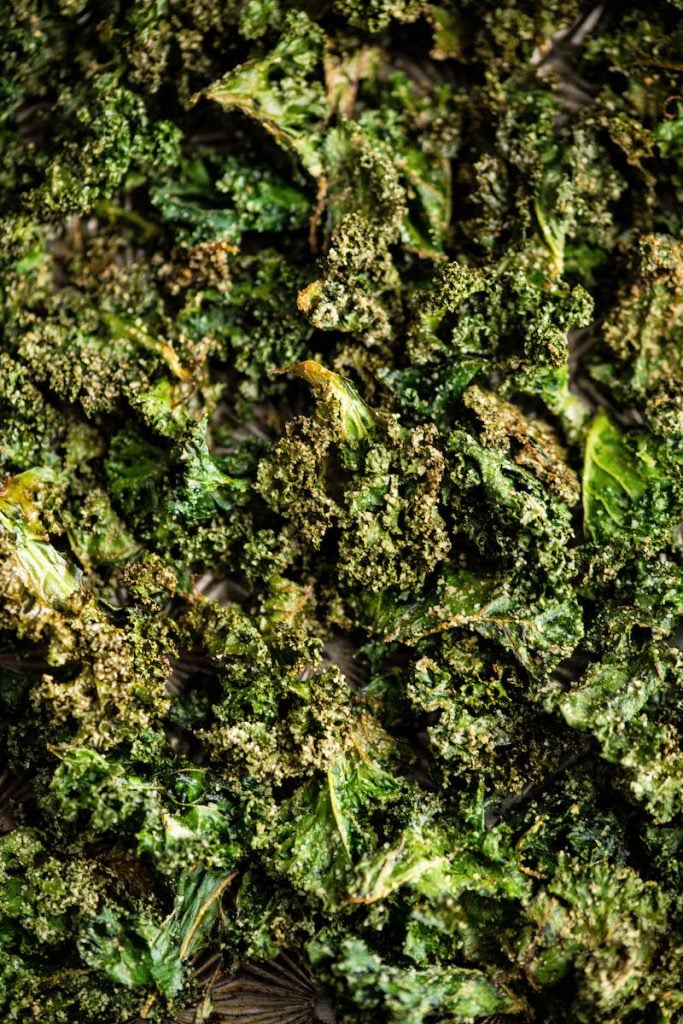 Baked Kale Chips: Substitutions
Here are a few possible substitutions that could be made this healthy kale chip recipe!
Kale. I have made these chips with the following kale varieties with great results: Curly kale, Lacinato (Dino) kale, Redbor Kale, and Siberian Kale.
Olive oil. Avocado oil and canola oil also work very well in this recipe!
Almond meal. Almond flour works just as well as almond meal, although I like the rougher texture the almond meal imparts in these healthy kale chips!
Garlic salt. If you don't keep garlic salt on hand, simply substitute 1/4 tsp sea salt and 1/4 tsp garlic powder! Not into garlic, just use sea salt!
IF YOU MAKE SOMETHING FROM JOYFOODSUNSHINE I WOULD LOVE TO SEE YOUR CREATIONS! DON'T FORGET TO RATE THIS RECIPE AND LEAVE A COMMENT BELOW! ALSO, FOLLOW ALONG WITH ME ON INSTAGRAM, PINTEREST, FACEBOOK, YOUTUBE AND TWITTER FOR MORE RECIPE INSPIRATION AND A GLIMPSE INTO OUR EVERYDAY LIFE!
Baked Kale Chips
This recipe for Baked Kale Chips is seriously the best! This delicious, healthy, kid-friendly snack is made with only 5 ingredients and is a fantastic way to sneak some greens into your day!
Servings
4
cups kale chips
Instructions
Preheat oven to 325 degrees F.

Lightly grease a large baking sheet, set aside.

In a small bowl, mix together almond meal, garlic salt and pepper. Set aside.

Remove the leafy green part of the kale from the tough stalk, and tear into smaller pieces.

Place kale leaves into a large mixing bowl.

Add 1 TBS olive oil and massage with your hands until every single piece of kale is coated (this is very important. If the kale is not coated with olive oil then it will not hold the rest of the ingredients).

If necessary, add more olive oil 1 tsp at a time until the kale is thoroughly coated.

Sprinkle the almond meal mixture over the oil-coated kale chips.

Toss the mixture carefully with tongs to evenly distribute the dry ingredients on the kale chips. (Be careful to not overmix).

Bake for 25-40 minutes or until the kale is crispy and just begins to brown. Stir halfway through.

Once brown and crispy, let cool completely on the baking sheet.

Remove cooled kale chips from the baking sheet and eat or put in a container with a loosely-fitting lid to store.
Nutrition
Serving:
0.5
cup
|
Calories:
62.3
kcal
|
Carbohydrates:
6.2
g
|
Protein:
2.6
g
|
Fat:
3.9
g
|
Saturated Fat:
0.4
g
|
Polyunsaturated Fat:
0.4
g
|
Monounsaturated Fat:
1.3
g
|
Sodium:
52.4
mg
|
Potassium:
222.3
mg
|
Fiber:
2.3
g
|
Sugar:
1.3
g
|
Vitamin A:
13280
IU
|
Vitamin C:
55
mg
|
Calcium:
78
mg
|
Iron:
1
mg
This post contains affiliate links, which means that if you purchase a product through a link you clicked on here, I receive a portion of the sale. Thank you for supporting JoyFoodSunshine!