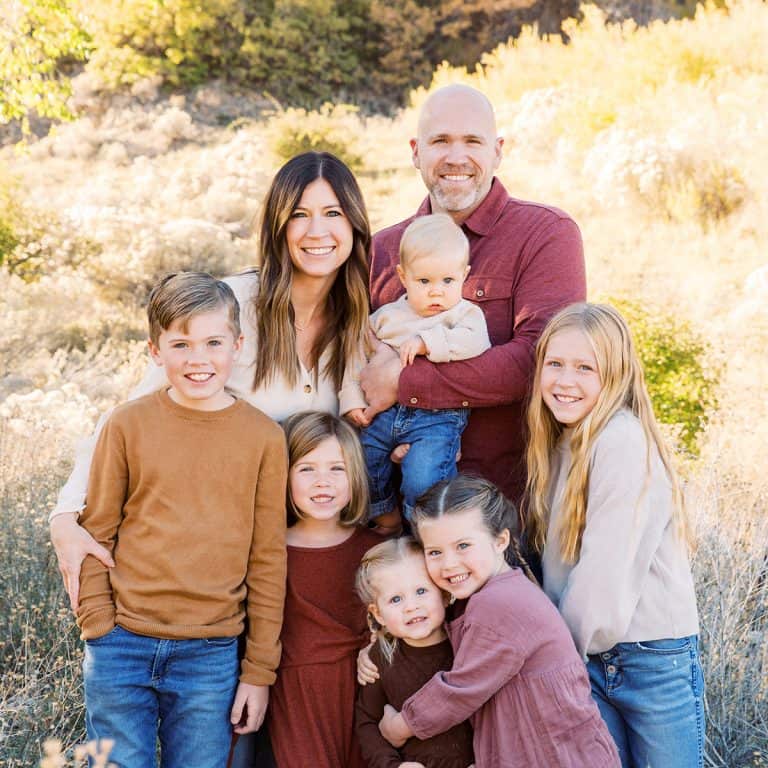 Hello! I'm Laura, cook, photographer, and delicious food enthusiast! I am a wife & homeschooling mom of six kids ages 10 and under which means life for me is always full of love and laughter!
Here on JoyFoodSunshine you will find recipes that are fast, easy & family-friendly, as well as recipes that take patience, time and love to create. I believe the memories made around cooking and enjoying delicious food are ones that last a lifetime.  
My love for being in the kitchen started with baking. Cookies, pies, cakes, you name it I wanted to learn how to bake the best desserts ever. I believe life is short and there's always room for dessert.
You'll find a mixture of real-deal desserts as well as healthy dessert recipes that don't taste healthy at all. Because if I'm going to eat a sweet treat every night, I like to make healthier options as well as our family's favorites! 
Once I mastered baking, my focus shifted to cooking. Here on our site you will also find nourishing and delicious dishes that are easy to make and kid-approved.
I have plenty of healthy main dish recipes - like our famous pizza dough and pizza sauce, homemade mac and cheese, chicken chili, etc. Plus lots of yummy breakfast recipes like green smoothies, breakfast bars, cinnamon rolls, etc. Also sides, snacks, etc.
Basically, I hope to help all you busy people out there by creating delicious, tried and tested recipes that take minimal effort and turn out perfectly every time!
Here are a few of my favorite things in no particular order…
My husband. We got married in August 2007 and have been on an adventure together ever since. He's the best man I know and I feel so blessed to have him as my partner and best friend in life.
My kids! Bethany, age 10, loves cooking and baking, reading, writing stories and poems and playing the piano, Gabe, age 8 loves wrestling and shooting with Daddy. Naomi, age 6 is a little snuggler and spends most of her spare time making crafts. Mara, age 4 is a little spitfire and is an amazing swimmer! Keilah, age 2, is the last little princess in the family and knows it. She loves causing trouble in the cutest way possible. Zach, our last sweet baby, has eyes only for mommy.
My kids are my sunshine. I am mediator when they fight and counselor when they are sad. I'm disciplinarian, cook, storyteller, teacher, and the queen of their make-believe kingdom. I'm replaceable everywhere else, but my kids will only ever have one mommy…and I am thankful it is me.
My Faith. Grace really is amazing. The Gospel
Peanut Butter. No need to elaborate. It ranks up there with my kids and husband. Enough said. Check out all my peanut butter recipes!
Vitamix. I joke that if my house was burning down and everyone I love was safe I would run back in and save my Vitamix! It's just a joke. But seriously. I make so many recipes in the Vitamix, Check them out here: Vitamix Recipes.
Since starting this blog I have fostered a wonderful relationship with the Vitamix team and am now am part of their affiliate blogger program! If you click on any of the links to the Vitamix website from my site you will receive free shipping on your order!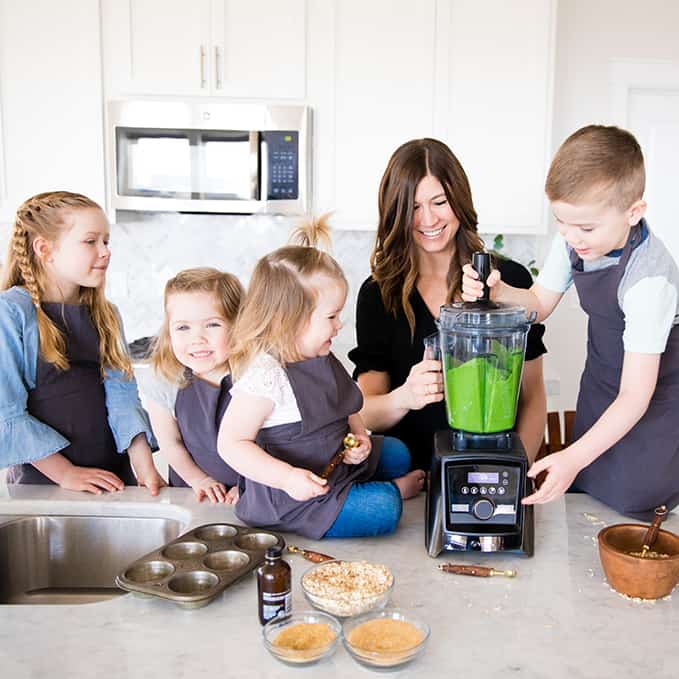 I started this blog because sometimes we lose ourselves. Sometimes every day becomes the same as the one before. Sometimes in the midst of it all we lose our Joy. We don't care about Food. And we are desperate for a little Sunshine. I hope you enjoy your visit as I share a little of who I am with a little of whoever you are.
Some of my favorite recipes:
See my list of baking/cooking staples HERE. 
And my kitchen must-haves HERE! 
If you make and love our recipes, it would mean so much to me if you would leave a comment and rating! And don't forget to follow along with us on Instagram, Pinterest, Facebook, and Youtube - be sure to tag @joyfoodsunshine and use the hashtag #joyfoodsunshine so we can your creations!
Note: All the phots of our family in this post have been taken by Brooke Steinicke, our favorite family photographer! She is incredibly talented and has been taking our photos for years! Check her out at http://brookesteinphoto.com/!
This post contains affiliate links, which means that if you purchase a product through a link you clicked on here, I receive a portion of the sale. Thank you for supporting JoyFoodSunshine!