Hello! I'm Laura, the lady behind the blog JoyFoodSunshine…Chicago raised, but currently living in Salt Lake City, Utah! Throughout the years my cooking style has ebbed and flowed, but I have always tried to take care of my family by providing nourishing and delicious meals. However, the more kids we add to our crazy life the less time I feel like spending in the kitchen (Nap or cook…the struggle is real…ZzzZZz). So I focus on easy, delicious nutritious recipes that everyone loves.
Along with yummy recipes, you will get a glimpse into my life. I am incapable of being fake…it's impossible…my face betrays me…every.single.time. I am honest to a fault, have next to no filter, and often get the, "did she seriously just ask that? Out loud? In public? To someone she doesn't know?" look. Life is too short to go around pretending, so there will be none of that here. Ok? Good.
So here are a few of my favorite things in no particular order…
My husband. I mean, look at him. Aww. We got married in August 2007 and have been on an adventure together ever since. He's the most talented man I've ever met. He can do everything, and I mean it. I am 98.77% sure he can actually fly…
My kids! Again, look at them. How could I not? Bethany, age 5 loves reading, "alone time" (Ha! But seriously. My 5 year old asks for alone time), and eating anything that's main ingredient is sugar. Gabe, age 2 ½ is all about knives, guns, and mac 'n cheese. And to Naomi, (not yet 1) everything and everyone is dead to her except Mommy. My kids are my sunshine. I am mediator when they fight and counselor when they are sad. I'm disciplinarian, cook, storyteller, teacher, and the queen of their make-believe kingdom. I'm replaceable everywhere else, but my kids will only ever have one mommy…and I am thankful it is me.
My Faith. Grace really is amazing. The Gospel
Peanut Butter. No need to elaborate. It ranks up there with my kids and husband. Enough said.
Vitamix. I joke that if my house was burning down and everyone I love was safe I would run back in and save my vitamix! It's just a joke. But seriously.
Moving. Not houses. Just being active. Swimming and running are my two favorite ways to get my blood flowing. As a family we're always outside and love hiking in the nearby mountains.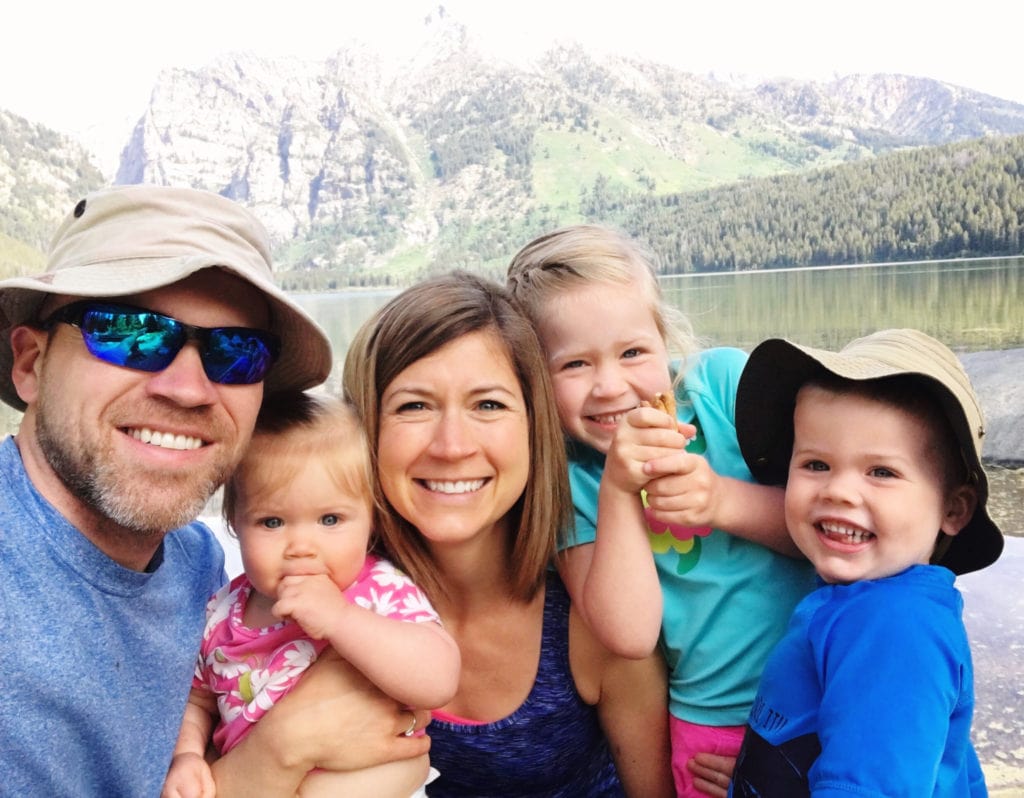 I started this blog because sometimes we lose ourselves. Sometimes every day becomes the same as the one before. Sometimes in the midst of it all we lose our Joy. We don't care about Food. And we are desperate for a little Sunshine. I hope you enjoy your visit as I share a little of who I am with a little of whoever you are.
 I would love to stay connected! You can find @joyfoodsunshine on all social media channels! Or email me at [email protected]! 
Instagram: @joyfoodsunshine
Pinterest: JoyFoodSunshine
Facebook: JoyFoodSunsine
Twitter: @joyfoodsunshine