This Baked Quinoa Casserole is an easy, hearty main dish that is perfect for fall. It's ready in under 30 minutes and is a great gluten-free dinner recipe to feed a crowd! Even my kids love this cheesy quinoa recipe loaded with sausage, apples and veggies!
This post is sponsored by my friends at Tillamook, as always, all opinions are my own!
There's a chill in the air, football season has arrived and I pulled out my favorite sweaters from storage…which can mean only one thing: Fall is here!
What better way to welcome fall than with this Cheesy Sausage Baked Quinoa Casserole recipe? It's a healthy-yet-comforting dish that feeds a crowd. Plus, it's ready in 30 minutes and is loaded with delicious fall flavors including apples and veggies.
Seriously, this Baked Quinoa Casserole is the perfect dish for entertaining in the fall. Whether you bring it to a potluck, book club or serve it while you watch the big game, it truly is a dish that can be all things to all people.
When I first told Ritch I made a comfort food dish featuring quinoa he scoffed at me! (For real, haha). But after he took one bite he said, "Oh yeah, this is totally comfort food," and proceeded to enjoy his fair share.
What I love about this Baked Quinoa Casserole is that it satisfies the health-conscious while being hearty enough for people who prefer more traditional American cuisine…if you know what I mean. Plus it's gluten-free so it can be served when you're entertaining people with food allergies.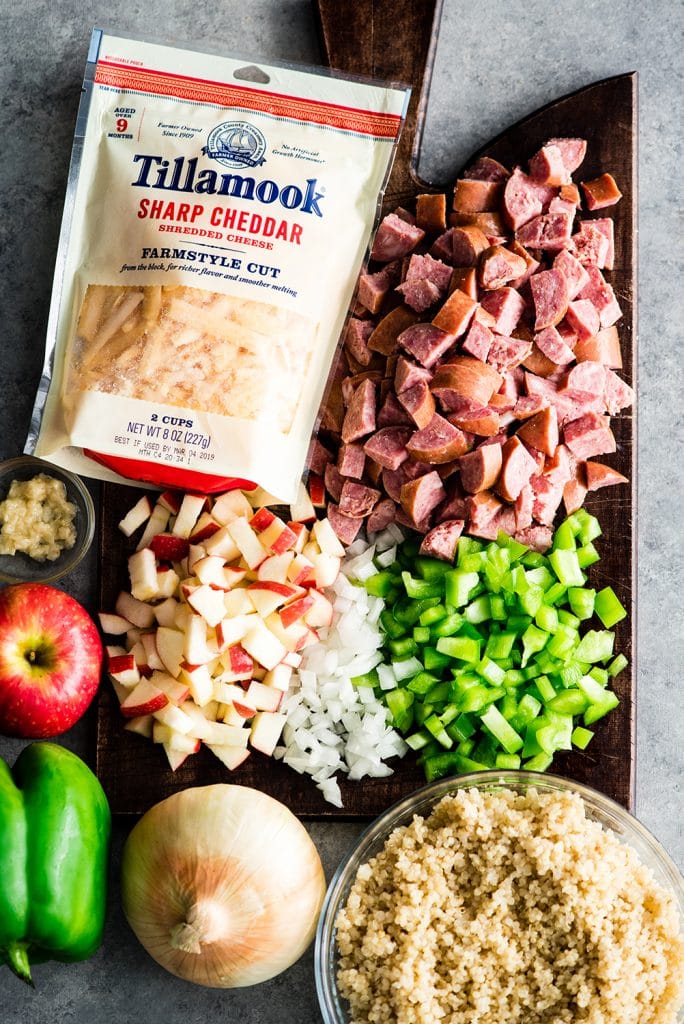 How Do You Cook Quinoa Perfectly?
Ok, I feel the need to discuss how to actually cook quinoa before I proceed any further with this baked quinoa recipe. Because I have lots of quinoa recipes on my site, like this Asian quinoa salad, roasted vegetable quinoa and this caprese quinoa salad.
Quinoa is really easy and quick to make, however it is also very easy to mess up. There is a fine line between perfectly fluffy quinoa and a chewy yet mushy mess that is totally inedible. So here are a few tips on how to cook quinoa perfectly every time.
Rinse the quinoa. This removes the saponins on the outside of the quinoa, which are a naturally occurring chemical that give un-rinsed quinoa a bitter taste. Use a fine metal strainer to rinse the quinoa before cooking to prevent any bitterness.
Use a 1:2 ratio of quinoa to water. I have seen different packages of quinoa suggest other ratios, but I have found the best results when using 1 part quinoa, 2 parts water.
Boil the water first. Always bring the water to a boil and then add quinoa.
Add quinoa & return to a boil. After the quinoa is added to the boiling water, make sure the water returns to a boil before reducing the heat (see below). This happens very quickly, so be careful to watch it so the water doesn't boil off.
Reduce heat to a simmer. This is where I have gone wrong in the past. Sometimes, in an attempt to speed up the process, I cook the quinoa with the heat turned up too high. When you do this, the water boils off before the quinoa can fully cook, leaving you with a crunchy mushy mess.
Cook for 15 minutes. 15 minutes is the perfect cooking time for quinoa.
Fluff. After 15 minutes all the water should be absorbed and the quinoa should be soft (not crunchy or hard). Take a fork or a wooden spoon and fluff the quinoa.
Cover and let it rest for 15 minutes. This is another key step in cooking quinoa that is often overlooked. Letting the quinoa cook in the residual heat from the burner (turned off) and in its own steam really finishes the process and results in a perfectly fluffy quinoa every time!
And that's it! Please let me know in the comments below if you have any other questions about cooking quinoa.
In this quinoa casserole recipe, we cook the quinoa first, and then proceed with the rest of the recipe. This can be done right when you begin cooking, or anytime before.

How do you make Baked Quinoa Casserole?
Now that we know how to cook perfect quinoa, let's jump into discussing how to make this cheesy Baked Quinoa Casserole recipe.
Brown Sausage & Veggies
The first (and an extremely important) step in this Quinoa Casserole recipe is to brown the sausage and veggies. Start with the sausage alone, and once it just begins to brown add the onion, bell pepper and minced garlic. Cook until everything is nicely browned.
I recommend starting with 1 TBS olive oil and add more if the sausage doesn't seem to be browning as fast as you'd like it to. In one of the trials of this recipe I added 1/2 TBS more olive oil just to ensure everything got nice and crispy.
Browning the meat and veggies adds an extra depth of flavor to this Baked Quinoa Casserole that really can't be understated. Please make sure not to skip this step.
Add the apples, tomatoes and spices.
Don't cook the apples. I tested this recipe two ways: in one I cooked the apples cooked with the veggies and in the other (tastier) trial I just added the diced apples to the meat/veggie mixture once everything had been browned. I found the second method preferable because the apples retained more of their flavor and crunch.
Add the Milk and Cheese
The only note about this step is that you may need to return the pan to your heat source and warm the mixture over medium-low heat to get the cheese to milk. However if you work quickly and use a pan that retains heat (like a cast iron skillet) it should melt right away.
The sauce in this Baked Quinoa recipe is insanely delicious, partly because of all the amazing flavors from the sausage, produce and fire roasted tomatoes…but a huge part of it comes from using Tillamook Sharp Cheddar Cheese!
Add the Cooked Quinoa
Once the cheese is nicely melted and the mixture is smooth, add the cooked quinoa and stir to combine. At this point there will be no need to cook over the stovetop anymore. The rest of the cooking/melting will be done in the oven.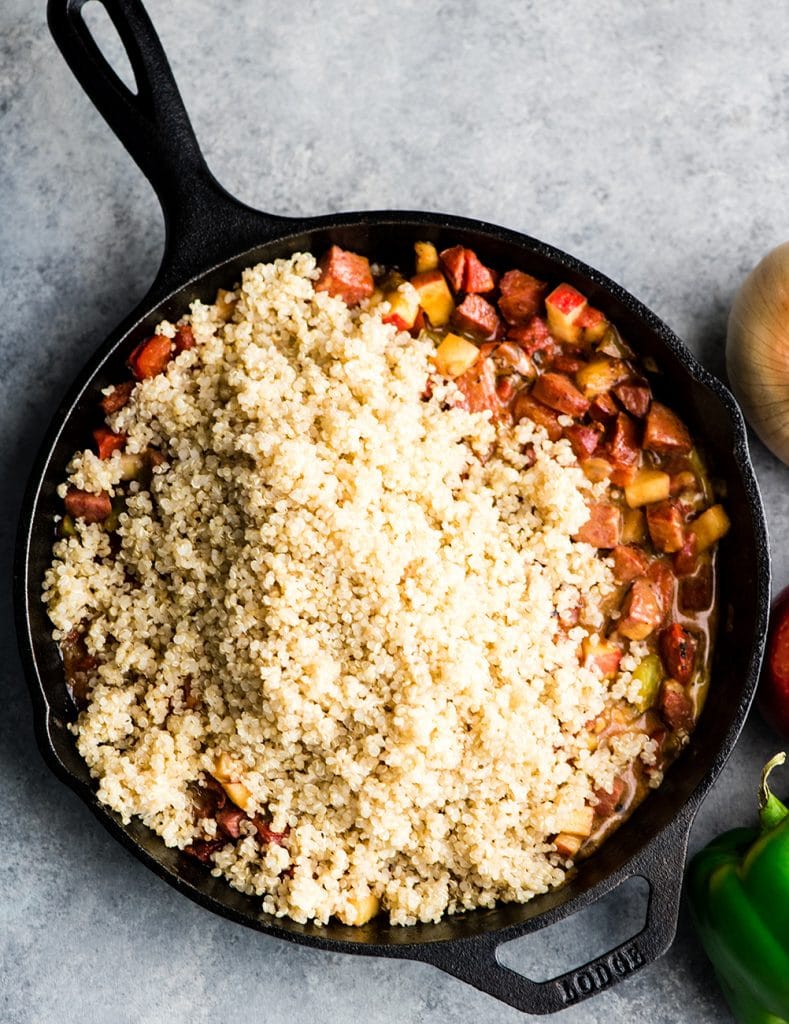 I felt it was important to include the photo below to show the consistency of the final Baked Quinoa Casserole mixture before it's topped with cheese and baked. Notice that it is wet, but not soupy.
As long as the quinoa is cooked correctly, it will absorb some of the liquid and you will get a mixture that looks like the picture below. Be sure everything is evenly distributed throughout the Baked Quinoa Casserole mixture before adding the cheese to the top.
Top with Shredded Cheese
Before putting the dish in the oven, top it with a generous serving of cheddar cheese. The cheesy layer at the top is my favorite part of this Baked Quinoa Casserole recipe.
Bake the Quinoa Casserole
Now it's time to toss that skillet of goodness into the oven and bake t. Since everything is already pre-cooked on the stovetop, the goal of baking here is to warm the dish all the way through and melt the cheese on top.
I recommend baking this Baked Quinoa Casserole at 400 degrees F for about 10-15 minutes. Just turn your oven lights on and watch that cheesy goodness melt on the top until it's nice and smooth. For the ultimate cheese-pull action, don't let it brown. But if you like the cheese layer a little chewier, by all means bake it a little longer until it browns a bit.
Serve
YAY! It's finally time to EAT! Once the cheese is melted, remove the Baked Quinoa Casserole from the oven (be careful, it's heavy), and let it cool for about 5 minutes or serve it right away.
What to serve with Baked Quinoa Casserole?
This is an entire meal in one skillet, which I absolutely love. And everyone in my family enjoyed it a little differently. So here are a few serving suggestions to use when serving this Baked Quinoa Casserole to a crowd.
Add a sprinkle of fresh parsley. For the adults in your life who don't mind a few green things on top of their cheese, fresh parsley not only adds a great pop of color but also a nice fresh flavor.
Sour cream. My son enjoyed this Baked Quinoa Casserole with a dollop of sour cream (like most foods he eats…LOL).
Fresh Avocado or Guacamole. I know this isn't really a Mexican dish, but oh boy a little fresh avocado (mashed or sliced) tastes amazing served with this baked quinoa. My oldest daughter and I swirled some leftover guac into our helpings and absolutely loved it!
Plain. My husband and other two kids (including my 18-month old) dug straight in and politely turned down any add-ins because it's just that good on it's own.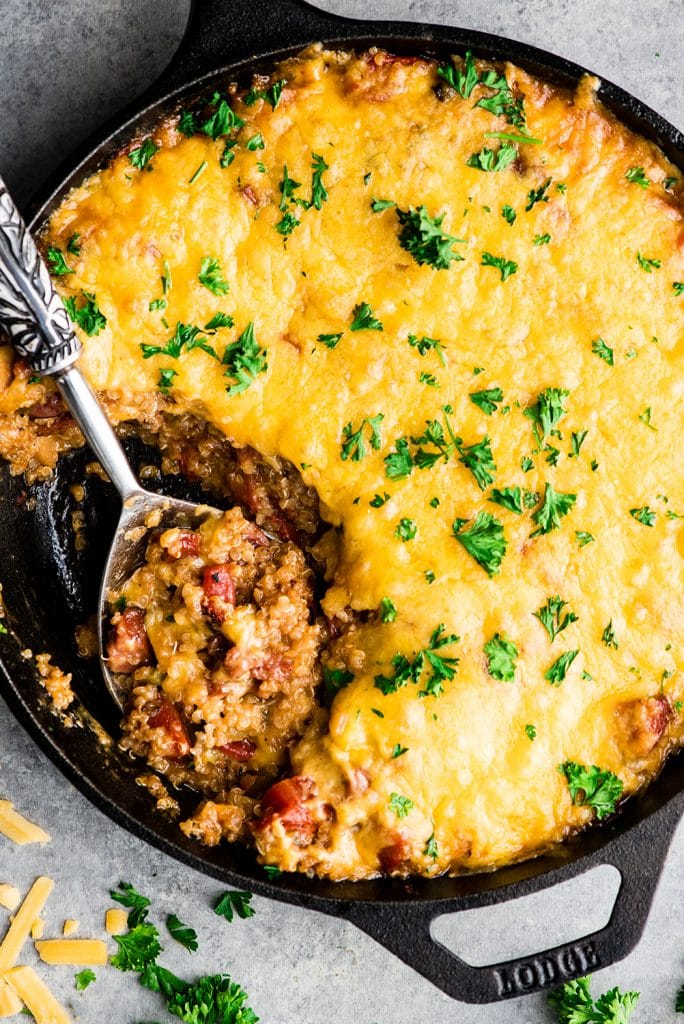 Baked Quinoa Casserole Recipe: Ingredients and Substitutions
Let's take a few minutes and chat about the ingredients in this quinoa casserole recipe, as well as some possible substitutions.
Quinoa. Obviously quinoa is one of the main ingredients in this recipe. So I don't recommend substituting it. However, an equal amount of brown or white rice could be used if your family isn't into quinoa. Although you may need to add more liquid to the sauce to get the texture just right.
Smoked Sausage. I made this recipe with both smoked sausage and mild Italian sausage. We loved both trials, but I felt like the smoked sausage complimented the sharp cheddar cheese a touch better. Really though, you can use your favorite sausage variety in this recipe with great results. I also used Italian chicken sausage and it was delicious.
Green Peppers. We have used both red and green bell peppers in this baked quinoa recipe with great results. My kids prefer red peppers because they are their favorite, but I liked the green because it added a pop of color. If bell peppers aren't your thing, you can omit them or substitute a different vegetable such as carrots, celery, more onion, etc. etc.
Apple. I used Pink Lady apples in this recipe for their slightly sweet, slightly tart flavor and firm texture. Feel free to use your favorite apple variety. I have also thought about trying pears in this recipe for a different flavor.
Fire Roasted Tomatoes. Again, I tested this recipe once with plain diced tomatoes and once with fire roasted, and I just prefer the flavor of the fire roasted better. It's totally up to you and you can use any flavor/variety of canned diced tomatoes that you wish, as long as you are aware that the flavor of tomatoes will change the overall flavor of the dish.
Whole Milk. We only buy whole milk right now, so that is what I used in this recipe. However I'm sure 2% milk would work equally as well, and if you are looking for an even richer tase half-and-half would be delicious.
Sharp Cheddar Cheese. The sharper the better!
IIF YOU MAKE SOMETHING FROM JOYFOODSUNSHINE I WOULD LOVE TO SEE YOUR CREATIONS! DON'T FORGET TO RATE THIS RECIPE AND LEAVE A COMMENT BELOW! ALSO, FOLLOW ALONG WITH ME ON INSTAGRAM, PINTEREST, FACEBOOK, YOUTUBE AND TWITTER FOR MORE RECIPE INSPIRATION AND A GLIMPSE INTO OUR EVERYDAY LIFE!
Baked Quinoa Casserole Recipe
This Baked Quinoa Casserole is an easy, hearty main dish that is perfect for fall. It's ready in under 30 minutes and is a great gluten-free dinner recipe to feed a crowd! Even my kids loved this cheesy quinoa recipe loaded with sausage, apples and veggies!
Instructions
Cook the Quinoa:
Bring 1 ½ cups of water and ¼ tsp salt to a boil.

Add quinoa and return to a boil.

Once water is boiling turn the heat down to a simmer.

Simmer on low for 15 minutes.

After 15 minutes turn off the heat, stir the quinoa, and return the lid to the pot.

Let the quinoa sit covered for 15 more minutes.

After 15 minutes, fluff the quinoa with a spatula and it's ready to use in this baked quinoa recipe.
Make the Baked Quinoa Casserole:
Preheat oven to 400 degrees F

Add 1 TBS olive oil to a 10" round cast iron skillet.

Add sausage to the skillet and cook until it just starts to brown.

Add onion, bell pepper and minced garlic and cook for 5-8 minutes until the onions are translucent.

Remove from heat and add apples, stir to combine.

Add canned tomatoes, garlic salt, 1 cup cheese and milk and stir until combined and the cheese is melted (you may need to return the pan to the heat source and cook on low heat to get the cheese to melt).

Add cooked quinoa and stir until combined.

Top with remaining 1 cup of cheese

Bake in preheated oven for 10 minutes or until the cheese is melted.

Serve warm with a sprinkle of fresh parsley if desired.
Nutrition
Serving:
0.5
cup (1/8 recipe)
Calories:
318.7
kcal
Carbohydrates:
16.8
g
Protein:
17.7
g
Fat:
19.2
g
Saturated Fat:
9
g
Polyunsaturated Fat:
0.3
g
Monounsaturated Fat:
1.3
g
Cholesterol:
57.9
mg
Sodium:
854
mg
Potassium:
146
mg
Fiber:
2.4
g
Sugar:
3.5
g
Vitamin A:
370
IU
Vitamin C:
21.8
mg
Calcium:
227
mg
Iron:
2.3
mg
More quinoa recipes:
This post contains affiliate links, which means that if you purchase a product through a link you clicked on here, I receive a portion of the sale. Thank you for supporting JoyFoodSunshine!