Gluten-Free Carrot Cake (Dairy-Free)
Posted Mar 21, 2016, Updated Jul 24, 2021
This gluten-free carrot cake recipe is healthier than your average cake and it's dairy-free. Applesauce & dairy-free yogurt replace oil or butter in this delicious recipe.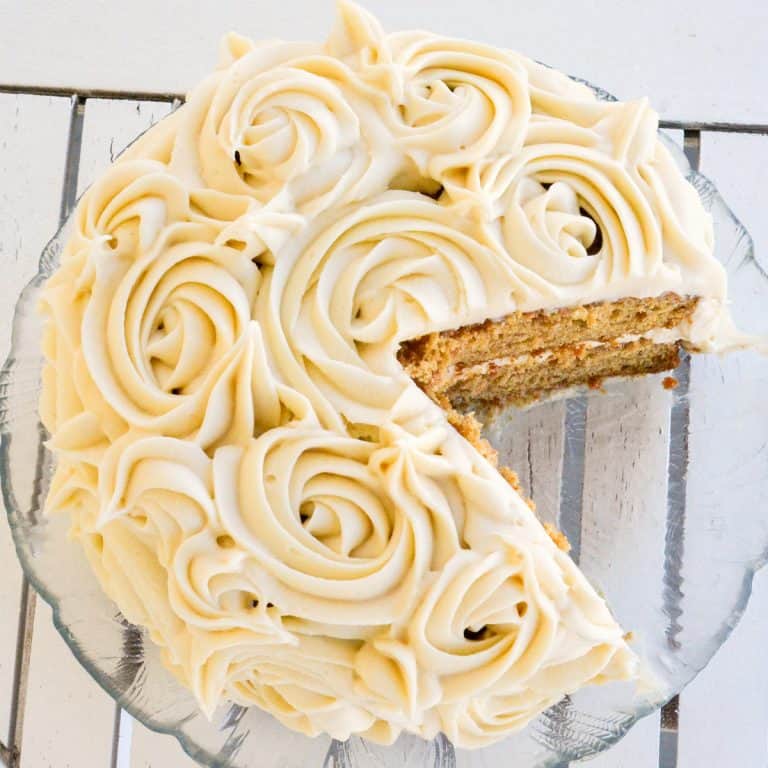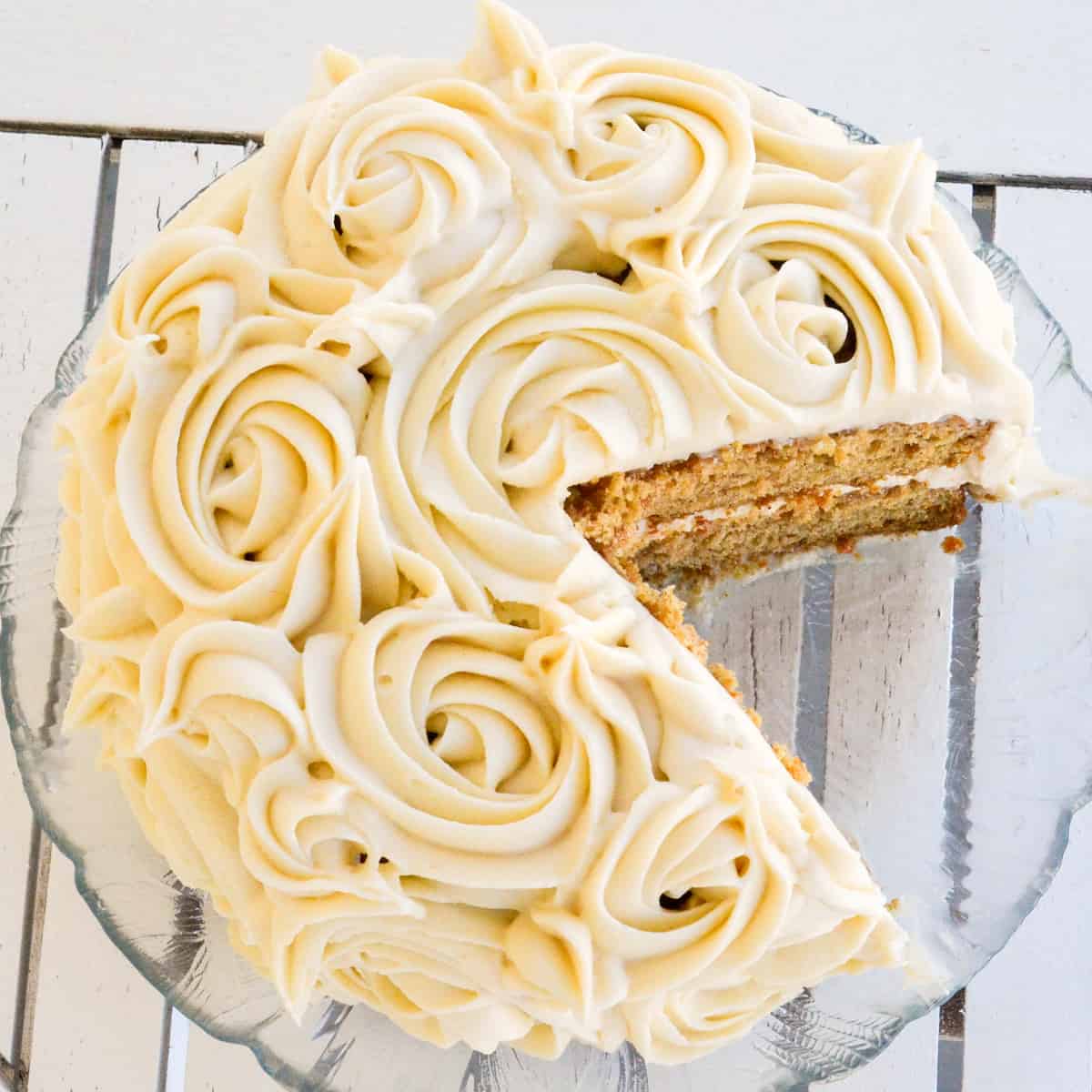 While I'm usually strictly a chocolate person, there's something about the spring that makes me seriously crave carrot cake. It's always on the menu for our Easter celebrations, and I love making it for friends and family this time of year.
I try to make desserts that even people with dietary restrictions can enjoy. Since I can remember, I have been lactose intolerant. I never complain or ask others to cook special meals for me. But when people go the extra mile to make something they know I can eat, it really means a lot.
That's why I decided to adapt my favorite carrot cake recipe to make it gluten and dairy-free. A special gluten-free carrot cake you can share with special people to make them feel loved.
Dairy-Free Carrot Cake: Ingredients & Substitutions 
Gluten-Free Flour. I used an all-purpose gluten-free flour blend and the texture turned out great. You can substitute regular all-purpose flour if you do not need the cake to be gluten-free.
Granulated Sugar. I recommend organic cane sugar, however any granulated sugar works well in this recipe.
Dairy-Free Yogurt. There are many varieties of dairy-free yogurt on the market today, and you can find them at just about any grocery store. If you do not need a dairy-free cake, feel free to substitute regular yogurt.
Cream Cheese. If you are like me and think carrot cake MUST be slathered with cream cheese frosting, you can keep this healthy carrot cake dairy free by using a dairy-free variety of cream cheese.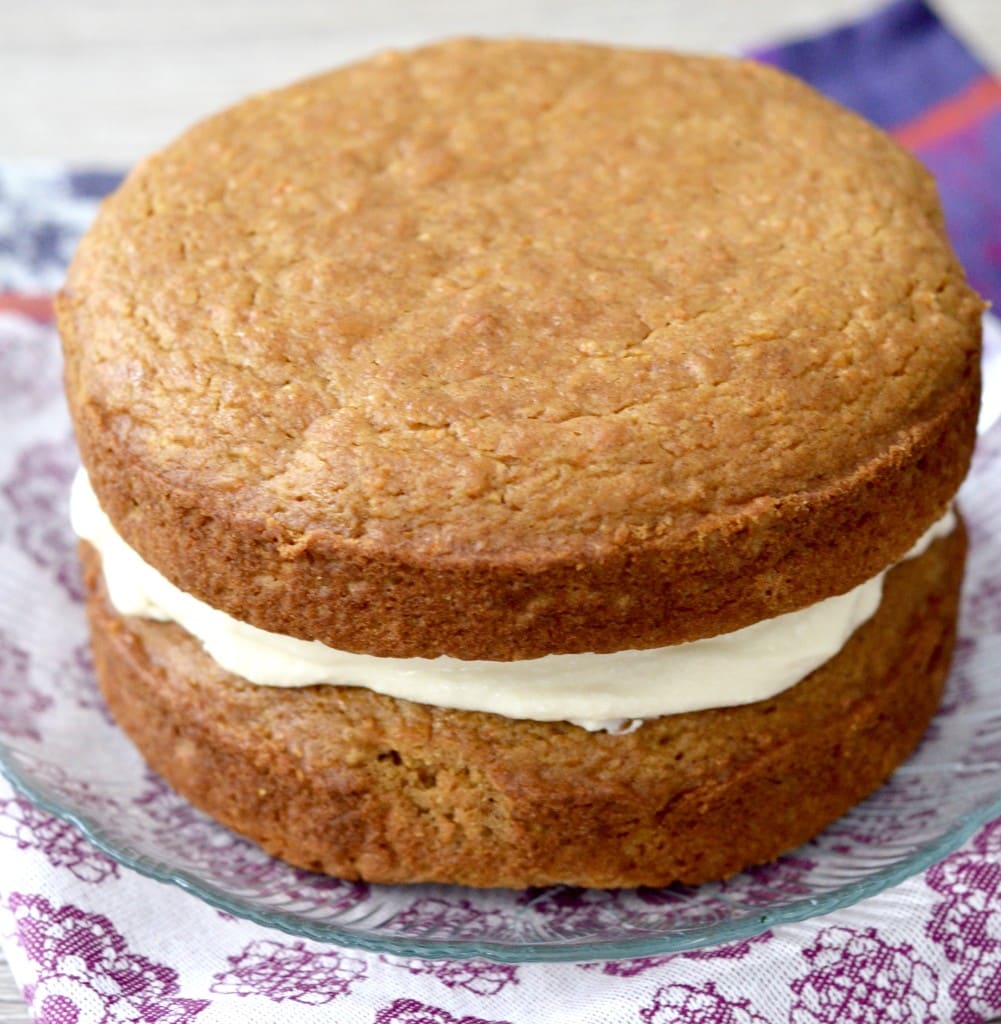 Making a cake moist and delicious without gluten or dairy is not an easy task (let's just say at least one of my trials ended up straight in the trash…yikes).
But I finally succeeded and I'm so excited to share this recipe with you. Instead of using butter or oil for moistness, this recipe uses applesauce and dairy-free yogurt which makes it a dairy-free carrot cake.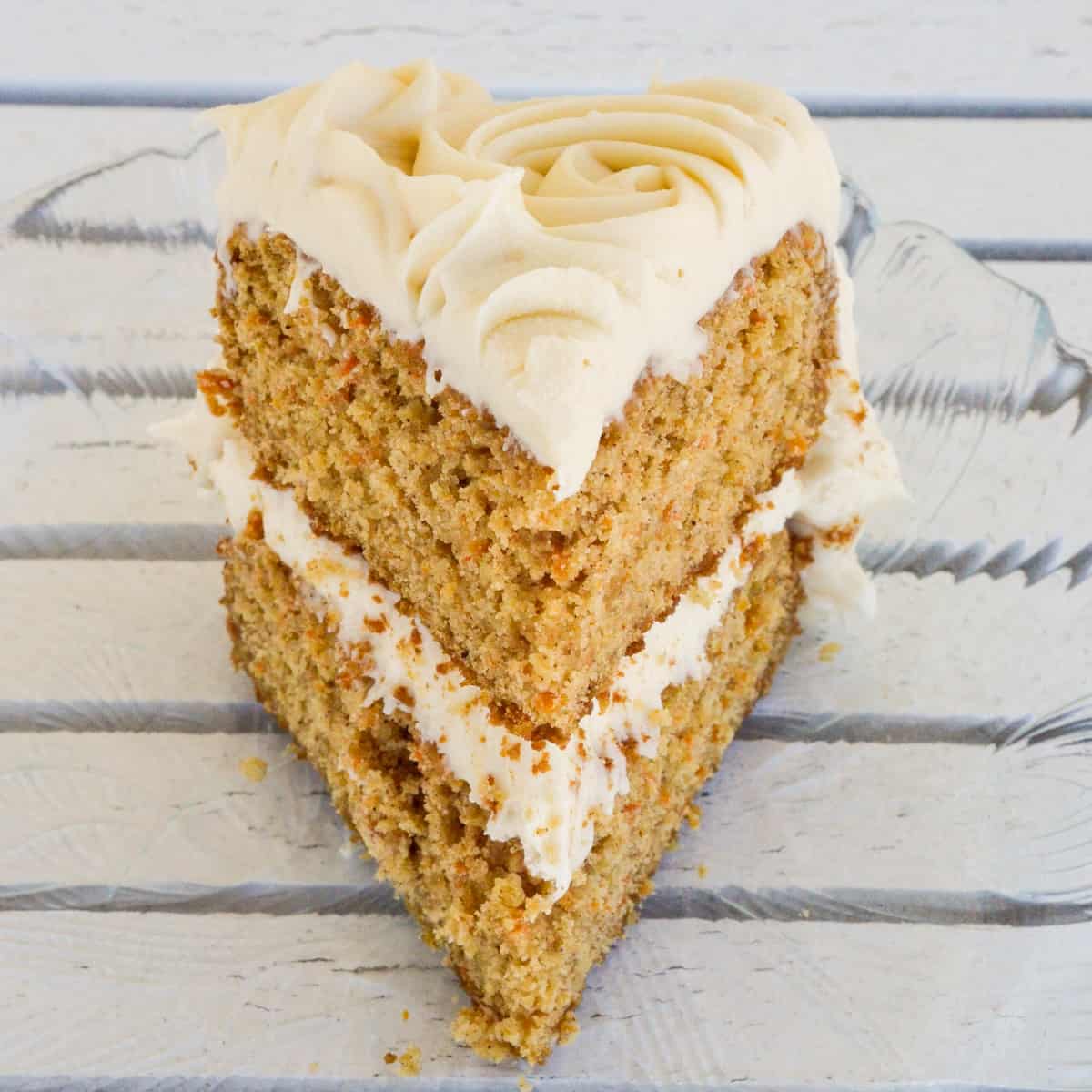 Small Batch Gluten-Free Carrot Cake
Usually Easter includes an overload of jelly beans and chocolate eggs, so I chose to create a recipe for a small gluten-free carrot cake (two 6″ layers or one 9×9″ pan).
That way, you can enjoy a slice of cake with a few chocolate eggs on the side! However, the recipe can easily be doubled to fill two 9″ round cake pans or one 9×13″ pan if you're feeding a crowd.
FAQs About Gluten-Free Carrot Cake
Do you have to peel carrots for carrot cake?
Yes, peel the carrots before finely grating them.
What is the best way to grate carrots for carrot cake?
For best results use a food processor.
What side of grater do you use for carrot cake?
If grating by hand, hold the hand grater in your non-dominant hand and a peeled carrot in your dominant hand. Place the carrot against the side of the grater that has the smallest holes. Grate the carrot in a downward motion.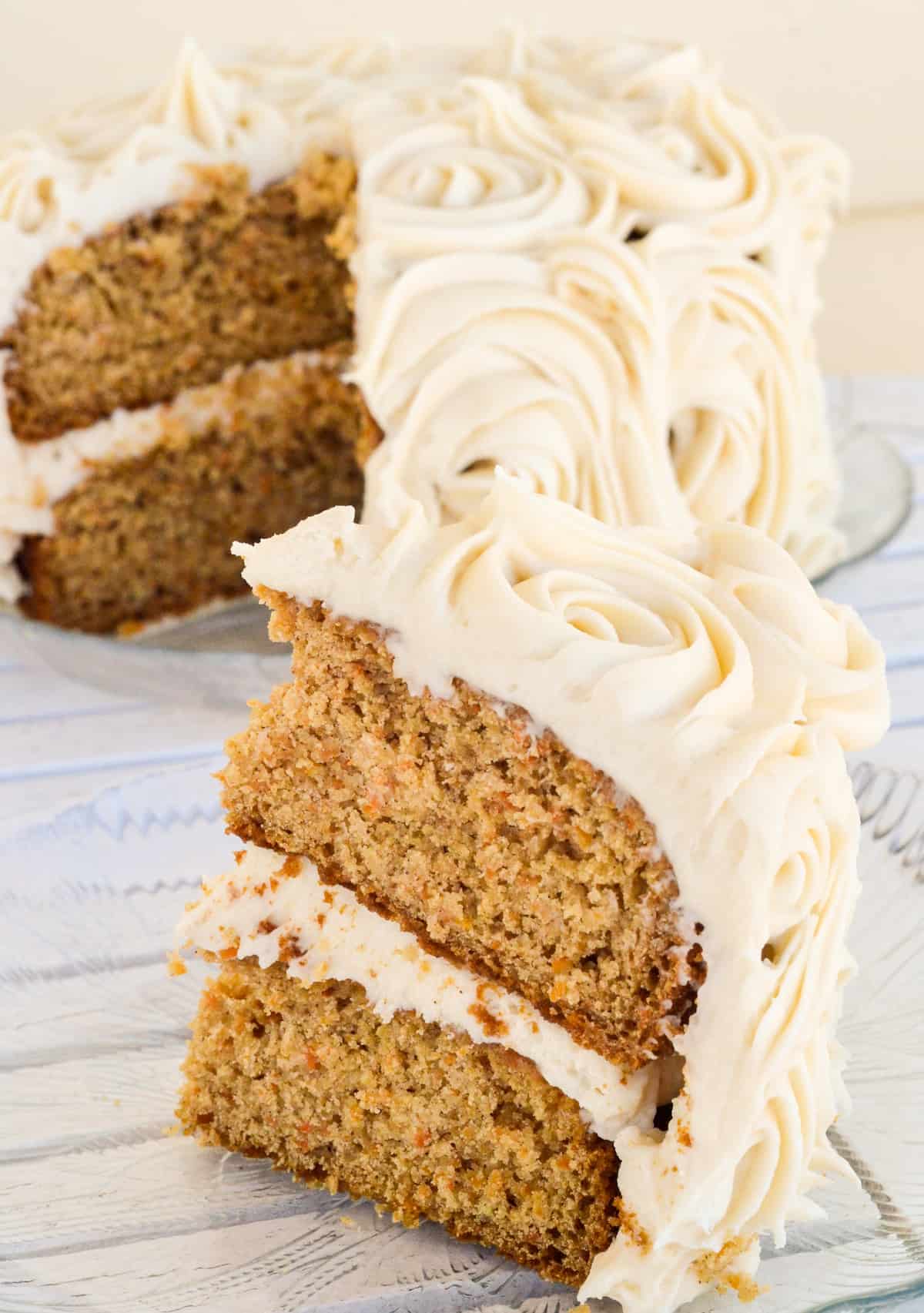 More Delicious Recipes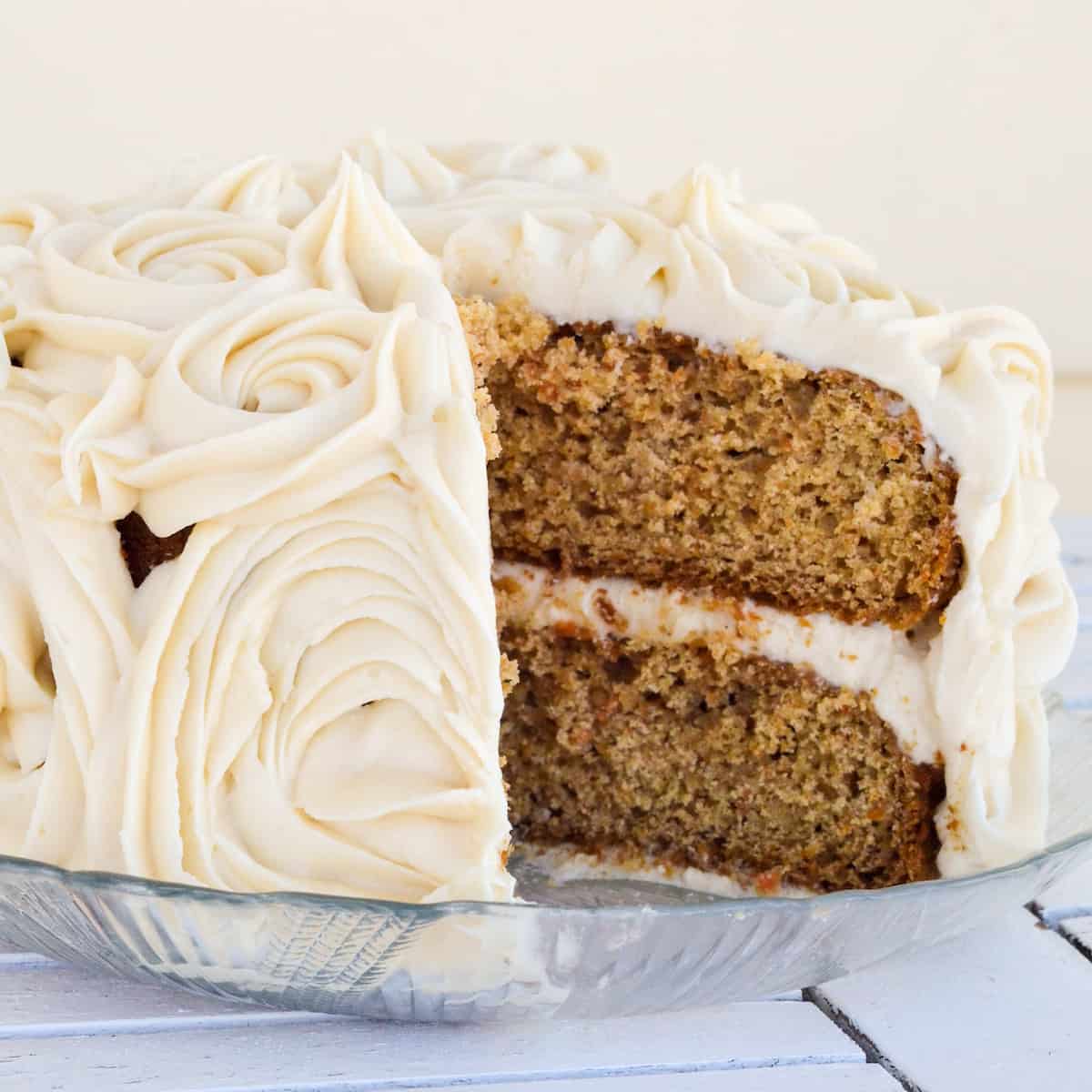 If you make and love our recipes, it would mean so much to me if you would leave a comment and rating! And don't forget to follow along with us on Instagram, Pinterest, Facebook, and Youtube – be sure to tag @joyfoodsunshine and use the hashtag #joyfoodsunshine so we can your creations!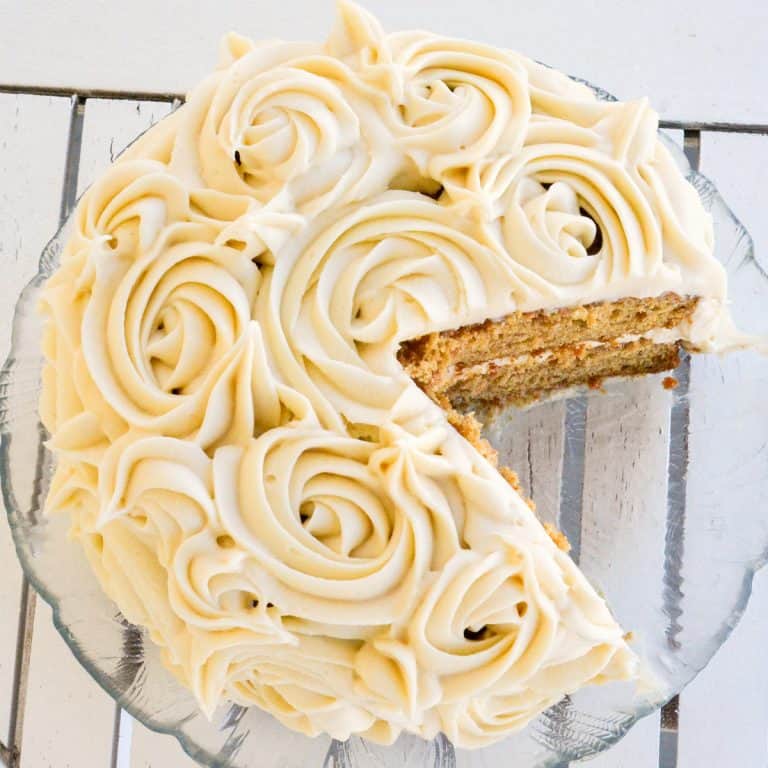 Gluten-Free Carrot Cake (Dairy-Free)
This gluten-free carrot cake recipe is healthier than your average cake and it's dairy-free! Applesauce & dairy-free yogurt replace oil or butter in this delicious recipe!
Instructions
Preheat oven to 350 degrees F. Grease and flour a 9 x 9" pan or two round 6" cake pans.

Mix flour, baking soda, baking powder, salt and cinnamon in a small bowl, set aside.

Grate or process your carrots until fine. Measure and be sure you have ¾ cup carrots after processing. Set aside.

In a large bowl, whisk together the yogurt and egg.

Mix in sugar, applesauce and vanilla until smoothe.

Add dry ingredients to wet mixture and mix until well combined.

Fold in carrots until evenly mixed.

Pour into your prepared cake pans and bake for 35-45 minutes until slightly golden brown and a toothpick inserted in the center comes out clean.

Let the cake sit in the pans for 5 minutes.

After 5 minutes remove and cool on a wire rack.

When cake is cooled, frost with your favorite dairy-free frosting (cream cheese is the best)!

Chill in the refrigerator until ready to serve!
Notes
To Store/Freeze
To keep the carrot cake fresh, store it in a container. For best results refrigerator for up to a week, or in the freezer for up to 1 month.
To Freeze Carrot Cake
Transfer frosted cake to the freezer, uncovered.
Freeze for 6 hours, or until the frosting has hardened and won't stick to plastic wrap.
Wrap the entire cake with plastic wrap thoroughly.
Freeze for up to 1 month.
Thaw in the refrigerator overnight.
Ingredient Substitutions
You can use regular all-purpose flour and regular yogurt if you are not concerned about dietary restrictions!
Nutrition
Serving:
1
Slice
|
Calories:
111.7
kcal
|
Carbohydrates:
22.8
g
|
Protein:
2.3
g
|
Fat:
1.9
g
|
Saturated Fat:
0.8
g
|
Polyunsaturated Fat:
0.1
g
|
Monounsaturated Fat:
0.2
g
|
Cholesterol:
21
mg
|
Sodium:
275
mg
|
Potassium:
44
mg
|
Fiber:
1.7
g
|
Sugar:
13.5
g
|
Vitamin A:
1055
IU
|
Vitamin C:
1.2
mg
|
Calcium:
45
mg
|
Iron:
0.7
mg
Nutrition information is automatically calculated, so should only be used as an approximation.
Did you enjoy this recipe? Have a question? Leave a comment below!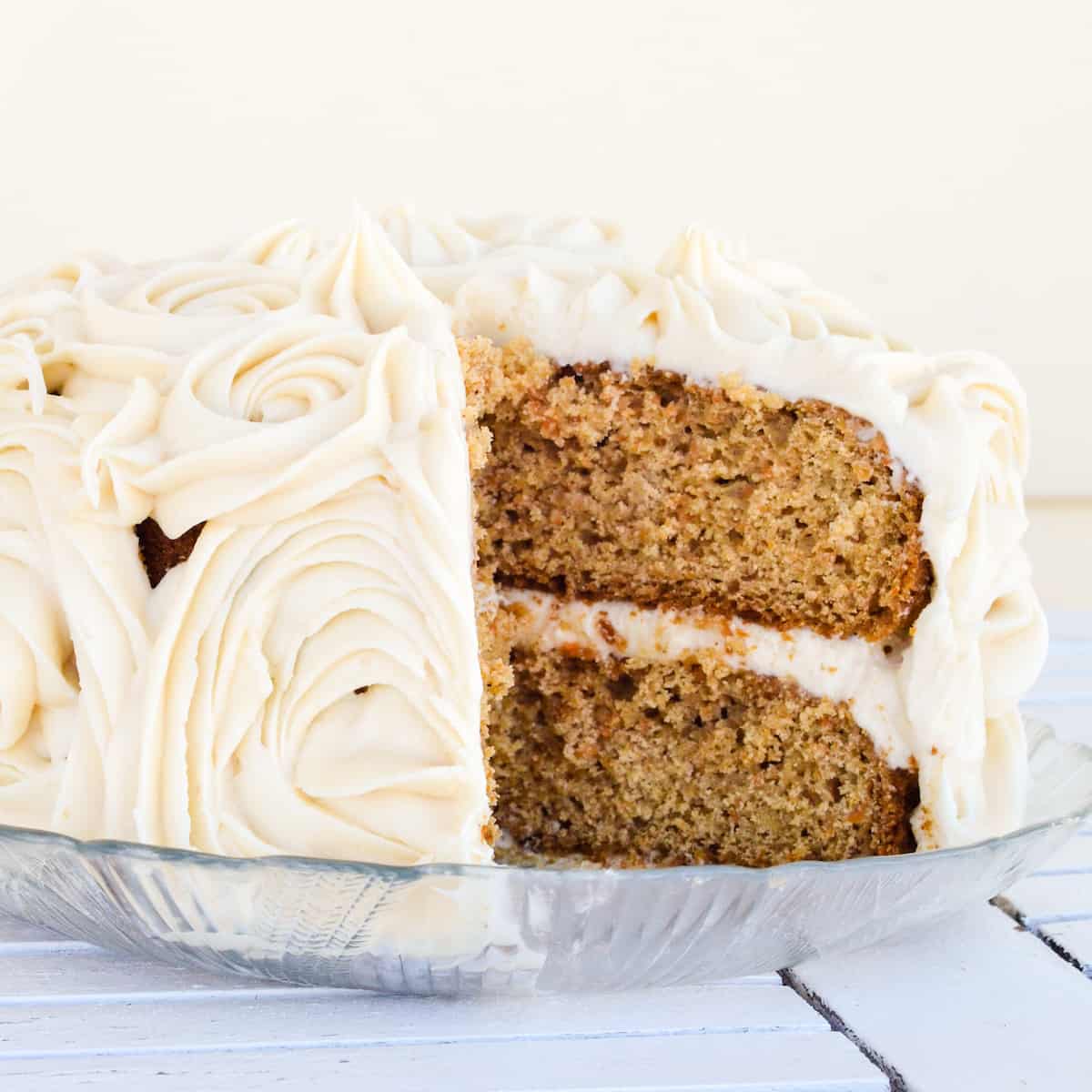 We love Easter, it's our favorite holiday. I take a two-week break in our homeschooling schedule to walk through a curriculum that teaches my kids the real meaning of Easter. We don't do the egg-laying bunny thing, but we do have a lot of fun! Since our kids are young we're trying to establish traditions they can look forward to every year. Bethany asks for "resurrection rolls" all the time, which is a fun breakfast that I make the Saturday before Easter.
They love hearing the easter story told using resurrection eggs. We always get super dressed up on Easter Sunday and head to church. I really love Easter and am looking forward to our first celebration as a family of 5 this year.
I would love to hear from you! What are your favorite Easter traditions? Recipes?
The links in this post are affiliate links, thank you for supporting JoyFoodSunshine.