Essential oils landing page! If you're here to learn more about essential oils, this is where I share all the links to blends, recipes, guides, etc. as well as some of my favorite products.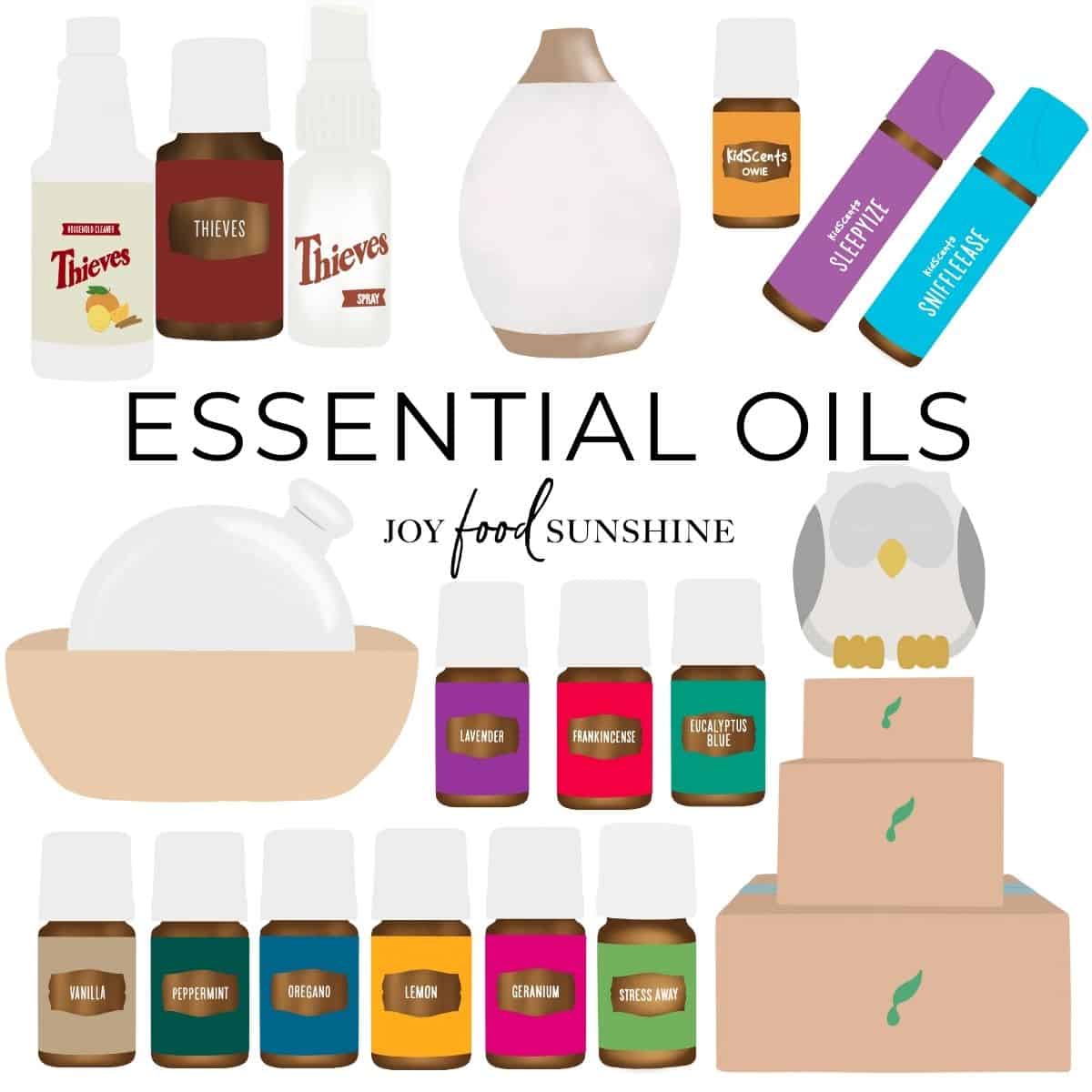 I have slowly and surely been replacing our household products, both in and out of the kitchen, with non-toxic, chemical-free products.
This led me to essential oils. I had been intrigued with them for ages but never had time to really learn and experience their benefits until my 6th baby was 1 year old (and then I quickly regretted not learning sooner so all my children could have benefited from them the last 11 years).
So, I'm going to share all my oily experiences here. If you want to purchase oils please sign up using this link: Young Living Essential Oils and enter my number #31270904.
You can also shop my Young Living Website where I share my favorite products and bundles: https://www.myyl.com/joyfoodsunshine
Essential Oils Links:
Click on this link to learn how I got started with essential oils. I know it can feel overwhelming but taking small steps is what helped me!
Products
Diffusers. I started with just one diffuser (the Aria Starter Kit) and then over time added a diffuser to most rooms in my home.
Starter Kits: I recommend this starter kit: Aria Starter Kit The aria diffuser is my favorite and it's actually less expensive to buy it as a kit that comes with oils than it is to purchase it on its own! Haven Starter kit this haven diffuser is one of my favorites too. This bundle is less expensive and a good place to start. I added my favorite oils if you want a few more than what this one comes with.
Roll on oils are great if you're not interested in diffusing but just want to use them for similar situations. Roll on oils
Non-toxic cleaning: The thieves cleaning products changed our household for the better. When you have little kids who lick every surface in the house (haha, but seriously) non-toxic cleaning products are so important. Check out our thieves cleaner recipe and thieves cleaning paste.
Non-toxic beauty: from toothpaste to makeup, do you know what is in the products you put on your face that absorb through your skin (the largest organ in your body)?
Click here to learn about blending essential oils.
Click here to learn our favorite roller blends.
If you make and love our recipes, it would mean so much to me if you would leave a comment and rating! And don't forget to follow along with us on Instagram, Pinterest, Facebook, and Youtube – be sure to tag @joyfoodsunshine and use the hashtag #joyfoodsunshine so we can your creations!
This post contains affiliate links, which means that if you purchase a product through a link you clicked on here, I receive a portion of the sale. Thank you for supporting JoyFoodSunshine!