This Easy Pizza Casserole recipe is a family-favorite meal that is kid tested and husband approved! It's a great main dish to feed a crowd, only takes 10 minutes to prepare, and is made with 9 ingredients!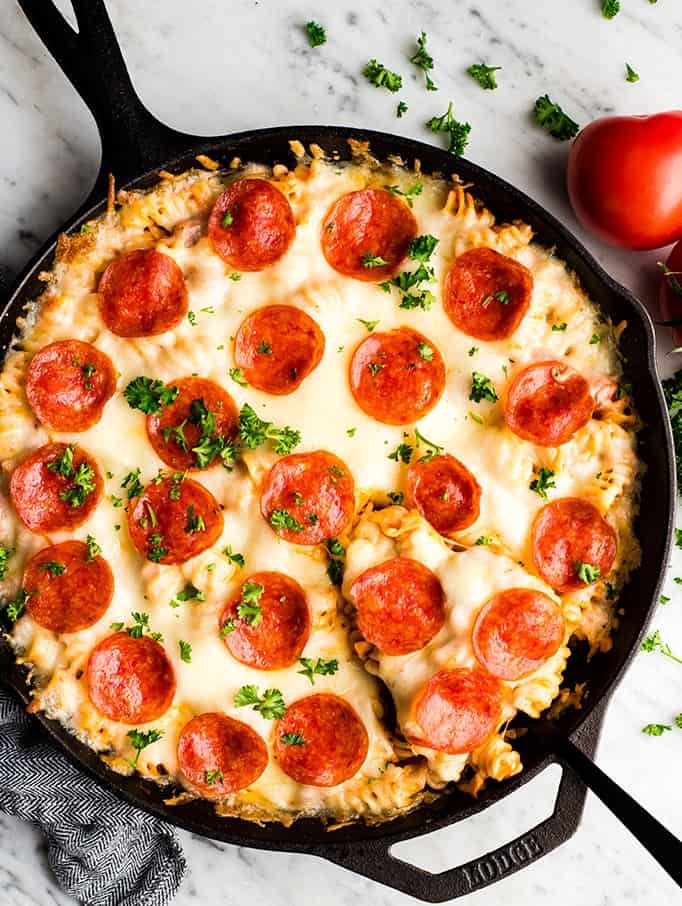 Today I am excited to share one of our family's favorite recipes with you! I have been making this Easy Pizza Casserole for my husband ever since we first got married (almost 12 years ago...woah), and he never gets tired of it! And now our kids love it too!
There are SO many reasons to adore this pizza casserole recipe...here are a few, it's:
Extremely easy to make (only 10 minutes of prep)!
Perfect to feed a crowd (read: great to take to a potluck) or a large family!
Can easily be made ahead!
Makes great leftovers!
Freezes beautifully!
Love by everyone who tries it!
Plus, it's highly customizable and adaptable to many different dietary needs and restrictions!
Like I said, we have a major winner on our hands!
How do you make Pizza Casserole?
Let's get started by walking through how to make this pizza casserole recipe step-by-step! It's SUPER easy, but I want to show you exactly how it's done to ensure your success!
Step 1: Cook Pasta
Begin by cooking the pasta! Since water takes while to boil and the pasta takes some time to cook, I recommend starting this process and while simultaneously working on step 2...
Step 2: Brown the sausage
Browning the sausage is an important step in this pizza casserole recipe because it adds lots of flavor and texture. Make sure to cook it until it's browned as pictured below. Start by using 1 TBS olive oil and add more as needed (you may need to add more if you chose a lean sausage like turkey or chicken sausage).
Add onion if desired
If you would like to use onion in this recipe (recommended for anyone who is normal and loves onion...unlike yours truly), add it here and cook it with the sausage.
Step 3: Add the sauce and spices
Add the sauce and spices to the browned sausage and stir to combine. Make sure everything is mixed well.
Step 4: Add cooked pasta and stir
Pour the cooked and drained pasta into the sauce and stir to combine.
NOTE about the amount of pasta: We prefer to make this recipe using 8 oz of pasta (about 3 cups dry & uncooked). We like our pasta dishes saucy. In the photo below I made it with 16 oz of pasta (6 cups dry). As you can see the sauce looks a little scant...but we all still loved it that way and it was less messy for the little ones in our family.
So I recommend making it as written for the absolute best flavor. But if you'd like a larger amount you can either double the entire recipe or just the pasta amount (but remember it will be significantly less saucy)!
Step 5: Top with cheese & toppings
Top the mixture with mozzarella cheese and your desired toppings. We always choose pepperoni, but the sky's the limit with what you can use! Anything you normally put on a pizza (think peppers, onion, more sausage, olives, etc.) tastes great on this pizza casserole!
Can you make this pizza casserole ahead of time?
YES you can! To make this pizza casserole ahead of time, or to bring it to a friend as a meal unbaked, this is the point at which you should cover it and store until you want to bake it.
If it will be stored for less than 2 hours before baking and serving, I recommend leaving it covered at room temperature.
To store for longer (or overnight), place the covered baking dish in the refrigerator!
Choosing a baking dish:
There are many different vessels that can be used to bake this pizza casserole. Here are a few options and their pros/cons:
Cast Iron Skillet: The beauty of using a cast iron skillet to make this pizza casserole recipe in is that it makes it a two-pan meal (one pot to cook pasta, then the cast iron skillet for the rest). It also looks like the shape of a pizza, which is honestly why I chose to do use it for this photo shoot!
Glass Baking dish (with lid): If you plan on making this pizza casserole ahead of time and waiting to bake it, I recommend using a baking dish with a lid. That way it's easy to store until it's time to bake.
disposable aluminum baking panDisposable Aluminum baking pan: If you plan to take this dish to a large gathering or bring it to someone as a meal I recommend using a (or another disposable baking dish). That way you don't have to keep track of your dishes and you don't have to give a friend the task of returning them to you!
Step 6: Bake
Bake the assembled pizza casserole until the top is melted and the edges are slightly browned. I personally love the hard, chewy, cheesy edges the best, but you can bake to your preferred brownness/doneness!
Step 7: Serve!
Once your Pizza Casserole has slightly cooled, top it with some fresh parsley and a little parmesan cheese and serve... (although my kids were convinced that it was a vegetable and proceeded to pick off every single piece, then move it to the side of their plates...LOL)!
My husband keeps a list of "dinner ideas" that he references when I ask him what he wants me to cook (you know, when I have run out of creativity and brainpower and need some serious help)! 😉 This Pizza Casserole is at the very top of his list!
Makes great leftovers or feeds a crowd!
Since this pizza casserole recipe has a large yield, I love making it on weeks when I know I will need to rely on leftovers to feed my family a few times!
It's also great to serve to a large group of friends for dinner! The leftovers freeze beautifully, so if you can't finish the entire casserole, freezing it for later is always an option!
How do you store leftover pizza casserole?
To store simply place leftovers in an airtight container in the refrigerator! Reheat in the microwave the next day and enjoy!
Pizza Casserole: Ingredients & Substitutions
Let's take some time and chat about the ingredients used in this pizza casserole recipe as well as possible substitutions!
Rotini. I like making this dish with rotini pasta because it is a fun shape and my kids love it! Plus it absorbs sauce well. Feel free to use your favorite pasta variety (penne, bow ties, etc. etc.). You can also substitute gluten-free pasta varieties to make this dish gluten-free!
Italian Sausage. There are so many different sausage varieties you can use in this pizza casserole recipe that will effect the taste/nutrition to your liking. We use mild Italian turkey sausage because it's lighter and we love the flavor. Use your favorite heat level with pork, turkey or chicken sausage!
Pasta Sauce. I use Tomato Basil Marinara Sauce from Trader Joe's because it's our favorite. Feel free to use your favorite store-bought or homemade variety!
Mozzarella cheese. I recommend a part-skim mozzarella, but there are so many options that could be used including: Italian cheese blend, fresh mozzarella, etc.
Parmesan Cheese. This is an optional ingredient that I didn't use during this recipe shoot, however I do recommend it as it adds lots of flavor!
Pepperoni. We almost always use turkey pepperoni, but once again, use your favorite!
IF YOU MAKE SOMETHING FROM JOYFOODSUNSHINE I WOULD LOVE TO SEE YOUR CREATIONS! DON'T FORGET TO RATE THIS RECIPE AND LEAVE A COMMENT BELOW! ALSO, FOLLOW ALONG WITH ME ON INSTAGRAM, PINTEREST, FACEBOOK, YOUTUBE AND TWITTER FOR MORE RECIPE INSPIRATION AND A GLIMPSE INTO OUR EVERYDAY LIFE!
Easy Pizza Casserole Recipe
This Easy Pizza Casserole recipe is a family-favorite meal that is kid tested and husband approved! It's a great main dish to feed a crowd, only takes 10 minutes to prepare, and is made with 9 ingredients!
Instructions
Preheat Oven to 375 degrees F.

Cook pasta according to package instructions. Drain, rinse with cool water and transfer to a large bowl. Set aside.

In a large sauté pan or skillet, add 1 TBS olive oil and 20 oz Italian sausage (optional: add ½ cup finely diced onion). Sauté until sausage is brown and completely cooked through.

Add pasta sauce to skillet and stir.

Add Italian seasoning, garlic salt and pepper. Stir to combine.

Add sauce mixture to cooked and drained pasta and stir to combine.

Pour mixture into a glass 9x13" baking dish or baking dish of choice.

Sprinkle the top evenly with mozzarella and parmesan cheeses.

Evenly place pepperoni (or desired toppings) on top of the cheese.

Bake (uncovered) in the preheated oven for 15-20 minutes or until cheese is melted and the edges are golden brown and bubbly. Remove and serve!
Nutrition
Serving:
0.75
cup
Calories:
270
kcal
Carbohydrates:
24.3
g
Protein:
19.4
g
Fat:
12.2
g
Saturated Fat:
4.2
g
Polyunsaturated Fat:
0.1
g
Monounsaturated Fat:
1.2
g
Cholesterol:
43.8
mg
Sodium:
920
mg
Potassium:
49.6
mg
Fiber:
2.4
g
Sugar:
8.2
g
Vitamin A:
135
IU
Vitamin C:
4.7
mg
Calcium:
187
mg
Iron:
2.1
mg
Here are some more of our favorite pasta dishes:
This recipe was originally posted on September 26, 2016. It has been updated with new photos and more detailed instructions, but the recipe itself remains unchanged.
This post contains affiliate links, which means that if you purchase a product through a link you clicked on here, I receive a portion of the sale. Thank you for supporting JoyFoodSunshine!