This Healthy Sausage Kale Soup with Sweet Potatoes is a cozy fall soup made in the slow cooker (Crockpot). This Paleo Sausage Kale Soup is a great make-ahead dinner recipe that only takes 15 minutes of hands-on preparation!
There is something about the cooler fall weather that compels me to break out my slow cooker and make hearty, cozy soups, like this chicken pot pie soup, vegetable soup and tortellini soup!
This particular Sausage Kale Soup recipe has become a fall staple in our house! It's loaded with fall vegetables, bursting with flavor and is my favorite, fix-it-and-forget-it, kind of recipe!
Seriously, sausage kale sweet potato soup literally takes 15 minutes to prepare! Then you get to enjoy the aroma all day long while it cooks, and when dinner rolls around you simply scoop and serve!
My kids really loved this recipe too! No joke – and because it's too funny not to share – my son refers to this paleo Sausage Kale Soup recipe as, "that one soup that looked gross but tasted really good." LOL
If they'll eat a recipe that has SO many veggies without batting an eye, then you know we have a winner!
How do you make sausage kale soup?
As always, we will walk through the tips and tricks for making this recipe so you are guaranteed success!
1. Brown the sausage & onions
If you've been around my blog for a while then you know I am very passionate about browning meat in my recipes. This sausage kale soup recipe is no exception. I truly believe that browning the sausage, onion & garlic before adding it to the crockpot adds a depth of flavor that just can't be achieved with un-browned ingredients!
Start by browning the sausage alone. Use about 1 TBS of olive oil and cook the sausage alone in a skillet over medium-high heat until it just begins to brown.
Add onion & garlic and finish browning. Once the sausage begins to brown, add the onion & garlic and cook for an additional 5-10 minutes stirring occasionally, until all the ingredients are nicely browned (as pictured below).
2. Add all the ingredients to Crockpot (Slow Cooker)
While the sausage is browning, add the rest of the ingredients in this Sausage Kale Soup to the container of your slow cooker. Give it a good stir until everything is evenly distributed.
Once the sausage is finished browning, add the contents of the skillet to the ingredients in the slow cooker and stir again. Try to scrape all the little bits of oil, onion, and garlic out of the skillet for maximum flavor!
What size slow cooker should I use to make this Sausage Kale Soup?
I used this 6 quart slow cooker and everything fit inside very nicely (as you can see in the photo below). I don't recommend going smaller than this, as you might not be able to stir it very easily.
If you only have access to smaller crockpots, you could always divide the recipe evenly among two smaller slow cookers and cook it that way!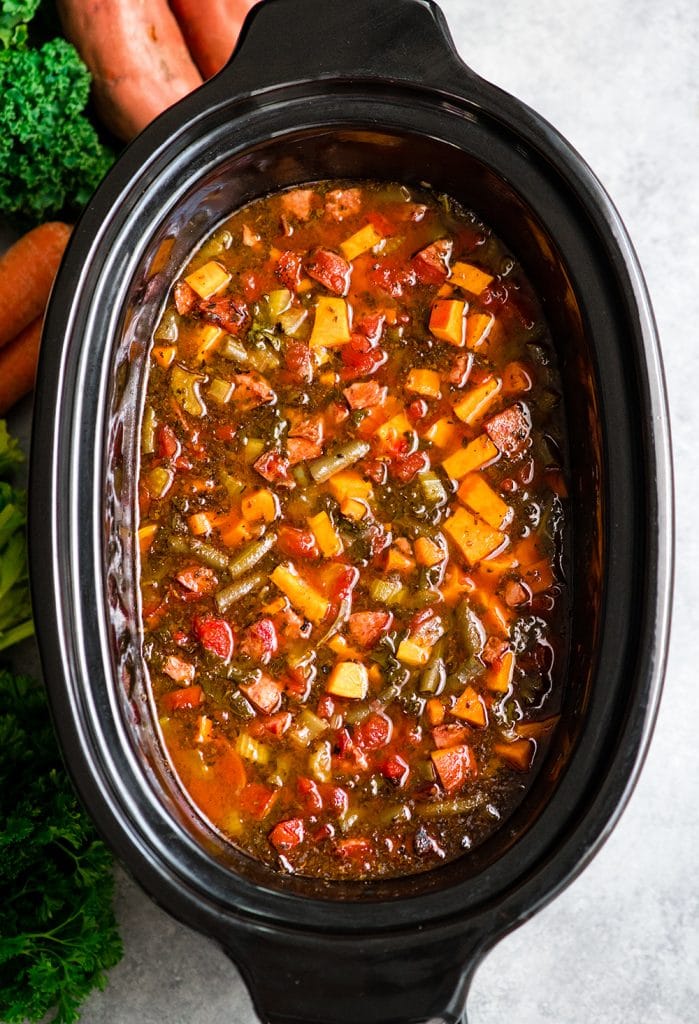 When should I put the kale in the soup?
In this paleo Sausage Kale Sweet Potato Soup the kale is added with the rest of the ingredients in the beginning of the cook time. Since it's a tougher green than spinach, it takes longer to cook and become tender!
3. Let the Sausage Kale Soup Cook in the Crockpot!
Now that you've done all the prep work, it's time to sit back, relax and let the slow cooker do it's thing! There are two different settings/cook times that can be used to make this Sausage Kale Soup Recipe:
Cook on Low. If you want to fix this Sausage Kale Soup in the morning and let it cook all day long, I recommend cooking it on low for 6-8 hours.
Cook on high. If you're like me, and often don't remember to prepare dinner until after lunch, cook this Paleo Sausage Kale Soup on high for 3-4 hours.
How do you know when this Sausage Kale Soup is fully cooked?
The best way to check this Sausage Kale Soup recipe for doneness is by tasting the sweet potatoes and/or carrots, because they are the two vegetables that take the longest to become soft and fully cooked.
How do you speed up the cooking process?
If you want this soup ready quicker, chop your veggies (including the sweet potatoes) into smaller pieces. Remember, smaller, more thinly cut vegetables will cook faster!
Sausage Kale Soup: Ingredients & Substituions
So, let's chat about the ingredients I used in this Sausage Kale Soup recipe, and possible substitutions that can be made!
Smoked sausage. I used a 14 oz package of smoked sausage. Uuse your favorite sausage variety, and be sure to choose one that fits your dietary needs. You could use Italian sausage, but I just love the flavor of smoked varieties!
Minced Garlic. If garlic isn't your favorite, you can substitute a dash of garlic powder for the minced garlic.
Olive Oil. Any neutral oil works well in this sausage kale sweet potato soup recipe. If you don't have olive oil on hand my next recommendation would be avocado oil. The purpose of the oil is to brown the sausage!
Vegetable Broth. I tested this sausage kale soup recipe with both chicken and vegetable broth, and vegetable won in my book, however chicken broth still tastes amazing!
Fire Roasted Diced Tomatoes. I absolutely adore the flavor of fire roasted tomatoes (I use them in SO MANY recipes), however you could make this recipe with any variety or flavor of canned diced tomatoes that you like. Just be aware that whatever you choose will impact and change the overall flavor of the dish!
Kale. My husband actually said he enjoyed the kale in this recipe, and basically couldn't taste it at all. When I mentioned that I might try it with spinach he begged me not to, because he doesn't like the texture of cooked spinach. If you do like spinach in soups, feel free to use it in place of some or all of the kale, although kale is my favorite green to use in this sausage kale soup! 😉
Sweet Potatoes. You could substitute red potatoes, Yukon gold potatoes, or Russet potatoes if you don't love sweet potatoes!
Celery, Carrots & Green Beans. We loved this combination of vegetables. Feel free to change it up to suit your tastes. Or you could simply buy a bag of frozen mixed vegetables and toss it in the crockpot! I used frozen green beans (for the sake of ease and time), but you could use chopped fresh green beans!
Italian Seasoning. Feel free to use fresh herbs and spices instead of dried Italian seasoning! But you will need to play with the amount to suit your tastes!
IF YOU MAKE SOMETHING FROM JOYFOODSUNSHINE I WOULD LOVE TO SEE YOUR CREATIONS! DON'T FORGET TO RATE THIS RECIPE AND LEAVE A COMMENT BELOW! ALSO, FOLLOW ALONG WITH ME ON INSTAGRAM, PINTEREST, FACEBOOK, YOUTUBE AND TWITTER FOR MORE RECIPE INSPIRATION AND A GLIMPSE INTO OUR EVERYDAY LIFE!
Sausage Kale Soup with Sweet Potatoes
This Healthy Sausage Kale Soup with Sweet Potatoes is a cozy fall soup made in the slow cooker (crockpot). This Paleo Sausage Kale Soup is a great make-ahead dinner recipe that your entire family will love!
Ingredients
14

oz

smoked sausage

diced

½

tsp

minced garlic

½

onion

diced

1

TBS

olive oil

4

cups

1 quart vegetable broth

2

15 oz cans fire roasted diced tomatoes

3

kale leaves

chopped

2

small sweet potatoes

about 4 cups

2

stalks celery

diced (about 1 cup)

2

large carrots

diced (about 1 cup)

2

cups

green beans

fresh or frozen, chopped into 1" long pieces

2

TBS

Italian seasoning

Salt & Pepper to taste
Instructions
Add 1 TBS olive oil in a large skillet and heat over medium-high heat.

Add diced sausage to the skillet and cook until it just starts to brown (about 5-10 minutes).

Add onions and minced garlic and continue cooking until everything is browned (about 10 additional minutes).

While the sausage is browning: add vegetable broth, diced tomatoes, chopped kale, sweet potatoes, celery, carrots green beans, and Italian seasoning to the pot of your

slow cooker

and stir to combine.

Add browned sausage, onions and garlic to the

slow cooker

and stir to combine.

Cook on high for 3-4 hours, or low for 6-8 hours until the sweet potatoes are fork tender.

Serve warm!
Nutrition
Serving:
0.5
cup
Calories:
192.4
kcal
Carbohydrates:
22.1
g
Protein:
8.9
g
Fat:
7.3
g
Saturated Fat:
2.3
g
Polyunsaturated Fat:
0.3
g
Monounsaturated Fat:
1
g
Cholesterol:
24.5
mg
Sodium:
776.4
mg
Potassium:
356.1
mg
Fiber:
4.5
g
Sugar:
6.7
g
Vitamin A:
14505
IU
Vitamin C:
30.9
mg
Calcium:
55
mg
Iron:
1.6
mg
If you love this recipe, try these:
This post contains affiliate links, which means that if you purchase a product through a link you clicked on here, I receive a portion of the sale. Thank you for supporting JoyFoodSunshine!