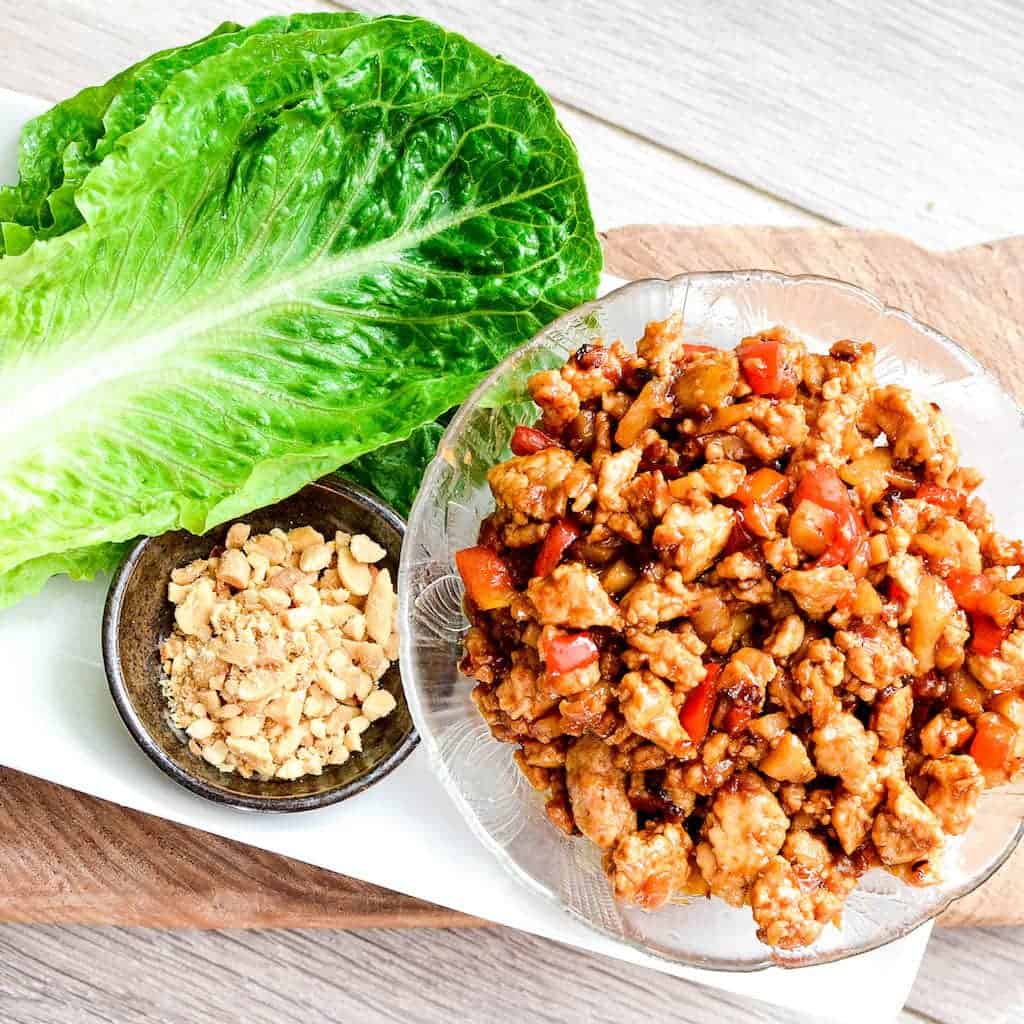 I know that's a pretty bold claim…Asian Chicken Lettuce Wraps you can make at home that are better than the beloved dish from P.F. Chang's?! It may be bold, but it's true! This Asian Chicken Lettuce Wraps recipe is one that took me years of trial and error, and lots of taste-testing, to get it just right.
I've already discussed my love for Asian food here and here. These Asian Chicken Lettuce Wraps wraps are one of my favorite dinners. They are quick and easy and my whole family loves them.  Even my kids eat them, and have tons of fun doing it!
However, to be totally real with you all (because that's the only way to be), I usually serve these Asian Chicken Lettuce Wraps to my kids over noodles or rice, because by the time dinner rolls around, I am so not interested in cleaning a slimy lettucey mess off of the floor. Yuck.
Asian Chicken Lettuce Wraps: Method 
This recipe is very straightforward! There is, however, one very important step and that is to brown the ground chicken. Making sure the chicken is nice and crispy and brown is essential to the overall flavor and texture of this dish!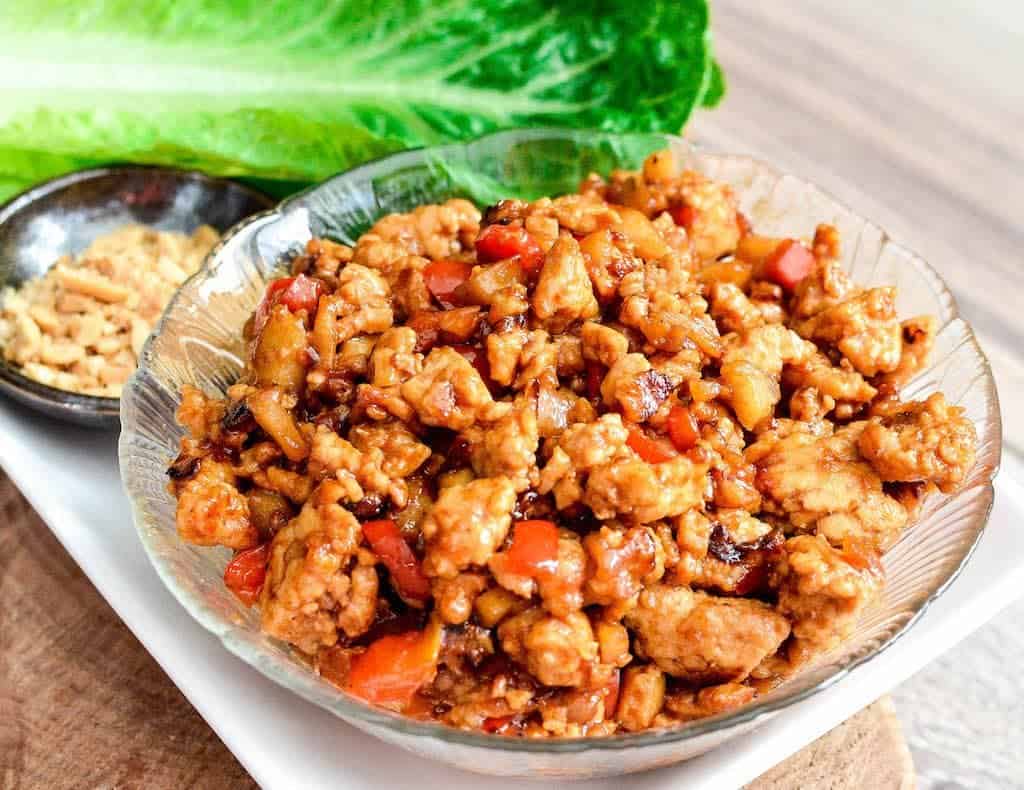 Asian Chicken Lettuce Wraps: Substitutions 
As always I recommend making this recipe exactly as it's written! Like I said, I tested and retested this recipe more times than I can count to achieve lettuce wrap perfection! However, here are a few potential substitutions!
Ground chicken: Finely diced chicken breasts are a great substitute for ground chicken!
Peanut Oil: Any oil can be used here if you don't keep peanut on hand or if you have a peanut allergy. I recommend olive oil or avocado oil!
Soy Sauce: If you have a soy allergy you can substitute coconut aminos for the soy sauce.
Peanut Butter: If you have a peanut allergy any nut or seed butter could work here, but peanut butter definitely gives the best results!
Asian Chicken Lettuce Wraps (better than P.F. Chang's)!
Ingredients
1

lb

ground chicken

1

TBS

peanut oil

½

onion

minced

1

cup

red or green pepper

diced

1 8

oz

can water chestnuts

drained and minced
To serve
¼

cup

peanuts

crushed.

Lettuce or your favorite Asian salad
Instructions
Whisk together sauce ingredients until well combined. If you use a firmer peanut butter you may need to microwave the mixture for 30-60 seconds in order to melt it and ensure everything is well-mixed.

Heat 2 TBS peanut oil in a frying pan. Once hot, add ground chicken.

Cook until some pieces are starting to brown. Add onion and cook for 5 minutes or until the onion is becoming translucent.

Add the peppers and water chestnuts and cook about 5 minutes or until peppers are becoming soft.

Add sauce and simmer on low heat until the chicken and veggies are evenly coated and everything is heated through.

Serve in lettuce leaves, on top of your favorite Asian salad, or over noodles or rice!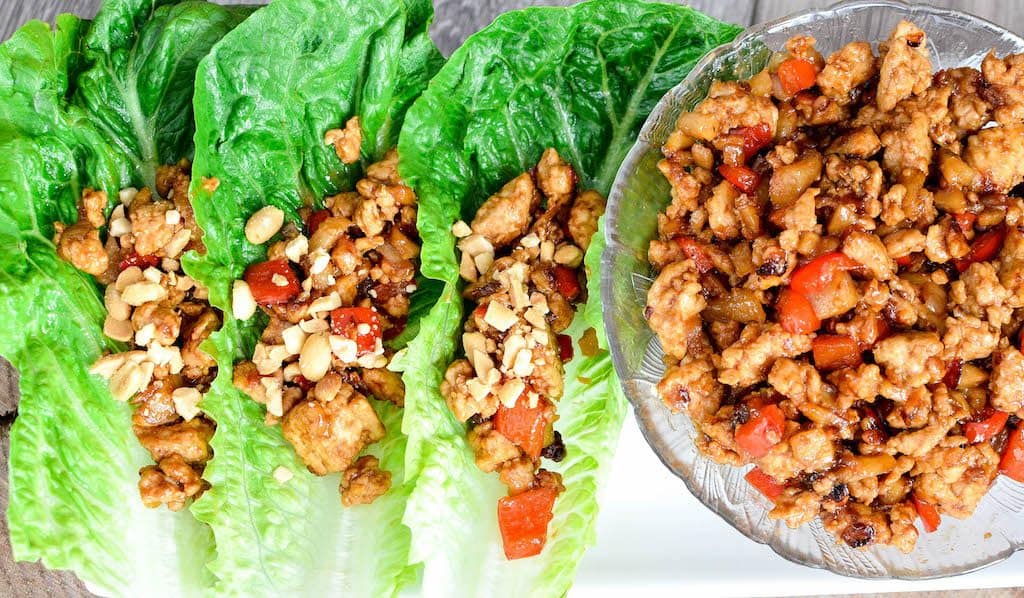 I hope you enjoy this recipe as much as we do!
In other news, our basement is D-O-N-E! If I haven't told you, my husband is incredible. For real…I will not be the least bit surprised if, 30 years from now, he tells me that he's been living a double life…amazing husband and father by day, and secret agent by night.  I'm actually half expecting it.
There are 250 hours of Ritch's blood, sweat, and muscle behind those basement walls. I'm crazy grateful for all the hard word he did, so naturally we celebrated all week! Wednesday was the day carpet went in, so I made a steak dinner with raw cookie dough for dessert (no shame). Saturday we had a long-awaited pizza and a movie night with the kids. They l-o-v-e playing in the basement…however going down alone is completely out of the question. Gabe is convinced that a family of monsters already moved in, and Bethany demands an explanation for every.single.noise she hears. I love those goofballs.
If you make something from JoyFoodSunshine I would love to see your creations! #joyfoodsunshine
Instagram: @joyfoodsunshine
Pinterest: JoyFoodSunshine
Facebook: JoyFoodSunsine
Twitter: @joyfoodsunshine
Pin for later!
This post contains affiliate links, which means that if you purchase a product through a link you clicked on here, I receive a portion of the sale. Thank you for supporting JoyFoodSunshine!