Summer Getaway at Deer Valley Resort
Posted Jul 17, 2019, Updated Sep 02, 2020
Our family loves visiting Deer Valley Resort for a relaxing summer getaway! Here are our favorite things to do and restaurants to enjoy during the summertime at Deer Valley!
This post is sponsored by my friends at Deer Valley Resort. As always, all opinons & photos are my own!
I don't know about you, but for our family, summer seems to be busier than the school year. We always have so much going on that summer fun can get put on the back burner.
However, we only have 18 summers with our kids, and I refuse to let them slip away without making memories that will last a lifetime. So when our friends at Deer Valley Resort offered to arrange a little "staycation" for us in the mountains we cleared our schedule, packed our bags and toted our crew up to Park City.
Since moving to Utah 7 years ago, Deer Valley has become our favorite place in the entire state. We have visited at least once every year and always leave refreshed. A lot of people only think of the ski resorts in Utah as places to play in the winter, however the summer is just as fun! There is so much going on at Deer Valley in the summer that I wanted to share our trip with you, and our favorite things to do at our favorite place!
So I'll start by chatting about our favorite activities, and then our favorite places to eat (because I know how passionate you all are about food)! We had so much fun, we were at Deer Valley for 3 days and never left the resort, and didn't run out of things to do!
Top Notch Service
Before I dive in I just have to take a moment to mention the aspect of Deer Valley that I love the most – the people who work there. Every single time we visit we are greeted by friendly faces who are eager to help us with anything and everything. The concierge, the restaurant wait staff, lift operators, and the grounds workers are all an absolute delight to interact with. You can tell they all love working at Deer Valley as much as we love visiting! We always feel special, appreciated, and cared for by the staff, which makes our vacation even better.
Deer Valley – Things to do in the Summer
There is so much to do at Deer Valley in the summer! Keep in mind that we have five kids ages 8 and under, so our activities are limited by height and nap time! 🙂 The great thing about Deer Valley is that there are activities for every age!
Hiking!
It's no secret that hiking is our family's favorite summertime activity, and we love hiking the trails at Deer Valley! (Check out this post I wrote about Hiking with Kids – it's one of my favorites)! When Ritch and I go sans kids (we have celebrated many anniversaries at Deer Valley), we like to hike to the top of the mountain and then ride the lift down, because all rides down are free! We also love getting a good workout in by hiking all the way to the top!
We have hiked up and down Bald mountain via the Silver Lake Trail! It's a beautiful hike with gorgeous picturesque views! Check out the Deer Valley Hiking Guide for more information!
Scenic Lift
Riding the lift to the top of the mountains might be my favorite thing to do in the summer. You can purchase a daily lift ticket or a one-time pass and ride to the top of the Silver Lake Express. When we travel with our five kids, we like to ride the lift up and then hike down, because it's easier for cute little legs to hike downhill! Riding all the way up takes about 30 minutes, and it's so relaxing and peaceful that I feel like I could just ride all day!
This trip my kids loved the lift. They weren't scared at all and had so much fun pointing out all the animals, plants and people they saw as we were carried to the top of the mountains!
Concerts in the Park
We had a great time enjoying a picnic and listening to music at the Snow Park Amphitheater! My kids thought it was so fun to dance in the sunshine while enjoying delicious treats!
Remember to bring a picnic blanket and low lawn chairs (we accidentally left ours at home and totally regretted it, especially because I had to nurse the baby LOL)! Also wear plenty of sunscreen as there isn't any shade in the field!
I highly recommend ordering one of the gourmet picnics if you're visiting Deer Valley from afar, so you don't have to worry about packing anything! Simply place your order ahead of time and then pick it up at the concession stand when you arrive! They come with the highest quality, nutritious food and SO much of it! The also have kids' picnics for the little ones (I'd recommend letting two kids share one picnic because of just how much food is included!
Splashing in the pool
When it comes to vacation my kids' favorite activity is swimming! No matter where we are or what we're doing, they just want to splash all day long! So after we rode the lift and hiked we were able to take a dip in the pool and hot tub to cool off and relax!
More activities for older kids
We are limited in what we can do with 5 kids ages 8 and under (plus a 4 month old who was nursing during this trip). But they also have stand up paddle boarding (SUP), which we wanted to do but ran out of time, mountain biking, and so much more! You can even enroll in mountain biking lessons if you're a beginner! If you and your spouse want to go on a date, they also have a day camp for kids!
Deer Valley Restaurants – Summer
Everyone knows that one of the most important parts of a vacation is the FOOD! Deer Valley is my favorite place to eat in Park City! There are so many restaurant options, all serving fresh, nutritious and amazingly tasty food during the summer!
I don't know about you, but choosing restaurants on vacation is usually super stressful for me. I spend hours pining over "top 15 restaurant" posts and letting one bad Google review scare me from eating somewhere that otherwise looked delicious. Thankfully, I never have this stress when we visit Deer Valley.
Every single restaurant is absolutely amazing. I attended a winter menu tasting this year and after sampling dishes from all 17 restaurants I can honestly say there was not one culinary creation that wasn't 100% delicious! There are only a handful of restaurants open in the summer, but they are so good!
We started our trip with lunch at the Grocery Cafe. It's open from 7:30 am to 7 pm until September 2nd and is the perfect place for a delicious breakfast or lunch! Eat on the patio and enjoy the view of the lake! We ordered cute little pizzas and PB&J for the kids, and Ritch and I enjoyed some tacos and a chicken salad wrap!
We also enjoyed breakfast at the grocery cafe and it was amazing! I love the variety of healthy options that are also kid friendly! Our favorites were the granola bowl and of course, the coffee!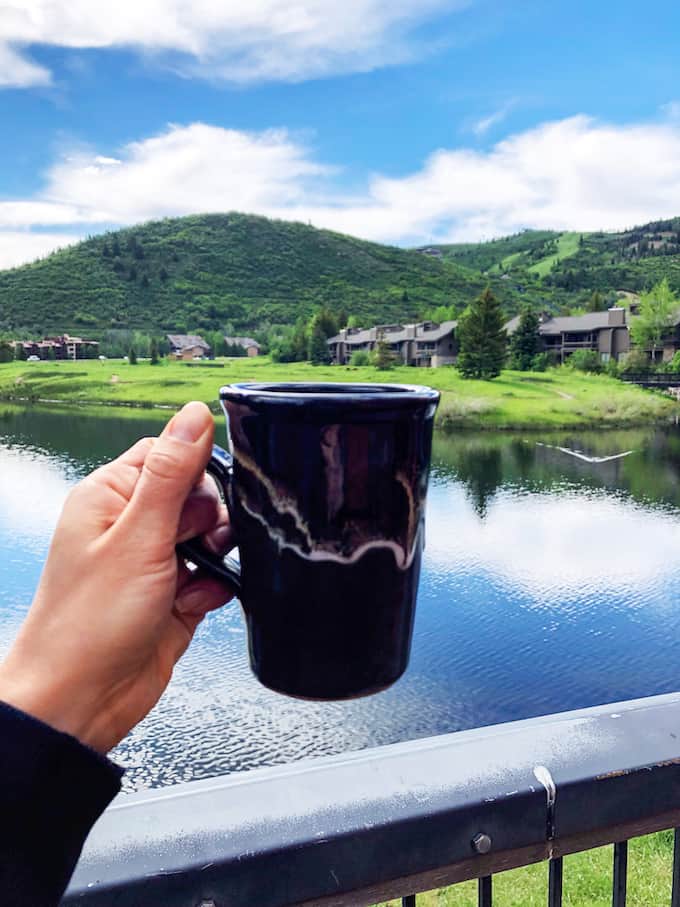 We always look forward to eating at the Brass Tag, which is open for dinner in the summer 5 pm to 9 pm daily and for Sunday brunch 8 am to 1 pm! We start with the avocado fries as an appetizer, because I can't pass them up!
I love that every restaurant at Deer Valley has options for the whole family. I ordered a delicious salmon dish, Ritch got the steak and my kids enjoyed chicken fingers and grilled cheese with homemade tomato soup (my oldest said it was her favorite)! The waiter also gave us a history lesson about the brass tags on the wall and what they meant to the miners in the town! It was a wonderful meal!
The Royal Street Cafe might be my favorite lunch spot in the entire state of Utah! It's open for lunch from 11:30 a.m. – 3 p.m., daily in the summer, and is a must-visit eatery for both the food and the views!
To speak to the diversity of the menu, where else can you get a burrata salad and, what my husband deemed, the best hot dog he has ever had in his entire life (house-made on site)! The street corn guacamole may have been one of my favorite dishes of the entire trip! YUM!
Traveling with 5 kids
This was the first trip we have taken since Keilah was born. Truth be told, I am mostly a homebody and don't have a nagging wanderlust to get out and go see the world. However, I do highly value vacation. I think it's important to take a break from the routine of daily life and get away and experience new places.
Most of my best memories are from vacations with my family, and I want to give that to my kids. So heading up to Park City was the perfect first step for us with a new(ish) baby. This was the first trip we've taken that Mara was old enough to know what was going on. At one point I told her to go put her lovey in her bed. She walked all over the hotel room saying, "Where's my bed?" "Can't find my bed!"
I finally realized she was looking for her bed at home. She didn't understand that the bed we put her things in was "her bed" for the next few days! I don't know why, but I felt like that moment helped me see the value of breaking our routine for the sake of rest and FUN!
I'm so grateful to live in a place where Deer Valley Resort is considered a "staycation" for our family (just over an hour drive from our home)! We hope to continue our tradition of visiting every year and making lasting memories with our family!
IF YOU MAKE SOMETHING FROM JOYFOODSUNSHINE I WOULD LOVE TO SEE YOUR CREATIONS! DON'T FORGET TO RATE THIS RECIPE AND LEAVE A COMMENT BELOW! ALSO, FOLLOW ALONG WITH ME ON INSTAGRAM, PINTEREST, FACEBOOK ,YOUTUBE AND TWITTER FOR MORE RECIPE INSPIRATION AND A GLIMPSE INTO OUR EVERYDAY LIFE!
This post contains affiliate links, which means that if you purchase a product through a link you clicked on here, I receive a portion of the sale. Thank you for supporting JoyFoodSunshine!