This Easy Dirt Cake Recipe (Oreo Dirt Pudding) is one of our favorite no-bake desserts! Crushed Oreos are layered between a French vanilla pudding mixture for a kid-friendly, make-ahead dessert recipe perfect for any potluck or BBQ! Add gummy worms for a whimsical touch!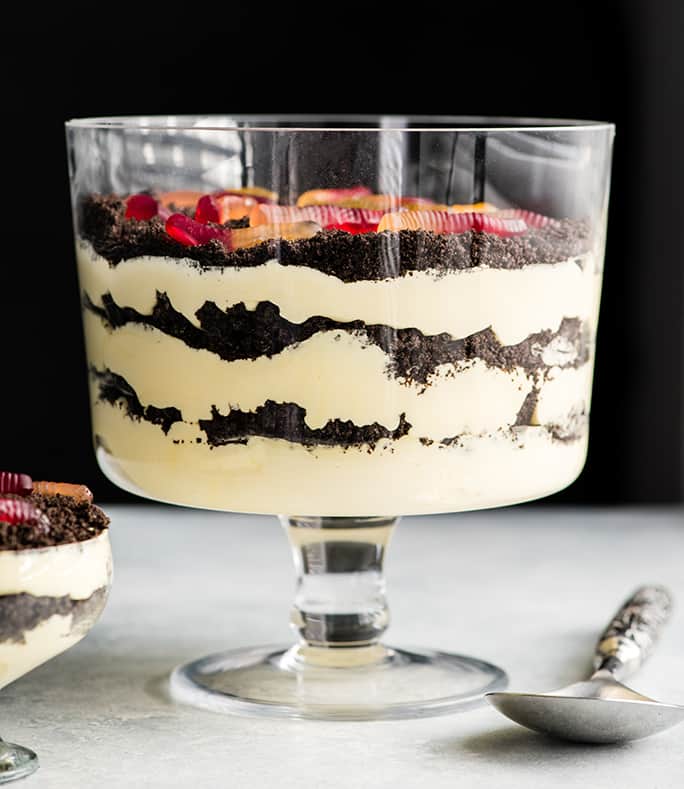 The first time I took a bite of this Oreo Dirt Cake at a friend's graduation party I knew I had to have the recipe. His mom graciously shared her recipe with me and I have been making it ever since.
Since then (many, many years ago), I have dialed it in and tweaked it to perfection...down to the exact type and brand of pudding to use to make the absolute best Oreo Dirt Cake EVER.
This dirt pudding is one of our favorite no-bake desserts! It's a kid-friendly, make-ahead recipe that's perfect to serve at any potluck or BBQ!
How do you make Dirt Cake?
This dirt cake recipe is really easy to make! Let's walk through it step-by-step, and don't forget to watch the video!
Step 1: Combine the pudding & milk
The French Vanilla Pudding needs to be mixed with the milk and then put in the fridge to set. Which is why I recommend doing this step first so that it can set while you're mixing the rest of the pudding ingredients together and chopping the Oreos!
Step 2: Chop some of the Oreos
Remove eight Oreos (or more if you bought a family-sized bag) from the package and chop them into ¼" to ½" pieces. This simple step makes this dirt cake recipe extra special.
My absolute favorite bites of this dirt pudding are the ones that contain big chunks of soft Oreos. They have the best texture after they're pudding-infused from chilling overnight! Trust me, don't skip this step!
Step 3: Crush the rest of the Oreos
After you've chopped a few Oreos, crush the rest. It's very easy to do this in a food processor fitted with an "S" blade. Just be aware that you may have to pause, release any Oreos that get stuck to the blades, and process some more!
If you don't have a food processor you can use a rolling pin. Just be sure to crush them into a fine powder so they look like dirt!!
Step 4: Make the Pudding Layer
The key to this step is to make sure the butter and cream cheese are softened and at room temperature so they're easy to combine! I recommend using a standing mixer, but I used a hand mixer (for shooting purposes) with great success!
All the rest of the directions in this part are very straightforward! Just be sure to beat the ingredients well after each addition so that the mixture is smooth and there are no lumps.
Fold in the cool whip
The only ingredient in the pudding mixture that doesn't get beaten in is the cool whip. Simply fold it into the pudding mixture with a spatula until it's fully incorporated and the pudding is homogenous (uniform throughout).
Step 5: Layer the Pudding & Oreos to make the Dirt Cake
Now that you have made the pudding and prepared the "dirt" (Oreos) it's time to layer them together to make this Oreo Dirt Cake! Each layer consists of the following:
2 cups of pudding mixture
½ cup crushed Oreos
¼ cup chopped Oreos
Then repeat until all the ingredients have been used. Just be sure to end with a layer of Oreos! These amounts of ingredients will differ if you use a different serving dish other than this glass trifle dish. I discuss more serving options below!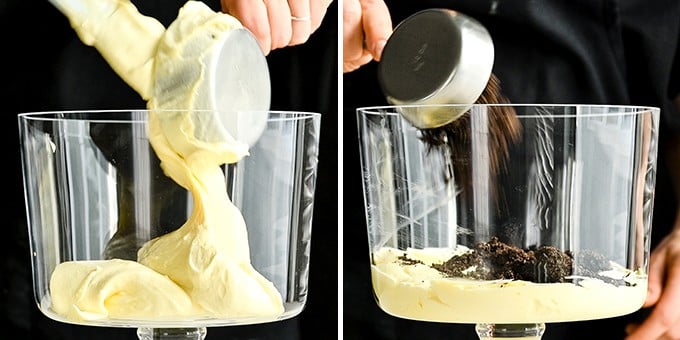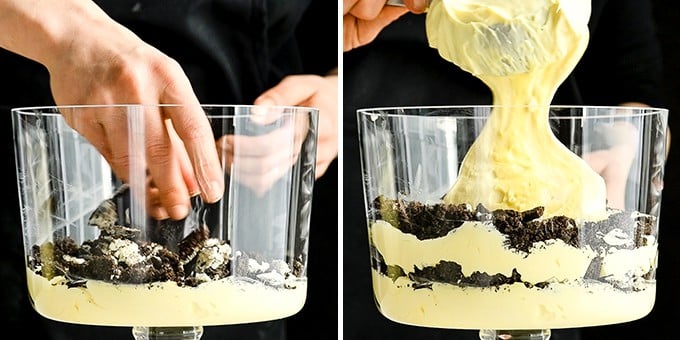 Step 6: Add gummy worms
For a fun addition, add some gummy worms to the top of the dirt cake once you have finished layering. You could add them as you go on top of each dirt layer if you really love them! I personally don't prefer the fruity taste in my Oreo Dirt Cake, so I choose to just put them on top and serve extras on the side!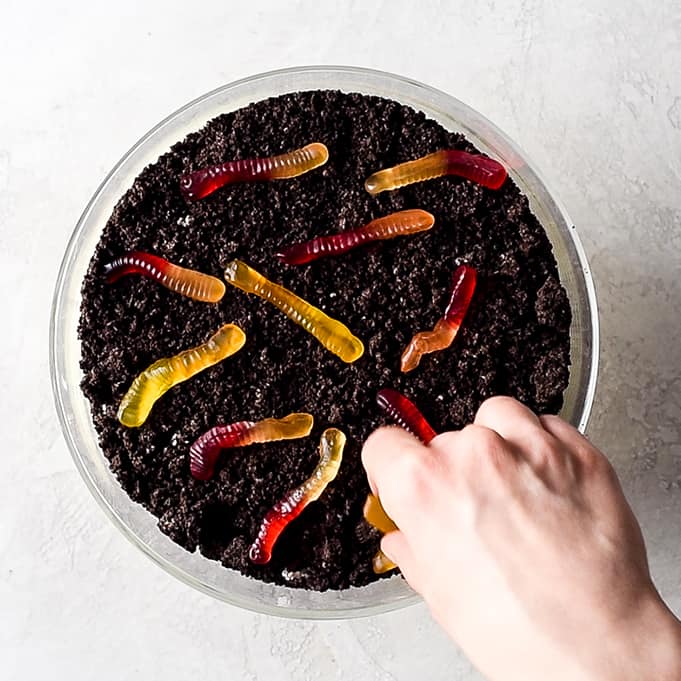 Step 7: Chill Overnight
Chilling this Oreo Dirt Cake recipe overnight is critical to achieve the best flavor and texture. The pudding and Oreos meld together and become an out-of-this-world delicious dessert! Simply cover the trifle dish with plastic wrap and place it in the refrigerator overnight.
Sure you could only chill it for a couple hours if it's absolutely necessary. But I recommend taking advantage of the fact that this no-bake dessert needs to be made the day before a big event, freeing you up to make other recipes (like this Pasta Salad or Asian Quinoa Salad), the day of!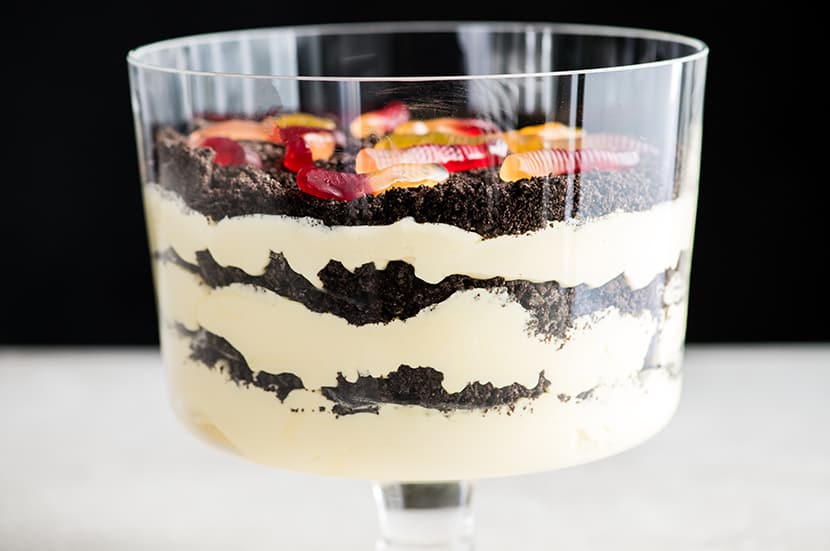 Step 8: ENJOY!
After exercising amazing self-control and patience letting this Dirt Cake recipe chill overnight, it's time to finally DIG IN!
Dirt Cake: Serving Suggestions
There are a few different "vessels' you can use to make this Oreo Dirt Cake recipe.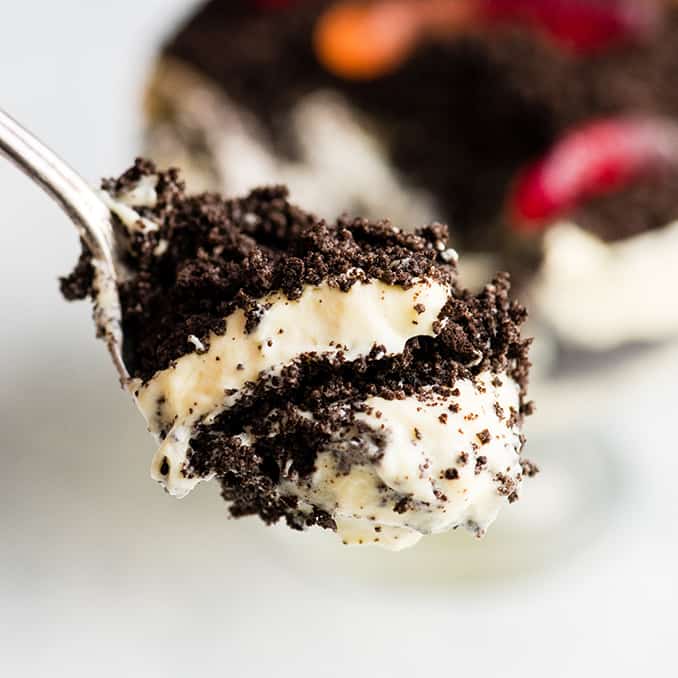 Dirt Cake Recipe: Ingredients & Substitutions
This dirt pudding is the absolute best when it's made exactly as written. However, let's discuss the ingredients & possible substituions.
Milk. I recommend using 2% milk or whole milk to make this dirt cake recipe. It will still taste amazing with 1% or skim, just remember that a higher fat content lends to a richer, creamier pudding layer!
French Vanilla Pudding. This is the secret ingredient that makes this recipe over the top delicious. I use Jello Instant French Vanilla Pudding & Pie Filling and it is the absolute best. I once bought an off brand french vanilla pudding and Ritch could actually taste the difference! Now you could substitute regular vanilla pudding or chocolate pudding (to look more like dirt) if that's your thing, but I really think the secret to making the BEST dirt cake EVER is using french vanilla pudding!
Oreos. I only ever buy double stuffed Oreos, but any variety with any amount of "stuff" work well. This recipe calls for a 15 oz package, but you can absolutely add more if you wish!
Butter. Either salter or unsalted butter works perfectly in this recipe. I use salted!
Powdered sugar. There's really no substitute here. You need powdered sugar to help thicken the mixture!
Cool Whip. Any cool whip variety works great in this dirt cake recipe. I chose extra creamy because we are already indulging when we make this recipe, so I want it to be as rich and creamy as possible! Choose your favorite!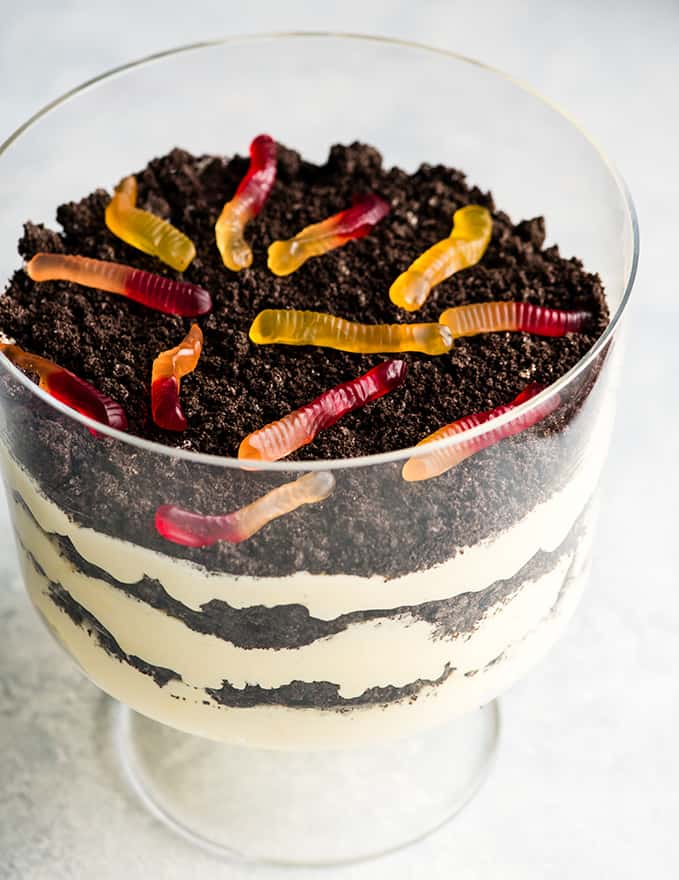 IF YOU MAKE SOMETHING FROM JOYFOODSUNSHINE I WOULD LOVE TO SEE YOUR CREATIONS! DON'T FORGET TO RATE THIS RECIPE AND LEAVE A COMMENT BELOW! ALSO, FOLLOW ALONG WITH ME ON INSTAGRAM, PINTEREST, FACEBOOK, YOUTUBE AND TWITTER FOR MORE RECIPE INSPIRATION AND A GLIMPSE INTO OUR EVERYDAY LIFE!
The Best Oreo Dirt Cake Recipe (Dirt Pudding)
This Easy Dirt Cake Recipe (Oreo Dirt Pudding) is one of our favorite no-bake desserts! Crushed Oreos are layered between a french vanilla pudding mixture for a kid-friendly, make-ahead dessert recipe perfect for any potluck or BBQ! Add gummy worms for a whimsical touch!
Instructions
Crush the Oreos:
Remove 8 Oreos from the package and place on a cutting board.

Cut the cookies into small, ¼" pieces, set aside.

Put the remaining Oreos into the container of a food processor fit with an "S" blade.

Process until the mixture resembles coarse crumbs. You may need to pause, break apart cookies that get stuck to the blades, and continue processing.

If you don't have a food processor, you can crush the Oreos with a rolling pin.

Set aside.
Make the pudding:
In a medium bowl, whisk together milk and pudding. Set aside in the refrigerator to solidify.

In the bowl of your standing mixer or with a hand-held mixer in a large bowl, cream together butter and cream cheese. Beat until well combined & smooth (about 30-60 seconds).

Add powdered sugar and beat until smooth.

Add pudding to the butter/cream cheese mixture (make sure it has set before adding), and beat on low speed to combined.

Fold in cool whip until the mixture is homogenous (uniform throughout).
Assemble:
Layer the pudding mixture and cookies. Start by pouring 2 cups of pudding mixture into the bottom of a trifle dish and spread it until level.

Sprinkle ½ cup cookie crumbs and ¼ cup chopped cookies evenly over the pudding.

Repeat using 2 cups of pudding, ½ cup cookie crumbs and ¼ cup chopped cookies for each layer.

Add gummy worms to each layer as desired, or only add some to the top.

Be sure the final layer is cookie crumbs!

Refrigerate overnight before serving.
Nutrition
Serving:
0.5
cup
Calories:
333
kcal
Carbohydrates:
47.9
g
Protein:
4.2
g
Fat:
18.3
g
Saturated Fat:
9.4
g
Polyunsaturated Fat:
0.4
g
Monounsaturated Fat:
2.8
g
Cholesterol:
35.4
mg
Sodium:
407
mg
Potassium:
161.1
mg
Fiber:
0.9
g
Sugar:
33.8
g
Vitamin A:
480
IU
Vitamin C:
0.2
mg
Calcium:
75
mg
Iron:
1.2
mg
This post contains affiliate links, which means that if you purchase a product through a link you clicked on here, I receive a portion of the sale. Thank you for supporting JoyFoodSunshine!