Easy Homemade Pizza Sauce Recipe! 5 minutes and 9 ingredients results in the best pizza sauce you will ever have! Gluten-free, paleo-friendly, dairy-free, & vegan!
The morning before we go grocery shopping…while I sip my coffee and my kids finish their breakfast…I like to ask them what they want for dinner the next week. Without fail their first answer is always, "pizza!"
We love making pizza at home because it's crazy easy, super fun, way healthier than delivery and easy on the wallet. Today I am sharing our go-to Easy Homemade Pizza Sauce Recipe. It literally takes five minutes to whip up and will make the best pizza you've ever had. ever.
We're from Chicago (born and raised)…so we've experienced some of the best pizza in the world. I remember, one evening after dining at a famous pizza restaurant, we got in the car and I asked my husband how he liked it. (Yes, I'm that wife who analyzes the entire meal the second we get into the car after dining out). It turned out he was less than impressed. WHAT?! Seriously I thought my pizza-loving-husband had gone crazy!
His problem was with the sauce! "There was only a thin layer and it tasted just like tomatoes" was his personal opinion. He likes his pizza saucy and flavorful and that particular pie just didn't cut it. Moral of the story: there's no weak sauce allowed in our household. And this Easy Homemade Pizza Sauce Recipe ensures that!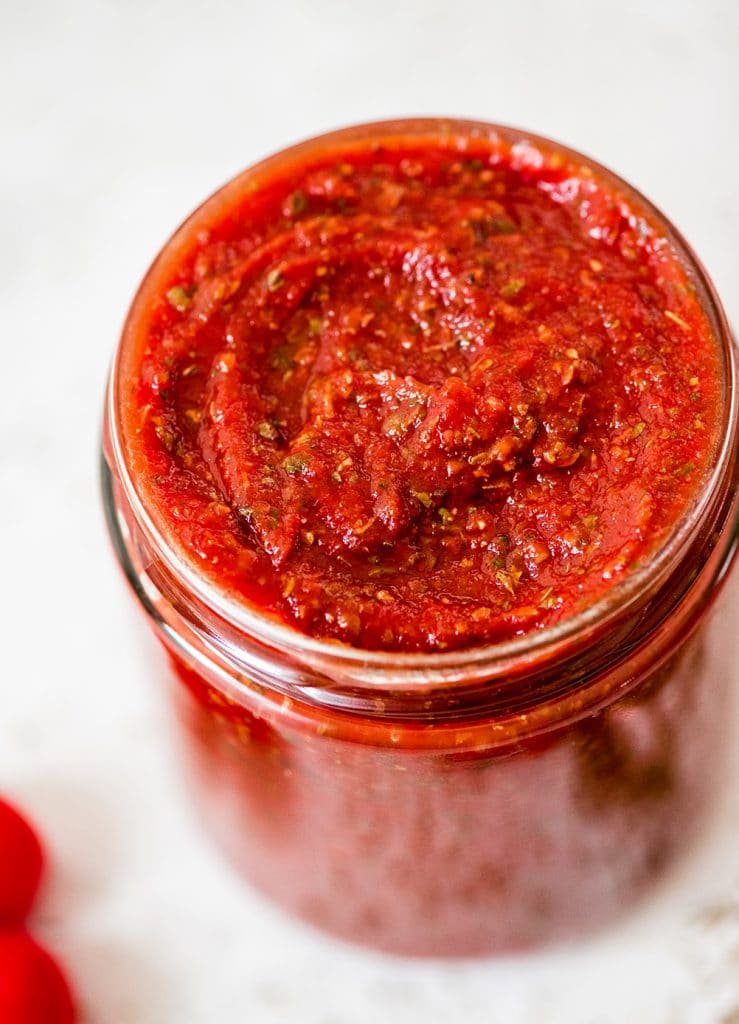 How do you make Pizza Sauce from Scratch?
To make this homemade pizza sauce from scratch you literally crack open two cans, add some seasonings, stir and you're set to go. You can easily make it ahead of time and store in the refrigerator until you're ready to make your pizza!
Tomato paste is a must.
Please don't leave out the tomato paste! It makes the pizza sauce thicker (see the importance of that below) which is key in making non-soggy pizza!
Use a RED spatula for mixing!
Seriously, keep your white spatulas far, FAR from this pizza sauce recipe…unless you want to turn them into orange spatulas! 😉 This red spatula (pictured below and used in the video) is my absolute favorite EVER! I use it for everything, especially making red-colored foods like this homemade pizza sauce!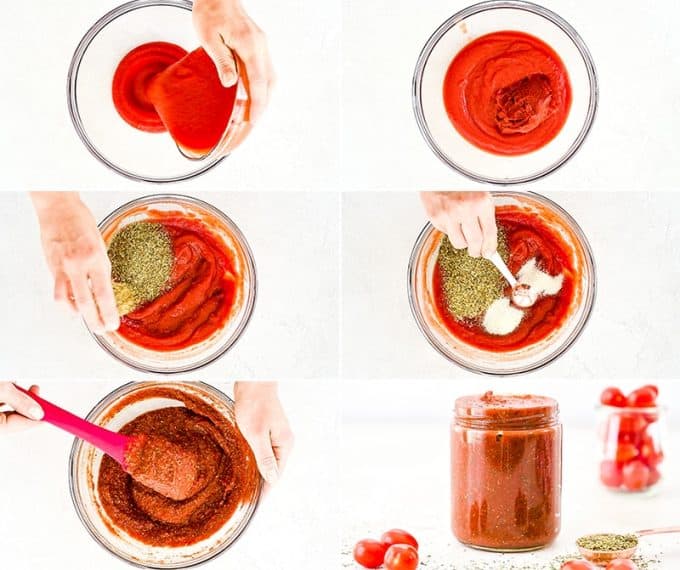 What is the difference between Pizza Sauce and Spaghetti Sauce?
This is a common question I get asked all the time! Here are some distinctions between the two:
Spaghetti sauce has a higher water content. This is why I don't recommend using a jar of marinara when making homemade pizza, you could end up with a mushy watery mess!
Pizza sauce is thicker. this goes along with the point above, but pizza sauce contains tomato paste, which causes it to spread easier and more evenly!
Pizza sauce is more flavorful. This might be my own opinion, but we like a lot more spices in our pizza sauce than we do in our spaghetti sauce!
Homemade Pizza Sauce Serving size
This Easy Homemade Pizza Sauce Recipe makes enough sauce to very generously cover one large pizza. If you are a normal human and enjoy a normal amount of sauce…I suggest saving a little to dip your extra crust in!
A few tips on making the best homemade pizza:
Use great dough. If your dough is just bleh, you pizza will be too. This Easy Homemade Pizza Dough Recipe is our go-to! It requires no rising, and makes a delicious pizza in under 30 minutes! Or try this zucchini pizza dough!
Spread the sauce generously and evenly. The flavor and essence of a pizza lies in the pizza sauce recipe you use! Be sure to put a nice thick layer on and spread it evenly!
Add a little cheese before the toppings.

This was a trick I learned working at the pizza place. Starting with a very thin layer of cheese helps the toppings stick. It also creates like a cheese-topping sandwich on top of your pizza, which is just amazing .

Watch the pizza carefully. The pizza goes from almost done to too brown fairly quickly. So be careful!
8. Let it cool & Serve
To avoid burning your mouth on lava hot sauce, let the finished pizza cool for at least 5-10 minutes before cutting and serving!
Easily Doubled (or tripled)
This easy pizza sauce recipe is easily doubled or tripled. I love serving it with a huge salad when we have guests. You can also make the crust into small personal pizzas and let the kids put their own toppings on it, which is super fun!
Vegan Pizza Sauce!
The sauce itself is vegan…so you can make some pretty amazing vegan pizzas out of this delicious recipe! However, as I've mentioned before…I'm a veggie-lover trapped in a family of carnivores! So I usually make a little pizza for myself with lots of veggies!
Easy Homemade Pizza Sauce Recipe: Substitutions
Here are a few possible substitutions that can be made in this recipe.
Tomato Sauce. Sometimes I run out of cans of tomato sauce (GASP) and in a pinch I have used a can of diced tomatoes that I tossed in my Vitamix to turn into sauce! You can also use fresh blended tomatoes as well!
Oregano/Italian seasoning. I always make this with dried spices, but feel free to use fresh! Also, if you like a tamer sauce you might want to start will less and add more to your liking!
Garlic salt. If you don't keep garlic salt on hand, feel free to use a little more garlic powder and regular sea salt!
Granulated sugar. This can be left out to make a paleo version. Or you can substitute coconut sugar! I think the little bit of sugar enhances the flavor of the tomatoes!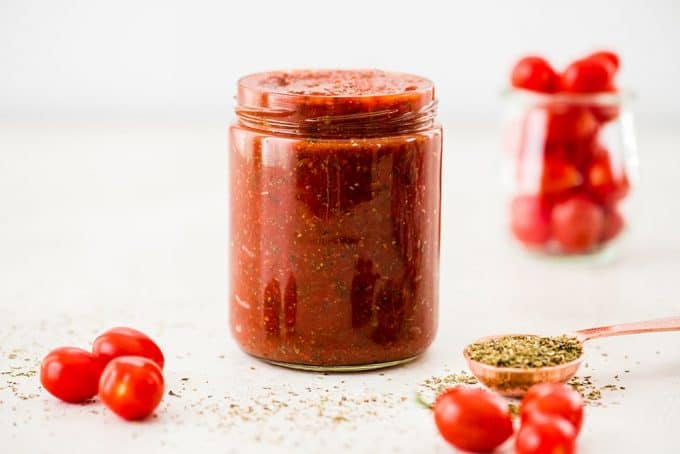 IF YOU MAKE SOMETHING FROM JOYFOODSUNSHINE I WOULD LOVE TO SEE YOUR CREATIONS! DON'T FORGET TO RATE THIS RECIPE AND LEAVE A COMMENT BELOW! ALSO, FOLLOW ALONG WITH ME ON INSTAGRAM, PINTEREST, FACEBOOK, YOUTUBE AND TWITTER FOR MORE RECIPE INSPIRATION AND A GLIMPSE INTO OUR EVERYDAY LIFE!
Easy Homemade Pizza Sauce Recipe
This is the best Easy Homemade Pizza Sauce Recipe ever! It's ready in 5 minutes and made with only 9 ingredients! Plus this healthy pizza sauce recipe is gluten-free, paleo-friendly, dairy-free, & vegan!
Servings
12
Servings (1 large pizza)
Instructions
Mix tomato paste and sauce together in a medium size bowl until well combined (all the lumps of paste are incorporated into the sauce).

Add the rest of the ingredients (oregano, Italian seasoning, garlic powder, onion powder, garlic salt, pepper and sugar) and mix well!

Use in your favorite pizza recipe!
Notes
*sugar can be omitted and it will still taste great!
To store:
Refrigerate: Store in an airtight container in the refrigerator for up to one week. The sauce will thicken as it cools, so be sure to let it come to room temperature or gently warm it in the microwave before using!
Freeze. Store in an airtight container in the freezer for up to two months! 
Nutrition
Calories:
23.3
kcal
|
Carbohydrates:
5.4
g
|
Protein:
1
g
|
Fat:
0.2
g
|
Sodium:
479.1
mg
|
Potassium:
237.8
mg
|
Fiber:
1.2
g
|
Sugar:
3
g
|
Vitamin A:
330
IU
|
Vitamin C:
7.1
mg
|
Calcium:
15
mg
|
Iron:
0.9
mg
This post was originally published on April 25, 2016. The post has been updated with new photos, step-by-step instructions and a video, but the recipe remains unchanged!
What are you favorite pizza toppings!?
This post contains affiliate links, which means that if you purchase a product through a link you clicked on here, I receive a portion of the sale. Thank you for supporting JoyFoodSunshine!