This pesto pasta recipe is a delicious quick and easy summer recipe! It can be served as a main dish or side dish, and you can enjoy it warm or cold! Full instructions how to make your own basil pesto are included, or you can make it even easier and use store-bought!

One of the things I love the most about summertime is the abundance of fresh herbs, especially basil! This Pesto Pasta recipe (also known as pasta al pesto) is a great way to use all the delicious fresh basil growing in your garden and available at the farmer's market! It's an easy weeknight meal that the whole family will love!
This Pesto Pasta calls for making your own pesto sauce, but don't let that intimidate you! It's really easy and only takes 5 minutes to whip up homemade pesto! Mix it into your favorite pasta, add some toasted pine nuts and presto, you have a fresh & delicious meal or side dish ready in 20 minutes!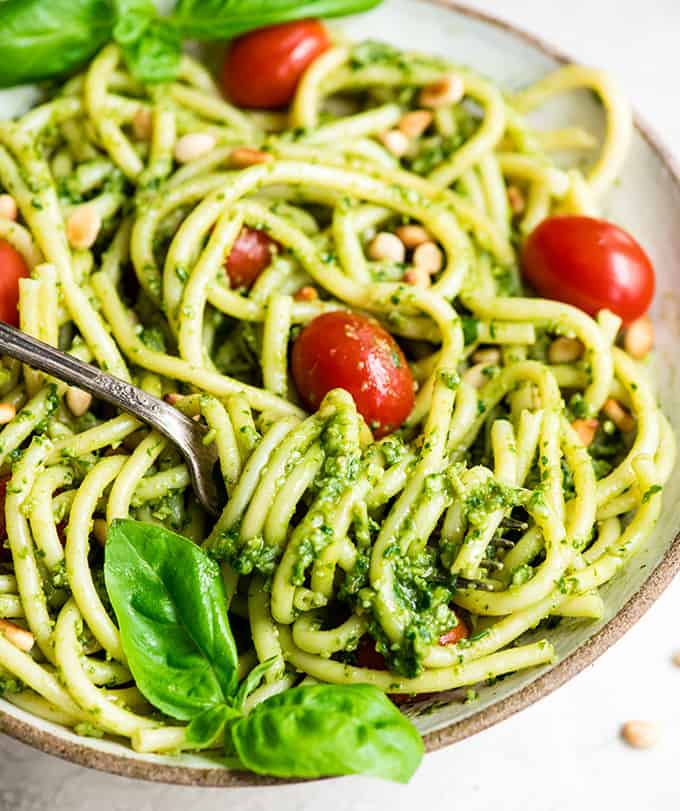 How do you make pesto pasta?
This pesto pasta is super easy to whip up, including making your making your own pesto sauce!
Cook the Pasta
I recommend starting this pesto pasta recipe by cooking the pasta! Boiling a pot of water takes longer than actually making the homemade pesto sauce! So you want to get that going right away!
Use salted water
Always, always cook pasta in salted water! It adds so much flavor to the overall taste of this Pesto Pasta Recipe!
Do not rinse
Another important tip when making this Pesto Pasta Recipe is to be sure not to rinse the pasta! Sometimes I spritz it with a little bit of olive oil to minimize sticking, but sticky pasta is good in this case because it helps the pesto sauce adhere and soak into the noodles!
Keep it warm
Return the drained pasta to the pot it was cooked in and cover it with a lid to keep it warm for serving!
Make the Homemade Pesto Sauce
Like I said above, making pesto sauce is so quick and easy! However, if you are really in a pinch you could always use store bought pesto sauce! For the sake of this recipe, I'll assume you want to make your own pesto, and walk through the steps with you!
Toast pine nuts
Begin making pesto by toasting the pine nuts. Please note that pine nuts can go from barely browned to burnt very quickly. Since pine nuts are an expensive ingredient, you want to be sure to watch them closely and stir them every 30 seconds, so they don't burn. It should take 4-5 minutes to toast them.
Set some pine nuts aside
Once they're toasted transfer the pine nuts from the warm pan to a small cookie sheet or baking pan to cool! Set aside 2 TBS toasted pine nuts to serve on the pesto pasta, and use the other ¼ cup to blend in the sauce. Don't skip this garnish, the crunch of the toasted pine nuts in the final pesto pasta dish is my favorite part!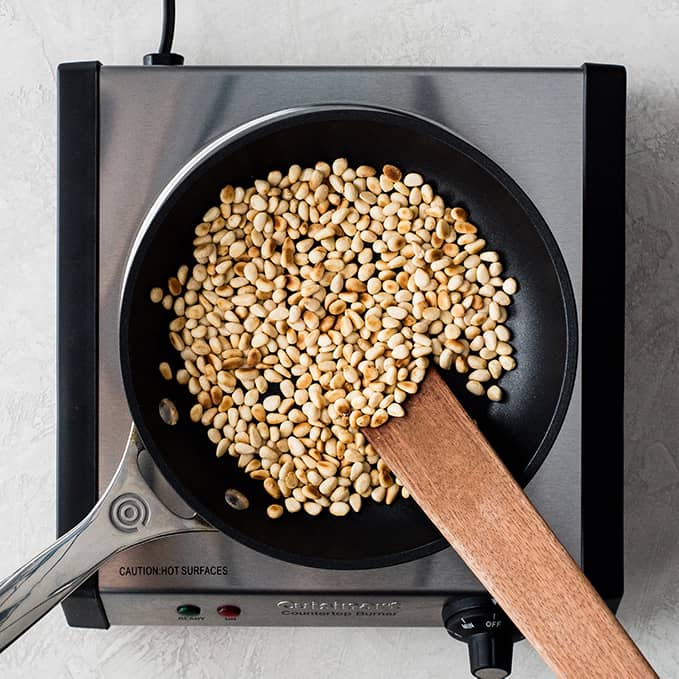 Blend fresh basil & olive oil
While the pine nuts are cooling blend together the olive oil and fresh basil until they are well combined but not completely smooth. You may also use a food processor and you will get equally delicious results!
Blend remaining ingredients
Next, add ¼ cup pine nuts, garlic, parmesan cheese, salt and pepper and blend until you reach your desired consistency. You may need to pause, scrape down the sides of the container, and continue blending depending on the size of your blending container.
Choose your desired consistency.
Some people like their pesto sauce a little bit chunky, some like it smooth. The great thing about making your own homemade pesto is that you are in charge and you get to choose! Since I'm feeding kids and I'm weird about texture, I like to blend our basil pesto until it's mostly smooth!
Make the Pesto Pasta!
Now it's time to make the pesto pasta! Since the pasta has been cooked and should be warm, simply add the pesto sauce, garnish with toasted pine nuts and tomatoes (if desired) and serve!
Should pesto be heated?
You should not heat the pesto sauce, because it will change the color, taste and texture of the fresh basil. This is why I recommend keeping the pasta warm. The pasta itself will "heat" the pesto without changing its composition!
Can I eat pesto pasta cold?
You can serve this pasta warm or cold! To serve it cold just store it in the refrigerator until it cools!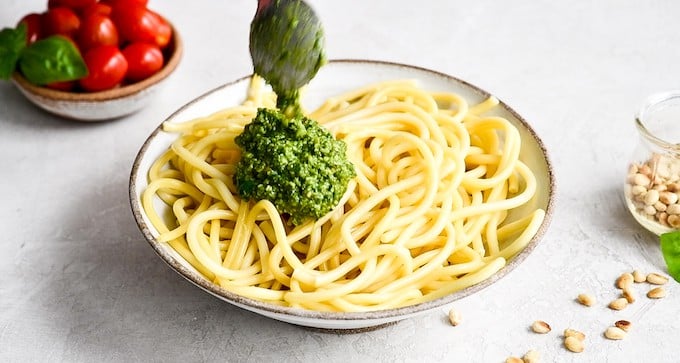 Garnish
Once the pesto sauce is mixed into the warm pasta, add toasted pine nuts and serve! Please don't leave out those extra 2 TBS of toasted pine nuts, they really make this dish special!
There are many ways to enjoy this pesto pasta, and many dishes that compliment it well! Here are some suggestions!
Serving/Garnish Suggestions
Chopped fresh basil
Fresh parmesan cheese
Baby tomatoes - raw or roasted
Add some balsamic roasted vegetables (I do this often)!
Top it with grilled chicken, salmon, etc.
Basil Pesto Sauce: Ingredients and substitutions
Let's chat about the ingredients used in this basil pesto recipe, as well as possible substitutions. As always, the quality of ingredients used to make this pesto sauce will determine the quality of the final product!
Which pasta is best with pesto?
I really enjoy using thick spaghetti noodles (Bucatini) in this pesto pasta recipe! However the sky is the limit with what pasta you can use! Here are some suggestions:
Spaghetti noodles: like I said, bucatini is my favorite. But angel hair, tagiatelle, linguine, etc.
Shaped pasta: bow ties (aka Farfalle) , rigatoni, fusilli, wheels (rotelle), etc.
Chickpea pasta is a great gluten-free option!
Use zucchini noodles (or any other veggie noodles) for a veggie version.
Pesto Sauce
Fresh basil. I don't recommend making any substitutions for fresh basil, as it will dramatically effect the final taste. However, in a pinch (when I don't have enough basil), I sometimes substitute up to half of the basil with fresh spinach, but never all of it.
Olive oil. The flavor of a high-quality olive oil will really shine in this pesto recipe. I recommend using the best olive oil you have available to you, because it will impart a rich flavor to this pesto sauce. You can also use flavor-infused olive oils (like garlic, herb, etc.) just make sure it would compliment the basil. Another neutral oil like avocado oil could also be used.
Pine nuts. Pine nuts are key to making a classic pesto recipe, and shouldn't be substituted if you're going for a 100% authentic flavor. If you must, you can try using other nuts like walnuts, pecans or almonds.
Minced garlic. Fresh roasted garlic is also amazing in this pesto recipe! If you have picky eaters you can also try using a small amount of garlic powder.
Parmesan cheese. Again, the quality of parmesan cheese used will make a difference in the final taste of this pesto sauce. I recommend freshly grated parmesan for the best flavor!
Salt & pepper. I always cook with sea salt and freshly ground pepper! I recommend starting with a small amount of salt, tasting and then adjusting to your liking!
IF YOU MAKE SOMETHING FROM JOYFOODSUNSHINE I WOULD LOVE TO SEE YOUR CREATIONS! DON'T FORGET TO RATE THIS RECIPE AND LEAVE A COMMENT BELOW! ALSO, FOLLOW ALONG WITH ME ON INSTAGRAM, PINTEREST, FACEBOOK, YOUTUBE AND TWITTER FOR MORE RECIPE INSPIRATION AND A GLIMPSE INTO OUR EVERYDAY LIFE!
Pesto Pasta Recipe
This pesto pasta recipe is a delicious quick and easy summer recipe! It can be served as a main dish or side dish, and you can enjoy it warm or cold! Full instructions how to make your own basil pesto are included, or you can make it even easier and use store-bought!
Ingredients
Pasta:
Salted Water

16

oz

bucatini spaghetti

(or your preferred pasta)

2

TBS

toasted pine nuts

Baby tomatoes, fresh basil, parmesan cheese, etc.

optional garnishes
Instructions
Cook Pasta:
Cook pasta according to package instructions, be sure to use salted water.

Drain (do not rinse), return to dry pot, cover with a lid and set aside.
While the pasta is cooking, make the homemade pesto sauce:
Heat pine nuts in a small sauté pan over medium heat, stir once you notice them starting to brown. Once they start to brown the process happens fast so watch carefully and remove from heat once all nuts are roasted (about 5 minutes), and let them cool.

Reserve 2 TBS roasted pine nuts for serving.

Put olive oil and basil leaves into the container of a Vitamix (or another high-powered blender). Blend for about 60 seconds until the ingredients are combined but not totally smooth. You may need to pause, scrape down the sides, and then continue blending.

Add ¼ cup pine nuts, garlic, lemon juice, parmesan cheese, salt and pepper and blend or process until you reach your desired consistency (about 30-60 seconds). You may need to pause, scrape down the sides, and then continue blending.

Taste and adjust salt and pepper as desired, pulse to combine.
Put it together:
Transfer warm pasta to a serving dish.

Add homemade pesto sauce and stir into pasta until evenly distributed.

Sprinkle with remaining toasted pine nuts!

Add tomatoes and fresh basil if desired.

Serve warm or transfer to the refrigerator to chill and serve cold.
Nutrition
Serving:
0.5
g
Calories:
257
kcal
Carbohydrates:
35
g
Protein:
8
g
Fat:
9
g
Saturated Fat:
2
g
Cholesterol:
3
mg
Sodium:
200
mg
Potassium:
149
mg
Fiber:
2
g
Sugar:
1
g
Vitamin A:
292
IU
Vitamin C:
1
mg
Calcium:
78
mg
Iron:
1
mg
Here are some more of our favorite pasta dishes:
This post contains affiliate links, which means that if you purchase a product through a link you clicked on here, I receive a portion of the sale. Thank you for supporting JoyFoodSunshine!