This homemade basil pesto sauce recipe is made in 10 minutes with only 5 ingredients, including fresh basil and toasted pine nuts! It's easy to make in the blender or food processor and can be served in so many different ways!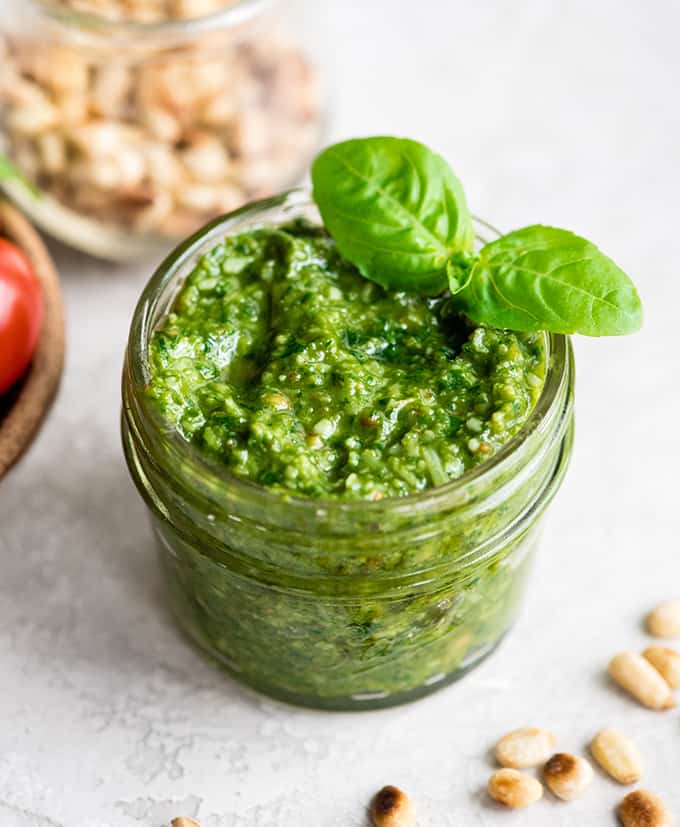 I grow fresh basil in our garden for the sole purpose of making this homemade pesto sauce! It's one of my favorite condiments that tastes amazing on just about everything!
This homemade pesto recipe will make you look like a rockstar in the kitchen, but it's secretly incredibly easy to make! It comes together in 10 minutes with only 5 ingredients, including fresh basil and toasted pine nuts!
Using a blender or food processor makes it the perfect consistency that can be adjusted to your tastes, and it can be served in so many different ways! It's like summer in sauce form!
How do you make pesto sauce?
I've said it before and I'll say it again, this homemade pesto sauce is SO easy to make. Simply toast some pine nuts, blend the ingredients together and enjoy! The hardest part is not eating all of it with a spoon directly from the container of your blender!
Step 1: Toast Pine Nuts
This pesto recipe begins with toasting the pine nuts. Please note that pine nuts can go from not even browned to burnt very quickly. Since pine nuts are a spendy ingredient, you want to be sure to watch them closely and stir them every 30 seconds, so they don't burn. It should take 4-5 minutes to toast them.
The pine nuts need to be cooled to room temperature before used in this basil pesto recipe, so once they're toasted transfer them from the warm pan to a small cookie sheet or baking pan for them to cool!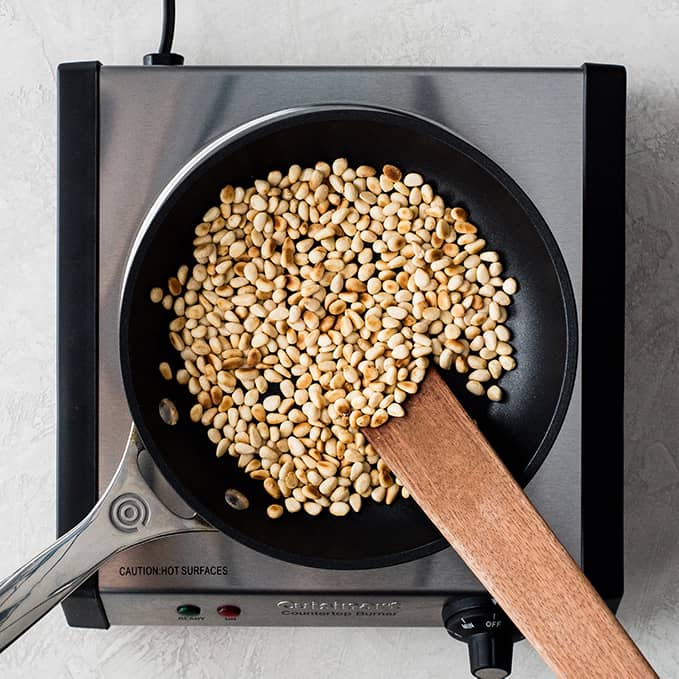 Step 2: Blend fresh basil & olive oil
While the pine nuts are cooling blend together the olive oil and fresh basil until they are well combined but not completely smooth. By blending these ingredients first, it ensures easier blending once the other ingredients are added.
You may also use a food processor and you will get equally delicious results!
Step 3: Blend remaining ingredients
Next, add the rest of the ingredients and blend until you reach your desired consistency. You may need to pause, scrape down the sides of the container, and continue blending depending on the size of your blending container.
Choose your desired consistency.
Some people like their pesto sauce a little bit chunky, some like it smooth. The great thing about making your own homemade pesto is that you are in charge and you get to choose! Since I'm feeding kids and I'm weird about texture, I like to blend our basil pesto until it's mostly smooth!
Step 4: Store or Serve!
You can either store this pesto recipe to use for later, or serve it immediately!
How do you store pesto sauce?
If you are making this basil pesto sauce ahead of time to use in a recipe later, I recommend storing it in a glass jar with a lid in the refrigerator!
Can you freeze basil pesto?
Yes! I recommend freezing this homemade pesto recipe in silicone ice cube trays. Once the cubes are frozen, remove and store in an airtight container or ziplock bag in the freezer! Then you can use just the right amount of homemade pesto whenever the craving strikes!
How long does pesto sauce last?
This homemade pesto sauce will last for up to one week in the refrigerator, and two months in the freezer!
Pesto Sauce: Serving Suggestions
Other than simply eating this delicious pesto sauce with a spoon straight out of the blender (I dare you to resist!), here are some yummy ways to enjoy this basil pesto!
Over pasta. The most obvious way to enjoy this pesto sauce is to serve it tossed in your favorite pasta! Make your own homemade whole wheat pasta!
Use is as a pizza sauce. Spread this pesto sauce over some homemade pizza dough and top with cheese! You can also mix it into this homemade pizza sauce for some added herby deliciousness.
Grilling. Brush it on meat or veggies in their last few minutes of grilling for peso kabobs, chicken breasts, zucchini, etc.
Spread it on a sandwich. Use this pesto sauce to amp up the flavor in any sandwich! Turkey, BLTs, club sandwiches, you name it, this pesto will be delicious on it.
Top baked potatoes. add this basil pesto to baked regular or sweet potatoes!
Add it to roasted or sautéed veggies. After cooking veggies in olive oil, add some of this pesto sauce for a delicious side or main dish. Add it to these balsamic roasted vegetables, roasted broccoli, roasted brussel sprouts, etc.
Salad dressing. Dress a salad with this pesto sauce, you won't be sorry!
Pasta salad. Add it to your favorite homemade pasta salad recipe or use it exclusively as the dressing to make a pesto pasta salad!
Grains. Mix it into rice, quinoa, etc. for a simple but delicious side.
Basil Pesto Sauce: Ingredients and substitutions
Let's chat about the ingredients used in this basil pesto recipe, as well as possible substitutions. As always, the quality of ingredients used to make this pesto sauce will determine the quality of the final product!
Fresh basil. This ingredient is the star of the show in this basil pesto recipe. I don't recommend making any substitutions for fresh basil, as it will dramatically effect the final taste. However, in a pinch (when I don't have enough basil), I sometimes substitute up to half of the basil with fresh spinach, but never all of it.
Olive oil. The flavor of a high-quality olive oil will really shine in this pesto recipe. I recommend using the best olive oil you have available to you, because it will impart a rich flavor to this pesto sauce. You can also use flavor-infused olive oils (like garlic, herb, etc.) just make sure it would compliment the basil. Another neutral oil like avocado oil could also be used.
Pine nuts. If basil is the star of this recipe, toasted pine nuts are the co-star. They are key to making a classic pesto recipe, and shouldn't be substituted if you're going for a 100% authentic flavor. If you must, you can try using other nuts like walnuts, pecans or almonds.
Minced garlic. Fresh roasted garlic is also amazing in this pesto recipe! If you have picky eaters you can also try using a small amount of garlic powder.
Parmesan cheese. Again, the quality of parmesan cheese used will make a difference in the final taste of this pesto sauce. I recommend freshly grated parmesan for the best flavor!
Salt & pepper. I always cook with sea salt and freshly ground pepper! I recommend starting with a small amount of salt, tasting and then adjusting to your liking!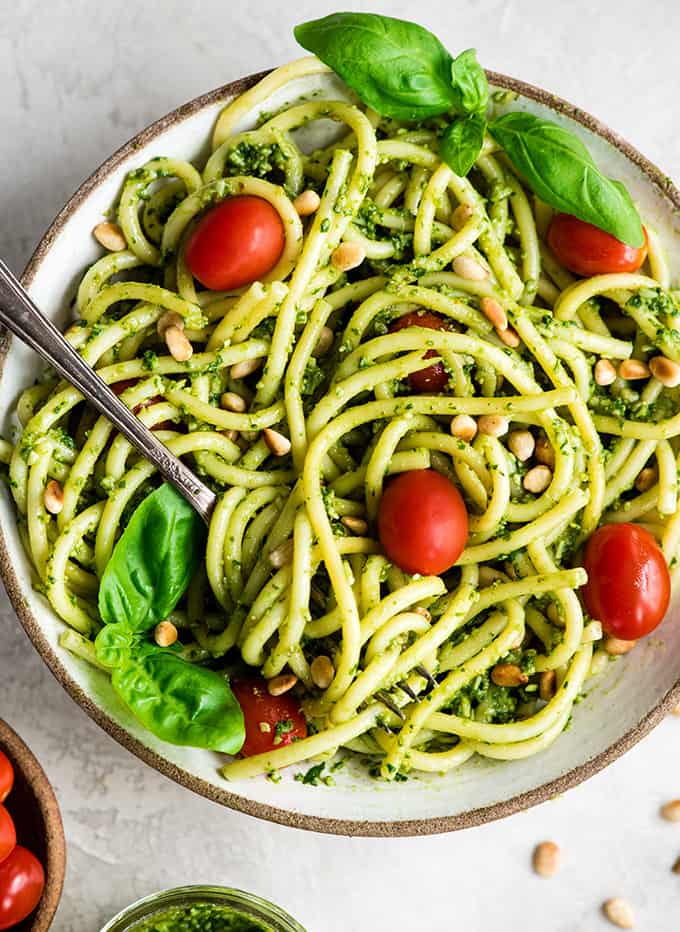 IF YOU MAKE SOMETHING FROM JOYFOODSUNSHINE I WOULD LOVE TO SEE YOUR CREATIONS! DON'T FORGET TO RATE THIS RECIPE AND LEAVE A COMMENT BELOW! ALSO, FOLLOW ALONG WITH ME ON INSTAGRAM, PINTEREST, FACEBOOK, YOUTUBE AND TWITTER FOR MORE RECIPE INSPIRATION AND A GLIMPSE INTO OUR EVERYDAY LIFE!
Homemade Basil Pesto Sauce Recipe
This homemade pesto sauce recipe is made in 5 minutes with only 5 ingredients, including fresh basil and toasted pine nuts! It's easy to make in the blender or food processor and can be served in so many different ways! 
Servings
1
cup pesto (2 TBS per serving)
Instructions
Toast pine nuts:
Heat ¼ cup pine nuts in a small sauté pan over medium heat, stir once you notice them starting to brown. Once they start to brown the process happens fast so watch carefully and remove from heat once all nuts are roasted (about 5 minutes), and let them cool.
Make the Pesto:
Put olive oil and basil leaves into the container of a Vitamix (or another high-powered blender or food processor). Blend for about 60 seconds until the ingredients are combined but not totally smooth. You may need to pause, scrape down the sides, and then continue blending.

Add the rest of the ingredients (pine nuts, garlic, parmesan cheese, lemon juice, salt and pepper and blend until your reach your desired consistency (about 30-60 seconds). You may need to pause, scrape down the sides of the container, and then continue blending.

Taste and adjust salt and pepper as desired, pulse to combine.

Use in your favorite dish!
Nutrition
Serving:
2
TBS
|
Calories:
104.8
kcal
|
Carbohydrates:
1.5
g
|
Protein:
2
g
|
Fat:
10.9
g
|
Saturated Fat:
1.8
g
|
Polyunsaturated Fat:
2.3
g
|
Monounsaturated Fat:
6.1
g
|
Cholesterol:
2.3
mg
|
Sodium:
119
mg
|
Potassium:
77.9
mg
|
Fiber:
0.6
g
|
Sugar:
0.2
g
|
Vitamin A:
580
IU
|
Vitamin C:
2.6
mg
|
Calcium:
57
mg
|
Iron:
0.6
mg
This post contains affiliate links, which means that if you purchase a product through a link you clicked on here, I receive a portion of the sale. Thank you for supporting JoyFoodSunshine!