The BEST homemade vanilla frosting recipe! 5 minutes and 6 ingredients is all it takes to make the best homemade frosting! Ditch the store-bought varieties! Great for decorating cakes & cookies!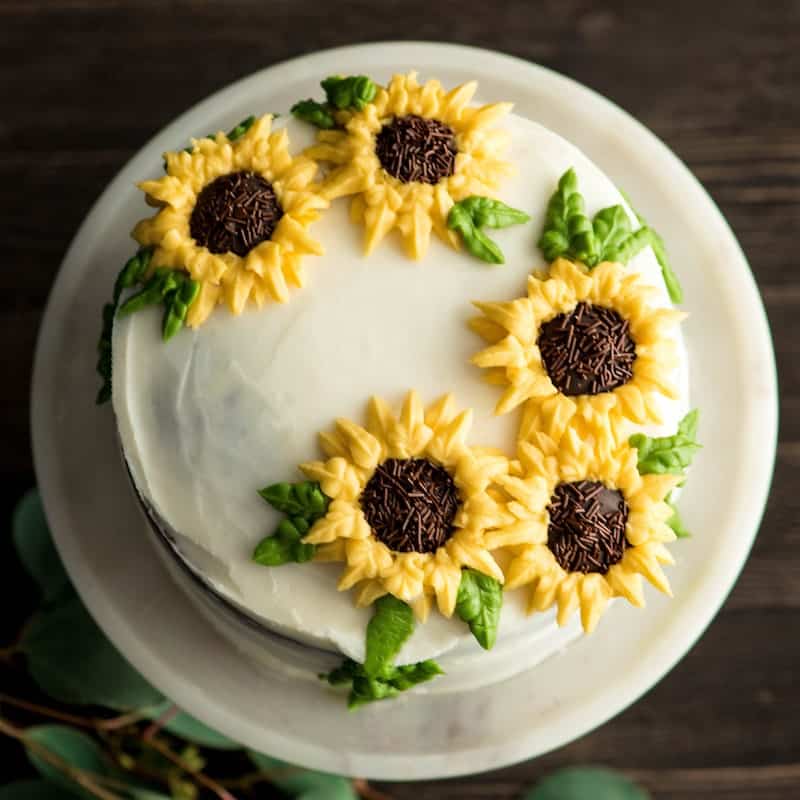 This is a recipe for the very best Homemade Vanilla Frosting Recipe that is perfect for decorating cakes and cookies! It's insanely easy – made in 5 minutes with 6 ingredients – and out-of-this-world delicious! It's time to ditch the store-bought varieties and make your own frosting at home!
This traditional vanilla frosting is made with a mixture of butter and shortening! I have lots (and lots) of special occasion treats I will share with you…recipes that are good for the heart and soul. Recipes I've collected or created out of my desire to share great food with people I love…and this vanilla frosting recipe is one of them!
How to Make Homemade Vanilla Frosting
This vanilla frosting recipe is very straightforward, but here are a few tips to ensure that it turns our perfectly!
Room temperature ingredients!
Keep all your ingredients at room temperature. They mix much better if they are not cold. Frosting also pipes much easier at room temperature.
Follow the recipe.
I have made this countless times and always follow it to a T. Even if I think I'll need less milk, 1/3 of a cup is always perfect!
Food coloring.
If you would like to dye the cake, add coloring after your frosting is well-mixed and has reached the desired consistency. If you are making lots of colors, pull out small bowls and dye them one at a time. I highly recommend using gel food coloring instead of the liquid variety, and always save some pure white just in case!
How to Store Homemade Frosting
Once the cake is decorated, (a rose cake using a Wilton 1M tip is my favorite), I suggest storing it in the refrigerator so that the frosting hardens quicker.
However, we are a room-temperature cake-eating family, if you are too, take it out of the refrigerator at least 2 hours before serving. If there are any leftovers, store at room temperature covered in foil for up to four days. Or in the refrigerator for longer!
Can you Freeze Homemade Frosting?
This recipe makes a ton of frosting…but it freezes exceptionally well! Even if I know I only need half of the recipe I still make the whole batch so that I can have some on hand in the freezer!
When you're ready to use it remove from freezer and let it come to room temperature (do NOT microwave!!!). Then go about your frosting business as usual.
IF YOU MAKE SOMETHING FROM JOYFOODSUNSHINE I WOULD LOVE TO SEE YOUR CREATIONS! DON'T FORGET TO RATE THIS RECIPE AND LEAVE A COMMENT BELOW! ALSO, FOLLOW ALONG WITH ME ON INSTAGRAM, PINTEREST, FACEBOOK, YOUTUBE AND TWITTER FOR MORE RECIPE INSPIRATION AND A GLIMPSE INTO OUR EVERYDAY LIFE!
The Best Homemade Vanilla Frosting
The BEST homemade vanilla frosting recipe! 5 minutes and 6 ingredients is all it takes to make the best frosting at home! Ditch the store-bought varieties! Great for decorating cakes & cookies!
Servings
24
(servings) Enough to frost a 2-layer 8-9" round cake
Ingredients
1

cup

butter

softened

1

cup

shortening

¼

tsp

salt

2

tsp

vanilla*

2

pounds

powdered sugar

(about 7.5-8 cups, or 1 bag)

1/3

cup

milk
Instructions
Cream together butter and shortening until smooth.

Add salt and vanilla and beat until well combined.

Slowly add powdered sugar 1 or 2 cups at a time until your mixture is thick and a little lumpy (you can always add more later).

Add milk and beat until light and fluffy (about 2-3 minutes).

If necessary, add more powdered sugar until you reach your desired consistency.

Use to frost your favorite cakes, cookies and cupcakes!**
Notes
*As you can see, my frosting isn't pure white. This is because I used vanilla extract that is brown. If you want a whiter frosting, use clear vanilla.
**If you plan to decorate with this frosting please keep it at room temperature. Cold frosting does not pipe well (or at all)!
If you'd like to add color, simply mix it in after your frosting has reached your desired consistency!
I usually decorate cakes the night before and let them set up in the fridge. Then I remove from the fridge at least 2 hours before serving so they can come to room temperature.
***This makes a TON of frosting! If you don't use it all you can freeze it to use for later!
Nutrition
Serving:
2
TBS
|
Calories:
283
kcal
|
Carbohydrates:
35
g
|
Protein:
0.2
g
|
Fat:
16.3
g
|
Saturated Fat:
84
g
|
Polyunsaturated Fat:
1.2
g
|
Monounsaturated Fat:
5.8
g
|
Cholesterol:
25
mg
|
Sodium:
63
mg
|
Potassium:
9.3
mg
|
Sugar:
34
g
|
Vitamin A:
250
IU
|
Calcium:
6
mg
As you can see, I use this frosting recipe for every birthday in our family, including Jesus! 😉
I have also used this recipe to frost these cut-out sugar cookies...
This is seriously the best vanilla frosting. Every person who tries it falls in love…even if they're "not a frosting person" (shame on them). I love that it not only tastes great but it's also excellent to decorate with. The mixture of shortening and butter makes it easy to pipe…plus it hardens beautifully! It's really a recipe you need in your tool belt!
This post contains affiliate links, which means that if you purchase a product through a link you clicked on here, I receive a portion of the sale. Thank you for supporting JoyFoodSunshine!