This Baked Avocado Fries Recipe turns out perfectly every single time! They are crazy delicious and can easily be made gluten-free! The perfect appetizer or side dish!

This post is sponsored by my friends at Taylor Farms! As always all opinions are my own.
The first time I had avocado fries was when Ritch and I went out to dinner for our 10th anniversary over one year ago! Ever since that glorious night I have been daydreaming about recreating that recipe.
And I did it! I created a Baked Avocado Fries recipe that is SO easy to make at home that I will never find myself jonesing for the restaurant version again! In this Baked Avocado Fries recipe the avocado is peeled, sliced, breaded and baked which takes a grand total of 25 minutes! They are SO easy and SO GOOD!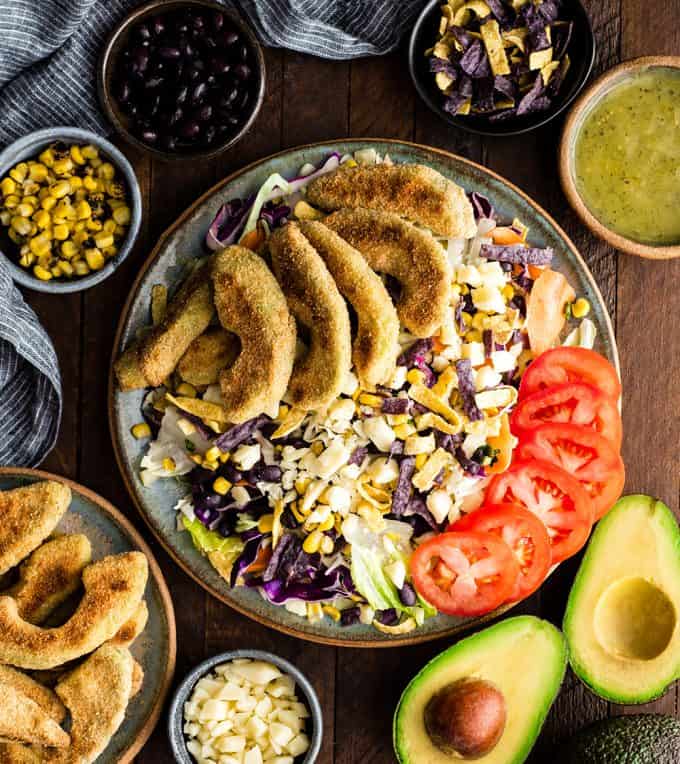 How to make Baked Avocado Fries
I had raging success every time I tested this recipe, and I want you to too! So I made sure to take step-by-step photos of the process and we are going to walk through it together!
Step 1: How to Cut Avocados to make Avocado Fries
I tested a few different ways to cut the avocados to make perfect avocado fries…so here are my tips for the best results.
Pick ripe, but firm avocados. The first important factor to successfully making this avocado fries recipe is to pick the right avocados. You want them ripe (meaning soft to the touch), but still firm enough to hold their shape without being gooey (you know what I mean lol)!
Cut the avocado in half, lengthwise. Cut down the axis of the avocados lengthwise. Then twist to separate. To remove the pit, tap it with a sharpe knife and turn to release.
Peel the skin off, don't scoop! I found that scooping the flesh out of the skin with a spoon resulted in a not-so-pretty outer layer of the avocado, that was also a little mushy. I recommend actually peeling the skin off instead of scooping! I just used my hands!
Cut 1/2″ pieces. The trick with slicing the avocados is to keep them thick enough to hold their shape, but not too thick that the avocado will overwhelm the outer coating!
Step 2: Coat the avocado slices with flour
This step is absolutely critical in making sure the coating sticks to the avocado fries and holds up even after baking. Coating the avocado slices in flour gives the egg wash something to stick to, and then the bread crumb coating sticks to the egg wash!
Shake it up! I made these baked avocado fries and used two different methods for coating the avocado slices in flour:
First, I put the flour in a small shallow bowl (bigger than the avocado slices) and individually dipped each one in flour. I found this way to be time consuming and messy, but it did the job.
Preferred method. the method I found the easiest was to toss the flour and avocado slices into a plastic bag and gently shake to coat. This was SUPER quick to do, and resulted in very evenly coated avocado slices!
Step 3. Dip the coated avocado slices in beaten eggs
Coat individually. The only way I found to do this step well was to dip each coated avocado slice in the egg wash individually. Be sure to use a bowl that is large enough to fit the entire avocado slice without it breaking or bending. I recommend putting the slices in the bowl, letting them sit for 10-15 seconds and then flipping them over.
Have a designated "egg hand." I also recommend using one hand for egg-dipping, and another hand for bread crumb coating. This will ensure you keep one hand dry to toss the breadcrumbs onto the avocado fries, and one will remain an eggy mess! I also recommend keeping a paper towel close by to use to wipe off your messy fingers!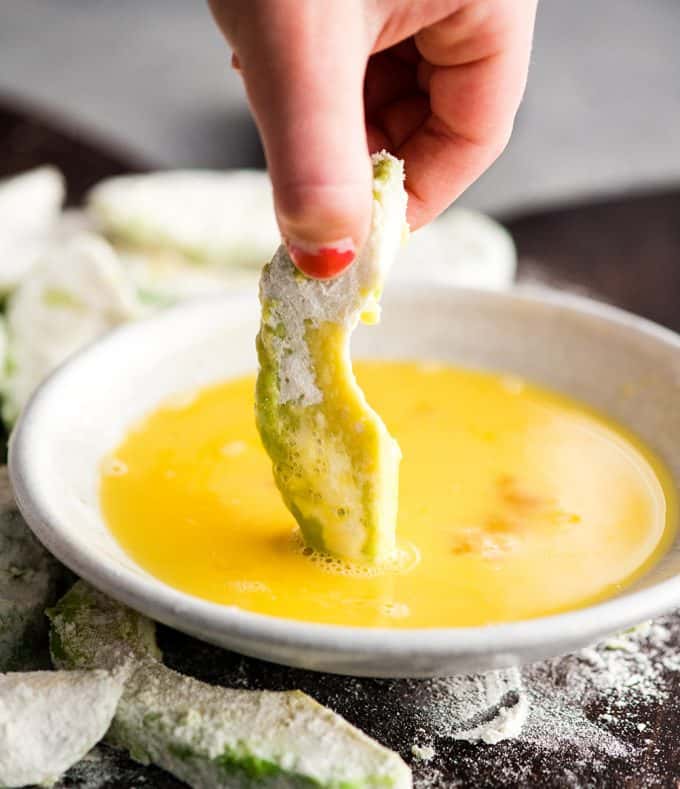 Step 4. Coat the avocado slices with bread crumbs
Before coating. Before you coat be sure to use about 1 TBS of olive oil to generously grease your baking sheet. You can also use cooking spray, however I think using olive oil enhances the flavor!
Coat Individually. I found the best way to coat the egg-washed avocado slices was individually. Be sure to use a small bowl, but one that fits the entire avocado slice in it without needing to bend or break it!
Step 5. Spray with cooking spray
Once the avocado fries are coated and placed on the well-oiled baking sheet, spray the top with cooking spray, or another oil spray. I also like to finish them off by sprinkling a little extra sea salt on top of the cooking spray for a little extra flavor !
Step 6: Bake (How to make Avocado Fries in the Oven)
Please note: I always use an electric convection oven. All ovens are different so please keep that in mind when you make this (and any) recipe.
Bake time. I have found that baking this avocado fries recipe for about 8 minutes on the first side results in a perfectly golden brown coating. After 8 minutes flip the avocado fries over and bake on the second side for about 5 minutes or until they reach your desired color and doneness!
Step 7: Serve and ENJOY!
These baked avocado fries may seem like a lot of work, but really they are super easy and come together in 25 minutes! There are also SO many ways you can serve them!
What to eat with avocado fries?
I also love eating them instead of meat in tacos (YUM)! Try these sweet potato tacos and add some avocado fries!
as part of a veggie wrap or sandwich
just by themselves!
What to dip avocado fries in?
There are SO many different dips you could use for this baked avocado fries recipe. Here are a few of my favorites…
Your favorite salad dressing. try this balsamic vinaigrette! YUM!
Guacamole is another great dipping idea! Especially our easy homemade guacamole!
Ranch or French onion dip. These baked avocado fries go really well with a sour cream based dip!
Honey Mustard. This might be my favorite option honestly!
Ketchup or BBQ sauce. My kids preferred dip of choice for sure!
Aioli. If you have a recipe for a delicious aioli sauce, that would be absolute perfection with this recipe.
Baked Avocado Fries Recipe: Ingredients and Substitutions
There are a few variations and notes about ingredients that are definitely worth mentioning, so let's chat!
Bread Crumbs. This is the ingredient that makes the most difference to the taste and texture of the avocado fries. I used both panko bread crumbs and regular (pictured here) and I preferred the taste of the panko, but the sturdy coating of the regular. Seasoned bread crumbs are totally an option that will add a lot more flavor, but choose wisely! To make these baked avocado fries gluten-free, choose gluten-free bread crumbs. You can also make your own by toasting bread and then processing it in the food processor!
Flour. to make this recipe gluten-free use a 1:1 Gluten-Free All-Purpose baking flour!
Spices. I chose to keep this recipe simple (like a blank canvas, if you will) and only added garlic powder. However they are also amazing when other spices are added….suggestions include cumin, paprika, chili powder, Italian seasoning and onion powder!
IF YOU MAKE SOMETHING FROM JOYFOODSUNSHINE I WOULD LOVE TO SEE YOUR CREATIONS! DON'T FORGET TO RATE THIS RECIPE AND LEAVE A COMMENT BELOW! ALSO, FOLLOW ALONG WITH ME ON INSTAGRAM, PINTEREST, FACEBOOK, YOUTUBE AND TWITTER FOR MORE RECIPE INSPIRATION AND A GLIMPSE INTO OUR EVERYDAY LIFE!
Baked Avocado Fries
This Baked Avocado Fries Recipe turns out perfectly every single time! They are crazy delicious and can easily be made gluten-free! The perfect appetizer or side dish!
Instructions
Preheat oven to 425 degrees F.

Grease a large baking sheet generously with olive oil.

Add flour and sliced avocados to a Ziploc bag and shake gently to coat.

Remove floured avocadoes from the Ziploc bag and discard the leftover flour.

Place beaten eggs in a small bowl (larger than the avocado slices).

In another small bowl, combine bread crumbs, salt and garlic powder.

Dip flour-coated avocados in the beaten eggs, then put them into the bread crumb mixture and turn to coat.

Placed coated avocado pieces in a single layer on the prepared baking sheet and spray them with cooking spray.

After they have been sprayed with cooking spray, sprinkle with a little extra sea salt, if desired.

Bake for 8-10 minutes, flip over and bake an additional 5 minutes or until golden brown on both sides.

Serve warm over a salad  or with your favorite dipping sauce!
Nutrition
Serving:
0.5
avocado
Calories:
241.3
kcal
Carbohydrates:
22.9
g
Protein:
5.8
g
Fat:
15.2
g
Saturated Fat:
2.4
g
Polyunsaturated Fat:
2.1
g
Monounsaturated Fat:
9.1
g
Cholesterol:
46.5
mg
Sodium:
653
mg
Potassium:
495.8
mg
Fiber:
6.7
g
Sugar:
1.1
g
Vitamin A:
205
IU
Vitamin C:
10.5
mg
Calcium:
45
mg
Iron:
1.6
mg
This post contains affiliate links, which means that if you purchase a product through a link you clicked on here, I receive a portion of the sale. Thank you for supporting JoyFoodSunshine!