This is the best brownie recipe EVER! These fudgy brownies are homemade from scratch and have a gorgeous crinkly top with a gooey middle! They're easy to make with only 7 ingredients! Ditch the box and make these today!
If you are looking for a gooey brownie with a fudgy texture, crinkly top and deep chocolate flavor, then you are in the right place. These classic homemade brownies are seriously the best brownies EVER!
It's no secret that brownies are my all-time favorite dessert. To say I am passionate about brownies is an understatement. Some would even go so far and say that I am a brownie connoisseur. To be declared the best, a brownie must meet the following criteria:
It must have a rich & intense chocolate flavor.
Be insanely fudgy gooey.
Have absolutely zero hint of a "cakey" texture.
Sport a beautiful shiny crinkly top.
I have tested hundreds of brownie recipes in my adult life, and after much delicious tweaking and testing, I have finally landed at this recipe as the very best chocolate brownie recipe ever! It meets all the above criteria, plus it's made with only 7 ingredients in 30 minutes! A total winner!
How do you make the best brownie recipe?
The procedure used to make homemade brownies is just as important to the final outcome as the ingredients (which we will discuss later). For that perfect shiny crinkly top with a fudgy center, it's very important to follow the steps as they are listed in this recipe! So let's break them down and get started (don't forget to watch the video too)!
Step 1: Melt chocolate & butter
The first step in making this brownie recipe is to melt the butter and chocolate together. This can be done in one of two ways:
In the microwave. warm butter & chocolate in the microwave for 60 seconds. Stir and warm in 30 second increments with stirring in between until the mixture is smooth and glossy.
On the stovetop. Gently warm butter and chocolate on the stovetop over low heat, stirring constantly until the mixture is smooth and shiny!
Set the melted butter/chocolate mixture aside to cool slightly while you mix up the rest of the batter.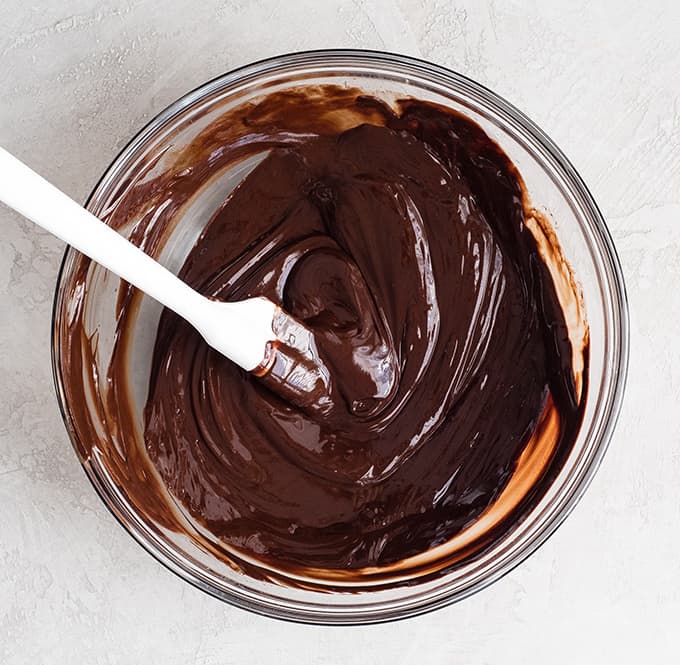 Step 2: Beat eggs alone
Beating the ingredients is absolutely critical to achieving the coveted shiny, crinkly top on these chocolate brownies. You can use a hand mixer (which I used to shoot this video) or a standing mixer (my preference). Begin by beating the eggs alone for 60 seconds until they are pale yellow.
Step 3: Beat eggs and sugar
Add sugar and beat for an additional 60 seconds, or until the sugar is dissolved and the mixture is has thickened and is pale in color.
Step 4: add wet ingredients
Add vanilla and melted butter/chocolate mixture and beat again. This time only beat on medium speed until the ingredients are combined and the batter is uniform throughout.
Step 5: add dry ingredients
Add the dry ingredients to the brownie batter. If your flour or cocoa powder are particularly clumpy, you may want to sift them before adding them to the brownie recipe.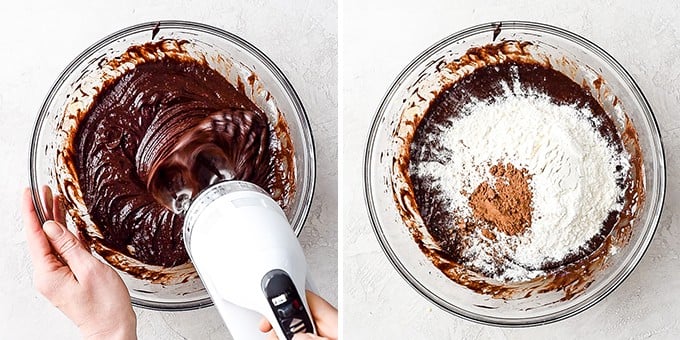 Step 6: fold in chocolate chips
Beat the dry ingredients in until they are fully incorporated. Then fold in the chocolate chips by hand. Adding chocolate chips is optional but recommended! You can also add walnuts or any other mix-ins you'd like to at this time.
The batter should be thick (as pictured below) and not runny. The thickness of the batter is what makes these the best brownies ever, ultra fudgy with a beautiful shiny top!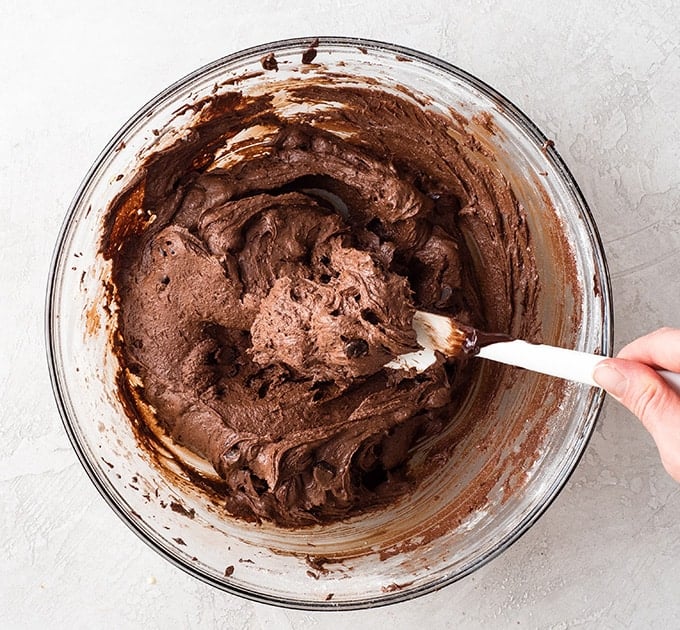 Step 7: Bake
Spread the brownie batter evenly in a pan and bake. Be sure to test them at the beginning of the recommended baking time, you do not want over-baked brownies!
How do you know when brownies are done?
This varies depending on just how gooey you want these fudgy brownies to be. For me, the perfect amount of gooeyness is achieved when the brownies are set on the top and around the edges, and they jiggle every-so-slightly when the pan is shaken.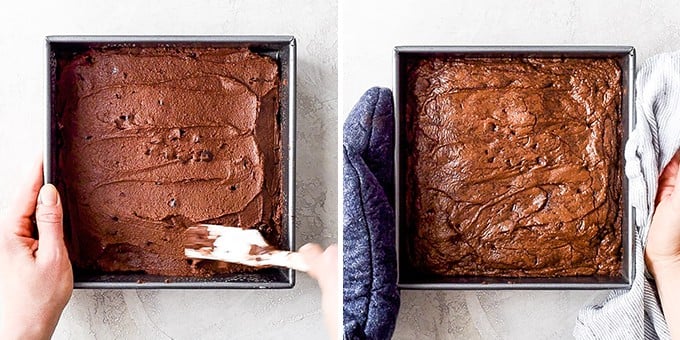 Step 8: Cool, cut & enjoy!
Let your homemade brownies cool in the baking pan for at least 15 minutes before cutting. You can eat them warm (yum) or at room temperature. However just be aware that the warmer they are, the more they will fall apart when cut.
How do I store brownies?
If you don't eat all these delicious homemade brownies right away, you will need to store them. To keep brownies fresh, store them in an airtight container. They will last at room temperature for 3 days, or in the refrigerator for up to a week.
Can you freeze brownies?
Yes! I recommend wrapping them tightly in plastic wrap or vacuum sealing them, then storing the wrapped brownies in an airtight container or plastic bag in the freezer.
FAQs about brownies
Now I want to try to answer some of the frequently asked questions about making this homemade brownie recipe!
What makes brownies fudgy vs. cakey?
This is a very important question. Because to me, there is no such thing as a cakey brownie. A brownie, by definition must be fudgy and gooey (any other texture makes it just a square chocolate cake)!
A cakey brownie usually has leavening agents and a higher flour : fat ratio. Fudgy brownies (like these flourless brownies) have a higher ratio of fat : dry ingredients and no leavening agents. The melted chocolate and butter in this brownie recipe make them insanely fudgy!
Why do my brownies get hard?
Brownies dry out if they are exposed to air or if they have been overbaked.
How do you keep brownies soft after baking?
Keep brownies stored in an airtight container. You can also soften them by gently warming them in the microwave (for 15-30 seconds) or in an oven set to warm for 5 minutes!
More brownie recipes!
I meant it when I said I have made hundreds of brownie recipes for all different dietary needs and preferences! Here are a few of my favorites: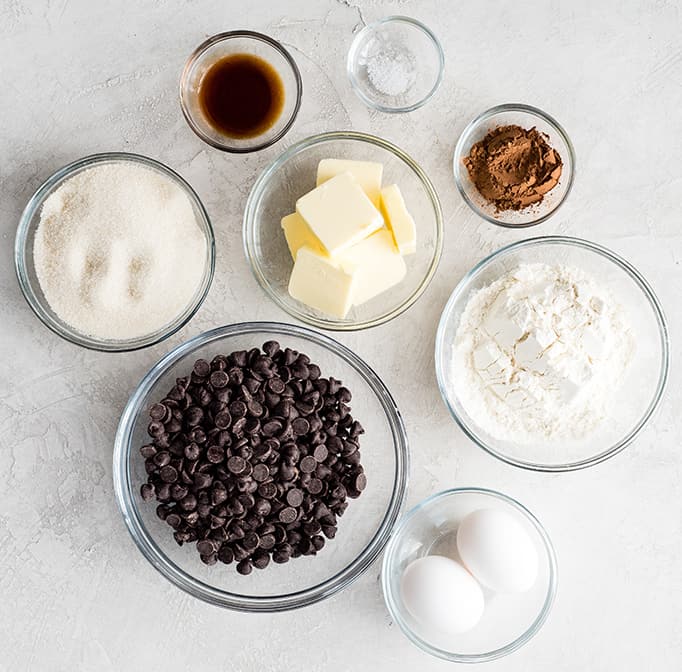 Best brownie recipe: Ingredients and Substitutions
I always find it important to mention that a recipe is only as good as the ingredients used to make it! So let's chat about the ingredients in this brownie recipe, as well as possible substitutions!
Salted butter. I usually bake with Kirkland's butter because it is the best deal I can find and we love the taste. Unsalted butter works well too, you may just need to adjust the amount of sea salt in the recipe! Coconut oil or ghee can also be used in this recipe, but butter is my favorite!
Chopped chocolate. If you are looking to make the best brownies ever, then you need to choose a high-quality chocolate! The form of the chocolate doesn't matter too much. Chips, chopped bars, discs, etc. all work equally well. However the quality and cocoa content of your chocolate will effect the final outcome. I typically use Ghirardelli 60% dark chocolate chips, because they are my favorite.
Granulated sugar. Any granulated sugar works well in this brownie recipe. I use organic cane sugar in all of my baking!
Vanilla extract. Make sure to use pure vanilla extract, and not imitation!
Cocoa powder. regular unsweetened cocoa powder is the best choice for these fudgy brownies! You can use extra dark cocoa powder for an even more intense chocolate flavor!
All-purpose flour. For a gluten-free version, feel free to substitute a 1:1 gluten-free all purpose flour blend.
Sea Salt. I recommend using pure sea salt in baking and cooking! If you use iodized table salt you may need to use less than the recipe calls for, so keep that in mind!
Eggs. I have not tried using egg substitutes in this brownie recipe. If you do and it works well for you please let me know in the comments below!
IF YOU MAKE SOMETHING FROM JOYFOODSUNSHINE I WOULD LOVE TO SEE YOUR CREATIONS! DON'T FORGET TO RATE THIS RECIPE AND LEAVE A COMMENT BELOW! ALSO, FOLLOW ALONG WITH ME ON INSTAGRAM, PINTEREST, FACEBOOK, YOUTUBE AND TWITTER FOR MORE RECIPE INSPIRATION AND A GLIMPSE INTO OUR EVERYDAY LIFE!
Best Homemade Brownie Recipe (from Scratch)
This is the best brownie recipe EVER! These fudgy brownies are homemade from scratch and have a gorgeous crinkly top with a gooey middle! They're easy to make with only 7 ingredients! Ditch the box and make these today! #brownies
Instructions
Preheat oven to 350 degrees F, grease an 8x8" baking dish, set aside.

Mix flour, cocoa powder and sea salt together in a small bowl; set aside.

Melt chocolate and butter together in a microwave safe bowl, or on the stovetop over low heat. Stir until smooth and glossy. Set aside.

In the bowl of a standing mixer, beat eggs for 1 minute or until pale and thick.

Add sugar and beat for an additional 30-60 seconds, until sugar is dissolved.

Add melted chocolate/butter mixture and vanilla and stir on low speed until batter is smooth and homogenous (uniform throughout).

Add dry ingredients, mix on low speed until just incorporated and there are no lumps.

Stir in chocolate chips or other mix-ins by hand.

Pour batter into prepared pan; bake until the top is set and the brownies are only very slightly "jiggly", 25-30 minutes.**

Place brownie pan on a wire cooling rack to cool completely.

Cut into squares and serve.
Notes
My favorite chocolate to use when making these brownies is Ghirardelli 60% chocolate chips
• If you like super gooey brownies, bake for 20 minutes. If you like them firmer bake for 25-30 minutes. Remember all ovens bake differently so baking times can vary.
• To double this recipe, simply double all the ingredients and bake in a 9x13" pan for 25-30 minutes.
Doubling the recipe: 
This brownie recipe doubles beautifully. Bake them in a 9x13" pan.  You may need to increase the baking time slightly, however I recommend checking it at 25 minutes to be sure they don't overbake. 
Nutrition
Serving:
1
brownies (1/16th recipe)
|
Calories:
165.6
kcal
|
Carbohydrates:
20.1
g
|
Protein:
1.9
g
|
Fat:
9.6
g
|
Saturated Fat:
5.8
g
|
Polyunsaturated Fat:
0.4
g
|
Monounsaturated Fat:
2.8
g
|
Cholesterol:
38.7
mg
|
Sodium:
84.2
mg
|
Potassium:
61.8
mg
|
Fiber:
1
g
|
Sugar:
15.2
g
|
Vitamin A:
215
IU
|
Calcium:
8
mg
|
Iron:
0.6
mg
This post contains affiliate links, which means that if you purchase a product through a link you clicked on here, I receive a portion of the sale. Thank you for supporting JoyFoodSunshine! 1