Burrata Salad
Posted Jun 30, 2019, Updated Oct 09, 2022
This Burrata Salad Recipe is made with homemade croutons, homemade balsamic vinaigrette dressing, tomatoes and spring mix. It's a simple, elegant, and unforgettable salad that serves a crowd!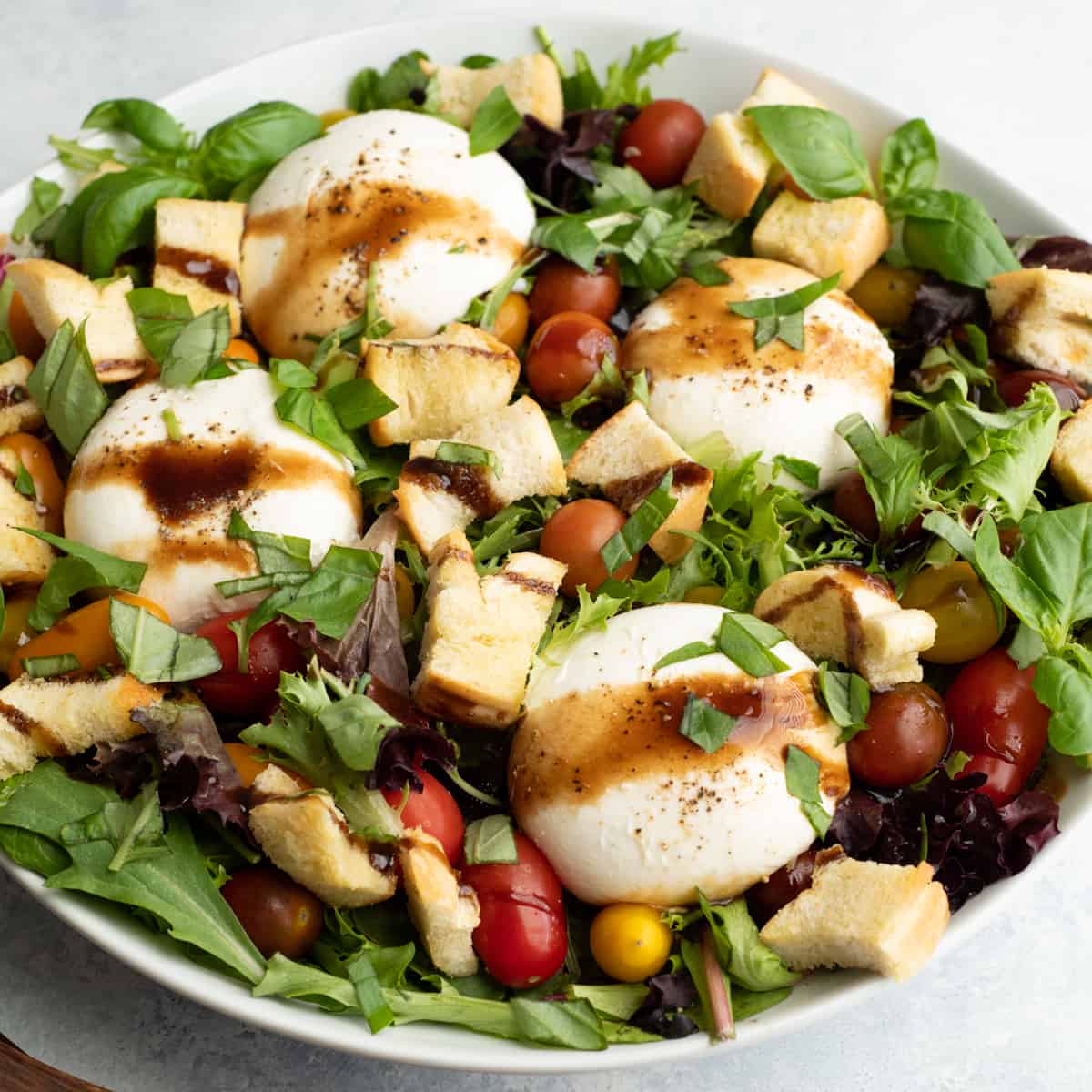 One of my most sincere culinary obsession is burrata cheese. I seriously can't get enough of it. When we go out to eat, if there is a menu item with the word "burrata" in the title, it's basically guaranteed that I will order it. So, I decided to create this delicious burrata salad!
I make this recipe all the time, especially when we have guests over for dinner. It's an unforgettable combination of ingredients far above and beyond an ordinary salad.
If you don't know, burrata is a type of mozzarella cheese that's formed into a pouch and then filled with soft, stringy curd (called stracciatella) and cream.
In other words, it's like a little pillow of cheesy goodness sent down from up above. I consider it a special occasion cheese, and as such I had to create a special recipe to highlight it's superior taste and texture, this burrata salad!
How to make Burrata Salad
Like I said above, since burrata is such a special cheese, I think it deserves an extra special salad. That's why we make both the croutons and dressing from scratch for this burrata salad recipe. However, if you'd like to purchase store-bought varieties you can still make a delicious salad (more on this later). Let's get started.
Make the Homemade Croutons
If you've never made homemade croutons, you're seriously missing out! These homemade croutons transform this burrata salad from good to great. They're also easy to make and only take 15 minutes to whip up from start to finish!
Start by cutting a half a loaf of french bread into 1/2 to 1″ cubes. I prefer mine a little larger because I like softer croutons, so I cut mine into rectangles about 1″x 1/2″. Then, add the olive oil and spices, stir and bake! It's really that simple.
Bake for 10 minutes, stirring once halfway through. You may need to adjust baking time depending on your oven and your preferences (super crunchy or slightly soft).
Test at 10 minutes and adjust accordingly. They won't really brown, but they will get crispy. Then set them aside to cool while you make the rest of the burrata salad.
This will make more croutons than is necessary for this burrata salad recipe, however you can serve extras on the side or store them in an airtight container for another salad on a different day.
Make the homemade Balsamic Vinaigrette
While the croutons are baking, whisk up the balsamic vinaigrette. It's made with 4 ingredients in under 5 minutes and makes this burrata salad taste extra amazing. (Can you tell I was feeling pretty "extra" when I created this recipe)?! 😉
I whisked mine up in a little pyrex measuring cup for easy pouring, but you can also make it in a glass jar and shake to combine (like I do in this post for this healthy balsamic vinaigrette dressing).
Assemble the salad
Choose & arrange your greens
I recommend using a classic spring mix for this burrata salad! The tenderness of the leafy greens and the bite from the arugula really complement all the ingredients very well! However, you can choose any greens you'd like!
Arrange the greens on a large serving platter or in a large salad bowl. I personally prefer a shallow serving bowl for this burrata salad so that every serving has a little bit of everything (cheese, croutons, tomatoes, etc.). I used a noodle bowl from crate and barrel but they no longer sell it – I love this one though.
Add vegetables
To ensure that the burrata cheese is the star of this show, I choose to keep this salad super simple and only add some heirloom baby tomatoes to the greens. Feel free to add any veggies you'd like! I think some grilled zucchini would taste amazing in this burrata salad!
Arrange the Burrata Cheese & Croutons
Place the burrata cheese evenly on top of the bed of greens & tomatoes. Make sure that the burrata cheese is evenly spaced out when it's cut open to serve! Add croutons around the cheese, and save the rest to serve on the side in case anyone would like a double dose of homemade croutons!
Sprinkle Sea Salt & Fresh Pepper on the Burrata Cheese
This step is absolutely critical to enhance the flavor of the burrata cheese! Freshly grind some sea salt and black pepper on top of each burrata round, trust me you don't want to skip this step!
Add the dressing
Now it's time to drizzle the dressing on top of all this deliciousness! You can also choose to serve the dressing on the side if you think your guests would prefer it!
If necessary, you can store this burrata salad in the fridge before adding the dressing. However I recommend only keeping it in the refrigerator for up to 1 hour before dressing and serving, otherwise you run the risk of the spring mix becoming soggy. If you're using a heartier green, like Kale, this burrata salad will hold up a little longer!
Garnish with fresh basil & serve
Sprinkle some chopped fresh basil on top and serve up this burrata salad! Serve any extra croutons and dressing on the side so your guests can adjust their portions to their individual tastes! I love this wooden serving set (and it's only $10)!
FAQs about Burrata Salad
What is the difference between fresh mozzarella and burrata?
Fresh mozzarella cheese is a soft Italian cheese made from cow or water buffalo milk. Burrata cheese is mozzarella that's formed into a pouch and then filled with soft curd (called stracciatella) and cream.
What is inside burrata?
The inside of burrata cheese is made of stracciatella (shreds of cheese) and cream. 
Do you eat the skin of burrata?
Yes! The "skin" of burrata cheese is mozzarella, and totally safe to eat (and delicious)!
Should burrata be served at room temperature?
You can serve burrata cold or at room temperature! It all depends on your own personal preferences!
How do you serve burrata?
I recommend cutting the burrata into fourths for easy serving! Serve this burrata salad with grilled chicken, pasta dishes, etc. 
Burrata Salad: Ingredients & Substitutions
There are so many ways to customize this burrata salad recipe! Let's chat about some of those now! If you'd like to skip the homemade croutons and dressing, feel free to use your favorite store-bought varieties for those two recipe elements! However homemade makes it extra special!
Croutons:
French bread. You can use any bread you have around your house to make homemade croutons. However I recommend french bread for the best taste. Other ideas include, sourdough, rye or your favorite gluten-free bread for a gluten-free salad.
Olive oil. In both the croutons and the dressing, the taste of the olive oil really matters! High quality oils will give a richer more robust taste! You can also substitute a flavor infused olive oil (like herb or garlic), for yummy variety!
Garlic salt. If you don't keep garlic salt on hand, you can substitute sea salt!
Balsamic Vinaigrette Dressing
Balsamic vinegar. I have said this so many times on my blog, there is nothing like high-quality balsamic vinegar. Good balsamic vinegar should be so thick that it pours like syrup. It should be dark brown and taste sweet. It should most definitely NOT be thin, watery, or sour-tasting.

My absolute favorite balsamic vinegar in the entire world can be found here. If you haven't tried true, aged, high-quality balsamic vinegar yet, please please give it a whirl! You will NOT be disappointed!

Mustard. Any mustard variety works well in this recipe, just be aware that the taste will effect the final outcome!
Honey. Maple syrup can be used in place of honey for another delicious variety!
Burrata Salad
Greens: I mentioned before spring mix is my #1 choice, but any greens work well in this salad! Arugula, Romaine, baby spinach, butter lettuce, kale, etc.
The sky's the limit with what you can toss in this salad to make it your own. Here are some suggestions to make it even more delicious:
Grilled zucchini
Fresh corn
Bacon
Onion
Kale
Avocado (highly recommended)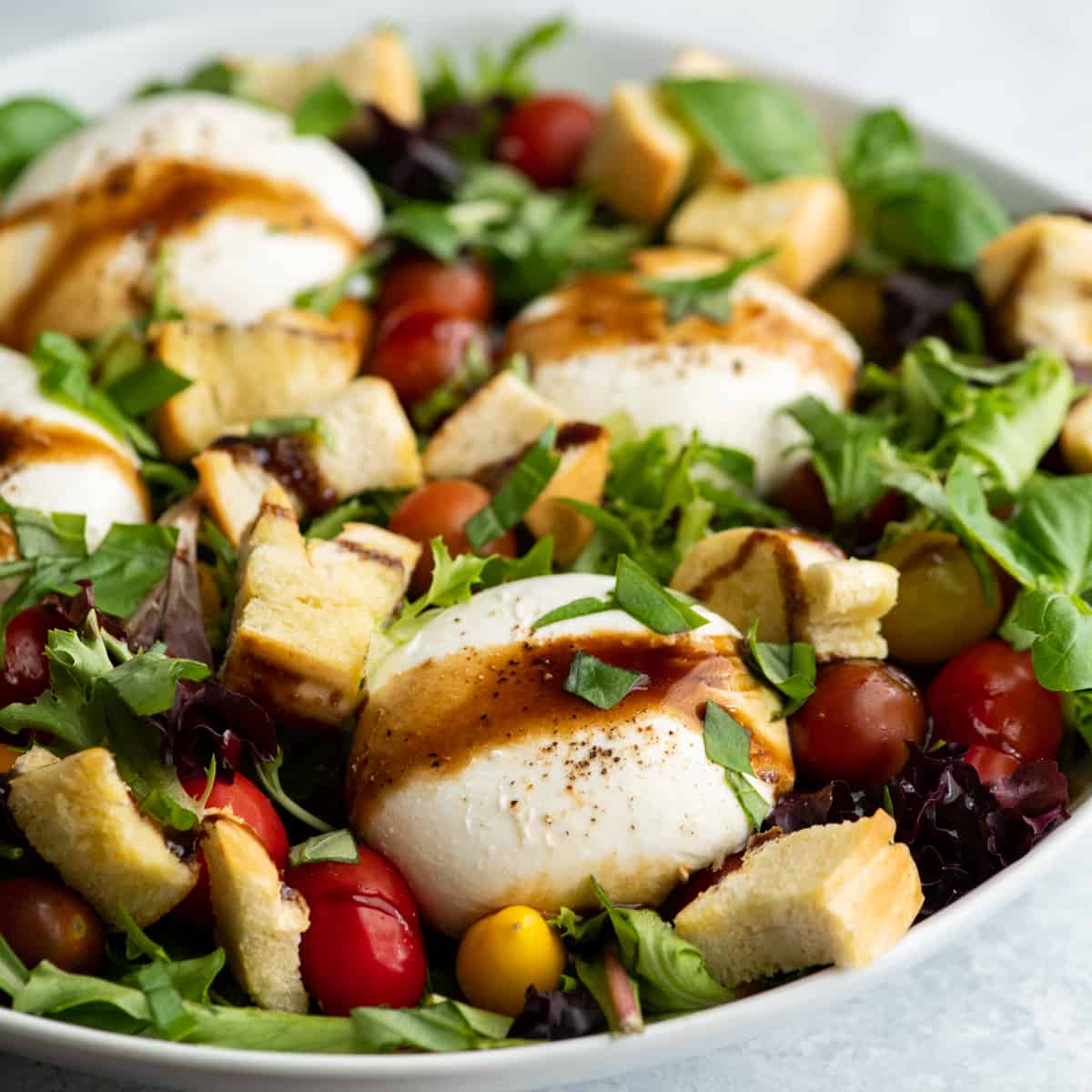 If you make and love our recipes, it would mean so much to me if you would leave a comment and rating! And don't forget to follow along with us on Instagram, Pinterest, Facebook, and Youtube – be sure to tag @joyfoodsunshine and use the hashtag #joyfoodsunshine so we can your creations!
Burrata Salad Recipe
This Burrata Salad Recipe is made with homemade croutons, homemade balsamic vinaigrette dressing tomatoes and spring mix. It's a simple yet elegant salad that serves a crowd!
Ingredients
Salad
5

oz

spring mix

1

pint

baby tomatoes

½

cup

Fresh basil

8

oz

Burrata cheese
Balsamic Vinaigrette Dressing
Instructions
Make the Croutons:
Preheat oven to 350 degrees F.

Cut French bread into ½ to 1" cubes (about half a loaf of French bread)

Drizzle with olive oil, stir to combine.

Sprinkle half the garlic salt on the bread, stir. Sprinkle the rest and stir.

Sprinkle half the garlic powder on the bread, stir. Sprinkle the rest. Stir until evenly distributed.

Spread the seasoned bread cubes in one layer on a greased baking sheet.

Bake 10 minutes, stirring once halfway through.

Set aside to cool.
Make the Dressing:
Put all the ingredients in a small bowl and whisk to combine. Set aside but do not chill.
Put it all together:
Place spring mix in a serving bowl.

Arrange tomatoes and burrata cheese on top of the spring mix.

Add croutons.

Sprinkle sea salt and fresh black pepper on top of each burrata cheese round.

Drizzle with your desired amount of dressing, or serve dressing on the side.

Serve immediately.
Notes
Store
Leftovers keep relatively well for a day or two, especially if you choose not to dress the salad all at once (let people individually dress their own portions). 
Ingredient notes
You can use any vegetables you want on this salad – I love adding avocado, fresh corn off the cobb in the summer, etc. 
You can also use store bough croutons and dressing to make it even easier. 
Nutrition
Calories:
243.3
kcal
|
Carbohydrates:
15.2
g
|
Protein:
6.1
g
|
Fat:
17.4
g
|
Saturated Fat:
4.9
g
|
Polyunsaturated Fat:
1.3
g
|
Monounsaturated Fat:
8.2
g
|
Cholesterol:
16
mg
|
Sodium:
246.4
mg
|
Potassium:
24.3
mg
|
Fiber:
0.8
g
|
Sugar:
3.6
g
|
Vitamin A:
980
IU
|
Vitamin C:
14.5
mg
|
Calcium:
148
mg
|
Iron:
0.8
mg
Nutrition information is automatically calculated, so should only be used as an approximation.
Did you enjoy this recipe? Have a question? Leave a comment below!
More delicious salad recipes:
Here are some more delicious summer salad recipes!
This post contains affiliate links, which means that if you purchase a product through a link you clicked on here, I receive a portion of the sale. Thank you for supporting JoyFoodSunshine!