Welcome to the first installment of "Recipes my Husband Loves," here on JoyFoodSunshine! In honor of my husband's birthday week, I'll be sharing some his favorite foods! This homemade Pretzel Bread is one of my most requested recipes, not only from my hubby, but also from friends and family. It is dense, soft, chewy, buttery, salty and oh-so-delicious. Since this Pretzel bread is one of my my husband's favorites…I thought it would be fun to let him tell you about it!
So here is what my main man says about this recipe:
"My wife's pretzel bread is one of the most amazing things that I have ever eaten. The only thing better than a loaf of this pretzel bread is MORE loaves this pretzel bread! Sometimes when we have friends over to dinner— and Laura asks for meal ideas—I am torn as to whether or not to suggest this bread, simply because I can't handle watching other people eat MY FAVORITE BREAD. (I smile, and politely pass the bowl, but secretly…I'm watching every movement…praying that they leave more for ME!) Fresh out of the oven, this bread beats any other meal that comes out of my home (IMHO), and a loaf of this stuff literally makes the "top 3 list" of things I would want with me on a deserted island. So basically, I HIGHLY recommend this recipe.
-Husband"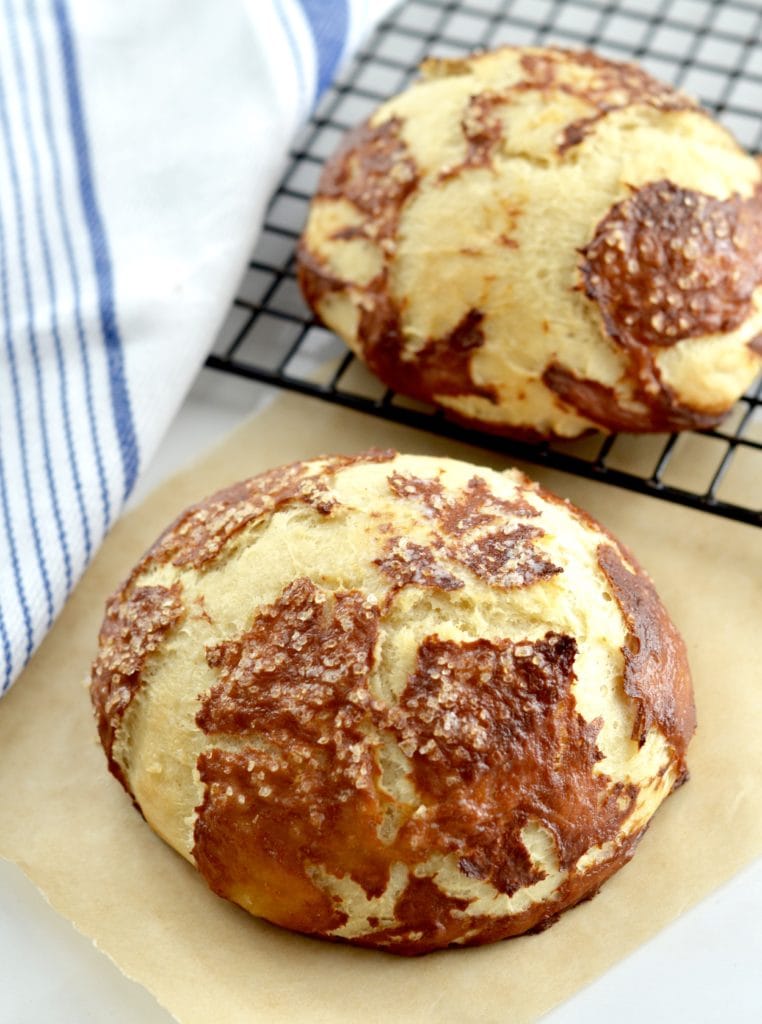 There you have it folks, this Pretzel Bread is definitely husband approved! And I can attest to the fact that he will eat an entire loaf by himself if he doesn't have to share. 😉
If making homemade bread sounds intimidating to you…your'e in luck! There are two ways to make the dough for this Pretzel Bread. The first is to simply toss all the ingredients in your bread machine and set it to the "dough cycle." Even the most sheepish bread-makers can do that, right?! 😉  The other method involves mixing and kneading the dough using a standing mixer and your hands! I like to do the latter because I can be sure every step of the process is going exactly the way it should be! However, I have used my bread machine with the same delicious results!
If you are familiar to the process of making homemade bread, you will notice that there is one unique step to the dough-making process for this recipe.
The dough only has to rise one time. 
 It is absolutely crucial that you do NOT let the dough rise a second time. It needs to go straight from being formed into two balls directly into the water bath, and straight from the water bath into the oven. No more rising allowed, or you will get a light and airy loaf of bread instead of a dense and chewy one (which is the very essence of soft pretzels).
Boiling the dough in the baking soda water bath is the step in this recipe that gives this Pretzel Bread it's pretzel-y identity!Once you release the air from your dough, form it in to the size and shape  you want it. This recipe makes 2 large loaves, 4 small loaves, or 8-10 rolls/buns! Yes…eating a hamburger on a homemade Pretzel Bread bun is an absolute must for all of you. Trust me, you won't be sorry.
Once you remove the dough from the boiling baking soda bath, immediately place it on your greased baking sheet, cut an X in the top and sprinkle with Coarse Sea Salt (I use
this
). I use a
skimmer spoon
like
this
 to take the dough out of the boiling baking soda bath and remove excess water.
As soon as your loaves/buns/rolls come out of the oven, brush them with melted butter and let them cool just enough to eat! This bread is best served warm and eaten the day it's made! However, it does reheat well and makes a killer turkey sandwich.
Pretzel Bread
Instructions
Combine yeast, water, and brown sugar in the bowl of your standing mixer fitted with the dough hook. Let stand for 5 minutes (until foamy).

While yeast is proofing…melt butter in a microwave-safe bowl. Mix in milk and set aside.

Once yeast is proofed, add milk/butter to yeast mixture and mix on low speed with dough hook until just combined.

Add salt and flour and mix with dough hook until flour is fully incorporated.

Knead in your mixer until the dough forms a slightly tacky, but firm ball, you may need to add a little more flour 1 TBS at a time, but be careful, you want your dough a little tacky but not too sticky to handle.

Oil a large bowl, place the dough ball in the bowl, and cover with a damp towel in a warm place to let rise for one hour or until doubled in size.

Preheat oven to 400 degrees F and bring the 4 quarts of water to a boil. When the water is boiling, slowly add the baking soda (Be careful or you will have a baking soda/water explosion)!

Remove the dough from the bowl and gently press out the air bubbles.

Make two balls of dough the same size (NOTE: The total weight of the dough comes out to be about 800 g, so each loaf should weigh about 400 g), forming them into the shape you want (Do not let it rise at all here! Straight from forming the ball into the water). Drop one of the balls into the boiling baking soda water. Boil for 60-90 seconds on each side, turning it once to guarantee both sides covered. Drain the excess water from the dough and place it on an oiled baking sheet.

Immediately sprinkle coarse sea salt over the bread to your specific tastes, and use a knife to cut a small incision on the top of the bread so the dough has somewhere to expand.

Repeat with second ball of dough. (Do not let it rise at all here! Straight from boiling into the oven).

Cook the bread for 22-25 minutes, rotating the baking sheet once.

Once removed from the oven, immediately brush the melted butter over the loaves to guarantee a soft crust.

*You can reheat it on a low temp covered in foil if you decide to make it a bit ahead of time. I cover it with a tea towel or something if I'm not going to serve it right away.
Recipe Notes
If you have a bread maker…just add all ingredients to the pan in the order listed and set it to dough cycle, then proceed to Step 8! You can reheat the bread on a low temp covered in foil if you decide to make it a bit ahead of time. I cover it with a tea towel or something if I'm not going to serve it right away.
I adapted this recipe from one I found on allrecipes.com years ago, and I can't find it now. However, after I did some searching, I believe this is it!
Once you try this homemade pretzel bread you will not be able to really enjoy any other store-bought or restaurant-made varieties again. #sorrynotsorry
Do you make homemade bread? If yes, what's your favorite type to bake? If no, what's holding you back from giving it a whirl?! 
If you make something from JoyFoodSunshine I would love to see your creations! #joyfoodsunshine
Instagram: @joyfoodsunshine
Pinterest: JoyFoodSunshine
Facebook: JoyFoodSunsine
Twitter: @joyfoodsunshine
Pin me for later!
This post contains affiliate links, which means that if you purchase a product through a link you clicked on here, I receive a portion of the sale. Thank you for supporting JoyFoodSunshine!