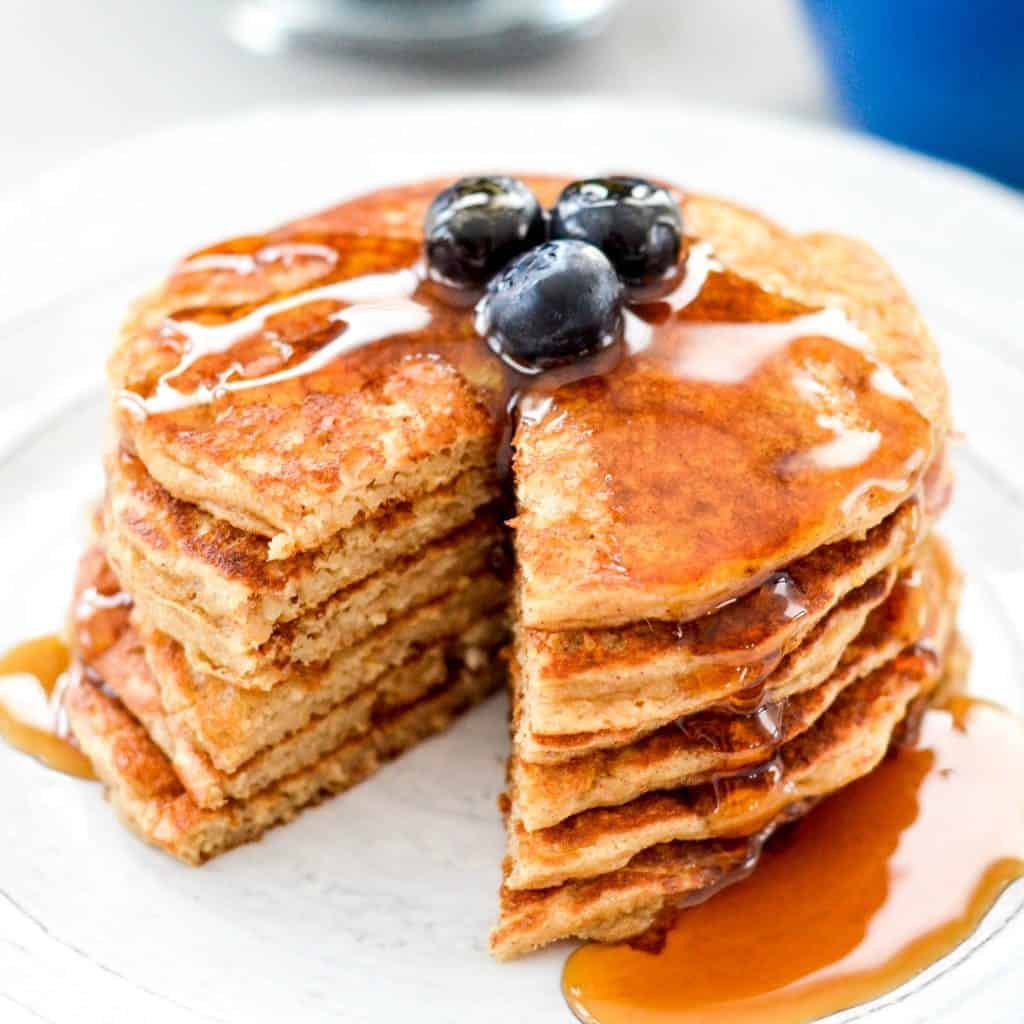 My love for breakfast knows no bounds. I could seriously eat breakfast food all day every day and never get tired of it. Smoothies? Always. Oatmeal? Sign me up! Muffins? My love language.
These Healthy Greek Yogurt Pancakes have become my go-to recipe when I want to make a special breakfast for my family! They're super fast to make, made with vanilla Greek yogurt, contain zero refined sugar, and are gluten-free (thanks to oat flour)!
What's not to love about pancakes? Really. They can be all things to all people. My daughter prefers her with cinnamon chips and sprinkles. My son loves his pancakes loaded with chocolate chips! And my hubby is more of a plain with syrup kind of man. I personally love mine slathered with peanut butter and smothered with pure maple syrup (surprise surprise right)?
These pancakes are so healthy that they don't put you in a pancake coma after you're finished eating them. Instead, they leave you feeling energized and ready to tackle the day ahead!
I make my own oat flour in the Vitamix (simply measure your oats, toss them in and turn it on!), but you can purchase it at just about any grocery store!
What I love about these pancakes is that they are so simple and can hold their own even without maple syrup (although hello, why someone would not douse their pancakes in the best substance ever is beyond my realm of understanding).
My favorite way to cook pancakes is on an electric griddle. I appreciate being able to set it to a specific temperature without worrying about adjusting the heat at all. You can cook pancakes in a skillet over medium/low heat, but just be sure to watch them carefully and adjust the intensity of your flame as needed.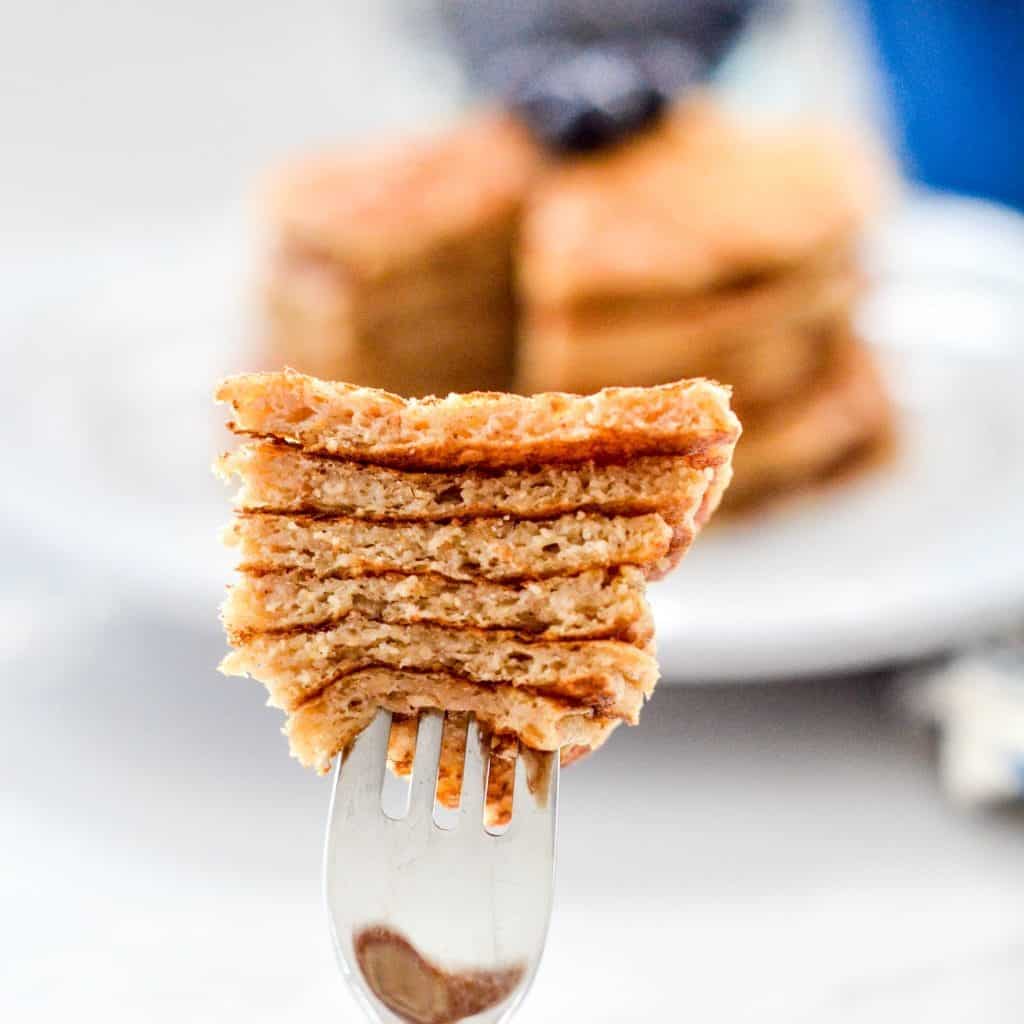 Greek Yogurt Pancakes (gluten-free)
Instructions
Preheat an electric griddle to 350 degrees F.

Combine oat flour, baking powder, baking soda, salt and cinnamon in a small bowl. Set aside.

In a large bowl mix together the Greek yogurt, coconut sugar and vanilla.

Add eggs and mix until combined.

Add dry ingredients to wet ingredients and mix until completely combined.

Add 2 TBS milk and mix thoroughly. If the batter is too thick, add more milk 1 TBS at a time until it reaches your desired consistency.

Grease your griddle and pour ¼ cup portions of batter onto the heated surface.

Cook until bubbles start forming in the batter and the sides become set.

Flip and cook for 1-2 minutes on the second side, or until golden brown.
Recipe Notes
Recipe inspired by
this recipe
from Ambitious Kitchen!
I am still in Chicago until tomorrow and let me just tell you…I've had a blast…but I miss my KIDS and my husband like you wouldn't believe. It's amazing how, over time you realize that home isn't a place…it's who you're with. And those 4 crazies are my home. I can't say I've been thrilled about living so far away from the rest of my family, but I'm grateful to get to spend my every day with my 4 favorite people ever in the history of the world. I can NOT wait to squeeze and hug and cuddle them as soon as I get off the plane in SLC tomorrow. Car seats schmar seats. 😉
Question: What's your favorite way to eat pancakes? 
If you make something from JoyFoodSunshine I would love to see your creations! 
#joyfoodsunshine
Instagram: @joyfoodsunshine
Pinterest: JoyFoodSunshine
Facebook: JoyFoodSunsine
Twitter: @joyfoodsunshine
Pin for later!
This post contains affiliate links, which means that if you purchase a product through a link you clicked on here, I receive a portion of the sale. Thank you for supporting JoyFoodSunshine!