Paleo Zucchini Banana Muffins! The perfect healthy breakfast recipe that delivers a serving of fruits AND veggies! Paleo, gluten-free & dairy-free!
Good morning. Welcome to my favorite time of the day. Yes, it's true. I am unquestionably a morning person.
What's not to love? Breakfast? Yum! Exercising? Endorphins. Coffee? Yes please. I think the main reason I love mornings is because it's the two hours in the day when my house is quiet. I wake up at 5 AM in order to experience this peaceful bliss, but I've always had a thing for the early morning hours.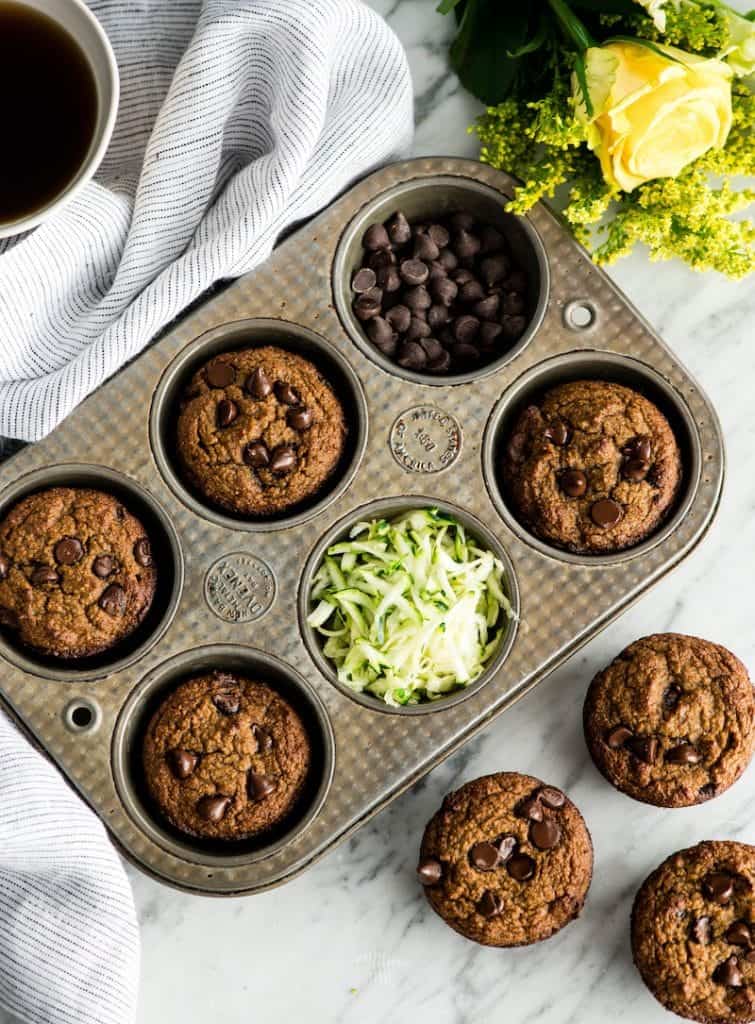 You see, I'm an introvert trapped in an extrovert's body. Being surrounded by people drains me, while alone time renews and refreshes me. The minute my sweet kiddos come bounding down the stairs I need to be ready to be an extrovert, answering 1.5 million questions, soaking in every snuggle and playing endless rounds of candy land. It's awesomely exhausting.
What that means is that having healthy breakfasts on hand and ready to go, like these Paleo Zucchini Banana Muffins, or these Spinach Muffins, is absolutely critical for me. The less time I spend making breakfast, the more peace and quiet and I can enjoy...feel me?
I have tried my fair share of healthy muffin recipes, and these Paleo Zucchini Muffins reign supreme. They have everything I'm looking for to help my kids start the day right! Fruit, veggies, protein and fiber! Plus they actually taste good.
These don't need a dollop of this cinnamon butter or half a jar of vanilla almond butter on top to make them palatable. These Paleo Zucchini Banana Muffins stand alone beautifully and my kids devour them. I keep them on hand in the freezer at all times. One minute in the microwave and I have a healthy delicious breakfast to start our crazy day off deliciously. Win. Win. Win.
How to make Paleo Zucchini Banana Muffins
Here are a few tips on how to make these Paleo Zucchini Banana Muffins!
It shouldn't be a surprise to you that I recommend using a Vitamix to make these Paleo Zucchini Banana Muffins! No other blender is powerful enough to make the zucchini completely undetectable...which, if you have a picky eater, is very important!
2. Let the batter rest.
Once you have blended the batter, let it rest before adding the chocolate chips for 3-5 minutes. This allows the coconut oil to soak in some of the moisture and thickens the batter substantially!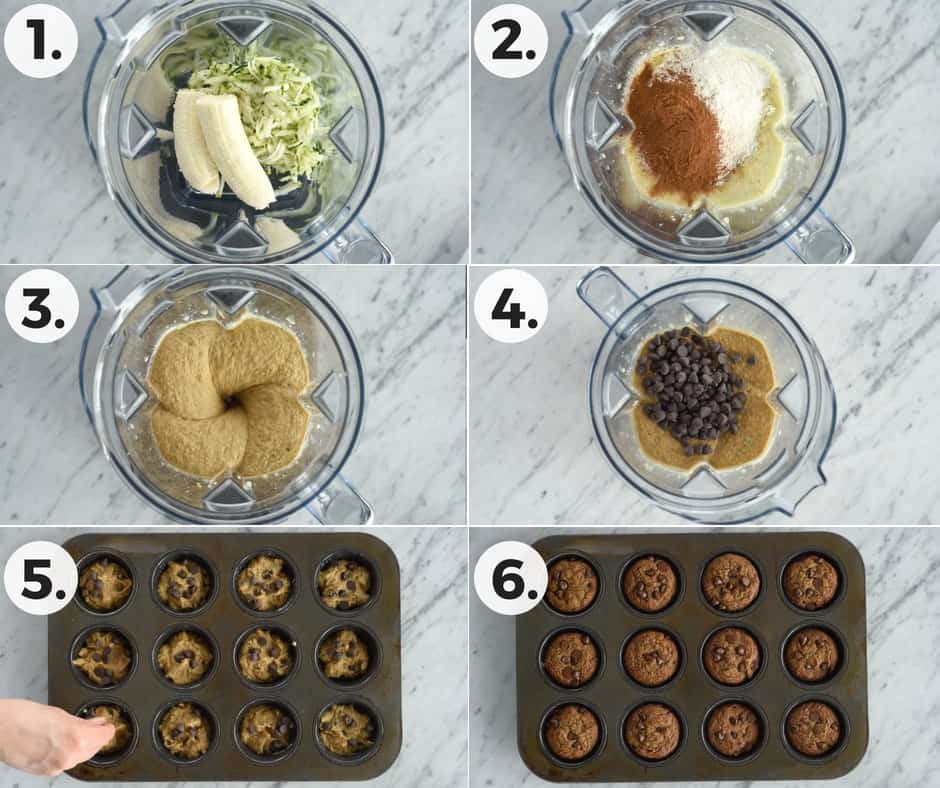 Paleo Zucchini Banana Muffins: Substitutions
These muffins are perfect as-is. However, if you must, here are a few potential substitutions.
Coconut sugar. Any granulated sugar can be used in this recipe. Just be sure that you choose a variety that complies with your dietary needs.
Coconut oil. Grass-fed butter or ghee can be used in place of coconut oil.
Chocolate chips. These are optional but recommended! Really you can use any mix-in that you'd like, the possibilities are endless! You can also use cinnamon chips in these Paleo Zucchini Banana Muffins (although they are not paleo they are delicious)!
More delicious recipes:
IF YOU MAKE SOMETHING FROM JOYFOODSUNSHINE I WOULD LOVE TO SEE YOUR CREATIONS! DON'T FORGET TO RATE THIS RECIPE AND LEAVE A COMMENT BELOW! ALSO, FOLLOW ALONG WITH ME ON INSTAGRAM, PINTEREST, FACEBOOK, YOUTUBE AND TWITTER FOR MORE RECIPE INSPIRATION AND A GLIMPSE INTO OUR EVERYDAY LIFE!
Paleo Zucchini Banana Muffins
Paleo Zucchini Banana Muffins! The perfect healthy breakfast recipe that delivers a serving of fruits AND veggies! Paleo, gluten-free & dairy-free!
Instructions
Preheat the oven to 375 degrees F. Grease a standard muffin pan, set aside.

Combine the coconut flour, almond flour, cinnamon, baking soda, and salt in a small bowl, set aside.

Put banana, coconut sugar, and coconut oil into your

food processor

fitted with the "S" blade or blender (

Vitamix

) and process until smooth.

Add the eggs, vanilla, and apple cider vinegar and process/blend until just combined.

Add the dry ingredients to the wet and pulse to combine.

Add the zucchini and process/blend until evenly mixed into the batter.

Mix in chocolate chips (or cinnamon chips) by hand.

Scoop the batter into the prepared muffin pan.

Bake for 20-25 minutes until a toothpick inserted into the center of each muffin comes out clean. (To make into bread bake in 9x5" loaf pan for 35-40 minutes!)

These muffins freeze VERY well. I make a batch, freeze them and pop them out for an easy, healthy breakfast for my kids! I just reheat for 1 minute in the microwave (from frozen) and let them cool a bit! My kids LOVE these.
Notes
This recipe is slightly adapted from the blog Meaningful Eats! Please click here for the original recipe!
Nutrition
Calories:
133.3
kcal
Carbohydrates:
14.9
g
Protein:
3.8
g
Fat:
7.1
g
Saturated Fat:
3.8
g
Polyunsaturated Fat:
0.3
g
Monounsaturated Fat:
0.6
g
Cholesterol:
62
mg
Sodium:
173.5
mg
Potassium:
100.4
mg
Fiber:
3.2
g
Sugar:
9.3
g
Vitamin A:
330
IU
Vitamin C:
2.2
mg
Calcium:
20
mg
Iron:
0.9
mg
This post contains affiliate links, which means that if you purchase a product through a link you clicked on here, I receive a portion of the sale. Thank you for supporting JoyFoodSunshine!