Today I have a healthier mac and cheese recipe for you. This Healthy Greek Yogurt Mac & Cheese is loaded with protein, gluten-free (but can be made gluten-full too), and tastes absolutely amazing.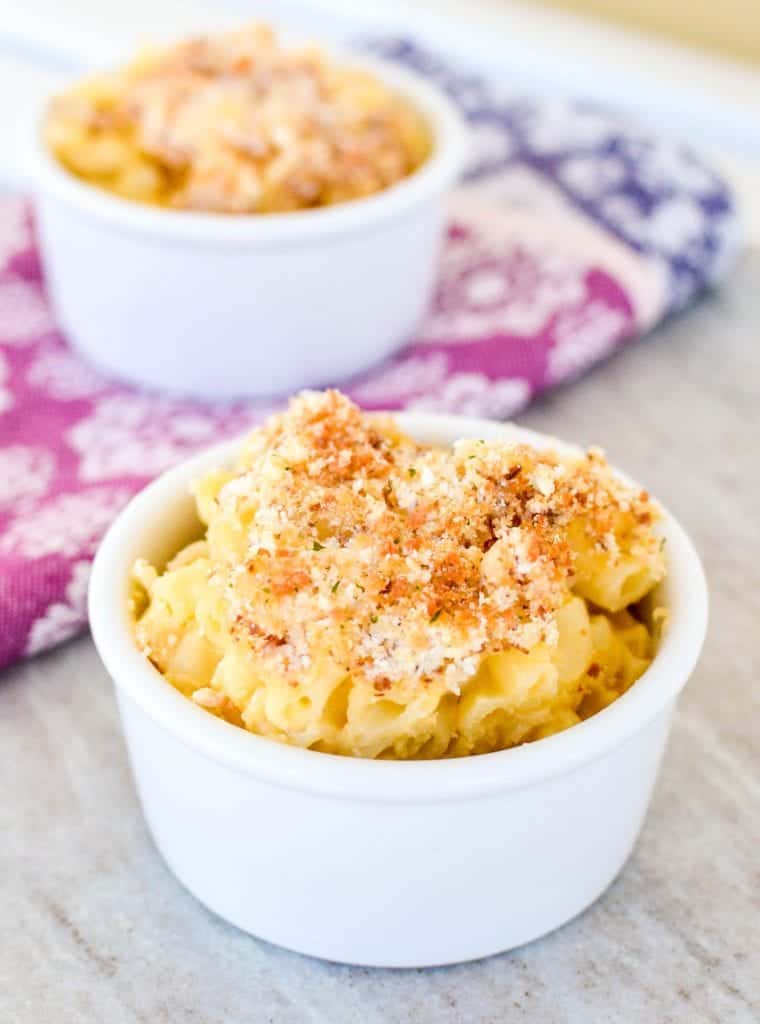 This Healthy Greek Yogurt Mac & Cheese is made more nutritious by using Greek yogurt in place of most of the butter. The richness and flavor of the yogurt also means we can use 2% milk instead of whole milk or cream without losing any of the creamy, comforting, cheesy goodness.
This Greek Yogurt Macaroni & Cheese is my oldest daughter's favorite dinner. She often specifically requests, "the mac & cheese with the stuff on top that you make, not the box." Since there is an entire cup of Greek yogurt in this recipe it's a great source of protein, so I usually serve it as a meatless main dish. You could easily serve it as a side or a make-ahead lunch (because it makes amazing leftovers).
Even though my family doesn't follow a specific diet, I love taking recipes we always eat and making them gluten-free. That way, when friends or family who have dietary restrictions come over for dinner, I already have a repertoire of recipes I can choose from without having to create something new at the last minute.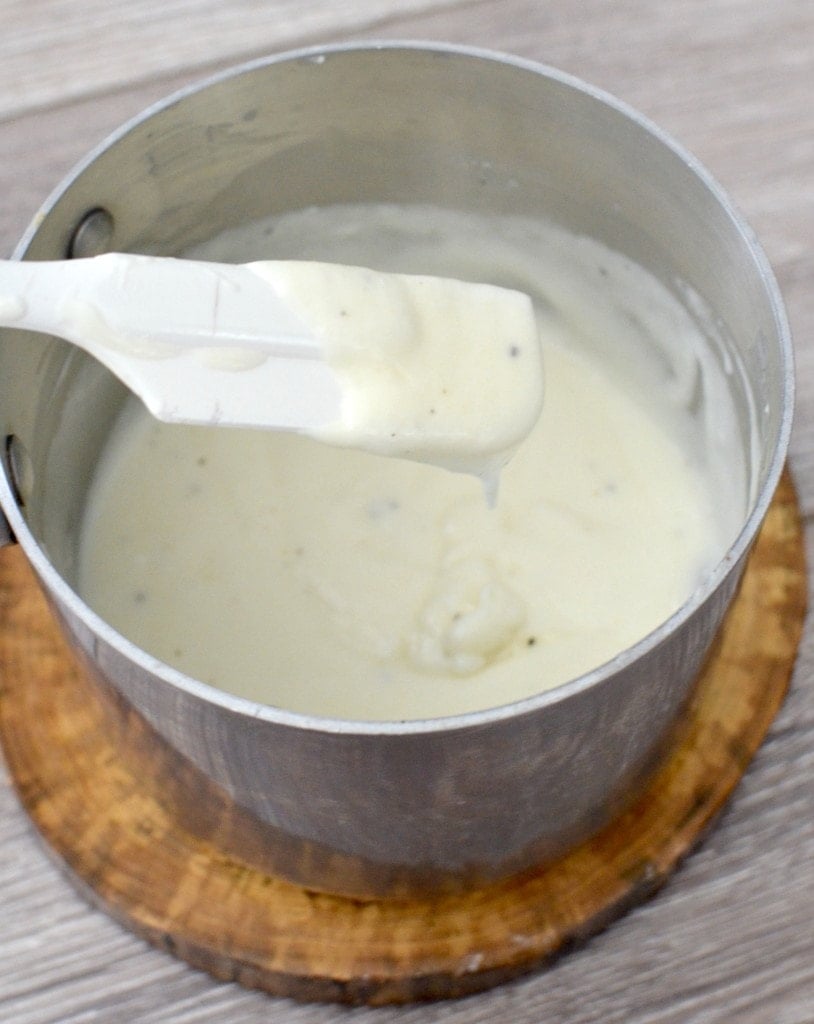 Healthy Greek Yogurt Mac & Cheese: Ingredients & Substitutions
Flour: I have made this dish using tapioca flour for a gluten-free option, but you may use regular all-purpose flour if you don't eat a strictly gluten-free diet.
How to Make Healthy Greek Yogurt Mac & Cheese
I have some step-by step photos for you to show how to make this Healthy Greek Yogurt Mac & Cheese in action. Start by making the cheese sauce from butter (only 2 TBS!), tapioca flour, milk and yogurt. Then add more yogurt, cheese and some other deliciousness to finish it off.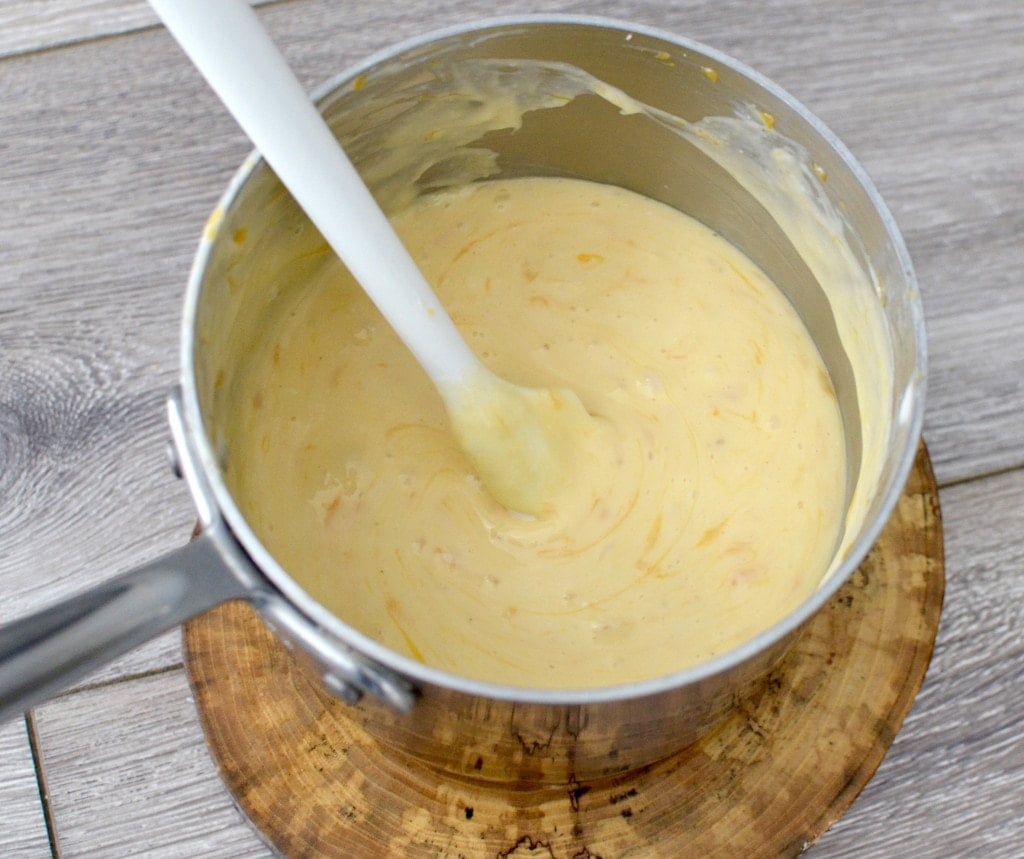 Once the sauce is finished, add it to the already cooked macaroni. Choose your favorite variety that complies with your lifestyle. I love these Ancient Harvest Quinoa Pasta Elbows for a gluten-free option. It's one of my favorite gluten-free pasta varieties because it uses quinoa which increases the protein content of the dish. You can also use regular-old macaroni. You technically could stop at this step and serve it stove-top style...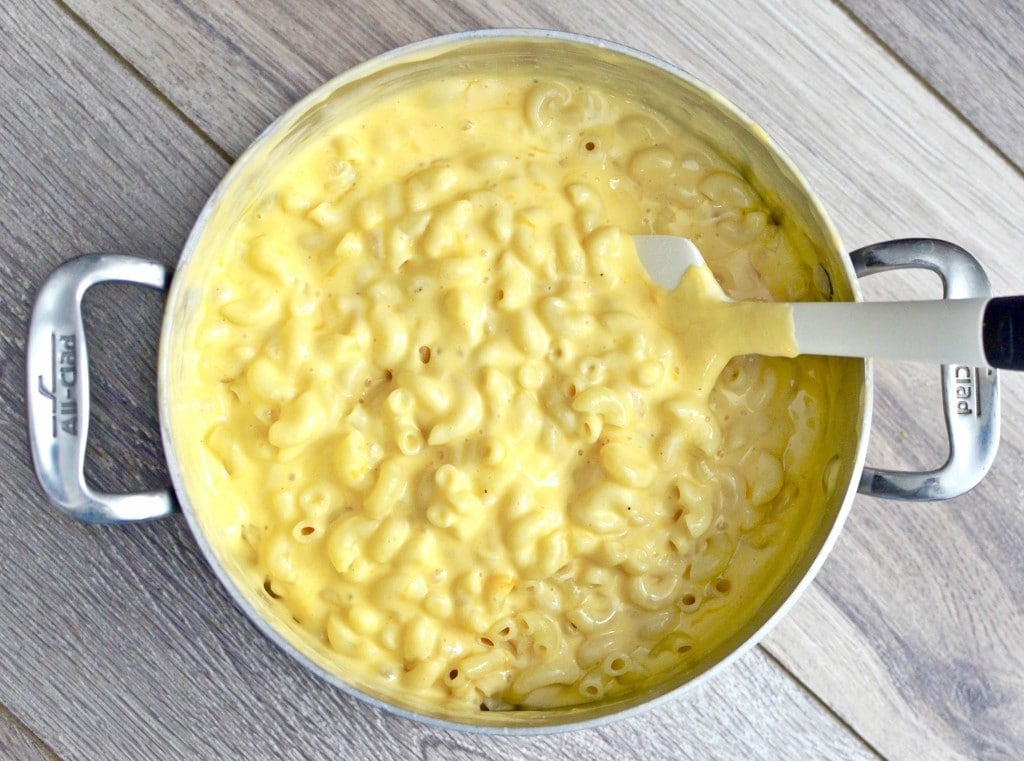 ...but I'm all about the crispy, cheesy, flavorful top layer that is created when this Healthy Greek Yogurt Mac & Cheese is baked. Spread the noodles & cheese mixture in a 9" baking pan and sprinkle the top with parmesan cheese, almond meal, garlic salt and pepper. Then pop it in the oven for 20-30 minutes until it's golden brown and bubbly...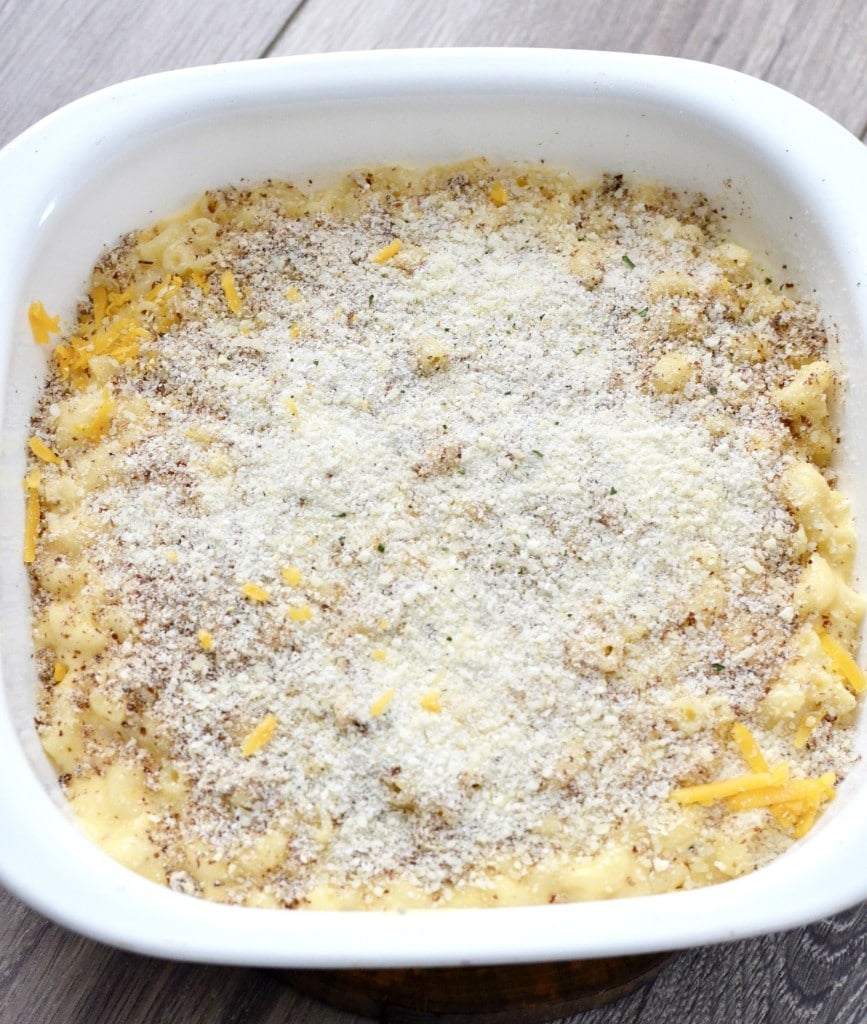 ...and presto. You have a delicious baked mac 'n cheese that is healthy and kid-approved!
Recipe FAQs
Can I use Greek yogurt instead of milk in mac and cheese?
Yes! It creates a creamy consistency.
Does this recipe have to be gluten-free?
No, feel free to use any flour if you don't need it to be gluten-free.
Is mac and cheese a side dish?
Mac and Cheese can be either a side dish or main dish. This recipe has more protein in it which makes it a great main dish.
More Delicious Recipes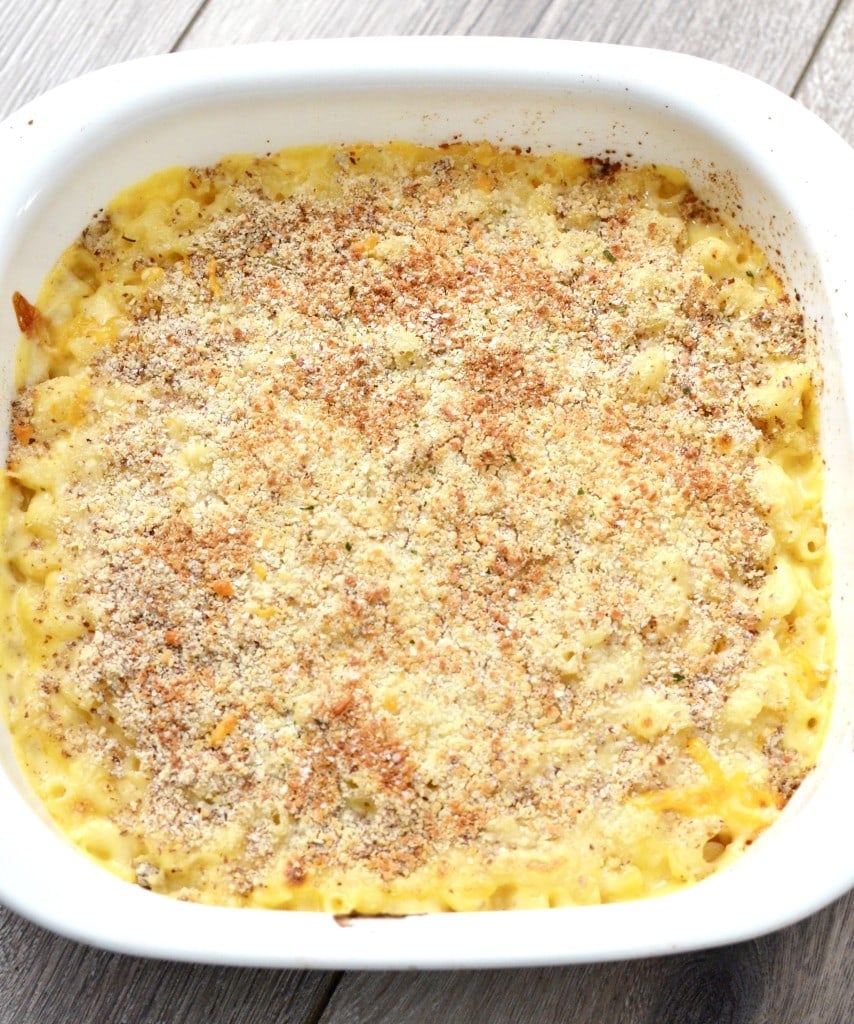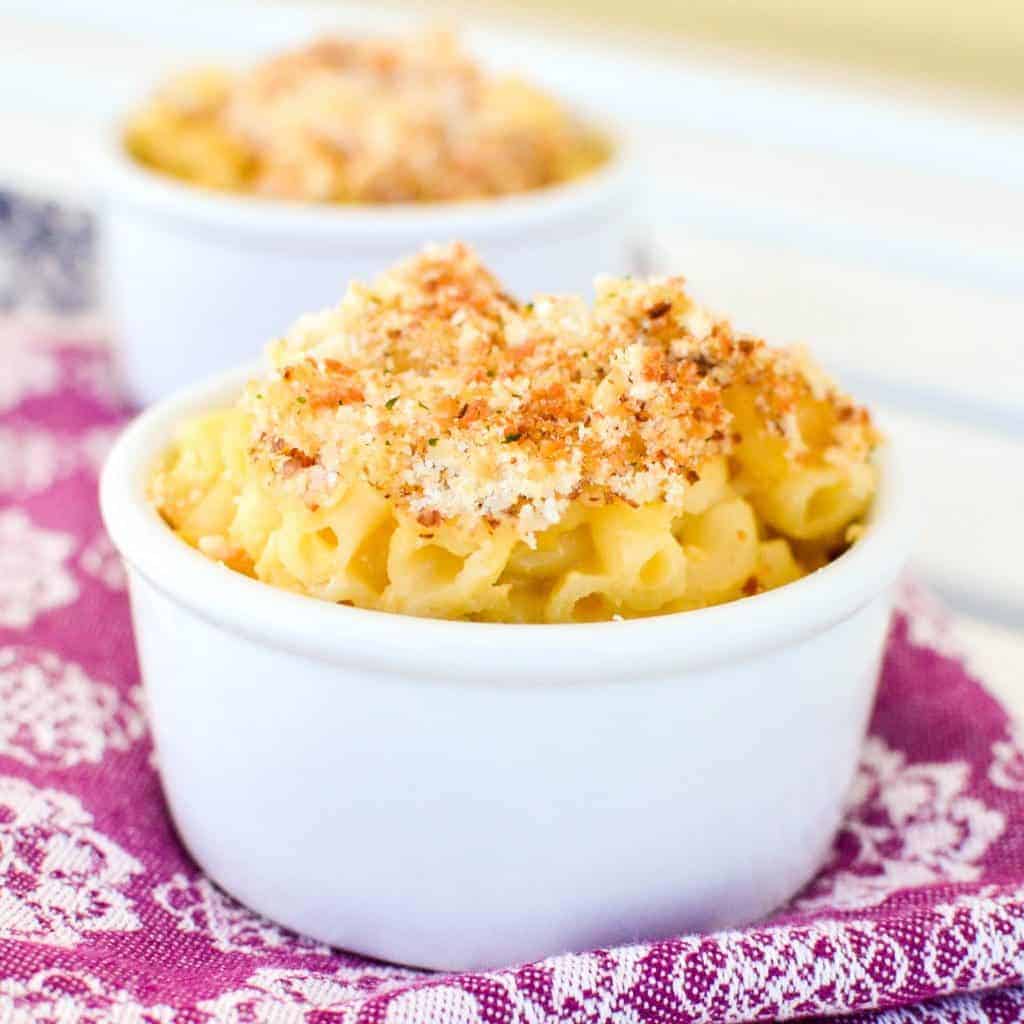 If you make and love our recipes, it would mean so much to me if you would leave a comment and rating! And don't forget to follow along with us on Instagram, Pinterest, Facebook, and Youtube - be sure to tag @joyfoodsunshine and use the hashtag #joyfoodsunshine so we can your creations!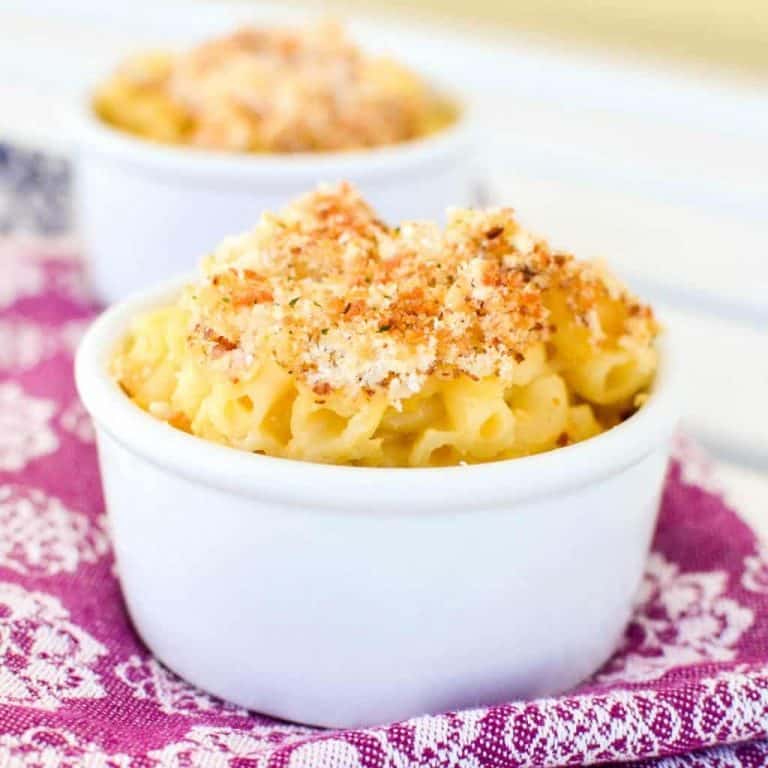 Baked Greek Yogurt Mac and Cheese
This Healthy Greek Yogurt Mac and Cheese is the perfect weeknight meal loved by kids and adults!
Instructions
Preheat oven to 375 degrees F. Grease an 8x8" baking dish (or 2 quart casserole dish), set aside.

Cook pasta according to package instructions.

Drain and rinse pasta with cold water, transfer to a large bowl and set aside.

Measure out dry ingredients (tapioca flour, onion powder, garlic powder, salt and pepper) into a small bowl. Set aside.

Add butter to a medium saucepan. Heat over medium heat until melted.

Once butter is melted, add dry ingredients and whisk until combined.

Cook on medium-high heat for 30 seconds or until it forms a paste-like consistency and becomes light brown.

Add milk and whisk until ingredients are combined.

Add Greek yogurt and whisk until combined.

Cook the mixture over medium-high heat until it begins to thicken (but does not boil).

Once the mixture is thick, turn heat to low and add 2 cups of cheese. Stir until the cheese is melted.

Add cheese sauce to the cooked and drained pasta and stir to combine.

Pour mixture into prepared baking dish.

In a small bowl, combine topping ingredients.

Sprinkle topping over pasta.

Bake in preheated oven for 15-20 minutes or until the cheese on the top is melted and slightly browned.

Serve warm!
Notes
Ingredient Substitutions 
I have made this dish using tapioca flour for a gluten-free option, but you may use regular all-purpose flour if you don't eat a strictly gluten-free diet.
Storage
Keep in the fridge in an air-tight container for up to 3 days or freeze for up to 2 months. 
Nutrition
Calories:
367
kcal
Carbohydrates:
43.8
g
Protein:
15
g
Fat:
16
g
Cholesterol:
3
mg
Potassium:
146
mg
Fiber:
4.6
g
Sugar:
4.2
g
Calcium:
90
mg
Iron:
2.7
mg
This post contains affiliate links, which means that if you purchase a product through a link you clicked on here, I receive a portion of the sale. Thank you for supporting JoyFoodSunshine!