Welcome to the first installment of a new monthly feature I'll be implementing here on JoyFoodSunshine. At the end of every month I will be sharing a recap of all the shenanigans that went down in crazy town (i.e. my life in a nutshell). So here it is for June 2016!
Recipe love:
Here are a few must-share recipes from the month of June from my favorite spots around the web! I guess June was the month of tasty breakfast recipes! 🙂
This dairy-free, Coconut French Toast Casserole (Lightened Up!) from PB Fingers! I love french toast and this healthier version is perfect!
These Zucchini Bread Coconut Flour Pancakes from Pumpkin and Peanut Butter! So many of my favorite ingredients all in one pancake!
This Baked Ricotta appetizer from Vintage Mixer! I seriously couldn't stop eating this! Delicious!
These Coconut Cream Pie Protein Waffles from a balance of tastes! I love that these are made with silken tofu and come together in the Vitamix (my favorite possession)!
These Sour Cream Espresso Glazed Donuts from The Sweet and Simple Kitchen! I have a total crush on this bog! I love Kristie's gorgeous photos, delicious recipes and stories so much!
Life with my tribe:
Hilarious story: You all know that my sweet little Naomi (who just turned one) is fully weaned. Well, lets just say that when this momma is nursing, a couple of things look a whole lot different than they do during their milk-free existence. Case in point: One morning while I was getting dressed, Gabe came bursting through the (closed) door and stopped dead in his tracks when he saw me. Before I could cover up and explain the whole knocking thing, he exclaimed, "MOM! What happened?! Where did your big boobs go?!" LOL LOL LOL. #sorrydaddy.
Speaking of Naomi...I adore that child. Can you handle the cuteness of my little unicorn?! Her baby blues and crazy hair just get me every.single.time.
Blackmail: Gabe is fully potty trained during the day, but I like to let the dry nights/naps happen naturally without putting too much pressure on my kids. So...we finally used up the rest of Gabe's diapers, and he was way excited to graduate to wearing Pull Ups during the sleeping hours! I have a few packages of Pull Ups left from when Bethany was potty training, however she is a girl...so naturally they are pink & covered in princesses. The first night Gabe put one on he started running around the house crazy excited. Ritch and I were cracking up so we snapped a picture and said, "Gabe, this is what we call blackmail." Gabe asked, "What is blackmail?" We burst out laughing and replied, "It's when someone has information about you that they use as leverage to make you do what they want." And he said, matter-of-factly, "Oh, I like blackmail."
LOL LOL! We'll see how you feel about it in 20 years Mr. G.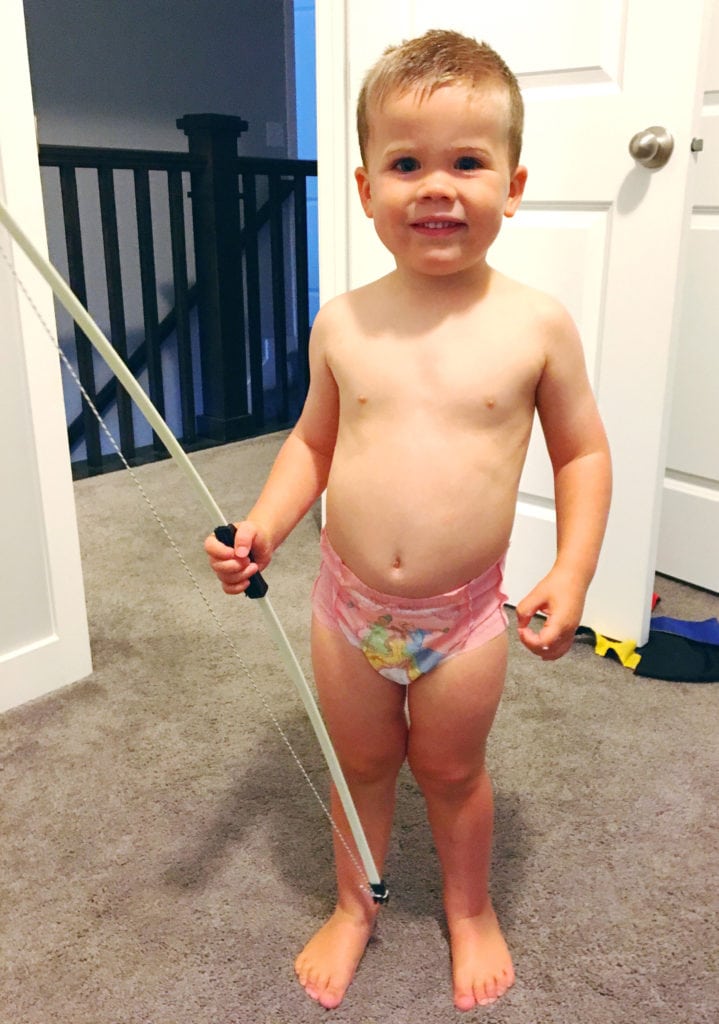 Family vacation: The biggest highlight of June was our trip to the Tetons! It was our first real family vacation since Bethany (who is currently 5) was 10 months old! We had an absolute blast. My favorite thing was just being as a family.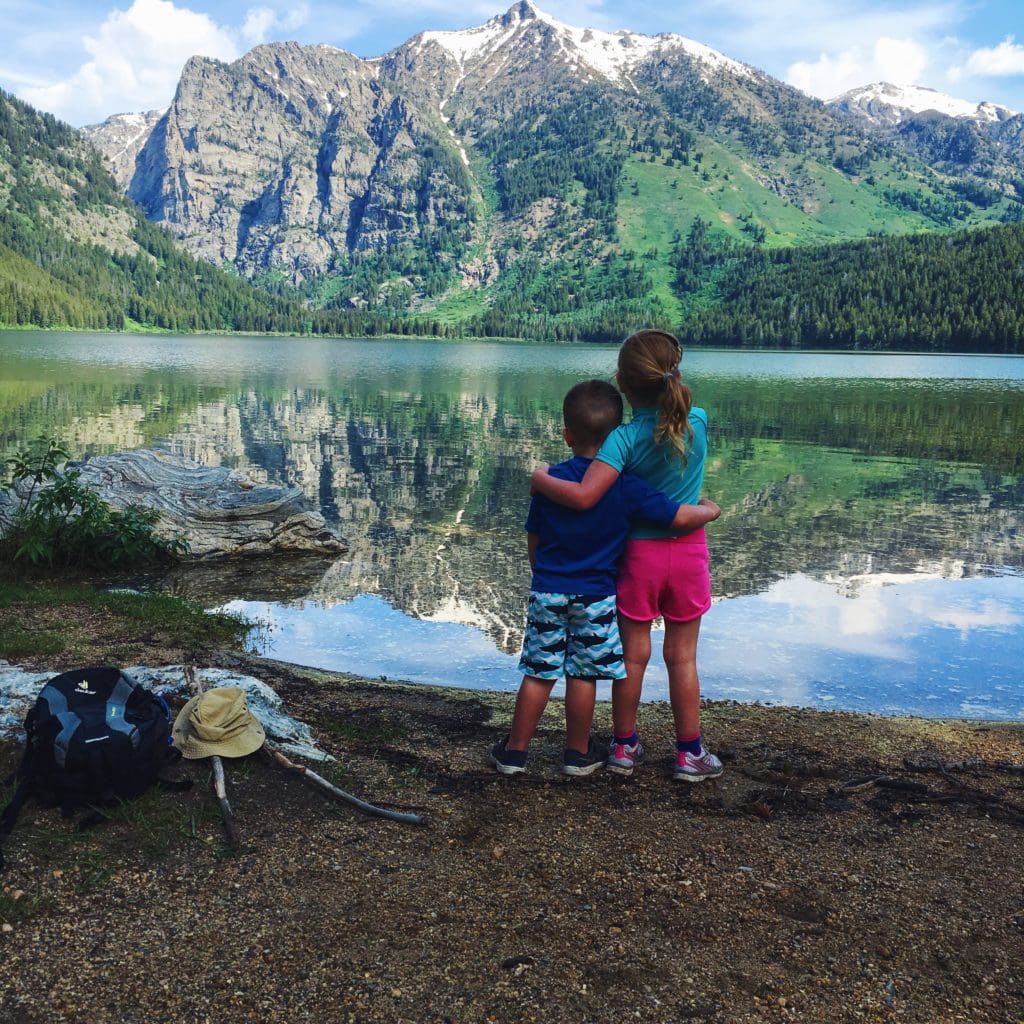 We were able to have fun and love on each other without any responsibilities! We hiked every day, enjoyed swimming in lakes, and ate some great meals (that I didn't have to cook)!
This was a picture on my favorite hike ever! Gosh I want to go back like.right.now!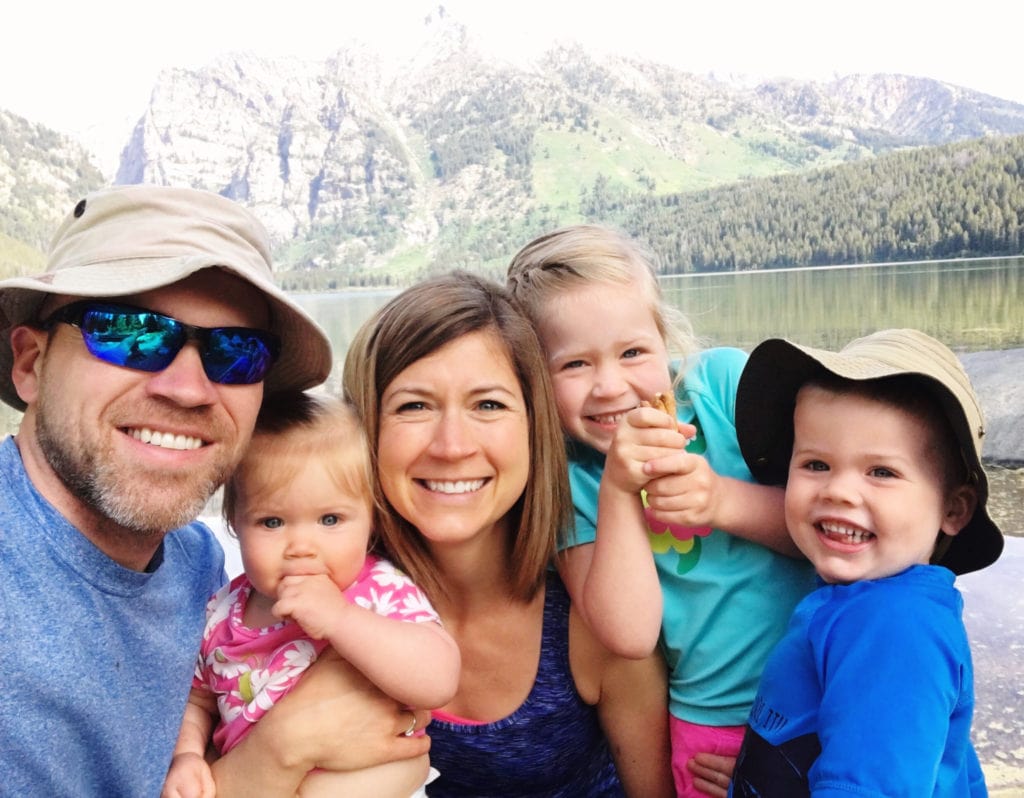 Ok this is a weird thing to share (and a little gross)! But I seriously can't.stop.laughing. You are about to learn that I have the sense of humor of a 14 year old boy. For real though, every time I look at this picture I laugh SO hard. My husband took it in a bathroom stall at one of the trailheads in the Tetons...We've all been here...#amiright?
Around our house:
My husband is amazing. Seriously. Since we moved into our house last August he has done so many projects (including finishing the entire basement) and I'm happy to say our house finally feels like a home. 🙂 I thought it would be fun to share some of our projects with you! It's so hard for me to pick a favorite...so I'll start with this piece of art!
Yes others have been more practical...but I just love this! One morning Ritch decided that he wanted to recreate something we saw months prior on Fixer Upper...so he loaded my older two kids into the car and drove up to the mountains. His mission: to find the perfect tree branch. When they came back 2 hours later their mission was accomplished...(of course) he found the most amazing branch ever! With a few planks of old barn wood he made this....
Garden!
We planted our garden the week before Mother's Day...and I'd say it's growing really well! This year we planted mostly from seed: zucchini, cucumbers, carrots, peas,and beans. The only crops we planted from starter plants were tomatoes and bell peppers. I had the kids paint rocks and we all wrote the names of the different vegetables we're growing on them. So far it has been a blast watching Bethany and Gabe get so excited about our little plants!
Here is our garden the day we planted it on May 7th!
And here it is June 1st! So much growth! So exciting!
A few of my favorite things...
This swim suit from Albion Fit! I hadn't bought a new suit in years because I was either nursing (see hilarious story above) or had a newborn during the summers! So after a month of searching I finally found a suit I feel cute in but is mom-friendly! I love it!
My Thermoworks thermopen is an absolute must have for grilling season! I am not sure how anyone determines the doneness of their grilled meat without one! I am a little nuts about making sure everything is cooked properly...so this awesome tool ensures that my meat is D-O-N-E! It's also perfect for candy-making around Christmas! 🙂
Barney Almond Butter! More on this in future months...but I love this brand so much and I'm crazy excited for what's to come! 🙂
Find the recipe for these Fudgy Paleo Brownies here!
Inspiration station:
To be completely real...this hasn't been the easiest year of my life. I have had some profound struggles and am not totally sure how or when this season will end. This quote has been running through my mind a lot lately.
Well that's all she wrote! How was your June? What was a highlight for you from the past month? What are you looking forward to in July?
This post contains affiliate links, which means that if you purchase a product through a link you clicked on here, I receive a portion of the sale. Thank you for supporting JoyFoodSunshine!