June was a month full of summer fun! The kids started summer sports, we played in the pool, and celebrated Father's Day. Plus, an update on baby Z.
"I can't remember all the times I tried to tell myself to hold on to these moments as they pass."
Welcome to "Moments" here on JoyFoodSunshine. At the end of every month I share a recap of our family's favorite moments! Here's a snapshot of our life from June 2021!
Life lately
If I'm being honest, for me, June was not the best month. Don't get me wrong, we are having all the summer fun, splashing in the pools, etc. But my month was dominated by the anticipation of a doctor's appointment for Zach and then processing through his diagnosis.
Baby Zach (5 months)
So, I'm going to walk through what we've experienced since Zach's birth, mostly for my own records (I actually go back and re-read my old moments posts sometimes when I need to answer a specific question about the past. I write them mostly for myself and am happy to share them with all of you as well)! 🙂
Shortly after birth I noticed that Zach's eyes pretty consistently moved in a horizontal, pendulum-like motion. I brushed it off as a newborn tick for a while, but at his 2 month doctor's appointment I asked our pediatrician about it.
He said that it could be normal up to 6 months, and if it didn't go away by then we'd "scan him for a brain tumor or something." Hard stop. I love my pediatrician with the fire of a thousand suns, but you don't just throw the words "brain tumor" around about my perfect baby boy.
Even when Mara had an actual tumor on her neck at 4 weeks old (which turned out to be muscular and easily treated with physical therapy) he wasn't as flippant with his words. I employed all the grace I could in that interaction because he expressed he was having a rough day, but those words have rung in my ears ever since.
So for the next two months I watched his eyes, wishing I could just hold him and make them stop moving - but I saw no improvement. So I sent my pediatrician some videos and called the pediatric ophthalmologist and scheduled an appointment. The soonest they could see me was 5 weeks later, and it was very hard to wait. I kept imagining my baby boy sedated in an MRI machine being scanned for a tumor and I would just cry.
Thankfully, the eye center was amazing. A wonderful nurse called me the day before my appointment and told me what to expect. She said they likely wouldn't need to do any imaging and this appointment but they would need to dilate his eyes to try to read his prescription and examine the structure of his eyes to rule out the cause being physical damage to his baby blues. This calmed my nerves immensely.
Ritch and I were both able to go to the appointment together thankfully (glad I live in a free state!) and that meant the world to me. I fell in love with the doctor and all the staff at the eye center. Upon examination we were told what we expected - Zach has idiopathic congenital nystagmus.
Nystagmus is a word I had never heard of until 4 months ago, but now I can't go a minute without thinking about it. It's when the eyes move back and forth involuntarily and there is no cure. Thankfully, Zach has a more mild case of it and his eyesight is still very good for a child with this condition (-0.25 LE, -1.25 RE). From what I've read, this is likely a genetic, sex-linked trait and there is no cure.
The doctor mentioned that because his vision is so good, he is hopeful that Zach will "be able to drive and play certain sports" when he's older.
This threw my emotions into a tailspin - as I had never considered a life where he couldn't do those things. My beautiful, perfect baby boy shouldn't have to live with this his entire life. But I know that every molecule of his tiny little body was intricately and lovingly knit together by the Creator of the universe.
So I will continue to pray for total healing from the One who is able. And I will also pray that God uses his beautiful baby blue eyes - the window to his sweet soul - to bring Himself glory in whatever way He sees fit.
Besides the nystagmus Zach is developing exactly as a 5 month old baby boy should. He is so cute and found his voice AND toes this month. He still loves mommy the most, and has finally gotten into a normal sleeping routine.
Because he is finally sleeping well I started storing up breastmilk by pumping on one side while he nurses on the other at the 5 AM feeding. I feel so much better knowing I have some reserves on hand - just in case.
Z is such a great snuggler, and I often fall asleep with him at night when I'm rocking him to sleep. He still falls asleep almost instantly when I put him in a wrap or carrier, and I love it.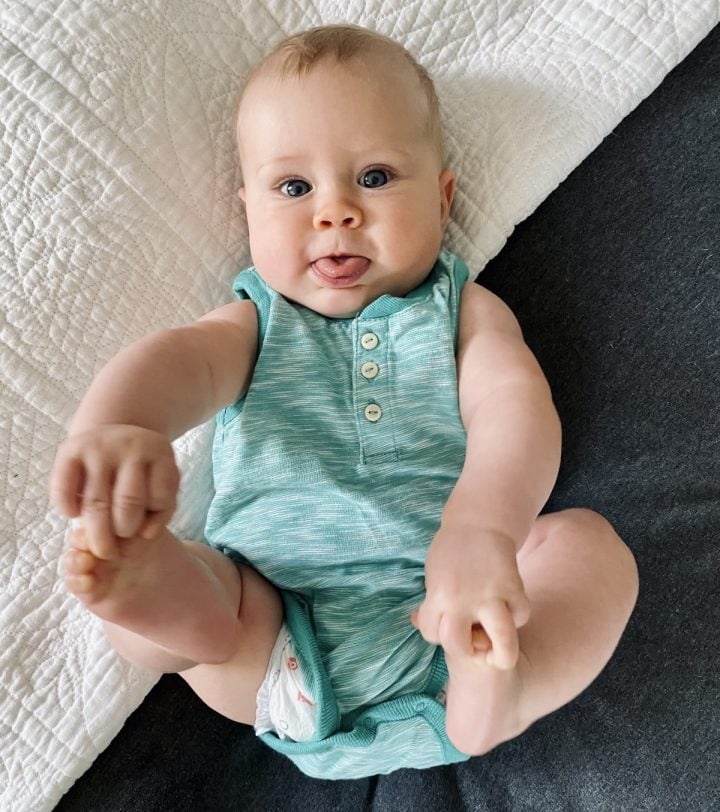 Z also started rolling from his back to his front! This is a HUGE step for a baby because now he can get comfortable in any position and is sleeping so well. He usually sleeps on his side or tummy now, even though I put him down on his back.
He also found his fingers! I've had a few thumb suckers but never a kid who sucks on their fingers! We'll see if it stays that way or if he changes to thumb-sucking as the months go by!
Swim Team
I finally decided to get my kids on a swim team this summer. My entire childhood/young adult life was centered around the pool and swim team - but it has always seemed too hard to put my kids in a sport while I've been in the season of having babies. This summer I decided it was time! Our neighborhood is doing a low-key pre-comp team which has been a perfect way to get their feet wet with the sport (quite literally).
I over-extended myself in the beginning of the month with some of the kids swimming in our neighborhood and the others swimming across down right when it ended. I hired a sweet young girl to help me on Mondays and Wednesdays and her mom helps me pick the older kids up from swim team, but I ended up reducing the little girls' swim lessons down to once a week for my sanity - which was definitely the right move.
Also our neighborhood team let N join - she's not quite "ready" but it's good for her to just get in the water and swim. She is somewhere between swim lessons and swim team - and I remember having cute little stragglers on my team when I coached and it was so good for them! Plus, N in a cap might be my most favorite thing ever.
Piano Recital
Both B and G had a piano recital and they did so great. They absolutely adore their teacher, so much that B cried when I told her we were going to take a break for the summer. N will start piano with them when they pick it back up in August!
B & Daddy Date
Ritch took Bethany on a daddy-daughter date this month. They went out for lunch and then he took her shooting for the first time. He has been taking G since he was 7, but B wasn't quite ready. Well she finally was ready and had a blast.
Father's Day
We celebrated Father's Day in true Ritch fashion - starting with Church. Then we made steak and pretzel bread for dinner and watched a movie (because he loves movies). We are blessed to have him - he is the best man I have ever met and I am so grateful he is my baby daddy! 😉
A few of my favorite things...
Here are a few things I'm loving this month.
Ok, I'm not sure how I never heard of this before - but all the thanks in the world goes out to my little sister who just had her first baby in April. She told me about this milk catcher that collects the milk from one side while you nurse on the other. Granted I get about 0.5 ot 1 ounce each time, but in one day that's a full bottle of milk saved!
I don't love that it's all just foremilk (not the nutrient-rich hind milk) so I will probably use this milk collected to mix with solid foods (if I ever get around to starting that)!
I have been on the hunt for a healthy, protein-packed, bar without all the artificial ingredients, and Ive been loving these go macro bars. They make a great snack during these busy summer months.
Recipes I'm Making on Repeat
Here are a few recipes I made this month!
I've been very into these paleo brownies - since they only take 15 minutes from start to finish.
I've made this roasted broccoli once a week - even my picky kids love it. I usually serve it with this homemade mac and cheese.
I've been experimenting making our pretzel bread into actual pretzels. Still in testing phase but we're enjoying the process.
Snapshots
Here are some snapshots of our life this month!
Squishy, goggle-faced cuties.
Life with 4 kids 4 and under - dual diaper changes.
Ritch snapped this pic. Enjoying ice cream with my babies - the perfect summer night.
Sunday selfie. Love M's face.
B is the best big sister.
Z is our little tagalong on our date nights and I wouldn't have it any other way.
Really leaning into and soaking up these snuggles.
Can't handle the cuteness.
Woke up like this. 😉
My boys!