These blender Spinach Banana Muffins are an easy, healthy, freezer-friendly breakfast recipe full of fruit and veggies! They are gluten-free, dairy-free and have no refined sugar!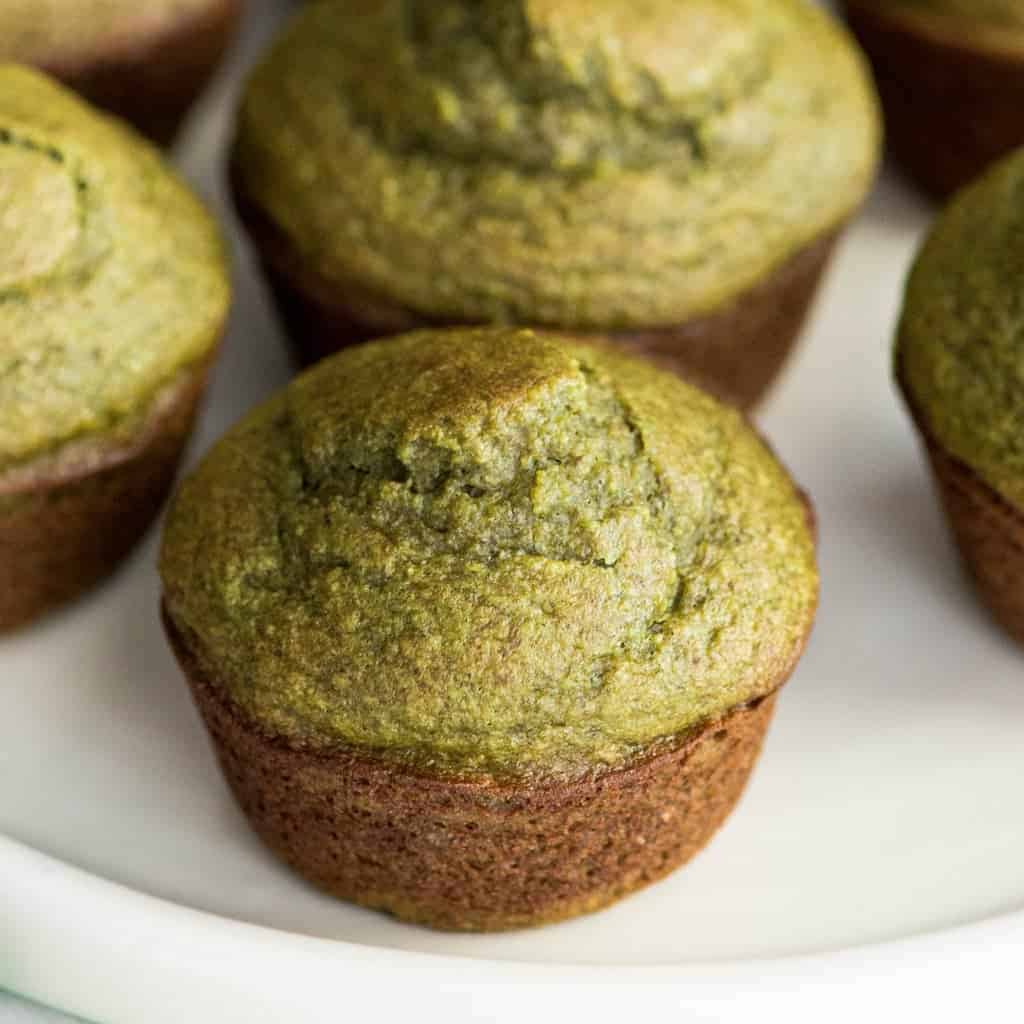 This post was originally posted on August 1st, 2016 but has been refreshed with new photos and a video!
You all know I have a thing for hiding vegetables in baked goods. Usually, my veggie of choice is zucchini, but today I'm mixing things up a bit! This recipe for Spinach Banana Muffins is healthy, delicious and easy! My kids love them because they're green! We even call them "Hulk muffins," which my son thinks is the coolest things ever. Because what kid wouldn't want to eat a muffin named after a super cool super hero?
I love making these for my family because they're a breakfast I feel great about serving them! These Spinach Banana Muffins are gluten-free, refined-sugar free, dairy-free and vegan-friendly! They taste like a green smoothie but in muffin form!
Parenting tangent:
I used to stress about feeding my kids veggies. I so desperately wanted them to beg me for giant plates of stir-fry and get excited over skewers full of colorful grilled vegetable-goodness. This is why my husband is so wonderful (well, one of the many reasons). He helps me see reality…that even though our kids don't go gaga over a bowl full of roasted Brussels sprouts, the hard work has paid off and they really are great eaters.
They just know that lunch and dinner always include one fruit and one veggie. I ask them "what veggie do you want" (as opposed to, "do you want a vegetable?") and they get to choose. It's usually carrots or cucumbers (and always raw), but I am perfectly fine with that.
My goal is to teach my kids at a young age that healthy eating is important. I think they get the drift, and sometimes they even ask for a snack of carrots and hummus just because that's what they're craving! There is the occasion, when we're out or at a friends' house, when I give them a break from eating veggies, and they totally notice! A real conversation between my kids one night on vacation:
Gabe: "MOM! There is only pizza on my plate! No veggies?!"
Me: You're right Gabe, you can have only pizza for dinner tonight. But I would be happy to get you some veggies if you'd like!
Gabe: No! I want to only eat pizza! BETHANY! We get to only eat pizza and no veggies!
LOL LOL! I love my kids! And I love that less-than nutritious eating is considered a special treat and not the norm for them! Plus, on days when I know we're having a "pizza only" type of dinner, I can feed them Spinach Banana Muffins for breakfast! They get a healthy serving of fruits and veggies without even noticing! Zero stress! Total deliciousness! Complete win!
How to make Spinach Banana Muffins
The best way to make these Spinach Banana Muffins is to use a high-powered blender, like the Vitamix! Using a Vitamix to thoroughly blend the ingredients in these Spinach Banana Muffins results in a final product that has zero traces of spinach, well except for the awesome green color!
Blend dry ingredients then set aside. To make these muffins…start by putting the oats into your clean, dry Vitamix and turn them into oat flour! Add the rest of the ingredients, blend and set aside.
Blend wet ingredients. When blending anything in the Vitamix, always add the liquid first! In this recipe, start by adding the liquid ingredients, banana and spinach and blend until smooth before adding the dry mixture!
Freeze. After baking, let the muffins cool and then freeze in an airtight container. To reheat, simply warm in the microwave for 30-60 seconds per muffin!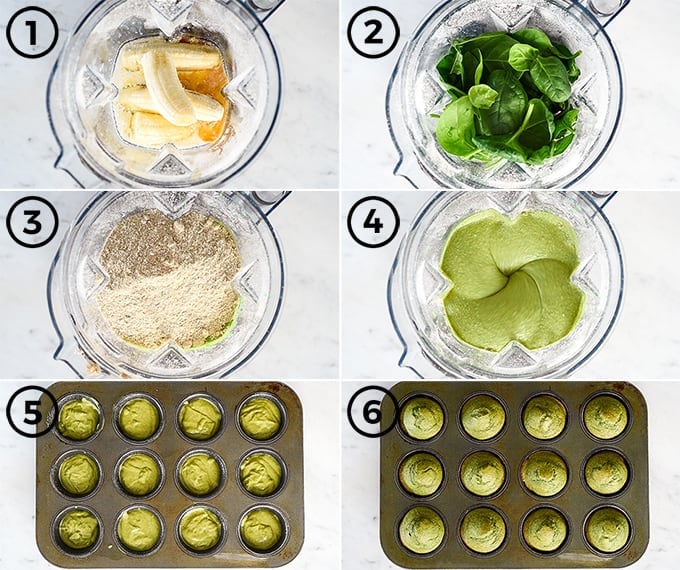 More delicious recipes
Spinach Muffins: Substitutions
These are extremely forgiving muffins and there are many acceptable substitutions (although I always recommend making the recipe exactly as written to achieve the best results)! Even at high altitude (I bake at 4800 ft. above sea level) they rise beautifully and have a wonderful texture! Some notes about substitutions:
Ground Flaxseed: You may substitute equal amounts of almond meal or old-fashioned oats (ground into flour) for the flaxseed.
Coconut Sugar: You may use any granulated sugar of your choice! I do not use sweeteners, but if you wanted to experiment with stevia (or a similar product) I recommend using a variety that is meant to be a 1:1 substitute for granulated sugar.
Almond milk: you may use any non-dairy milk to keep the recipe dairy free. Or you may use regular milk!
Coconut Oil: You may substitute vegan butter (like Earth Balance), regular butter, or ghee!
Eggs: For vegan version substitute the 2 eggs with 2 TBS ground chia seeds and 5 TBS water.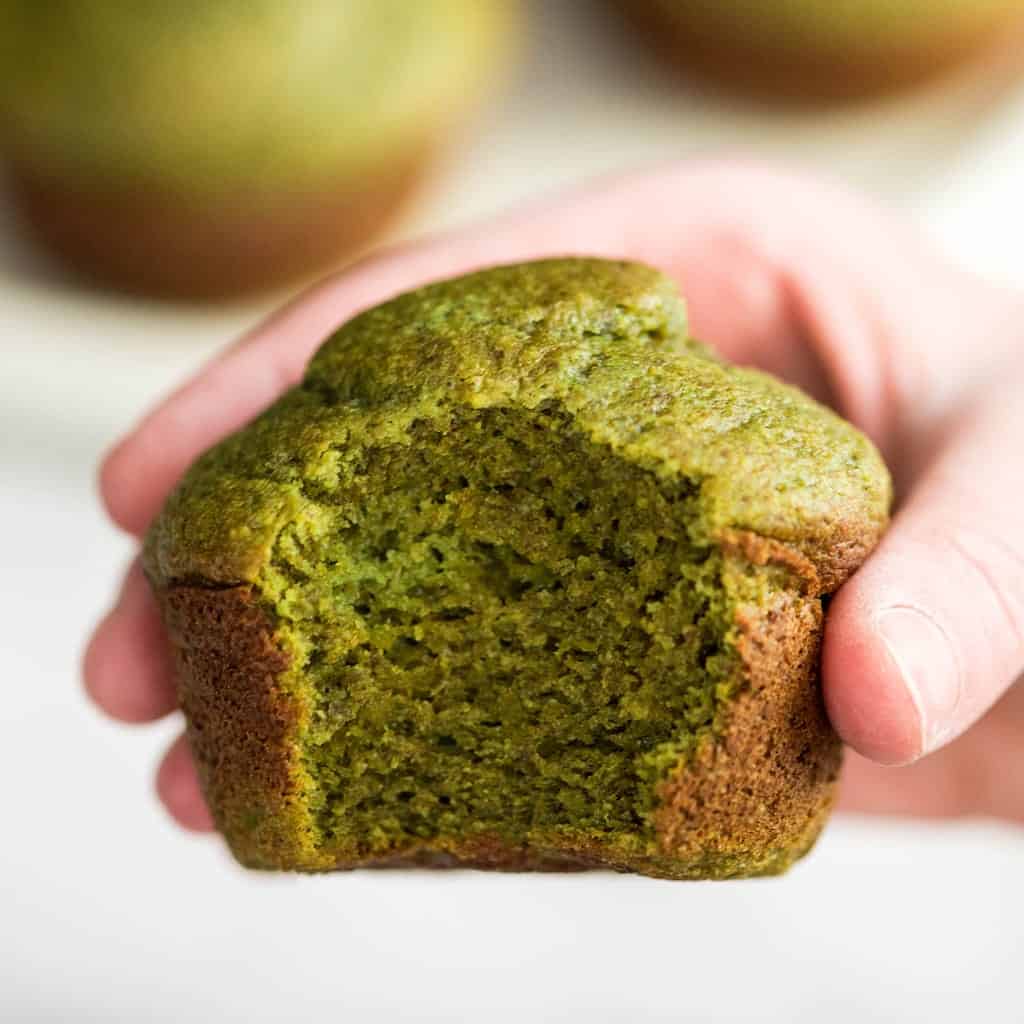 IF YOU MAKE SOMETHING FROM JOYFOODSUNSHINE I WOULD LOVE TO SEE YOUR CREATIONS! DON'T FORGET TO RATE THIS RECIPE AND LEAVE A COMMENT BELOW! ALSO, FOLLOW ALONG WITH ME ON INSTAGRAM, PINTEREST, FACEBOOK, YOUTUBE AND TWITTER FOR MORE RECIPE INSPIRATION AND A GLIMPSE INTO OUR EVERYDAY LIFE!
Spinach Banana Muffins
These blender Spinach Banana Muffins are an easy, healthy, freezer-friendly breakfast recipe full of fruit and veggies! We call them "hulk" muffins because of their fun, naturally green color! They are gluten-free, dairy-free and have no refined sugar!
Instructions
Preheat oven to 375 degrees F. Grease or line a muffin tin.

Put 2 cups of old-fashioned oats in your blender (

Vitamix

) and blend until the oats achieve the texture of flour. Transfer to a medium mixing bowl.

Add the rest of the dry ingredients to the oat flour (ground flaxseed, baking powder, baking soda, salt, cinnamon and sugar). Set aside.

Add almond milk to the blender followed by 2 cups of spinach. Blend together until completely smooth and homogenous.

Add bananas and coconut oil and blend until smooth.

Add vanilla and eggs and blend until just combined

Pour wet ingredients to dry mixture and stir to combine (making sure there are no lumps)!

Fill each well in your muffin tin with ¼ cup of batter. Bake for 20-25 minutes or until toothpick comes out clean and the top springs back when touched.
Notes
**for vegan version substitute 2 eggs with 2 TBS ground chia seeds and 5 TBS water.
Nutrition
Serving:
1
muffin
Calories:
124.7
kcal
Carbohydrates:
16.9
g
Protein:
2.7
g
Fat:
5.6
g
Cholesterol:
23.3
mg
Potassium:
87.7
mg
Fiber:
2
g
Sugar:
8
g
Vitamin A:
415
IU
Vitamin C:
3.3
mg
Calcium:
24
mg
Iron:
0.8
mg
These Spinach Banana Muffins are another healthy-eating staple in my house. Sometimes I get crazy and add chocolate chips (or cinnamon chips)! Serve them slathered with a healthy amount of almond butter and you have yourself the perfect breakfast!
This post contains affiliate links, which means that if you purchase a product through a link you clicked on here, I receive a portion of the sale. Thank you for supporting JoyFoodSunshine!