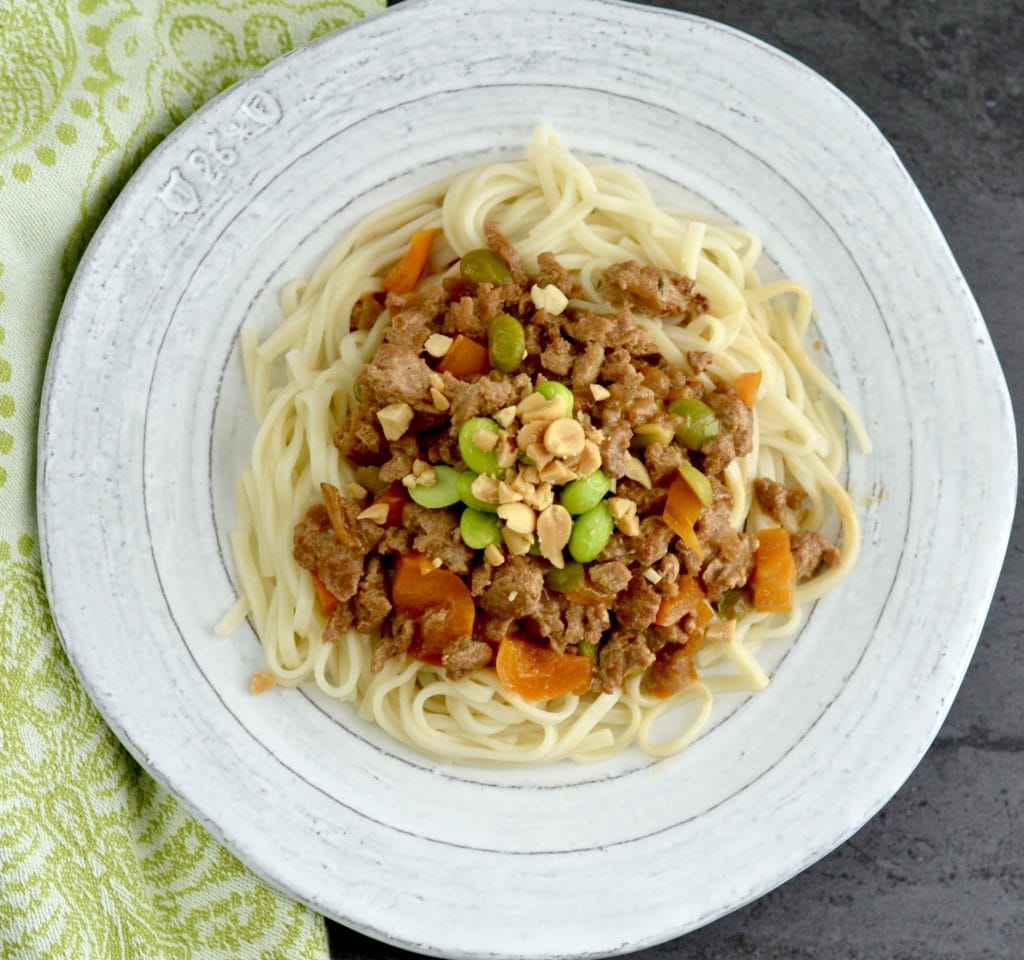 Hey! Hey! Hey! Today is a great day! 🙂 I thought it was important that you know we eat more than breakfast, dessert, and peanut butter in my household!  This Slow-Cooker Thai Coconut Ground Turkey Recipe is easy and healthy (no gluten or dairy)! I really couldn't live without my slow-cooker (or crock pot…which one is it?!). I love the feeling when 4 o'clock rolls around, I need to start making dinner, and then I  remember that it's already set to go and waiting to be devoured in my crock pot! Woo Hoo!
If I'm not eating chocolate or peanut butter, my next cuisine of choice is Asian food! I love that typical Asian ingredients like hoisin sauce, coconut milk, garlic, ginger etc. are rich in flavor and still healthy! Slow-cooking the turkey in this recipe ensure that it's thoroughly infused with a thai-coconut flavor that won't disappoint!
This dish is crazy easy to make! You simply whisk your sauce together inside of your slow-cooker and set aside! Brown your ground turkey & onion and then add it to the sauce!
Cook on high for at least two hours, then add in your veggies of choice! I use bell peppers and edamame…but really the sky's the limit! 🙂 At this point I add a mixture of cornstarch and water to thicken the sauce, but that's totally optional if you'd prefer it to be thinner! Then cook everything together for at least 1 hour longer, or until your veggies are cooked and your sauce is thickened to your liking!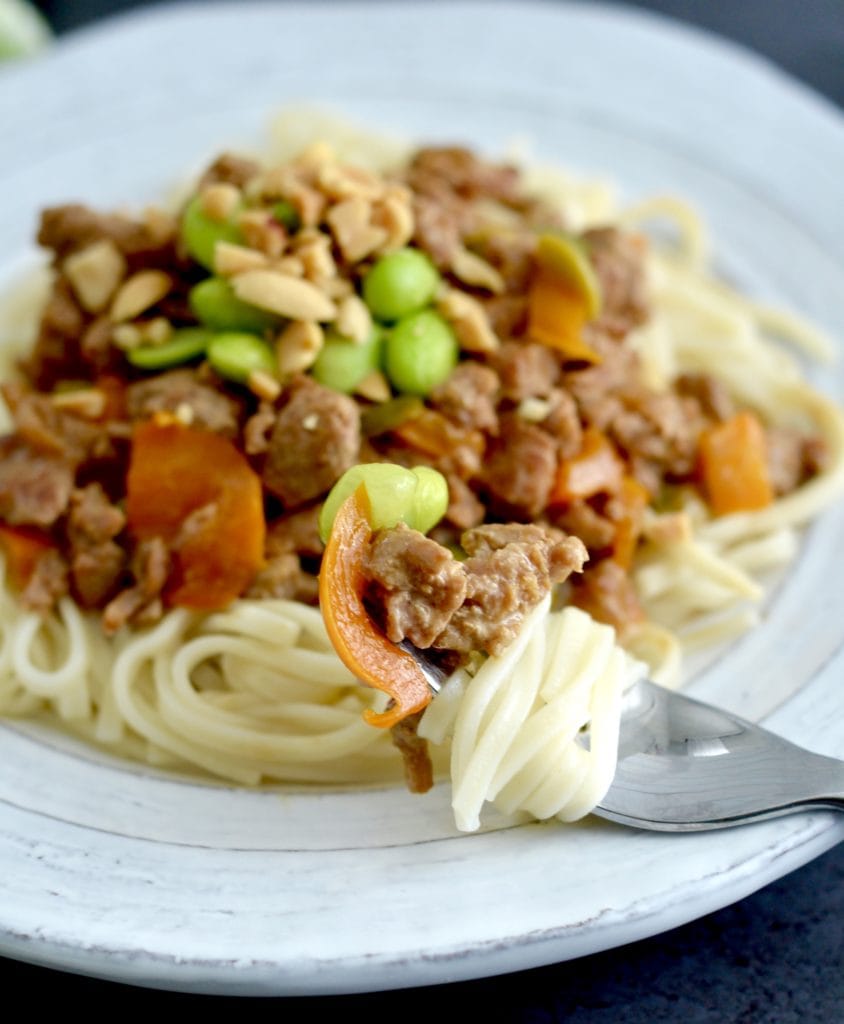 You can serve this dish with just about anything! Noodles, rice, zucchini noodles, over a salad, or stuffed inside a sweet potato (YUM)! Let your imagination run wild and enjoy!
Slow-Cooker Asian Turkey
Ingredients
Turkey & Veggies:
1 ¼

lb

20 oz ground turkey

1

TBS

olive oil

½

cup

finely diced onion

1

bell pepper

any color, diced

½

cup

edamame

shelled

1

TBS

cornstarch

or arrowroot powder

1

TBS

water
Instructions
Add coconut milk, soy sauce, hoisin sauce, brown sugar, chili sauce, sesame oil, powdered ginger & garlic powder to your slow cooker. Whisk together until smooth. Set slow cooker off to the side.

In a large skillet, heat 1 TBS olive oil. Add ground turkey and onion and cook until turkey is browned on all sides (about 10 minutes).

Add your turkey/onion mixture to the crock pot and cook on high for at least 2 hours.

After two hours, add diced peppers (or any color of your choosing) and edamame

Mix together cornstarch and water, add to crock pot and cook on high for at least 1 hour.

Once veggies are cooked to your liking and sauce is thick, serve over rice or noodles!
My daughter turns ONE this weekend (well Monday, but since it's Memorial Day it's technically still the weekend)! I get emotional around my kids' birthdays…it means they're getting older (right), and I just want them to stay my babies forever! 😉  If you follow me on Instagram you know that my time of nursing that sweet baby girl has come to an end. The transition has been harder for me than it was with my other kids. I think because Naomi (in case you're wondering it's pronounced Nay-Oh-Me) and I have a truly special bond. I can't quite put it into words, but she has been my buddy through a pretty rocky year. When the world around me was chaos, I always knew I would be able to sneak away to snuggle and feed her. She's totally my girl…if I'm in the room, she isn't content if anyone else is holding her…she just wants her momma.
I knew that both of my other kids would be all about daddy once they were old enough to realize that he's WAY more fun than I am! (LOL…but seriously he is)! But I have a feeling Naomi is going to be all about mommy for the rest of her sweet little life (please Lord let it be so)! 🙂 Her name means "sweetness" and she truly has a tender and sweet demeanor. Because all of my kids' personalities totally match their names…we're pretty sure that if we're blessed with another baby we're going to name him/her the Hebrew word for obedience….shama isn't so bad, right? 😉
I hope you have an amazing long weekend!
What do you call it…a slow-cooker or a crock pot?
When you named your kid(s) did you care about the meaning? 
If you make something from JoyFoodSunshine I would 

love

 to see your creations! 
#joyfoodsunshineInstagram: 
@joyfoodsunshine
Pinterest: JoyFoodSunshine
Facebook: JoyFoodSunsine
Twitter: @joyfoodsunshine
Pin me for later! ????
Also! You can find me on yummly! You can  use the Yum button to save recipes from JoyFoodSunshine to your personal recipe box! 🙂 It's an easy way to save recipes for later!
This post contains affiliate links, which means that if you purchase a product through a link you clicked on here, I receive a portion of the sale. Thank you for supporting JoyFoodSunshine!