Easy, healthy Baked Zucchini Corn Fritters! Loaded with vegetables these delicious fritters are gluten-free, dairy-free & vegan! They are baked & not fried but still taste amazing!
I hope you had a wonderful weekend! We had a blast hiking, playing in the pool, and spending time with some amazing friends. My heart is full and my soul is rested!
Now it's time to jump back into another week with these Baked Zucchini Corn Fritters! These healthy zucchini fritters, served with a giant salad, make an amazing meatless meal! They are easy, healthy and packed full of summer produce!
How to make Healthy Zucchini Corn Fritters
Baked – Not Fried
I am terrible at frying food! I have tried so many times and always wind up with an end product that is completely inedible! I am not sure exactly why, but I am definitely not going to be crowned the reigning food-frying queen any time soon…which is why I am happy to report that these fritters are baked and not fried!
Grease pan generously. Generously grease your baking pan with olive oil to prevent sticking. I recommend measuring out 1 TBS of olive oil and using your fingers to spread it all over the pan. So this recipe calls for a mere 1 TBS over a vat full of hot oil, yay!
EASY Zucchini Corn Cakes
These Baked Zucchini Corn Fritters are so simple! Simply mix together the ingredients, and plop portions of dough from 2 TBS to 1/4 cup onto the greased baking sheet. Bake for 20 minutes. Flip and bake for 10 minutes more and presto, you have delicious (and healthy) corn fritters without the hassle of frying! Total win!
Blend, if desired. 
If you have picky eaters who will turn up their nose at eating something with green flecks in it, feel free to blend the zucchini with your milk of choice until it's smooth. This will cause your healthy zucchini fritters to be slightly green in color, but for some strange reason my kids are OK with eating green food, but not food with flecks of green inside! LOL!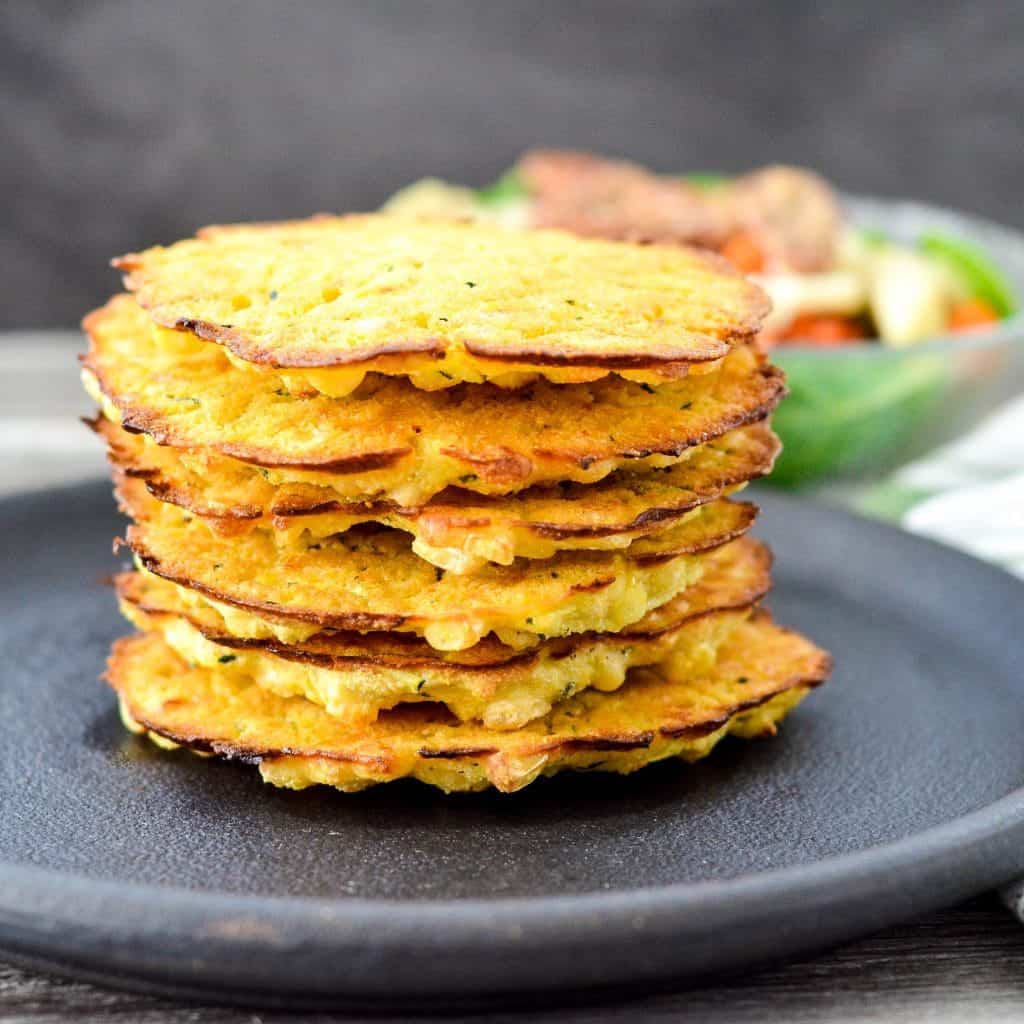 Baked Zucchini Corn Fritters: Substitutions 
All-purpose flour. These healthy zucchini fritters are easily made gluten-free by substituting the flour for your favorite gluten-free, all-purpose baking flour!
Milk. Make these healthy zucchini corn fritters  dairy-free and vegan by using plant-based milk. I recommend unsweetened, plain almond milk!
Corn. Fresh corn cut from the Cobb or frozen corn kernels that have been thawed work perfectly in this recipe!
Baked Zucchini Corn Fritters
Easy, healthy Baked Zucchini Corn Fritters! Loaded with vegetables these delicious fritters are gluten-free, dairy-free & vegan! They are baked & not fried but still taste amazing!
Instructions
Preheat oven to 400 degrees F.

Generously grease a baking pan with olive oil, spreading it around with a spatula or your fingers until the entire surface is well-coated. Set aside.

In a large mixing bowl, whisk together cornmeal, flour, baking powder, salt, pepper and granulated sugar.

Add milk and stir until the mixture is smooth and there aren't any lumps.

Add corn and zucchini and stir until evenly mixed in.

Drop ¼ cup portions (for large fritters) onto your prepared baking sheet.

Bake in the preheated oven for 20 minutes. Remove from oven, spray the uncooked side gently with cooking spray (I recommend this).

Carefully flip each fritter (they should be dark/golden brown on the first side) and sprinkle the browned side with a touch of sea salt.

Bake for an additional 10-15 minutes or until second side is golden brown.

Serve warm over a salad or as a side dish for your favorite BBQ fare!
Notes
*You can omit the sugar if you like non-sweet cornbread.
Nutrition
Serving:
1
fritter
|
Calories:
90
kcal
|
Carbohydrates:
15.7
g
|
Protein:
4
g
|
Fat:
2.6
g
|
Saturated Fat:
0.5
g
|
Polyunsaturated Fat:
0.5
g
|
Monounsaturated Fat:
1.4
g
|
Cholesterol:
1.3
mg
|
Sodium:
178
mg
|
Potassium:
164
mg
|
Fiber:
1.5
g
|
Sugar:
4
g
|
Vitamin A:
6.7
%
|
Vitamin C:
4
%
|
Calcium:
4
%
|
Iron:
3.4
%
I am absolutely loving the abundance of summer produce this year! In my last Moments post I reported that I was not optimistic about our garden. Well, I'm happy to report that is no longer the case and I expect to be able to harvest a few zucchini in the next week or two! I'm so excited to get to use them, along with juicy ears of corn from the Farmer's Market, in these healthy Baked Zucchini Corn Fritters!
We seriously had a magical weekend! It is one of those that will go down in the books! It ended with us getting caught in a rainstorm on the way home from the park (and I l-o-v-e storms)! We saw this double rainbow which was breathtakingly beautiful (view from our front porch)! Then Ritch and I played late 90's/early 2000's music videos for the kids! I'm talking N*Synyc, Backstreet Boys, 98 Degrees…and had a dance party. My cup is so full it's overflowing!
What is your favorite summer produce item? 
Are you growing a garden? How is it going this year?
Who is your favorite boy band? (C'mon I know you have one)!
This post contains affiliate links, which means that if you purchase a product through a link you clicked on here, I receive a portion of the sale. Thank you for supporting JoyFoodSunshine! 
4