This Cheesy Sausage Gnocchi Recipe is an easy, healthy and delicious dinner made in under 30 minutes! Everyone in your family will LOVE it!
This post was sponsored by the Healthy Aperture Blogger Network and Cabot Cheese as part of the of the"#cabotcheese "campaign! I was compensated for my time.
In my house, especially during the busy back to school season, I am always trying to create hearty healthy, kid-approved meals that are easy to make and nutritious!
This Cheesy Sausage Gnocchi recipe is the perfect scrumptious weeknight dinner that is ready in under 30 minutes! It is a complete meal with protein-packed chicken sausage, sneaky veggies, and filling potato gnocchi! Plus the cheesy sausage gnocchi sauce (made with Cabot sharp cheddar cheese) is absolutely amazing.
How to make Cheesy Sausage Gnocchi:
To ensure your Cheesy Sausage Gnocchi making success, I am going to walk you through the process step by step! Because none of us want to waste 30 minutes of our time, OR any delicious ingredients, by making a recipe incorrectly! So here we go!
Step 1: Make or Choose your Gnocchi
Homemade Gnocchi
I highly recommend using homemade gnocchi in this Cheesy Sausage Gnocchi recipe. I have two recipes on this site for homemade gnocchi…which I make in large batches and keep on hand in the freezer to pull out and use to make an easy meal in 30 minutes or less!
Homemade Potato Gnocchi. This is the gnocchi I used to make this sausage gnocchi recipe! I had made a large batch and had some on hand in the freezer, so it was really easy to whip up this dish! This potato gnocchi is extra special because it also has Cabot sharp cheddar cheese in the dough. Because more cheese is always a good choice!
Paleo sweet potato gnocchi. This sweet potato gnocchi recipe would also taste great in this dish, however it is my second choice!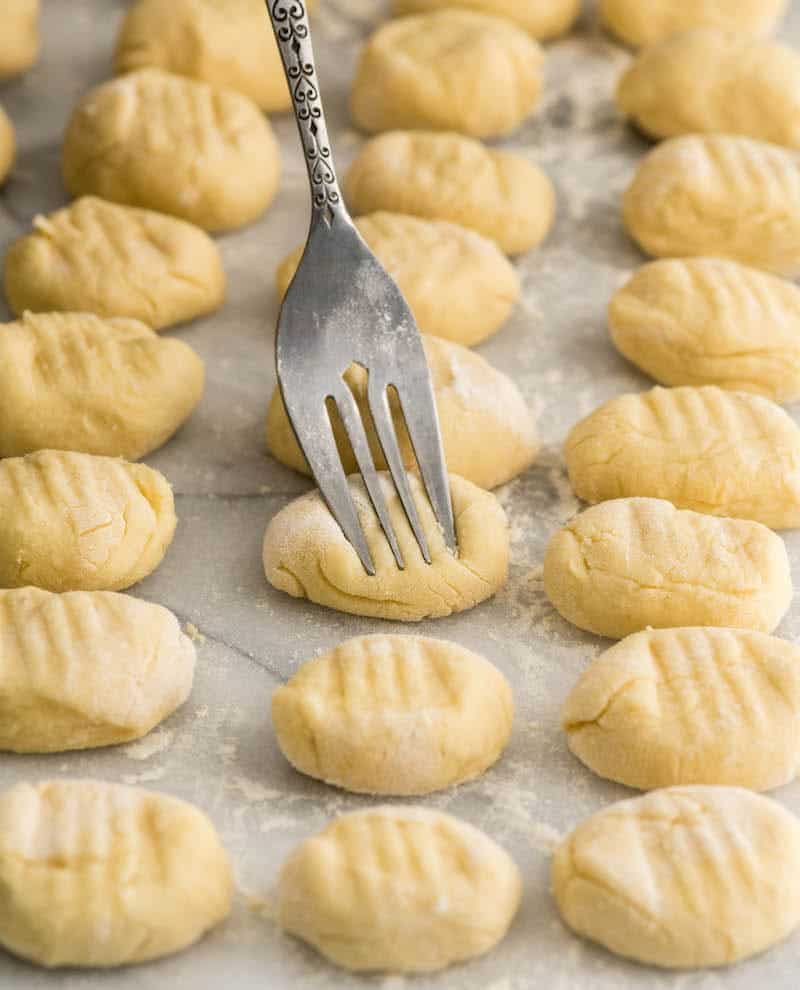 Store-bought gnocchi
Using store bought gnocchi also yields fabulous results, and doesn't require any preparation! It makes this Cheesy Sausage Gnocchi truly one of the easiest recipes you will ever make! I recommend using fresh or frozen gnocchi!
Step 2: Cook/Brown the Gnocchi
Boil.
Gnocchi always needs to be boiled first and it cooks relatively fast!. You will know the gnocchi has finished cooking when it floats to the top of the boiling water. At that point, remove it with a slotted spoon and transfer it to a colander to drain any excess water.
Brown.
If you want to take your gnocchi to the next level, I highly recommend you do not skip the browning in butter/olive oil step. It is the only way we eat gnocchi around here because it's just that amazing. Yes it adds a little bit of time, but it's soooo worth it.
Simply heat a mixture of butter and olive oil in a large skillet and add gnocchi. Be sure to toss it to coat it before it starts browning, so the butter/oil will be evenly distributed on both sides. Then cook for 3-5 minutes on the first side, until it turns golden brown. Flip over each gnocchi (I use tongs) and brown on the second side.
Remove from the heat in one of two ways.
Once the gnocchi is browned on both sides, remove it from the pan. If you plan to serve it separately from the sauce, place it in an oven-safe dish, cover it, and put it in your oven (set to low) to keep warm. If you're planning on serving it with the sauce, just set it aside until you're ready to mix it in!
Step 3: Make the Cheesy Sausage Gnocchi Sauce
The sauce for this sausage gnocchi recipe couldn't be easier to make! Here are a few tips to make it the best it can be!
Brown the sausage. I am a stickler about browning meat because it really enhances the flavor and takes it from good to great! Make sure the sausage is sufficiently browned before adding the green peppers. I always cover sausage to ensure that the inside cooks while the outside browns!
Add green peppers. After the sausage is sufficiently brown, add the peppers (or other veggies of your choice) and cook until soft. Add onions if desired.
Add the rest of the ingredients & cook until thick. Just dump everything else in, stir and cook until thick.
Add gnocchi. If you will be serving this sausage gnocchi as a one pot dish, add the gnocchi once the sauce is thick!
Serve immediately. To ensure that the gnocchi stays nice and crisp serve it right away! Feel free to garnish with extra cheese or fresh parsley!
As always, the ingredients you choose to use in the recipes you make matters. There's a reason I used Cabot Shredded Sharp Cheddar cheese….because it's amazing! Both the taste and quality is out of this world! Here are a few reasons why I adore Cabot cheese!
All Cabot Cheddars are naturally lactose and gluten-free! This is HUGE for me, because I have been lactose intolerant my entire life. But I love cheese and can never stay away from it! Cabot cheeses are SO easy on my digestive system and taste incredible!
It's locally made! Did you know that Cabot is a co-operative owned by 1,000 family farms throughout New England & New York and 100% of the profits go back to the farmers. I LOVE this because I think we need to value and appreciate America's farmers so much more than we do!
Highest Quality. I cannot stress enough how amazingly delicious Cabot cheese is! Cabot Creamery is deeply committed to making the finest cheese and dairy products on earth and it is totally obvious when you take your first bite! Their other products (which include Greek yogurt, sour cream, cottage cheese, butter and

whey protein) are equally amazing as well!
Step 4: Serve!
There are two ways to serve this Cheesy Sausage Gnocchi!
Keep the gnocchi and sauce separate until serving. This is my serving method of choice. I like to keep the gnocchi warm in the oven while I cook the sauce, and then put two bowls on the table — one filled with gnocchi and one with sauce. This way the gnocchi retains it's pan-fried buttery crispiness as long as possible.
Serve together! the simpler way is to simply toss the gnocchi into the sauce as soon as it has thickened and serve it as a one-pot dish! This is much easier and sometimes we do opt to do it this way if we have company over!
Garnish!
Feel free to add some chopped fresh parsley, fresh basil, or an extra sprinkle of cheddar cheese to finish off this delicious sausage gnocchi!
Cheesy Sausage Gnocchi Recipe: Ingredients and Substitutions
Here are a few notes about the ingredients in this sausage gnocchi, and possible substitutions!
Potato Gnocchi. Choose your favorite variety of gnocchi for this dish! I know Trader Joe's sells a great cauliflower gnocchi if you're looking to keep it low carb!
Butter. I think browning the gnocchi in a mixture of butter/olive oil adds so much flavor I am very hesitant to even suggest it can be substituted. But if you're not a fan of butter (why?! LOL) feel free to use all olive oil instead.
Olive oil. If you'd prefer to use all butter and omit the olive oil, be my guest. You can also substitute avocado oil with great results!
Italian Chicken Sausage. I love chicken sausage because it's a touch lighter and has less fat than regular sausage. However, feel free to substitute your favorite variety of sausage…I highly recommend that you use an Italian style sausage though! If you like spicer dishes, use hot or medium sausage!
Fire Roasted Tomatoes. I absolutely adore the flavor imparted by canned, diced fire roasted tomatoes in this Cheesy Sausage Gnocchi recipe. If you are in a pinch regular diced tomatoes can be used, but you might need to increase the spices to add a little extra flavor!
Green pepper. Any color bell pepper works great in this recipe. If you don't like bell pepper feel free to omit. Other ideas of sneaky veggies that can be added to this dish and still taste great are: shredded zucchini, carrots, yellow squash, peas, etc.
2% Milk. Any percentage of milk can be used with great results. The higher the fat content, the creamier your sauce will be!
Onion & Garlic Powders. you absolutely can use the real thing instead…minced garlic and finely diced onions. I'm pregnant and cooking for kids…so both of these ingredients are off-limits for me right now lol! But if you do use real ingredients instead of powders, then I recommend adding them towards the middle of the sausage browning!
Cabot Sharp Cheddar Cheese. No substitutions here! Except maybe using Cabot Extra Sharp or regular cheddar cheese depending on your tastes!
IF YOU MAKE SOMETHING FROM JOYFOODSUNSHINE I WOULD LOVE TO SEE YOUR CREATIONS! DON'T FORGET TO RATE THIS RECIPE AND LEAVE A COMMENT BELOW! ALSO, FOLLOW ALONG WITH ME ON INSTAGRAM, PINTEREST, FACEBOOK, YOUTUBE AND TWITTER FOR MORE RECIPE INSPIRATION AND A GLIMPSE INTO OUR EVERYDAY LIFE!
Cheesy Sausage Gnocchi
This Cheesy Sausage Gnocchi Recipe is an easy, healthy and delicious dinner made in under 30 minutes! Everyone in your family will LOVE it!
Instructions
Cook Gnocchi:
Line a large plate with paper towels, set aside.

Cook gnocchi according to package instructions & drain.

Heat ½ TBS butter and ½ TBS olive oil in a large sauté pan over medium-high heat until butter is melted, stirring to combine.

Add cooked gnocchi and stir to coat with the oil/butter mixture.

Cook gnocchi on one side for 3-5 minutes or until golden brown.

Once the first side of the gnocchi is golden brown, flip each gnocchi over and cook on the other side for an additional 3-5 minutes until golden brown.

Once both sides of the gnocchi are golden-brown, remove and place on the paper-towel lined plate. Set aside.

Optional: Remove paper towel and put the browned gnocchi in an oven-safe dish and place it in the oven at 200 degrees F to stay warm while you make the sauce. (I recommend doing this if you plan on serving the gnocchi and sauce separately).
Make the sauce:
Heat 1 TBS olive oil in a skillet over medium heat.

Add Italian chicken sausage to the skillet, breaking it apart into small pieces with a spatula and stirring to coat with olive oil.

Place a lid over the sausage and let it cook for 5 minutes or until it just begins to brown, stirring occasionally.

Remove the lid, add the diced green pepper and continue cooking until the sausage is evenly browned and the peppers are soft.

Add diced tomatoes, milk, garlic salt, pepper onion powder, garlic powder and stir to combine.

Cook over medium-high heat until the mixture just begins to bubble.

Add cheddar cheese and reduce heat to medium.

Stir until the cheese is melted and continue cooking until the sauce thickens slightly (about 3-5 minutes).

Remove from heat.
Serving:
Once the sauce is thickened serve immediately in one of two ways:

Option 1: Serve gnocchi and sauce separately, letting your family/guests scoop as much or as little as they'd like.

Option 2: Add the browned gnocchi to the sauce in the pan and stir until it's evenly distributed, then serve it as a one-pot meal!

I prefer Option 1 because it helps the gnocchi retain its crispiness!

Top with fresh parsley and enjoy!
Nutrition
Serving:
0.6667
recipe
Calories:
301.3
kcal
Carbohydrates:
19.7
g
Protein:
19.2
g
Fat:
17.7
g
Saturated Fat:
9.1
g
Polyunsaturated Fat:
0.2
g
Monounsaturated Fat:
1.1
g
Cholesterol:
81.3
mg
Sodium:
818
mg
Potassium:
39.7
mg
Fiber:
1.7
g
Sugar:
2.8
g
Vitamin A:
700
IU
Vitamin C:
25.4
mg
Calcium:
273
mg
Iron:
1
mg
This post contains affiliate links, which means that if you purchase a product through a link you clicked on here, I receive a portion of the sale. Thank you for supporting JoyFoodSunshine!