Deer Valley Ski School – Learning to Ski
Posted Dec 18, 2019, Updated Sep 02, 2020
Deer Valley Resort is our family's favorite place in Utah. This year we enrolled our three oldest kids in Deer Valley Ski School! They had the best time and learned how to ski in only two days taking Deer Valley ski lessons! It's safe to say, we are now and forever will be a skiing family thanks to our experience at Deer Valley Resort!
This post is sponsored by my friends at Deer Valley Resort. As always, all opinions and photos are completely my own!
Our stay at Deer Valley Resort was nothing short of phenomenal! Everything from skiing to lodging to world-class meals was made even better by the best possible service from people who clearly love being a part of the Deer Valley team. Everywhere we went our family was greeted with warm smiles and a prompt "how can I help you?" (Check out our
Summer Getaway at Deer Valley
too)!
But the best part of our trip was easily watching our three oldest kids ski for the first time. They were enrolled in Deer Valley Ski school for two days, and the top-notch instructors were so knowledgable and yet patient with our kids. It made the entire experience one we will never forget.
The staff at Deer Valley planned a perfect trip for our family, and I'm going to give you all the highlights so YOU can plan a family ski getaway and make memories that will last a lifetime! Plus, in this post I will also explain what to expect when putting your kids in Deer Valley Ski School, and how to prepare!
We absolutely loved visiting Deer Valley during opening week! It wasn't too crowded and the snow was amazing! There were 24″ of fresh powder during our three days there! Plus, everything was decorated beautifully for the holidays, which give our trip an extra-special vibe!
Snowshoeing & S'mores
The first day of our trip we were treated to a guided snowshoeing trek in what can only be described as a winter wonderland. We were accompanied by two wonderful guides from All-Seasons Adventures who loved the outdoors as much as we do.
They were so sweet with our kids…patiently helping them get their snowshoes on and leading us through the hike. They even had us do a snowshoe race! I absolutely loved that this was an activity that our entire family could participate in! Even sweet little Mara (my two-year-old) strapped on some snowshoes and hiked around with us!
At the end of the hike they lit up a bonfire in a fire pit by the gazebo & frozen ponds, and helped us make campfire s'mores…courtesy of the Deer Valley Bakery! They had homemade graham crackers and homemade vanilla bean marshmallows! Best s'mores ever!
They really thought of everything! They had hot chocolate, water, and even wipes to clean off my kids' sticky faces and hands (and in some cases, coats).
As we trekked back to our vehicles, everyone went their own pace and we just enjoyed being outside, together, in such a beautiful place. The guides helped our kids (and us) out of our gear and we went our separate ways. It was the perfect, low-key activity to kick off our Deer Valley get away!
I have never skied before (gasp! Don't worry I'll be remedying that later on in the season with some ski lessons of my own), but ever since we moved to Utah I knew I wanted to give my kids the opportunity to learn at a young age. Since we have a world-class ski resort within driving distance of our house, I really felt like teaching our kids to ski was not optional. And I knew the only place I'd want them to learn was at Deer Valley Resort!
However, ever since moving to this beautiful state, I have either been pregnant or nursing every year during ski season, and it kept me from going out on a limb and trying something new. Now I wish we started when Bethany was 3! Deer Valley Resort makes it so incredibly easy for families to have a great experience together!
So, before this trip, my children had never skied a day in their lives. My husband was the only one in our family with any skiing experience, so this was a new adventure for all of us! I couldn't believe how quickly the amazing instructors were able to help our 8 and 6 year-olds to be able to ski down slopes without any help at all (in less than two days)! Even sweet Naomi, who is only four years old, took
lessons
during our trip and made great progress!
Ski School: Day 1
Since we were total beginners (only Ritch has his own ski gear), we
rented gear from Deer Valley
and that process was amazing. When we first walked into the rental shop we were greeted by a host of experts who were eager to help our kids get fitted with exactly the right gear for their first day on the slopes. Each of our three ski-students had a pair of people fitting their boots, determining the right size skis, and finding the appropriate helmet. The whole time each rental guide was asking our kids all about how they were feeling about their first day of skiing.
As a mom who doesn't know my way around a ski boot to save my life, having this kind of attention and care was so helpful for me. I think I was just as nervous as the kids about leaving them all day with people I didn't know, and this first stop in the process really calmed my nerves because I knew that my kids were in good hands.
What to bring:
Something important to note is that gear rentals include skis, boots and a helmet. You are responsible for bringing the following:
Ski Jacket
Snow Pants
Eye Protection (do not skip this! It was snowing both days of our stay and the kids all wore their ski goggles the whole time).
Ski Gloves
Warm Socks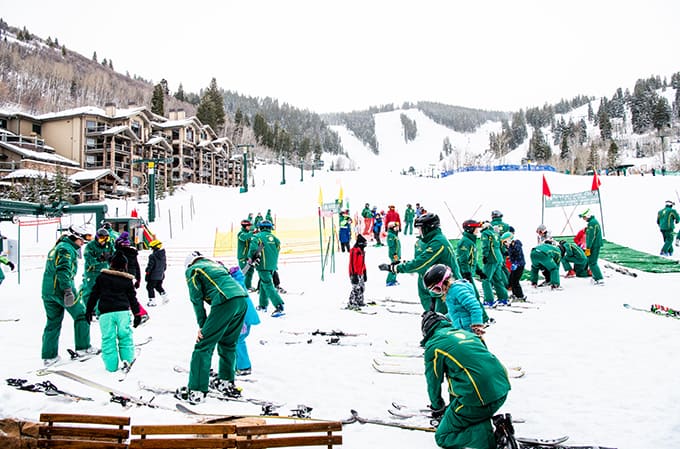 Checking in
After getting fitted for our gear, we went up to the children's center to check in our kids. Each child was in a different level – Bambi Club (age 4), Reindeer Club (age 6) and Adventure Club (age 8). Once again, this process was seamless. The kids received two tags: one ski lift pass and one lessons tag. They were to keep both of them on them at all times.
As you can see in the photo above, there was always someone in a green Deer Valley uniform ready and eager to help us find where we were going. If I had any concerns about knowing what to do, they all vanished when I walked up and saw that scene!
Bambi Club
My little one in the Bambi club had to be checked in first (by 9 AM) at the Children's center. She skied from 9:15 to 11:30 (with a break for hot cocoa and snacks). It was perfect for her age and ability level! She was with one other student and an instructor, which meant she got individualized attention and was cared for extremely well! She skied in an area that was easy to watch, and I could tell she had a total blast!
After the lessons, instead of opting to keep her in childcare the rest of the day, I went and picked her up so we could eat lunch together. We love being together as much as possible as a family, and admittedly, I have a hard time leaving my kids! But if I was able to ski that day I would've had no trouble relying on the Deer Valley childcare for my three youngest kids (which is offered for kids starting at 2 months old) while I went out onto the slopes!
Reindeer Club & Adventure Club
My six-year-old had to be checked in by 9:15, but could be dropped off as early as 8:45 at the Children's center. I thought it was hilarious that they had the rule, "No pee, no ski!" But I appreciated that they reiterated something I told him as I dropped him off! 😉
My 8-year-old had to be checked in at the children's center, and we could have left her there until she started lessons, but opted instead to keep her with us until her lessons started at 10 am. She had fun hanging out with me watching her two younger siblings start their lessons while she waited to begin! And it was super easy to drop her off while watching the other kids because the "Adventure Club" drop-off" was right next to the beginners ski lesson area.
The older kids skied, from 10 AM until 4 PM (with breaks for hot cocoa, lunch and snacks of course)! I appreciated that they started slow in an area that is very easy to watch! They learned how to do basic ski maneuvers and rode the "magic carpet" up and practiced their skills on a small slope down. The two little girls (non-skiers) and I were able to stand on the sidelines and cheer on & encourage the kids while they learned, which was such a treat.
Bethany and Gabe also had individualized attention! They were usually one-on-one with a teacher, so they received the best care and instruction possible! Gabe loved it SO much that by the end of the day he still had a giant smile plastered across his face!
I was the most impressed with Bethany's progress. By the end of her first day in the Adventure Club she could ride the lift up and ski down the mountain all by herself! She looked like a total natural, and it's all because of the instruction she received. This is huge for Bethany, because she is my most cautious child. However, she didn't seem at all scared because she knew exactly what do to and how to maneuver her skis, all thanks to the team at Deer Valley Ski school!
We opted to put all the ski gear in the
complimentary overnight storage
provided by Deer Valley. We just held onto our ski boots so we could walk back and forth from our hotel without needing an extra pair of shoes! This made it so easy to check out at the end of the day and go back for some Après Ski snacks and a little relaxation before dinner.
Tip your ski instructors!
Don't forget to thank your ski instructors with a tip. Obviously it's not mandatory, but these highly-trained professionals are with your children all day long teaching them everything they need to know. We tip everyone else who assists us with our needs on vacation, how much more should we show our gratitude to the people who are imparting the love of skiing to our children!
Honestly I say this because tipping the instructors was something I didn't think about until I picked up the last kid on the last day. Ritch had picked them up the day before, and he must not have realized it was customary to tip either, and I felt SO bad! I called after we got home to correct my oversight and thank the people who cared for my kids all day. The woman who answered the phone was (in true Deer Valley fashion) extremely helpful and tracked down my kids' teachers (all 6 of them) and helped me square it all away. Next time I won' forget!
Ski School: Day 2
The next morning, Gabe woke up and put on all his ski gear before breakfast because he couldn't wait to get back onto the mountain and ski again! That alone speaks volumes for how amazing Deer Valley Ski School really is! They all were ready to go early and out the door!
My kids felt so comfortable that they walked right up to the ski storage area and got their gear all by themselves. This is HUGE for my sweet homeschooled kids who are usually timid around strangers! They grabbed their skis and Gabe begged to be checked in as early as possible!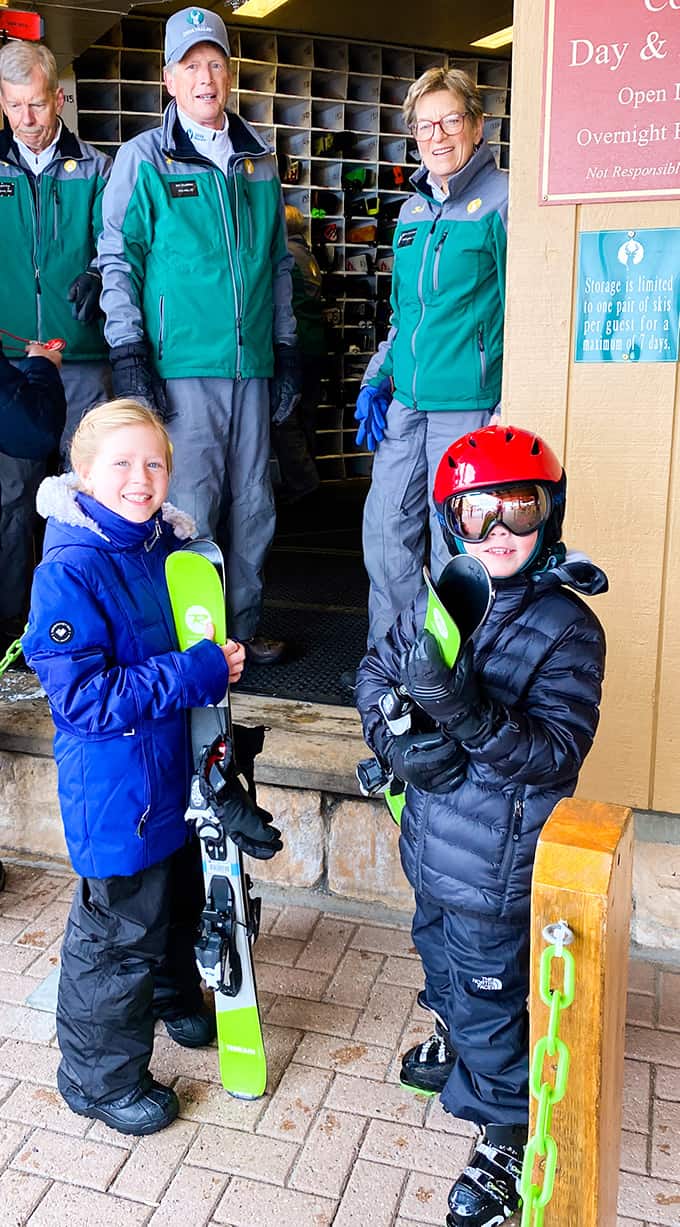 The second day all the kids made even more progress. Look at my sweet squishy Naomi with a smile on her face waving to me while she skis! For her age all I wanted was to get her used to wearing ski gear, and get a basic knowledge of how to ski. I didn't expect her to make as much progress as she did and I am so grateful!
Gabe let loose the second day and rode up to the top to do a few milder ski runs up at the top of the mountain. He is not my most coordinated child (haha) and I was so impressed by the progress he made. He had one-on-one instruction all day on the second day, and he loved his ski instructor!
Bethany was the true MVP of this trip. She is my most cautious child, and I couldn't believe how much of a natural she was on the skis. Ritch even got to spend the afternoon SKIING with our daughter, just the two of them on the slopes! It was an experience of a lifetime!
We spent two nights at the Trail's End Lodge, which is right next to the Silver Lake Express Ski lift (at Snow Park Lodge). While we certainly could have skied in and out of our building…we were so close to the lift that we didn't feel like we had to. It snowed more than a foot while we were there which made us very grateful to have had indoor garage parking for our minivan!
The room was impeccably clean, and the staff there was eager to help us with anything we needed. These people certainly know how a ski trip should be managed because they had a large mudroom with many hooks and fan-blown drying units in the entryway. We had a two bedroom 2.5 bath unit which was plenty big enough for our family of 7.
The four older kids slept in one room (which had a set of bunk beds and two more single twin beds) with its own adjoining bathroom. The kitchen, dining room and living room were big enough for all of us to comfortably hang out without feeling the least bit cramped. The place was plenty warm (even had a real wood-burning fireplace…freshly stocked with firewood) and had amazing views of the mountains! The Hot tub on the porch, with a gorgeous mountain view, was a bonus too!
Customer service story
Our first morning was a whirlwind of activity. Getting 5 kids up, dressed, and out the door to breakfast before 8 am is no small task. We piled into the Aspen Room, served our kids their choice of breakfast fare, and then Ritch took the 3 older kids to get fitted with their ski gear while I waited for the 2 youngest members of our tribe to finish eating.
I was chatting with the general manager of the Trail's End Lodge when Ritch called and told me that somewhere on their trek from Trail's End to Snow Park Naomi dropped her ski goggles. Great. I told him I'd pack up the little girls and start looking for them. Mark sprung into action, mobilized a few other people and before I knew it he had a team of Deer Valley staff members helping me locate our lost goggles.
Within minutes he found them at the front desk and told me he would personally go track down my husband and deliver the goggles. Finding Ritch at Snow Park was no easy task, but Mark accomplished the mission before I would have even gotten Mara into her snow suit. 😉 I was grateful beyond words that he would take such a large portion of time in his busy morning to help our family in such a huge way.
Dining – Deer Valley Restaurants
The dining at Deer Valley is Out. Of. This. World. Somehow the culinary geniuses back in the magical kitchens are able to take some of the most basic and standard of foods and make them exquisite! Even the hotdogs are amazing (which…coming from a Chicago family absolutely means something)! We were able to dine at many of our favorite Deer Valley Restaurants!
The first night we were there, we had a dining experience to remember at the Empire Canyon Lodge. They are known for their "fireside dining"…which is, exactly as it sounds! They literally cook all of the food at the multiple fireplaces built into the walls throughout the restaurant.
This dinner was served buffet style, where you go up to each of the 4-course stations which including such amazing foods as melted cheeses, duck, lamb, steak, potatoes, soups and salads. We capped the dinner off with an exceptional fondue style dessert with melted caramel, chocolate and white chocolate with plenty of goods for dipping! While we have learned to not be surprised by the extraordinary food and ambience at Deer Valley…we were so appreciative of how family friendly it was (while still being SUPER classy)!
Trails End Lodge Breakfast
The next day we had breakfast at the Trails End Lodge, which (as with everything else at Deer Valley) was full of good healthy and fun options for the family before hitting the slopes. Everything was perfect, even down to the bold and delicious coffee!
While the oldest two kids had lunch provided during Ski School, the rest of us ate at the Snow Park Restaurant. It is self-serve "pay-for-what-you-get" kind of lunch buffet. There were so many options to include a full-sized salad bar, almost anything you can grill, pizza, the famous Deer Valley Turkey Chili, etc. We also enjoyed the dessert station (hello caramel stuffed brownies) and I got myself an afternoon pick-me-up cup of coffee at the coffee bar! There is always something for everyone at Snow Park!
We ate dinner at The Brass Tag at The Lodges at Deer Valley on our second night. We have eaten there several other times before and have always loved the food, service, and atmosphere. One of the family perks about going to the Brass Tag, is that the hostess gave each of our kids an iPad filled with kids games that doubled as a menu. The kids played games while we waited for the food to arrive! Now, honestly, we are not too big into letting the kids play with electronic devices…especially when we are together as a family. But Ritch and I allowed them to indulge while we enjoyed the quietest 15 minutes of our day!
My daughter has been talking about the tomato soup from the Brass Tag since we enjoyed it there this summer, and she was beyond excited for that meal! The rest of the kids ordered pizzas off the kids' menus (which they devoured). I ordered a delicious salmon with seasonal vegetables, and Ritch got the Brass Tag Burger! All of us left full and relaxed!

On the last day of our trip, we once again had breakfast at Trail's End, and then enjoyed lunch at the Royal Street Cafe. This has become one of our favorite places to eat in all of Deer Valley. Not only is it right on the ski slopes (literally less than 100 yards from 3 different lifts), but the menu is perfect for our family.
We started with the street corn guacamole (a must), which even my 2 and 4 year old girls devoured! Ritch loves the Wagyu sandwich, and I always find a great salad (with fresh burrata cheese – my favorite)! The kids enjoy pizza and chicken tenders and fries. By the way, they have excellent homemade lemonade there which has just the right amount of mint for flavoring!
I know my thing is being a food photographer, but we were so busy feeding the kids and enjoying our meals that I barely took any photos of the beautiful culinary creations! Here are a couple! 🙂
I met Ritch there with the three little girls (thanks to the Deer Valley Shuttle Service – see below) and he skied in, ate with us, and skied out to go meet our Adventure Clubber on the slopes! It was a great little touchpoint for us in the middle of the day!
Deer Valley Direct (Shuttle Service)
The free Deer Valley Shuttle Service was absolutely one of the best helpful "surprises" of our trip. It snowed the whole time we were there (yay!), and while we would usually opt to drive ourselves around, this time we chose to take the complimentary shuttles to our meals at night (and then to Royal Street during the day).
Let me tell you, as a mom of 5 kids who all need to be buckled into car seats, this service was a life saver. We just hopped into a clean, warm vehicle large enough for our entire family with a driver who knew exactly where he was going. We were running a bit late to lunch, so I even nursed Keilah in the back seat of the car on the 10 minute drive up to Royal Street! This was just another way Deer Valley goes out of their way to make your stay as wonderful as possible!
During our stay they launched the Deer Valley Direct App (basically a ride sharing app for Deer Valley Guests) and it was easy to use and helpful! Note: Don't forget to tip your driver at the end of your ride for getting you to your location safe and sound!
Deer Valley – A Perfect Family Ski Vacation
It's safe to say that our trip to Deer Valley was "practically perfect in every way!" I love that even my little, non-skiers got to enjoy the adventure. One of my favorite moments of the trip was when Mara and Naomi were cheering for Gabe as he got onto the lift! They screamed "Go Gabe!" and "You can be as good as you want! Have fun!" Getting to cheer each other on through new experiences and adventures is what vacation is all about.
As I mentioned before, there is amazing childcare available for children ages 2 months and up. But I like to keep my babies close (really close) and snuggly. And while it adds a little bit to the stress of the day, I was happy to be with my cute little girls and spoil them a little. 😉 Mara enjoyed being along for the ride, playing in the snow and drinking hot chocolate! And Keilah, as usual, enjoyed snuggling with mommy all day!
I feel so grateful that we were able to enjoy the breathtaking beauty of Deer Valley Resort as a family! And I can't wait to get back up there again!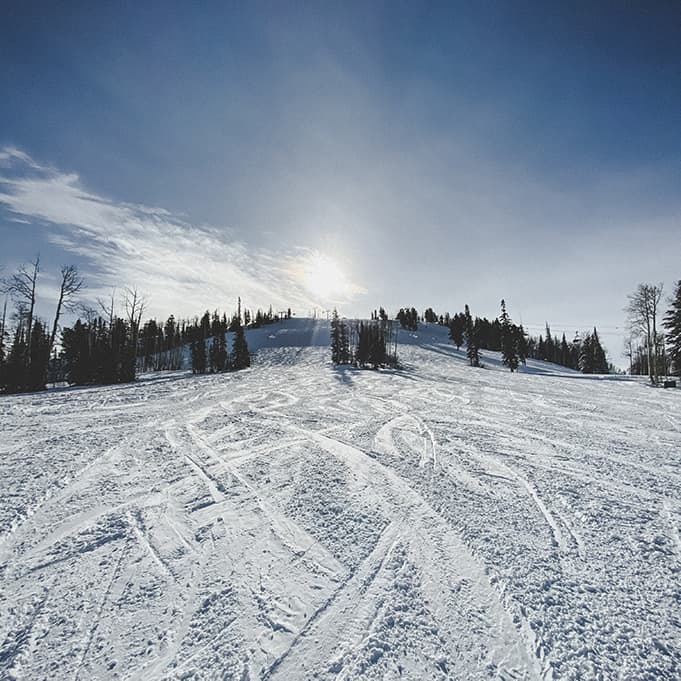 I hope you found this post about our family's trip to Deer Valley Resort helpful! Please leave a comment if you have any questions that I could help answer for you!
IF YOU MAKE SOMETHING FROM JOYFOODSUNSHINE I WOULD LOVE TO SEE YOUR CREATIONS! DON'T FORGET TO RATE THIS RECIPE AND LEAVE A COMMENT BELOW! ALSO, FOLLOW ALONG WITH ME ON INSTAGRAM, PINTEREST, FACEBOOK, YOUTUBE AND TWITTER FOR MORE RECIPE INSPIRATION AND A GLIMPSE INTO OUR EVERYDAY LIFE!
This post contains affiliate links, which means that if you purchase a product through a link you clicked on here, I receive a portion of the sale. Thank you for supporting JoyFoodSunshine!