This healthy Fruit Salsa with Cinnamon Chips is one of our favorite summertime appetizers! Loaded with all the best fresh fruits summer has to offer, this easy recipe is always the hit of any party or BBQ! It's ready in 30 minutes and is gluten-free, vegan and paleo-friendly!
I am not sure that I have a recipe in my repertoire that screams "SUMMER" as loudly as this fruit salsa with cinnamon chips!
Literally all of my favorite summer fruits are mixed together and served with some crazy delicious homemade cinnamon tortilla chips, resulting in a summer appetizer that will quickly become your favorite to both make and eat!
I first tried a similar recipe to this many, many years ago when my step sister brought it to a family party. I was hooked, and I have since tweaked it to get it exactly the way our family loves to enjoy it the most!
I mean just look at all that beautiful summer fruit. Can you even handle all that gorgeous produce in one photo (let alone in one bowl)?!
This recipe is a great healthy summer appetizer (just like this layered Greek dip and this Chocolate Hummus) and can be adjusted to comply with mostly every dietary need. Is gluten-free, vegan and even paleo-friendly!
Seriously this healthy fruit salsa is such a crowd-pleaser that it will be the first appetizer to disappear at any party or barbecue! So let's walk through some of the most common questions I get asked about making this fruit salsa recipe! There are some step-by-step collages and a video to show you exactly how EASY it is to make (and eat)!
How to make fruit salsa?
Ok people this recipe is SO easy! Honestly, the most time consuming part of making this fruit salsa recipe is chopping the fruit! After that it's just dump, mix and chill! Here are a few notes about the steps...
Finely dice the fruit. In order to ensure a variety of fruit in every delicious bite of this fruit salsa, you need to make sure to cut the fruit into small pieces (except for the raspberries, leave them whole)!
Mix gently, and as little as possible. I recommend only mixing this fruit salsa twice, once after all the fruit is combined in a large bowl to make sure it is evenly combined. And the second time to incorporate the wet ingredients/sugar. Try to use a very gently, folding motion with your spatula so that you don't crush the delicate fruit (like raspberries) too much!
Refrigerate. It's important to chill this fruit salsa recipe for at least 30 minutes (and up to overnight) for all the flavors to blend.
How do you make Cinnamon Chips?
Just like above, here are the step-by-step photos showing you how to make cinnamon tortilla chips to serve with this fruit salsa. This process is really easy (just like making the fruit salsa recipe):
Choose your favorite tortillas. I used 8" round flour tortillas, but the beauty of this recipe is that you can choose whatever kind of tortilla you enjoy, and that fits your dietary needs. I will list some specific options in the substituions section below!
Melt coconut oil (or butter). Using melted coconut oil and a brush ensures that each tortilla is evenly coated. Which is key for even baking!
Mix cinnamon sugar. It's important to mix the sugar and cinnamon together before sprinkling it on the tortillas, because it ensures both ingredients are evenly distributed on each tortilla!
Sprinkle cinnamon sugar. I used my hands, which can be messy but I think is much easier than trying to sprinkle and spread with a spoon! Feel free to do whatever you like!
Bake. Bake at 350 degrees F for 10-11 minutes, and be sure to watch them carefully. The chips won't brown that much, they will just begin to "puff" up a little bit and that is how you know they are done!
Cool. Cool the cinnamon tortilla chips completely before serving.
How to serve fruit salsa?
Of course I recommend making these homemade cinnamon tortilla chips and serving this fruit salsa recipe with said chips on a beautiful platter for all your friends and family to enjoy! However, I know sometimes we don't have time to do it all, so besides the homemade cinnamon chips option (which I most highly recommend) here are a few other serving suggestions...
Cinnamon Sugar Pita Chips. These are super delicious and taste amazing with this fruit salsa recipe.
Graham Crackers. This is a decent option, but I think it makes this dish more of a dessert than an appetizer! I recommend cinnamon graham crackers (because they're my favorite and the cinnamon really compliments this fruit salsa recipe well)!
As a garnish on fish! This fruit salsa recipe also works great on fish! If you have leftovers simply grill your favorite fish (like salmon or tilapia) and serve this fruit salsa on top! YUM!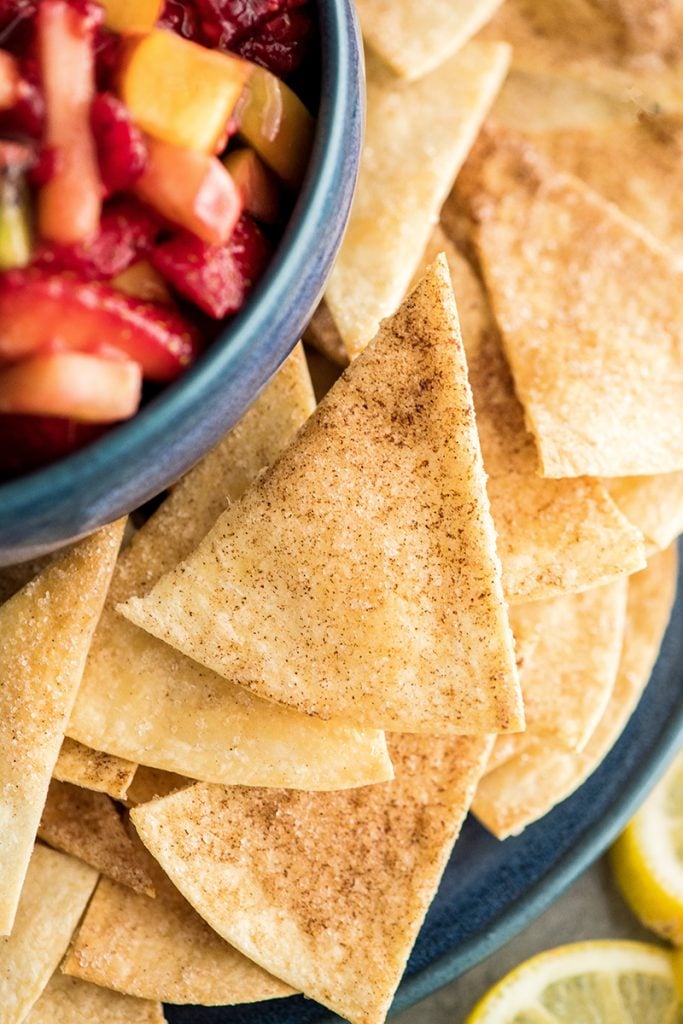 How to store fruit salsa?
I recommend storing this fruit salsa recipe in an airtight, glass container in the refrigerator! I recently bought this 4-piece glass storage set from Crate and Barrel and use it for everything!
How long does fruit salsa keep?
This fruit salsa recipe keeps in the fridge for up to 3 days! If you notice some that is becomes a little too liquidy to serve, simply drain off some of the liquid and enjoy!
Fruit Salsa Recipe: Ingredients & Substitutions
Let's chat a bit about this fruit salsa and some of the substituions that can be made!
Fruit. The sky is really the limit to what fruit could be used in this recipe. I have included the fruits that I have tested and enjoyed the most. Some other options include (but are not limited to): nectarines, pears, blueberries, bananas, pineapple, grapes (diced), mandarin oranges or cuties, etc. etc. Just be sure to use the same total amount of fruit as the original recipe calls for.
Honey. for a vegan version use maple syrup. You can also substitute the honey for granulated sugar if you do not keep it on hand!
Granulated sugar. To keep this recipe refined-sugar free, substitute coconut, date or maple sugar for the organic cane sugar. You can also substitute the granulate sugar with an extra TBS of honey.
Fruit preserves. I used seedless raspberry preserves in this recipe, but feel free to use your favorite. I recommend seedless varieties to avoid an unwelcome texture in the final product.
Tortillas. I used regular flour tortillas in this fruit salsa recipe, but here are a few options for different dietary needs:

Paleo. Siete foods makes paleo and grain-free tortillas that are very good!
Gluten-free. Thankfully there are many gluten-free tortilla varieties in most major grocery stores!

Coconut oil. Melted butter (<- super delicious) or ghee can be used in place of coconut oil!
Sugar (in the cinnamon sugar). For a paleo option use date sugar, maple sugar or coconut sugar in place of the organic cane sugar!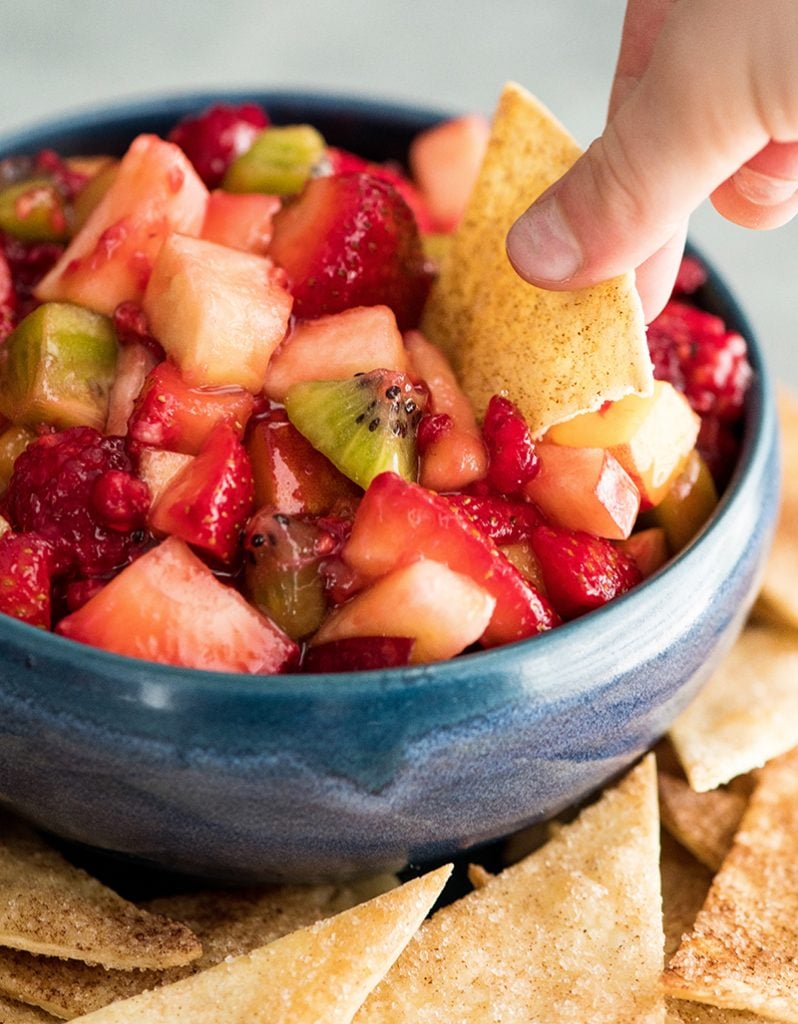 IF YOU MAKE SOMETHING FROM JOYFOODSUNSHINE I WOULD LOVE TO SEE YOUR CREATIONS! DON'T FORGET TO RATE THIS RECIPE AND LEAVE A COMMENT BELOW! ALSO, FOLLOW ALONG WITH ME ON INSTAGRAM, PINTEREST, FACEBOOK, YOUTUBE AND TWITTER FOR MORE RECIPE INSPIRATION AND A GLIMPSE INTO OUR EVERYDAY LIFE!
Fruit Salsa & Cinnamon Chips
This healthy Fruit Salsa with Cinnamon Chips is one of our favorite summertime appetizers! Loaded with all the best fresh fruits summer has to offer, this easy recipe is always the hit of any party or BBQ! It's ready in 30 minutes and is gluten-free, vegan and paleo-friendly!
Instructions
Make the fruit salsa:
Add all fruit to a large glass bowl (with a lid) and stir to combine.

Add honey, sugar, vanilla and jam and stir until evenly distributed.

Put the lid on the bowl and store in the refrigerator for at least 30 minutes, or overnight.
Make the Cinnamon Sugar Chips:
Preheat oven to 350 degrees F. Grease two large baking sheet, set aside.

Mix together cinnamon and sugar in a small bowl, set aside.

Melt coconut oil.

Using a pastry brush, brush each tortilla with melted coconut oil on one side.

Sprinkle an even layer of cinnamon sugar on each tortilla.

Cut each tortilla into eighths with a sharp knife or pizza cutter.

Evenly spread the cinnamon sugar tortillas on two large baking sheets.

Bake in preheated oven for 10-11 minutes or until they are just barely golden brown and begin to become puffy.

Remove from the baking sheet and let cool on a wire rack or plate.

Serve with chilled fruit salsa!
Notes
This recipe was inspired by a dish my step sister used to make for family parties! The recipe she used can be found here!
Nutrition
Serving:
2
TBS
Calories:
113.6
kcal
Carbohydrates:
20
g
Protein:
1.8
g
Fat:
3.1
g
Saturated Fat:
1.9
g
Polyunsaturated Fat:
0.3
g
Monounsaturated Fat:
0.6
g
Sodium:
77
mg
Potassium:
132
mg
Fiber:
2.4
g
Sugar:
9
g
Vitamin A:
70
IU
Vitamin C:
38.8
mg
Calcium:
17
mg
Iron:
0.8
mg
This post contains affiliate links, which means that if you purchase a product through a link you clicked on here, I receive a portion of the sale. Thank you for supporting JoyFoodSunshine!