These Italian Healthy Turkey Meatballs are flavorful and moist! They're bound together with oatmeal (no breadcrumbs), gluten-free, dairy-free, and very easy to make with only 8 ingredients in under 30 minutes! They can be cooked on the stovetop or baked in the oven!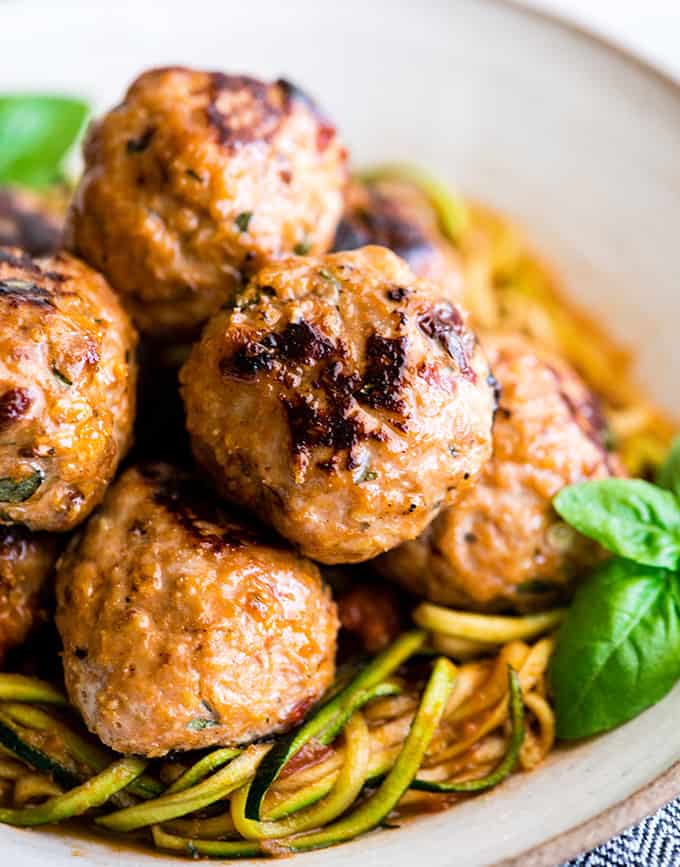 This is a sponsored conversation written by me on behalf of Rao's Homemade. The opinions and text are all mine.
Spaghetti and meatballs is one of our family's favorite meals! These healthy turkey meatballs are SO delicious and easy to make they are the perfect lightened-up weeknight dinner, and fancy enough to serve to guests!
These Italian turkey meatballs are bound together with oatmeal so they're gluten-free! They're made super moist by the addition of Rao's Homemade Tomato Basil Sauce instead of milk, so they're also dairy-free! Plus they're made with only 8 ingredients in 30 minutes! Serve them over zucchini noodles (zoodles), your favorite pasta or as a yummy appetizer!
How do you make Turkey Meatballs?
Let's walk through the steps to making this turkey meatball recipe together!
Step 1: Gather the turkey meatball ingredients
These turkey meatballs are made with only 8 ingredients, but it's important to gather them all together before getting started so you don't accidentally leave anything out! Chop the fresh basil and finely dice the sun-dried tomatoes. (We'll chat more about substitutions later)!
Many turkey meatball recipes call for milk, but I chose to use Rao's Homemade Tomato Basil Sauce instead! Not only does it make these turkey meatballs dairy-free, but it gives them a rich Italian flavor that is out-of-this-world delicious!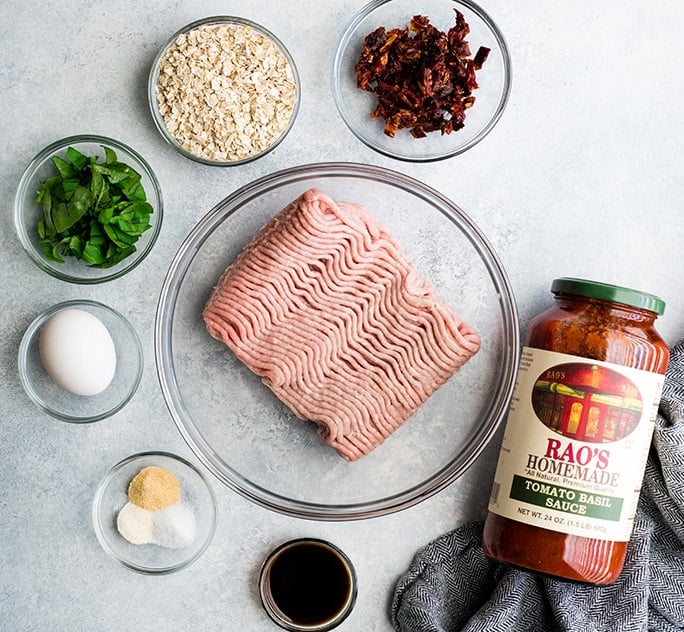 Step 2: Mix the ingredients
Next, add the wet ingredients to the ground turkey and stir with a spatula (or your hands) until the mixture is homogenous (uniform throughout). Add the dry ingredients to the wet mixture and stir again until they're combined. Lastly, add the fresh basil and sun-dried tomatoes!
Step 3: Form into balls
Now it's time to form the turkey meatball mixture into balls. I recommend using a cookie scoop to make all the meatballs uniform in size. This ensures the meatballs will bake evenly for the same amount of time!
Please note, the turkey meatball mixture will feel a little "loose" but it will form a ball easily and they should not fall apart at all. The moistness of the mixture results in a deliciously moist final product!
Step 4: Cook the turkey meatballs
There are two ways to cook these turkey meatballs; bake them in the oven or cook them on the stovetop. No matter which method you choose, it's important that the final temperature of the turkey meatballs reaches 160 degrees F. I use my digital instant read food thermometer every single time I cook meat to ensure it has reached a safe temperature, and I recommend you do too!
Baked turkey meatballs
To bake these turkey meatballs in the oven, simply place formed balls onto a greased baking sheet. Bake for 15 minutes, making sure to flip them once halfway through. I usually prefer baking the meatballs because it's easier and less messy! Also, all 16 meatballs fit on a large baking sheet, so you won't have to cook them in batches!
Stovetop turkey meatballs
If you're trying to avoid turning on the oven (hello hot summer temperatures), these Italian turkey meatballs can also be cooked on the stovetop! I recommend frying them in a thin layer of olive oil in a non-stick fry pan with a lid. Covering the turkey meatballs while they're cooking ensures they are cooked through before they get too brown!
Unless you have a very large non-stick fry pan, I recommend cooking these turkey meatballs in two batches of 8 instead of trying to load all 16 in one pan! It takes 8-10 minutes per batch so it's very quick!
How do you keep meatballs from falling apart?
Cooking the turkey meatballs using one of these two methods before adding them to your sauce of choice is the best way to ensure they do not fall apart. This way they are nice and browned and hold up very well when you add sauce to serve them!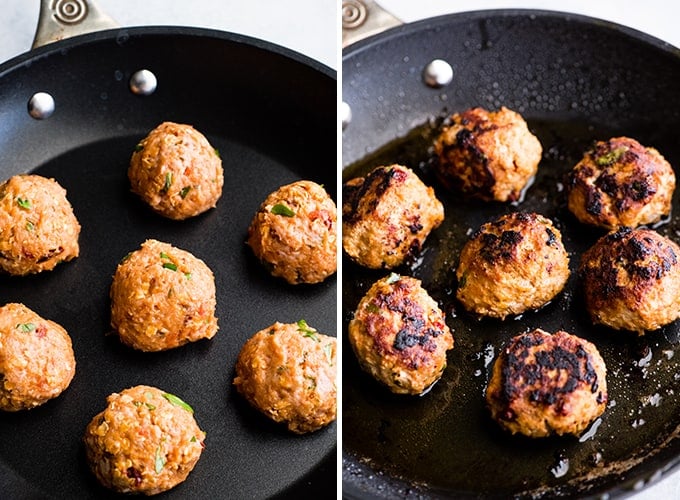 Step 5: Serve!
I recommend serving these turkey meatballs with Rao's Homemade Tomato Basil Sauce (or your favorite flavor variety)! Since we only use 1/2 cup of the sauce in the turkey meatball recipe, use the rest of the jar for serving!
I always have a few jars of Rao's Homemade Sauces on hand to make a quick weeknight meal, like these Italian turkey meatballs! I choose Rao's Homemade because their sauce is the best!
Each of their sauce varieties is slow-cooked in small batches (just like I would do at home), with only a few ingredients! They use only the highest quality ingredients (no tomato blends, paste, water, starches, colors or added sugar), so I feel great about feeding them to my family!
Turkey Meatballs: Serving Suggestions
So many people ask the question, "What should I serve with meatballs?" So here are some suggestions!
How to store turkey meatballs
Store leftovers of these turkey meatballs in an airtight container in the refrigerator for up to 5 days!
How do you freeze turkey meatballs?
To freeze these healthy turkey meatballs follow the recipe and cook with your preferred method (baking or stovetop). Then let them cool to room temperature. Place the baked meatballs on a clean baking sheet and put them in the freezer to "flash freeze" them.
Once the meatballs are frozen, transfer them to an airtight container or ziplock back and store for up to two months!
How to reheat turkey meatballs
To reheat these turkey meatballs remove them from the freezer and place them in a 9×9 or 9×13″ baking dish. Cover with foil and bake at 350 degrees F for 20-30 minutes or until warmed through.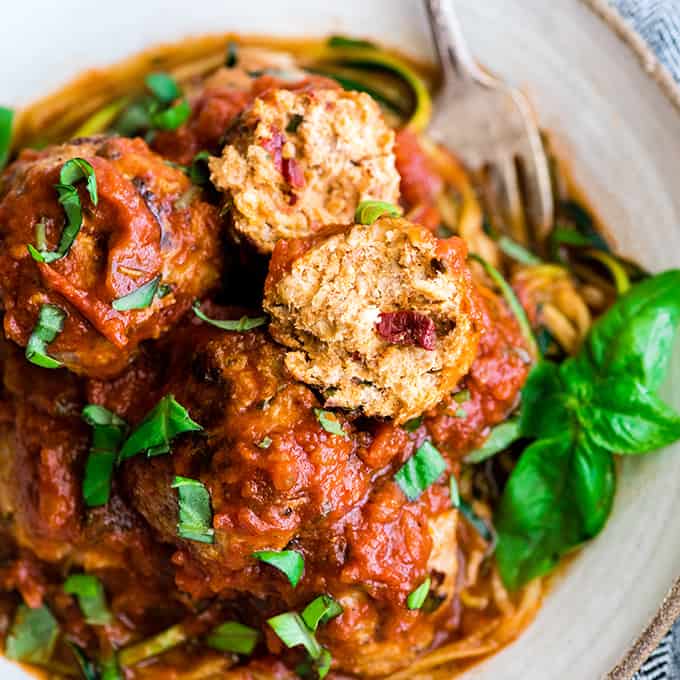 Turkey Meatballs: Ingredients & Substitutions
Ground turkey. This recipe calls for 16 oz of ground turkey! You could substitute ground beef or ground chicken, however turkey will give you the best results!
Egg. There really is no substitute for the egg in this recipe! I don't recommend leaving it out!
Rao's Homemade Tomato Basil Sauce. Use Rao's Homemade for the best flavor! Feel free to choose your favorite variety, Tomato Basil is my preference, but you could use Marinara Sauce, Roasted Garlic Sauce, etc.
Worcestershire Sauce. In a pinch you could substitute BBQ sauce or omit it all together. But I do love the extra flavor the Worcestershire sauce adds!
Garlic Powder. Minced garlic can be used in place of garlic powder! Feel free to add more than this recipe calls for as well if you're a super-garlic lover!
Onion Powder. I use onion powder because I'm cooking for kids! But you could use very finely diced onion if you prefer.
Quick Cooking Oatmeal. The oatmeal is the binder in this turkey meatball recipe. If you don't want chunks of oatmeal in your meatballs, you can absolutely use oat flour by putting the oats into a blender and blending them into oat flour (it takes 5 seconds)! If you'd prefer to use oat flour, you can grind up old-fashioned oats instead of quick-cooking.
Sun-Dried Tomatoes. You can use either sun dried tomatoes that are packed in oil or dried, just be sure to not add too much extra oil. You can also omit these but they are SO good I don't recommend that!
Fresh Basil. Fresh is the best, but dried works in a pinch!
IF YOU MAKE SOMETHING FROM JOYFOODSUNSHINE I WOULD LOVE TO SEE YOUR CREATIONS! DON'T FORGET TO RATE THIS RECIPE AND LEAVE A COMMENT BELOW! ALSO, FOLLOW ALONG WITH ME ON INSTAGRAM, PINTEREST, FACEBOOK, YOUTUBE AND TWITTER FOR MORE RECIPE INSPIRATION AND A GLIMPSE INTO OUR EVERYDAY LIFE!
Turkey Meatballs
These Italian Healthy Turkey Meatballs are flavorful and moist! They're bound together with oatmeal (no breadcrumbs), gluten-free, dairy-free, and very easy to make with only 8 ingredients in under 30 minutes! They can be cooked on the stovetop or baked in the oven! 
Instructions
Make the meatball mixture:
Mix together turkey, egg, Rao's Homemade Tomato Basil Sauce and Worcestershire sauce until mixture is homogenous (uniform throughout).

Add sea salt, pepper, garlic powder and onion powder and stir to combine.

Add oatmeal, sun dried tomatoes and fresh basil and stir until evenly distributed.

Use a cookie scoop and scoop 2 TBS turkey mixture, then roll it with your hands.
To cook on the stovetop:
Add 1-2 TBS olive oil to a nonstick fry pan and turn heat to medium.

Add half of the meatballs (8) and cover.

Cook, covered, on one side for 4-5 minutes or until they are golden-brown.

Remove lid and flip the meatballs. Cook for another 4-5 minutes until meatballs are golden brown and the internal temperature is 160 degrees F.
To cook in the oven:
Preheat oven to 400 degrees F.

Place turkey meatballs on a greased baking sheet evenly spread out.

Bake in preheated oven for 15 minutes, flipping once halfway through. Meatballs should reach an internal temperature of 160 degrees F.
To serve:
Add Rao's Homemade Tomato Basil Sauce to the meatballs and warm either in the skillet or in the pan in the oven.

Serve over zucchini noodles or your favorite pasta!
Nutrition
Serving:
1
meatball
Calories:
62.2
kcal
Carbohydrates:
3.1
g
Protein:
6.5
g
Fat:
2.8
g
Saturated Fat:
0.8
g
Polyunsaturated Fat:
0.1
g
Monounsaturated Fat:
0.2
g
Cholesterol:
31.6
mg
Sodium:
157.8
mg
Potassium:
36.2
mg
Fiber:
0.5
g
Sugar:
1
g
Vitamin A:
45
IU
Vitamin C:
0.6
mg
Calcium:
5
mg
Iron:
0.7
mg
Here are a few more delicious ground turkey recipes:
This post contains affiliate links, which means that if you purchase a product through a link you clicked on here, I receive a portion of the sale. Thank you for supporting JoyFoodSunshine!