Homemade Sweet Potato Baby Food
Posted Sep 13, 2017, Updated Dec 21, 2022
Easy homemade sweet potato baby food puree. This Sweet Potato Baby Food Recipe has only two ingredients, sweet potatoes and water! Making your own baby food is less expensive, tastier, and more nutritious than store-bought varieties!
I am always a bag of mixed emotions once I begin feeding my babies solid foods. On the one hand, it's so fun to introduce our kids to new foods and experiences, but on the other, it's just another reminder of the irreversible passing of time. Sigh.
I wrote about introducing solid foods – don't forget ot keep eating these lactation cookies when you start! and have shared some of my baby food recipes. I want to help take the guesswork out of feeding your babies and show you just how easy it is to make your own baby food at home, starting with this Homemade Sweet Potato Baby Food Recipe.
When my first baby was ready to eat solids I did a ton of research before I started. So I'm hoping that my experiences with 6 kids can help all of you moms out there! I usually start by feeding my babies sweet potato puree!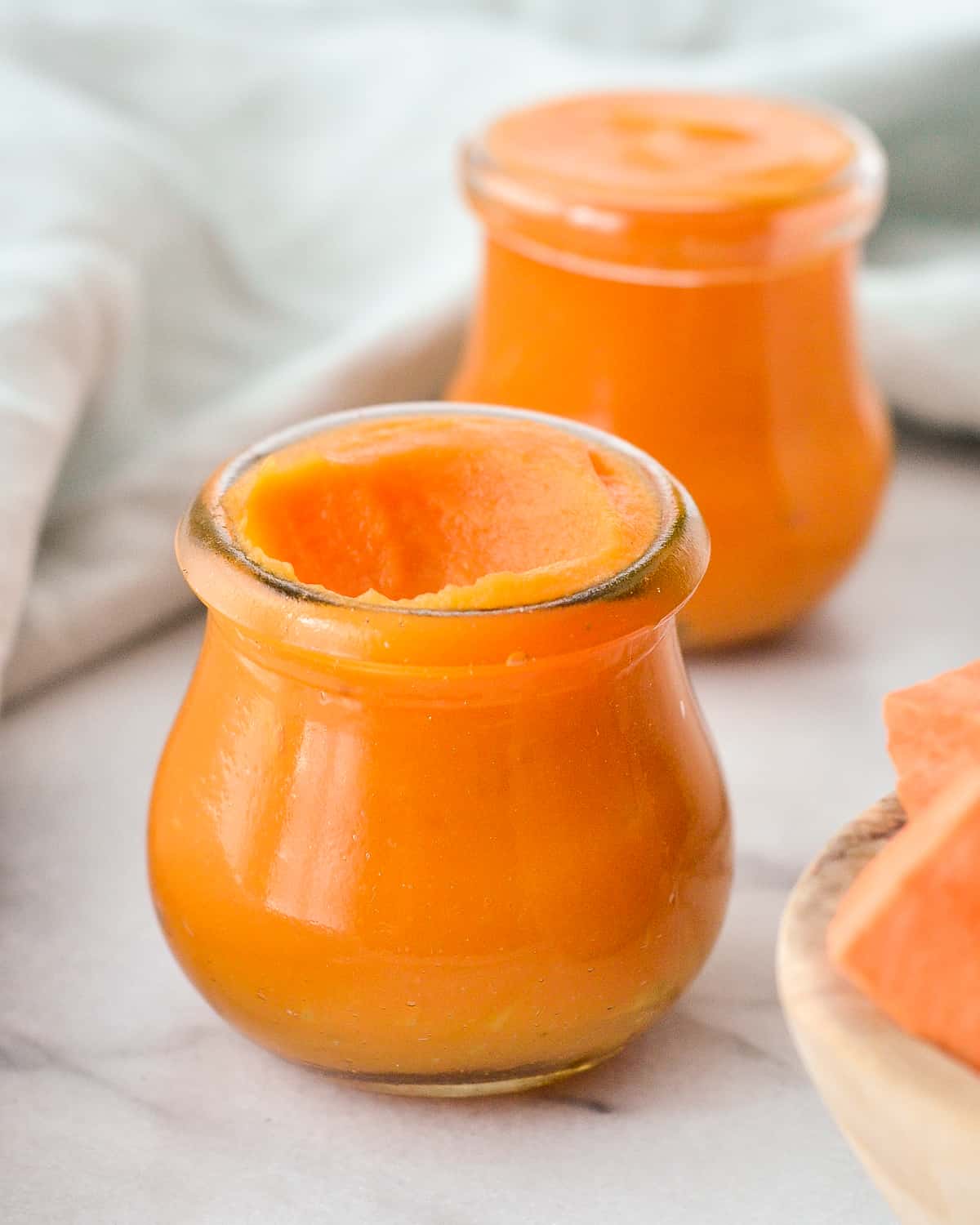 How to make Sweet Potato Baby Food
Making homemade baby food is really simple. To make baby food sweet potatoes begin by cooking the potatoes, then add water, blend and store.
Cook the potatoes
There are a few way to prepare sweet potatoes to make baby food.
Roast. Wrap the sweet potatoes in foil and bake them until they are soft. Then open up the foil to let the potatoes cool.
Crockpot. With my last baby I started cooking the sweet potatoes in my crockpt and it is now my favorite method. Put about a fourth of a cup of water in the bottom of the crockpot and then add as many sweet potatoes as you'd like. Then let them cook on high until they are soft (2-4 hours depending on the size of your potatoes). Remove and let them cool slightly.
Boil. You can also peel and boil the sweet potatoes until they are fork-tender.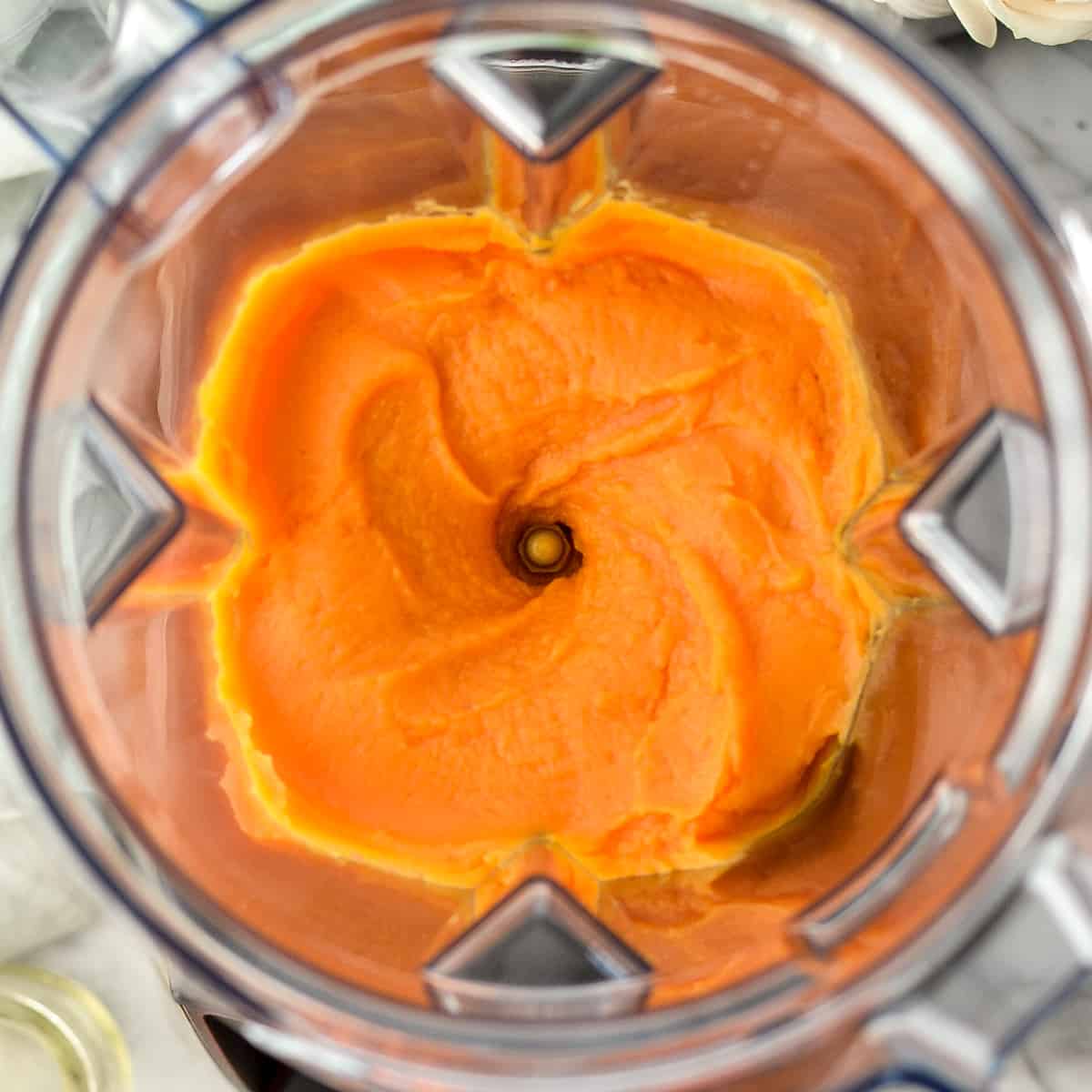 Add Water & Blend
Add water and blend/process for about 60 seconds. Check the consistency, scrape the sides and blend longer or add more water if necessary. At this point your food is ready to feed your baby! However, I like to save a small portion for now, and then store the rest for future feedings.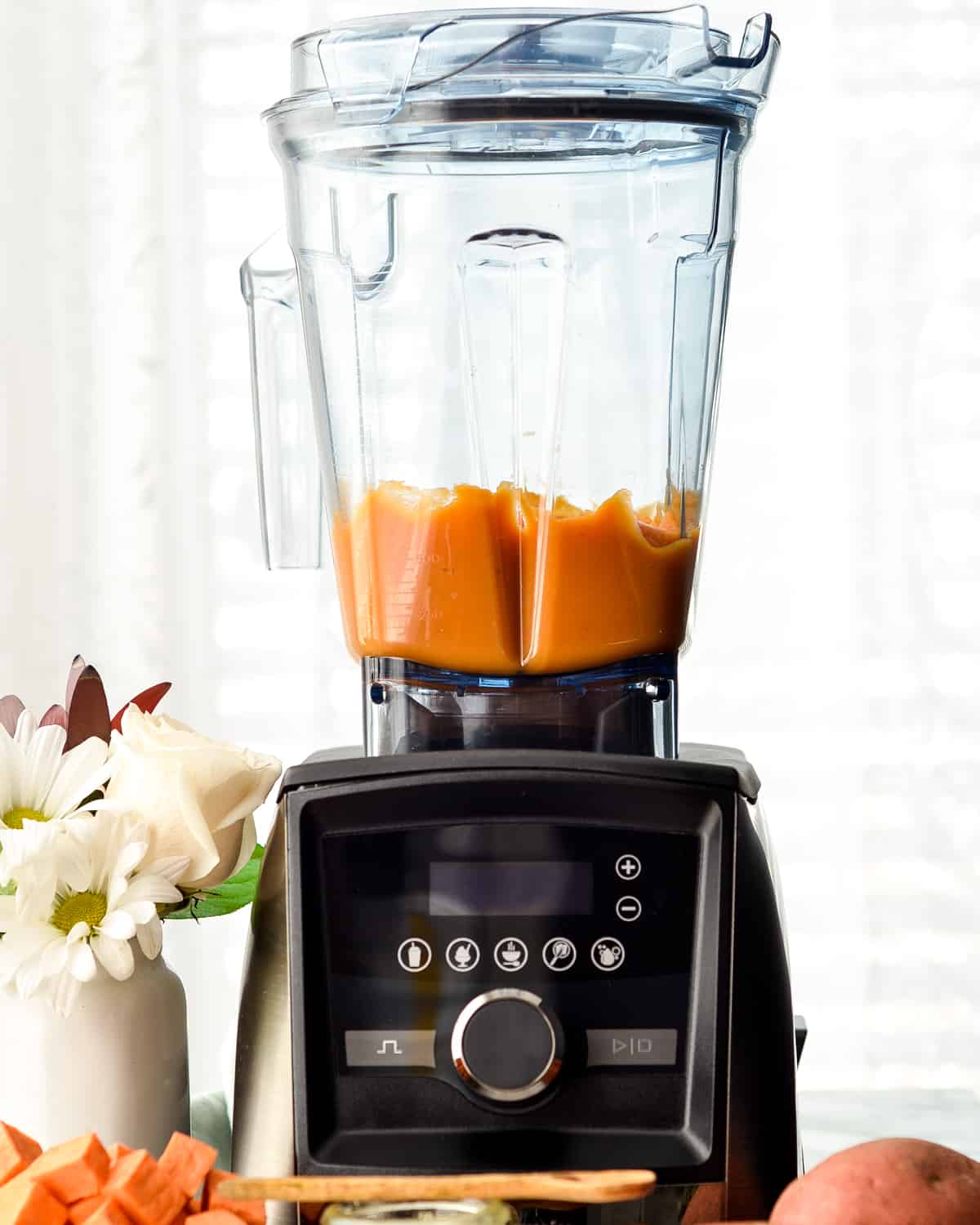 How to Freeze Sweet Potato Baby Food
To keep baby food fresh longer this, scoop the puree in 1 or 2 TBS portions into the wells of a silicone ice cube tray or individual silicone brownie pan. I have used regular ice cube trays in the past, but it's much easier to remove the food cubes from molds made of silicone!
Once the pan or tray is full, pop it in the freezer and wait for the cubes to freeze completely.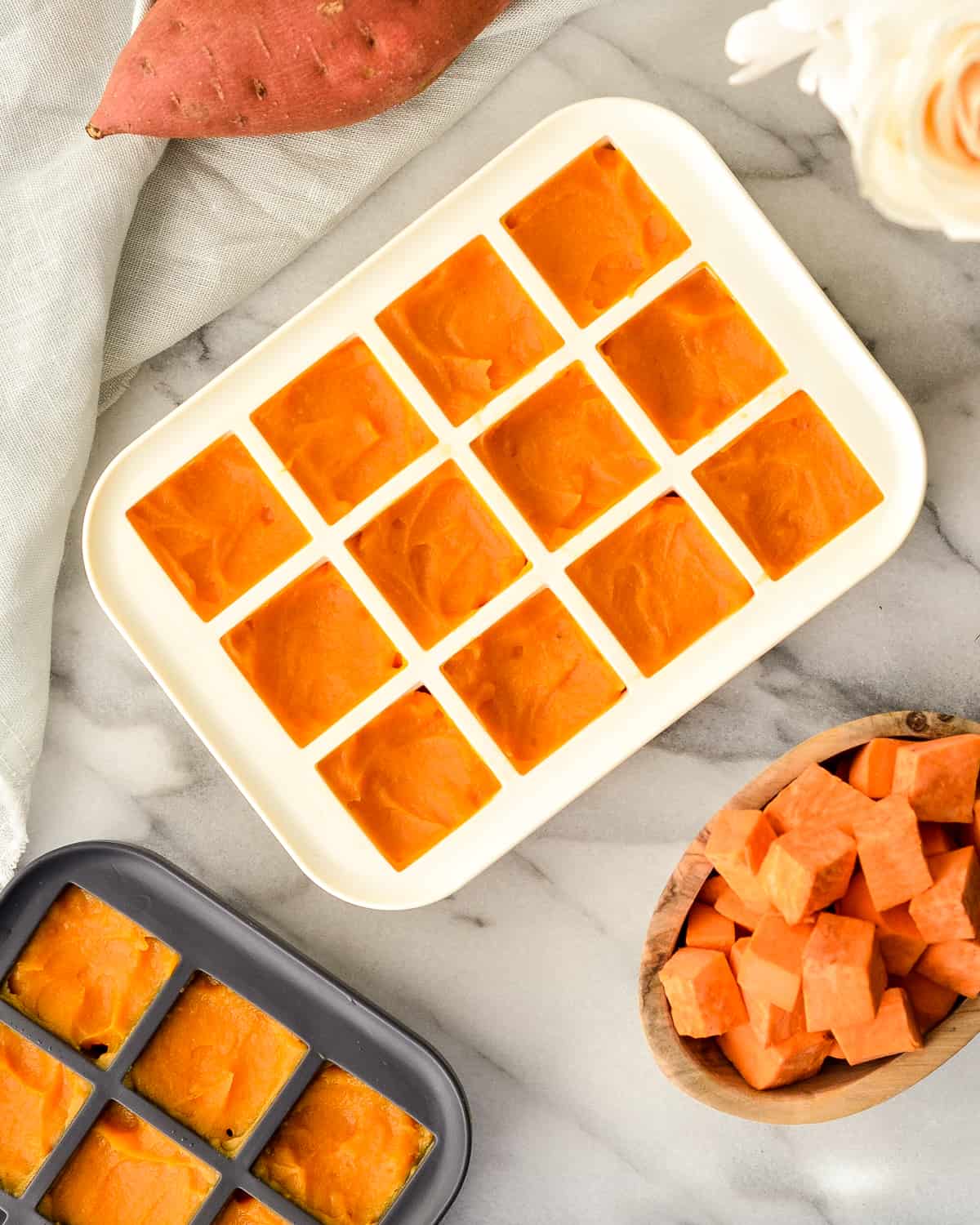 Store the Frozen Sweet Potato Baby Food
Once the puree is frozen, remove the cubes of Homemade Baby Food Sweet Potatoes from the molds and transfer them to an airtight container or a freezer-friendly plastic bag.
Warming up the Sweet Potato Baby Food from frozen
When it's mealtime, simply remove the desired number of cubes from the freezer and heat them in the microwave on high for 30 seconds per cube.
Important: be sure to test the temperature of the puree before feeding it to your baby! You might need to let it cool slightly after heating it!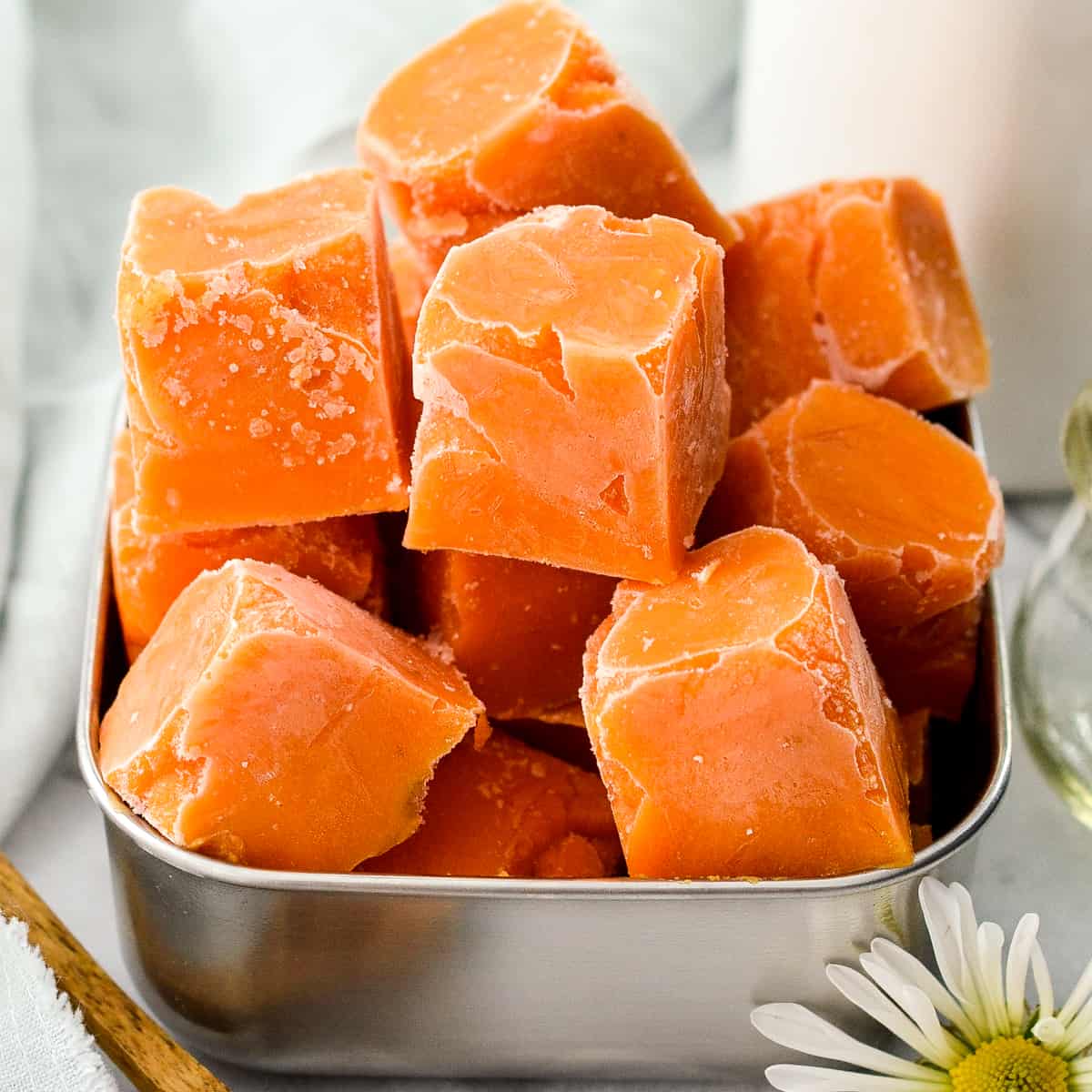 Sweet Potato Baby Food Recipe FAQs
Is sweet potato good for babies?
Yes, sweet potatoes are nutritional powerhouses. They contain fiber, Vitamin A, Vitamin C, and potassium.
When can babies eat sweet potatoes?
Babies can eat cooked and pureed sweet potatoes as early as 4 month of age. Remember, breastmilk and formula is still the main source of nutrition for your baby so I suggest nursing first, then feeding solids during mealtime.
Can 5 month old baby eat sweet potato?
Yes, a 5 month old baby can eat sweet potatoes that have been cooked and pureed.
Can my baby eat sweet potato everyday?
Yes. Make sure to slowly add more solid foods to your baby's diet. But if sweet potatoes every day is part of a balanced diet for your baby then that is ok.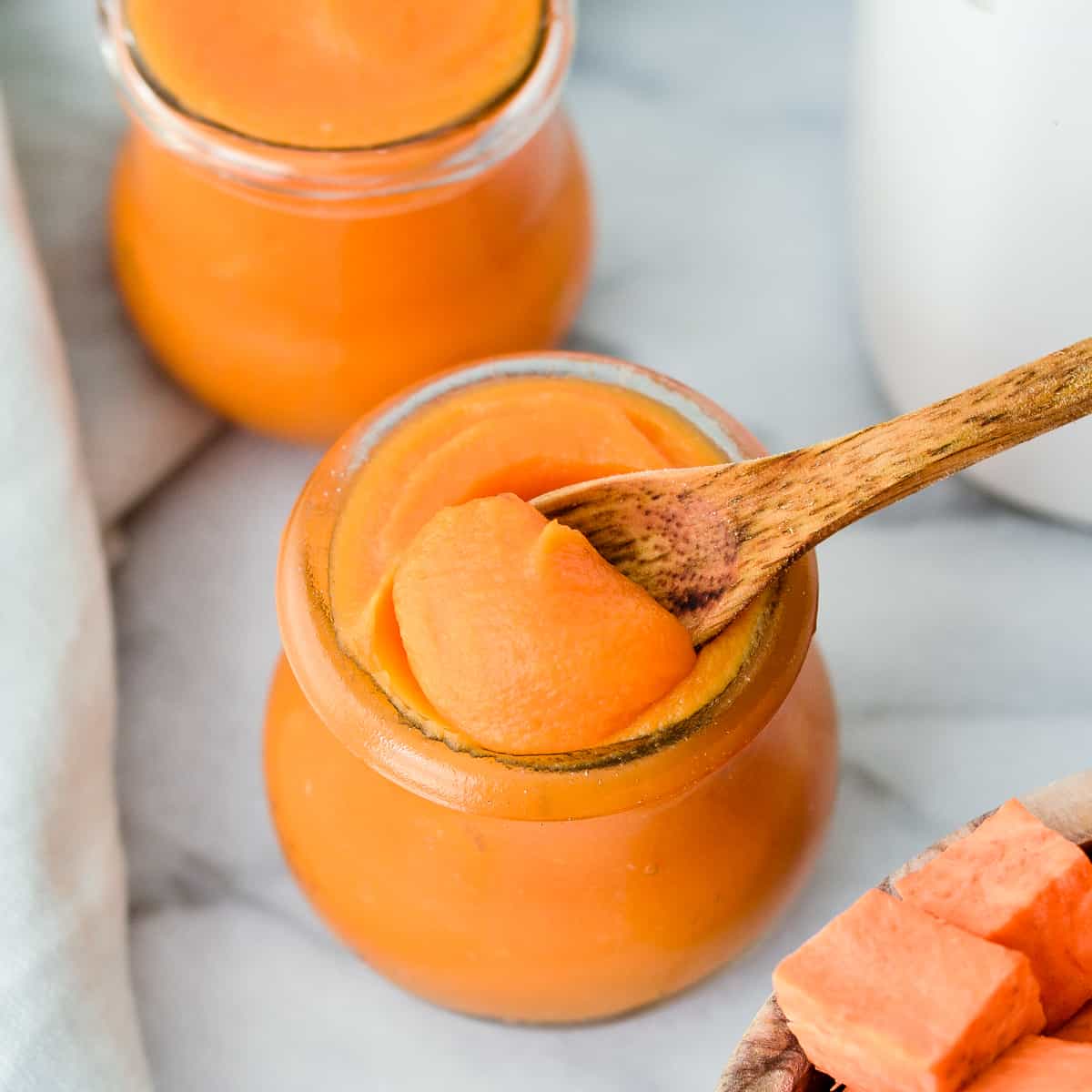 If you make and love our recipes, it would mean so much to me if you would leave a comment and rating! And don't forget to follow along with us on Instagram, Pinterest, Facebook, and Youtube – be sure to tag @joyfoodsunshine and use the hashtag #joyfoodsunshine so we can your creations!
Sweet Potato Baby Food
Easy homemade sweet potato baby food puree. This recipe has only two ingredients, sweet potatoes and water! Making your own baby food is less expensive, tastier, and more nutritious than store-bought varieties!
Ingredients
2

lbs

sweet potatoes

1/4-1/2

cup

water
Instructions
Preheat your oven to 425 degrees F.

Thoroughly wash your sweet potatoes.

Wrap each sweet potato individually with aluminum foil.

Place your sweet potatoes on a pan and put them in the oven.

Bake for 1 to 2 hours, or until potatoes are soft to the touch.

Remove potatoes from foil and let cool.

Scoop out insides and place in a

blender (Vitamix)

or food processor with 2 TBS water.

Blend until smooth, adding more water if necessary.

Remove squares from the pan and place in a plastic bag labeled "sweet potatoes."
Notes
To feed to your baby just reheat the desired number of squares in the microwave for 1 minute (then let cool to a palatable temperature for your baby)! You can also let sit in the fridge or at room temperature to thaw. But who has time for that?
Nutrition
Serving:
2
TBS
|
Calories:
16.2
kcal
|
Carbohydrates:
3.7
g
|
Protein:
0.4
g
|
Sodium:
6.5
mg
|
Potassium:
85.5
mg
|
Fiber:
0.6
g
|
Sugar:
1.2
g
|
Vitamin A:
1080
IU
|
Vitamin C:
3.5
mg
|
Calcium:
6
mg
|
Iron:
0.2
mg
Nutrition information is automatically calculated, so should only be used as an approximation.
Did you enjoy this recipe? Have a question? Leave a comment below!
3 Reasons you should make your own baby food:
It is cost effective.
You know exactly what you are feeding your baby.
Homemade baby food tastes worlds better than store-bought!
It's cheaper
Let's start by discussing cost. One pound of organic sweet potatoes costs $0.98 on sale, which yields about 20 TBS of food (10 oz). One 2.5 oz jar of organic sweet potato baby food is $1.00. Which means that jarred sweet potatoes are 4 times more expensive than Homemade Sweet Potato Baby Food! Over the handful of months that your baby will eat purees, the savings is huge.
Real Ingredients
There are two ingredients in this recipe, sweet potatoes and water. That's it. No fillers, no stabilizers, no preservatives, no food dyes. Just nature's best root veggie roasted to sweet perfection and blended until it's silky smooth!
Taste
Have you ever been to a baby shower and played the game "guess the baby food?" Yuck.
True story: When Bethany was 10 months old we went on vacation. I made a few things in our condo…these Homemade Baby Food Sweet Potatoes actually, and I kept bananas on hand. However, I had to buy a few jars for our trip. Bethany loved homemade peas, but when I gave her the first spoonful of the jarred variety she cried. She wasn't a picky kid at all, so I tasted them and oh man were they awful! Truly nothing beats homemade!
I know what you're thinking, "But I don't have time to make my own baby food."
I get it, but making this Sweet Potato Baby Food (and all other baby food varieties) is simple and fast!
I promise you will learn to love making food for your baby! This Homemade Sweet Potato Baby Food is the perfect recipe to start with because sweet potatoes are a favorite food of babies everywhere, so your little one is sure to love them!
This post contains affiliate links, which means that if you purchase a product through a link you clicked on here, I receive a portion of the sale. Thank you for supporting JoyFoodSunshine!