These are the BEST Healthy Breakfast Bars ever! I have eaten one every day for over a decade (seriously)! This easy recipe is made in one bowl in 30 minutes, and is loaded with fiber, protein & omega-3s to keep you full all morning long! Plus they're gluten-free, dairy-free, refined sugar free and vegan!
When I decided to start a blog over three years ago, I knew right away that this would be my very first post. These Healthy Breakfast Bars have been my constant companion for the last 12 years are are, hands down, my favorite recipe of all time. So I gave it a little facelift and added a video, to be sure that it gets all the love it deserves! <3
These breakfast bars gave me energy through my career as a high school chemistry teacher. They helped me grow all the necessary parts of our very first tiny little human…and the second…and the third...and the fourth...and the fifth....
These healthy oatmeal breakfast bars sustained me as we moved across the country away form all our friends and family. Every night when my head hits the pillow and I close my eyes, I know one of these beauties will be waiting for me when I wake up. I love them. Truly I do.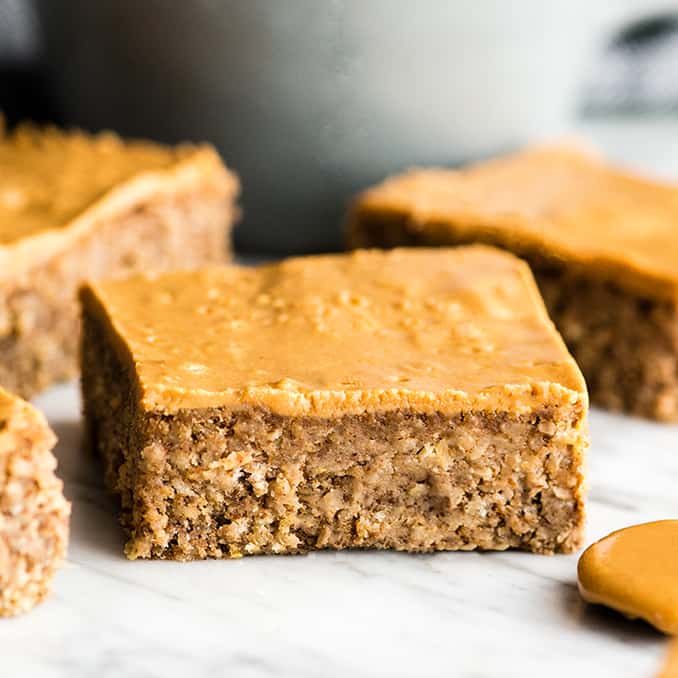 I am a creature of habit. I eat one of these peanut butter oatmeal breakfast bars every.single.morning with my favorite green smoothie. People don't understand me. "Don't you get tired of eating the same thing?" They ask. "Wouldn't you rather mix it up?" They say.
No, I don't believe I would. But I am grateful for your concern about my lack of breakfast-food variety. 😉
I have tried mixing it up in the mornings, but it's no use. I find myself wishing I had just eaten one of these breakfast bars. So if it ain't broke I won't fix it and I'll just keep on keeping on.
I mean, what's not to love?!, these breakfast bars are full of fiber, protein, potassium, omega-3s, and are SO delicious. They are gluten, dairy AND refined sugar free, but they are hearty enough to keep you full for hours. AND they're easy to make! To me, they are perfect.
How do you make healthy Breakfast Bars?
Since I have made this breakfast bar recipe every week for 12 years now, I'm pretty sure I could make them in my sleep! However, in order to be helpful I want to walk through all the steps in this recipe for you!
Step 1: Mix wet ingredients
To make these breakfast bars in one bowl, start by mashing the banana. I use a potato masher, but a fork would work as well!
Then add the rest of the ingredients and stir until the mixture is uniform throughout!
Step 2: Add the dry ingredients and mix
Next, add all the dry ingredients to the wet mixture and stir to combine.
As you can see, the final mixture should NOT be runny. It should be moist but not at all liquidy.

Step 3: Bake for 20 minutes
This healthy breakfast bars recipe requires two stints of baking. First, bake the breakfast bars naked (without any peanut butter on top) for 20 minutes.
The top should be slightly firm when the breakfast bars are removed from the oven. Since all ovens are different your baking time may vary slightly. However, it is important that the top isn't mushy and that you can spread peanut butter around on it without it becoming a mess!
Step 4: Remove from oven & spread peanut butter on top
After 20 minutes of baking, remove the oatmeal breakfast bars from the oven and spread a layer of peanut butter on top. The amount you use will depend on your taste.
I enjoy a super thick layer of peanut butter, so I use about ¼ to ½ cup. Use as much or as little as you'd like!
Step 5: Bake for an additional 10 minutes
Return the breakfast bars topped with peanut butter to the oven for 10 more minutes. This step sets the peanut butter and finishes baking the bars.
As you can see, the final product will have nice little sinkholes of peanut butter on top! YUM!
Step 6: Cool overnight
These breakfast bars are best served cold. I always make them the day before I want to eat them and let them cool in the refrigerator overnight.
I have eaten them warm when I didn't have my act together and they're still good, but not as good if catch my drift!
Step 7: Cut & Enjoy or Store for later!
Finally, once the breakfast bars have cooled in the pan overnight, cut them into squares and enjoy! Or you can cut them and save them for later! I always cut them into 9 breakfast bars, because it's the perfect size breakfast for me to enjoy with a green smoothie.
How do you store breakfast bars?
To store these breakfast bars, simply cut them and put them in an airtight container in the refrigerator. If you think it will be over a week before you finish them all, I recommend wrapping them individually in plastic wrap and then putting them in an airtight container.
How long do breakfast bars last?
If stored in an airtight container in the refrigerator these breakfast bars will last for up to one week!
Healthy Breakfast Bars: Ingredients & Substitutions
I get a lot of questions about possible substitutions for this breakfast bar recipe, so let's chat about them now! A great thing about these Peanut Butter Breakfast Bars is that they're super versatile and highly customizable!
Quick Cooking Oats. quick cooking oatsThese breakfast bars have the best texture when they're made with . However, you can use old-fashioned oats instead just understand they will be a little chewier with a more chunky texture. I do NOT recommend using steel cut oats in this recipe.
Almond flour/meal: I love putting almond meal in these breakfast bars for the added protein. In this recipe almond flour and almond meal both work equally well! If you are allergic to almonds you may substitute ½ cup of extra quick-cooking oats in place of the almond meal. Almond flour also works well in this recipe!
Ground Flaxseed: You may substitute ½ cup of almond meal or extra oats in place of the ground flaxseed!
Protein Powder: This is a completely optional ingredient! I love using Orgain Vanilla Protein Powder for a little flavor and protein boost, but you can omit it entirely if you don't keep this ingredient on hand!
Honey: Honey is my favorite liquid sweetener to use in this breakfast bar recipe, and pure maple syrup (which is a great vegan substitution), comes in a close second. Really, any liquid sweetener can be substituted for honey. You also may use an extra banana or an extra ¼ cup of applesauce instead if you'd prefer a less-sweet, sugar free option!
Peanut Butter: I usually use two types of peanut butter when I make this recipe. For the bars themselves I use a natural creamy peanut butter. For the top I like to use a mixture of a natural peanut butter and one that is more firm. This is totally personal preference, I just like the way the top tastes with two different varieties! Feel free to substitute any creamy nut or seed butter of your choice, however peanut butter is my favorite!
IF YOU MAKE SOMETHING FROM JOYFOODSUNSHINE I WOULD LOVE TO SEE YOUR CREATIONS! DON'T FORGET TO RATE THIS RECIPE AND LEAVE A COMMENT BELOW! ALSO, FOLLOW ALONG WITH ME ON INSTAGRAM, PINTEREST, FACEBOOK, YOUTUBE AND TWITTER FOR MORE RECIPE INSPIRATION AND A GLIMPSE INTO OUR EVERYDAY LIFE!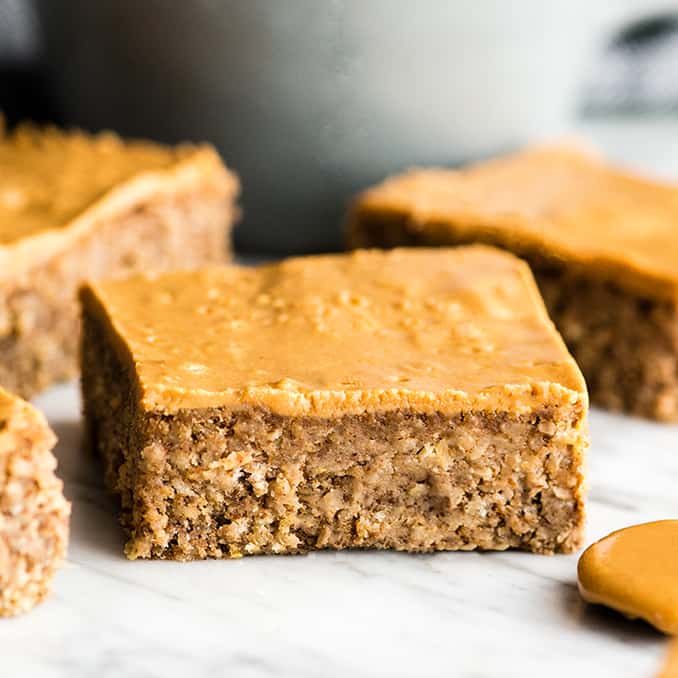 Healthy Breakfast Bars Recipe
These are the BEST Healthy Breakfast Bars ever! I have eaten one every day for over a decade (seriously)! This easy recipe is made in one bowl in 30 minutes, and is loaded with fiber, protein & omega-3s to keep you full all morning long! Plus they're gluten-free, dairy-free, refined sugar free and vegan!
Instructions
Preheat oven to 350 degrees F. Grease an 8x8 square baking dish

In a small bowl combine the dry ingredients (oats, almond meal, flaxseed, salt, cinnamon and protein powder if using), set aside. (alternately add the dry ingredients after mixing the wet ingredients).

In a large bowl mash the banana. Add applesauce, honey, ¼ cup peanut butter and vanilla. Mix well.

Stir dry ingredients into wet until combined. Spread mixture into the pan (should be moist but NOT soupy).

Bake 20 minutes (should be slightly brown around the edges and top should be set), remove from oven and spread peanut butter over the top of the bars (I like a really thick layer of peanut butter but it's to your own preference)

Continue baking for 10 minutes more or until firm and lightly browned around the edges. At this point the peanut butter layer will have tiny little bubbles in it.

Cool completely in the refrigerator and cut into 6 or 9 bars. Wrap each with plastic wrap and store in an airtight container in the fridge for a quick grab and go breakfast!
Nutrition
Calories:
247.1
kcal
Carbohydrates:
29.1
g
Protein:
11
g
Fat:
12.2
g
Potassium:
113.7
mg
Fiber:
7.9
g
Sugar:
9.6
g
Vitamin C:
3.7
mg
Calcium:
40
mg
Iron:
2
mg
This recipe was originally published on January 26, 2016 as the first post on JoyFoodSunshine! It has been updated with new photos, a video and step-by-step instructions, but the recipe remains unchanged!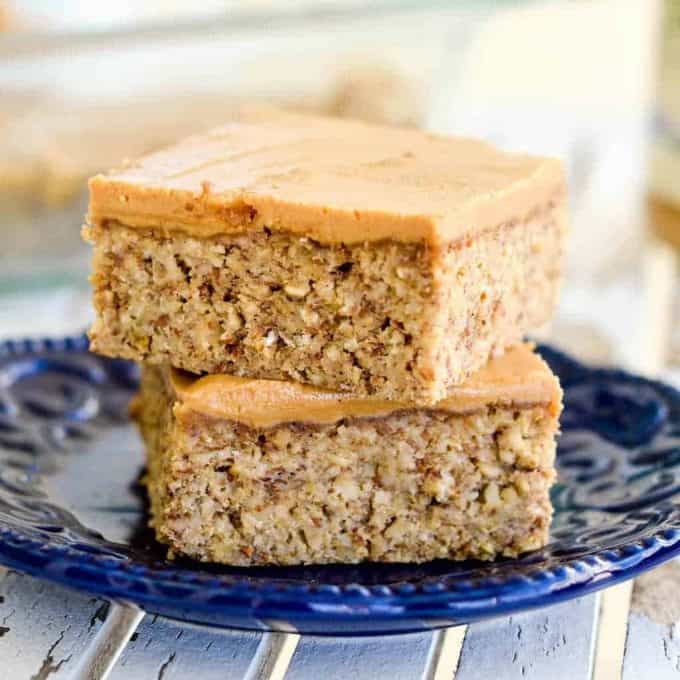 Dear breakfast bars, to me, you are perfect.
Love, Laura.
This post contains affiliate links, which means that if you purchase a product through a link you clicked on here, I receive a portion of the sale. Thank you for supporting JoyFoodSunshine!