This Zucchini Smoothie Recipe is the perfect way to use the abundance of zucchini growing in your garden this summer! It's made with only 7 ingredients and comes together in less than 5 minutes! Plus it's gluten-free, dairy-free, paleo and vegan with no added sweeteners!
We picked the first zucchini from our garden this week...which means only one thing...zucchini season has finally arrived!
If you've been around here for a while, then you know I adore zucchini and put it in just about everything. From muffins to cookies to fritters to pasta sauce and everything in between. Zucchini is, hands down, my favorite sneaky veggie.
And since smoothies are my favorite breakfast, I thought it was about time that I shared a Zucchini Smoothie recipe with you!
This Zucchini Smoothie with Spinach is a great way to use up the abundance of zucchini growing in your garden this summer! It's super healthy, loaded with protein and nutrients, and tastes like a yummy vanilla & cinnamon milkshake!
Even my kids enjoyed this zucchini smoothie, and they can be picky about ingesting green liquids. 😉 It's paleo, vegan, dairy-free and contains no added sweeteners!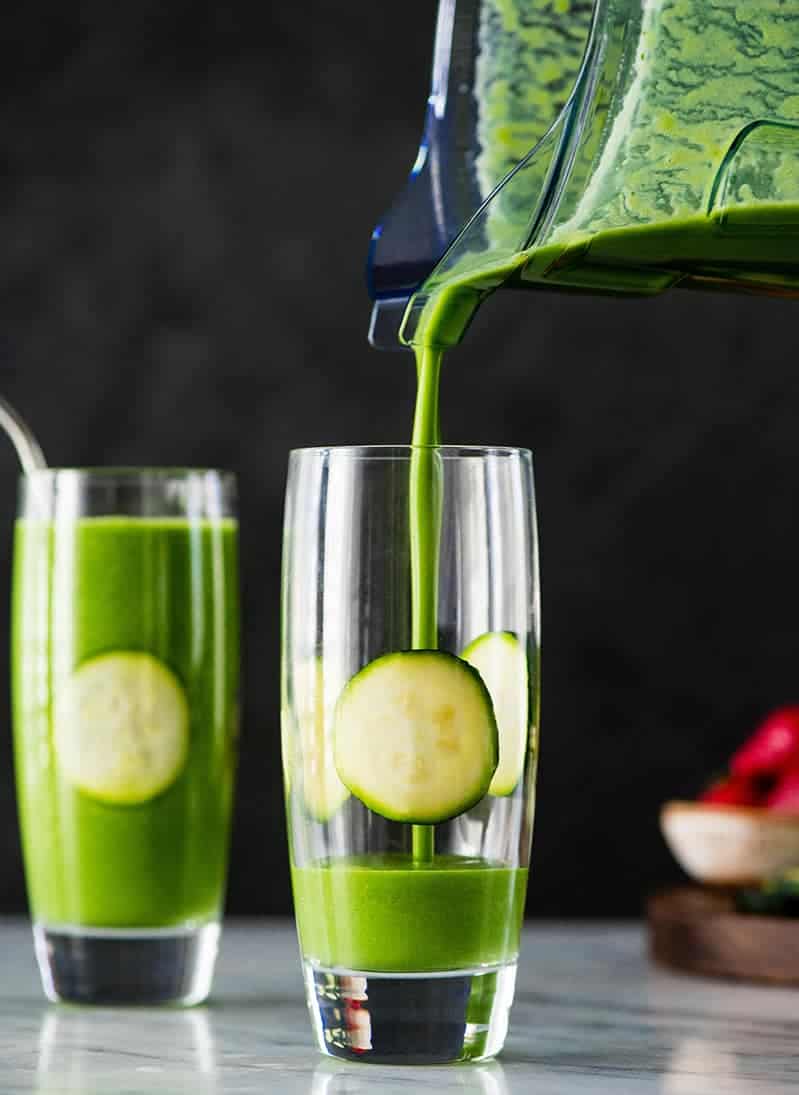 How to make a Zucchini Smoothie:
This recipe is SO easy to make! Simply toss everything in your blender and let it do the work. But here area few notes to ensure your zucchini smoothie making success!
Use a Vitamix. You've known me long enough to understand that I do not recommend any blender other than the Vitamix. If you want ultra smooth, totally delicious vegetable smoothies that you don't have to chew (yuck), the Vitamix is the only way to go.
Use Frozen Fruits/Vegetables. If you like super cold, creamy, thick smoothies then I suggest storing your greens and bananas in the freezer! Using frozen fruits and vegetables results in an ultra-creamy consistency without adding ice, which can water down the flavor.
Drink immediately. This smoothie is best enjoyed right away!
FAQs about making Vegetable Smoothies!
What are the benefits of drinking green smoothies?
I drink a green smoothie every single day. Even when we travel I try to find a local smoothie place to get my AM fix! There are so many reasons I love them, here are a few...
Green smoothies are literally LOADED with nutrients! For example, this zucchini smoothie recipe is rich in potassium, Vitamin A, Vitamin B-6, Vitamin C, Vitamin D, Vitamin E, Calcium, Folate, Iron, Magnesium, Manganese, and Riboflavin (to name a few)
And protein. Using protein powder in this recipe makes every serving have a whopping 12 g! I don't know about you, but I'm always trying to add more protein to my diet!
Smoothies increase energy. Because of their nutritional benefits, you will find that drinking green smoothies helps give you an energy boost!
Sneaky Veggies! This might be one of my favorite benefits of making and drinking green smoothies! You get a hefty dose of veggies in the form of a delicious shake!
How do you make a good vegetable smoothie?
I think the secret is adding other ingredients to make it nice and creamy. I have found that too often, some of my green smoothie experiments turn out icy and not very tasty. To make an amazing vegetable smoothie I recommend adding one or more of the following ingredients....
A creamy, sweet fruit, like banana.
Protein Powder
Nut Butters
What kind of vegetables are good for smoothies?
The great thing about green smoothies is that they are very versatile! Some of my favorite vegetables to use in recipes like this zucchini smoothie are:
Spinach
Kale
Zucchini
Carrots
Cucumber
Beets
Celery
Sweet Potatoes
Can you make a smoothie in advance and save it in the fridge?
Technically, yes. But I don't recommend it. I personally thing that green smoothies are the best when consumed within 10 minutes of making them!
Zucchini Smoothie: Ingredients & Substitutions
One of the great things about vegetable smoothies is that they are so versatile! Here are a few notes about the ingredients in this Zucchini Smoothie Recipe!
Almond milk. I am never without unsweetened almond milk! It's my favorite base for smoothies because it's low in calories but not in flavor! Feel free to substitute your favorite non-dairy or regular dairy milk in this recipe!
Zucchini. I used fresh, shredded zucchini in this recipe! if you're not a fan of zucchini, I recommend trying one of these green smoothie recipes instead (here, here, here, or here)!
Spinach. Any greens work well in this recipe! I have used half spinach half kale with great results!
Banana. If you watch the video you will see I didn't add banana to this version that I shot (WHOOPS lol). That was a total mistake when filming this recipe. It still tasted amazing, but I do love the extra sweetness and creaminess the banana adds (especially when it's frozen).
Protein Powder. OrgainVanilla Bean protein powder is my all-time favorite plant-based protein powder. I use it in so many recipes, and it has a permanent home in my pantry. I recommend using the for this recipe! Feel free to substitute your favorite protein powder!
IF YOU MAKE SOMETHING FROM JOYFOODSUNSHINE I WOULD LOVE TO SEE YOUR CREATIONS! DON'T FORGET TO RATE THIS RECIPE AND LEAVE A COMMENT BELOW! ALSO, FOLLOW ALONG WITH ME ON INSTAGRAM, PINTEREST, FACEBOOK, YOUTUBE AND TWITTER FOR MORE RECIPE INSPIRATION AND A GLIMPSE INTO OUR EVERYDAY LIFE!
Zucchini Smoothie Recipe
This Zucchini Smoothie Recipe is the perfect way to use the abundance of zucchini growing in your garden this summer! It's made with only 7 ingredients and comes together in less than 5 minutes! Plus it's gluten-free, dairy-free, paleo and vegan with no added sweeteners!
Instructions
Place the ingredients in the order listed in the container of your Vitamix Blender (or other high-powered blender).

Blend, starting on low speed and increasing to high.

Blend on high for 30-50 seconds or until the mixture is smooth.

(Alternately, use the smoothie program).

Pour the zucchini smoothie into two glasses and enjoy immediately!
Nutrition
Serving:
1
cup
Calories:
137.2
kcal
Carbohydrates:
17.3
g
Protein:
12.5
g
Fat:
3.8
g
Polyunsaturated Fat:
0.4
g
Monounsaturated Fat:
1.1
g
Sodium:
205
mg
Potassium:
540
mg
Fiber:
5.5
g
Sugar:
4.7
g
Vitamin A:
2805
IU
Vitamin C:
14.1
mg
Calcium:
370
mg
Iron:
3.2
mg
This post contains affiliate links, which means that if you purchase a product through a link you clicked on here, I receive a portion of the sale. Thank you for supporting JoyFoodSunshine!