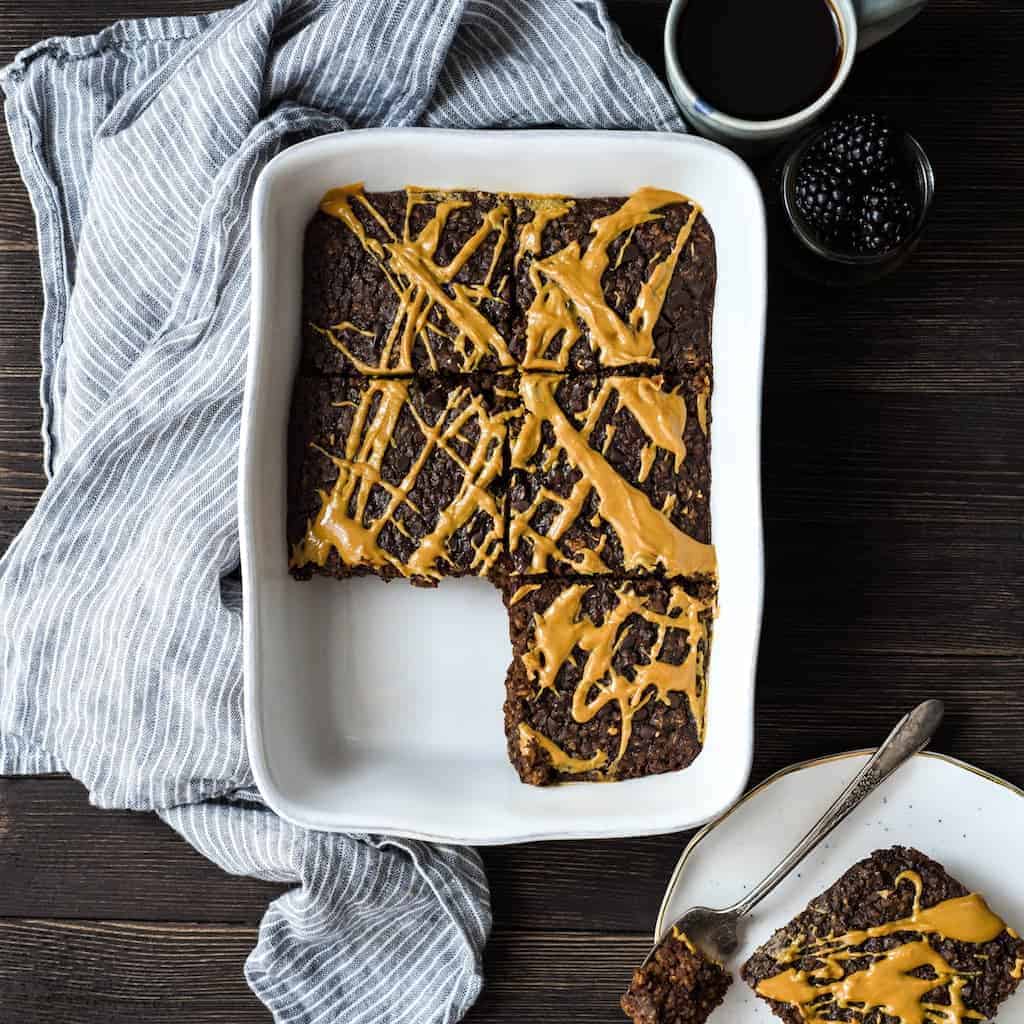 Happy 2018! I'm so thankful to be here with you all for another year, sharing delicious recipes from my kitchen to yours!
In true JoyFoodSunshine fashion we're going to start the year of right with this Healthy Chocolate Peanut Butter Baked Oatmeal! This is a delicious make-ahead breakfast recipe that tastes like dessert! I mean seriously, it's like a peanut butter cup and a brownie got together and made the best breakfast ever!
However, also in true JoyFoodSunshine fashion this Healthy Chocolate Peanut Butter Baked Oatmeal recipe is not only delicious but it's also nutritious!  It's gluten, dairy & refined sugar free and vegan-friendly! It's also incredibly hearty, and is a perfect make-ahead breakfast recipe!
This recipe tastes like a gooey brownie but is actually a hearty healthy way to start the day! When I let Gabe sneak a taste of this Healthy Chocolate Peanut Butter Baked Oatmeal he exclaimed, "This is breakfast?! It tastes like dessert!!!!" That's how I do mornings folks! Because why not have "dessert" for breakfast?!
I know you all love baked oatmeal, and for good reason! It's so versatile, healthy and easy to make! Plus, I am all about baking once and enjoying the fruits of my labor all week long! This version is always a favorite, and you can't forget to give this one or this one a try either!
Healthy Chocolate Peanut Butter Baked Oatmeal: Method 
This is another simple recipe that doesn't really need much explanation about the way it's made! However, as always, here are a few tips to ensure your culinary success!
Warm peanut butter. I used Crazy Richards, which only has one ingredient – peanuts! This means that it's super smooth and easy to stir into the rest of the ingredients. If you are using a firmer peanut butter I recommend gently warming it before mixing it into the rest of the wet ingredients! 
Vegan version. If you want to make this recipe vegan you will need to make your own flax or chia "egg." Be sure to mix this together before doing any of the other steps so that it has time to gel!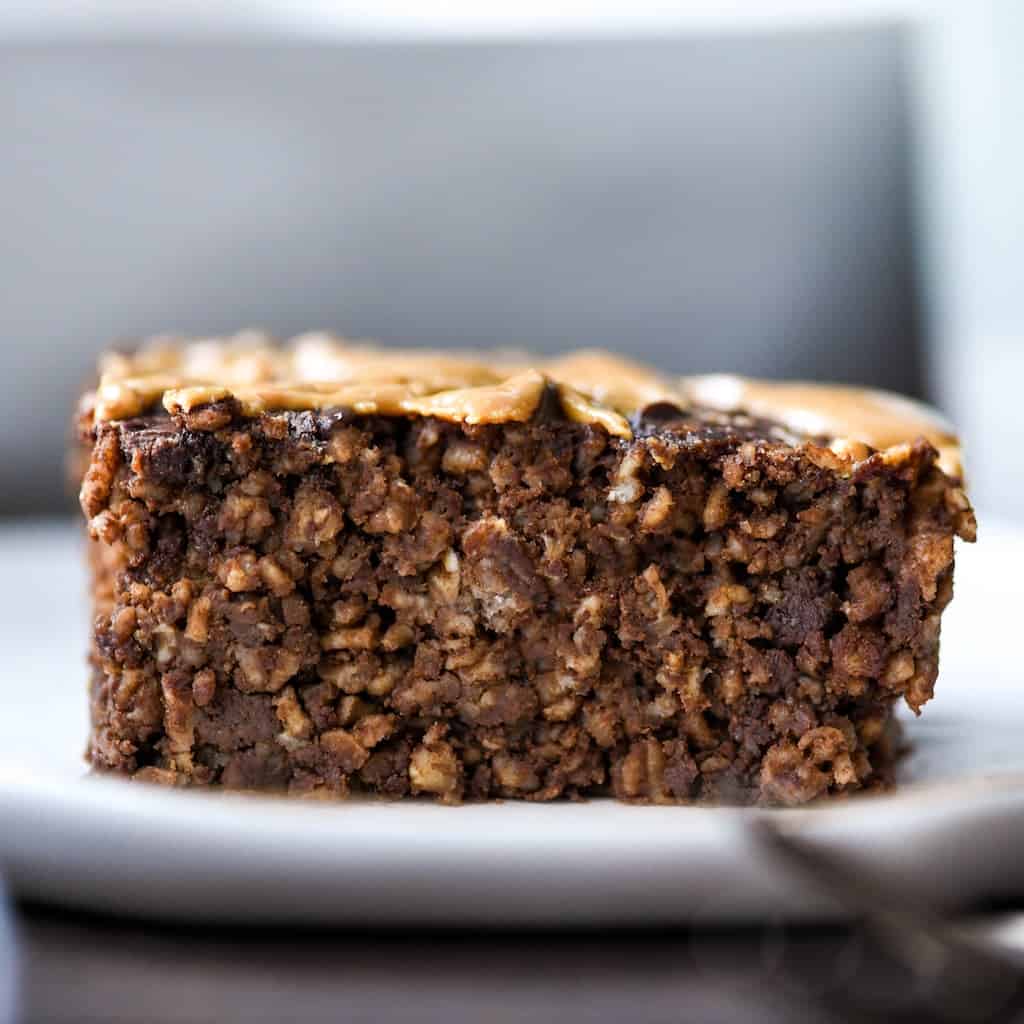 Healthy Chocolate Peanut Butter Baked Oatmeal: Substitutions
I made this recipe many times until I finally got it tasting exactly the way I envisioned! There are a few possible substitutions, but as always, I recommend making the recipe exactly as written!
Coconut sugar. Any granulated sugar works perfectly in this recipe! I have also used organic cane sugar with great success!
Peanut butter. Any nut or seed butter should work in this recipe, however I have only tried using peanut butter and can only personally vouch for it's deliciousness!
Honey. Maple syrup tastes equally delicious if you're looking for a vegan option!
Egg. For an egg-free, vegan option mix 1 TBS ground chia seeds or ground flaxseed with 2.5 TBS of hot water. Let it sit at room temperature for at least 5 minutes or until a gel forms!
Almond milk. Any dairy-free or dairy-full milk works perfectly in this recipe!
Watch the video!
Chocolate Peanut Butter Baked Oatmeal
Instructions
Preheat oven to 350 degrees F. Grease a 9x9" square baking pan and set aside.

For Vegan Version: Mix 1 TBS ground chia seeds with 2 ½ TBS hot water. Set aside.

In a small bowl mix together quick cooking oats, cocoa powder, baking powder, sea salt and coconut sugar. Set aside.

In a large bowl mix applesauce, peanut butter, and honey (or maple syrup), vanilla and egg (or chia egg) together until combined.

Add dry ingredients to wet ingredients and mix thoroughly.

Add almond milk and stir until batter is homogenous.

Add chocolate chips (if desired) and stir until combined.

Pour the mixture into a lightly greased 9x9" baking pan.

Bake at 350 degrees for 30-40 minutes, or until the top is set and slightly springs back when touched and the edges are just barely brown!

Let cool for at least 10 minutes, then cut into squares and enjoy!

Store in an airtight container in the refrigerator and reheat in the microwave or enjoy cold!
Do you have any goals for 2018? I'm not really into resolutions or fad diets, and you won't find me starting the year restricting my chocolate intake! 😉
I do like the idea of choosing a word that encompasses your vision for a new season of life! This year I'm thinking mine will be "renew!" What about you? What are your goals for 2018?
If you want to stay connected or you make something from JoyFoodSunshine I would love to see your creations! #joyfoodsunshine
Instagram: @joyfoodsunshine
Pinterest: JoyFoodSunshine
Facebook: JoyFoodSunsine
Twitter: @joyfoodsunshine
Pin for later:
This post contains affiliate links, which means that if you purchase a product through a link you clicked on here, I receive a portion of the sale. Thank you for supporting JoyFoodSunshine!