July flew by! Z turned 6 months & started baby foods, we enjoyed a getaway in the mountains and swam to our heart's content.
"I can't remember all the times I tried to tell myself to hold on to these moments as they pass."
Welcome to "Moments" here on JoyFoodSunshine. At the end of every month I share a recap of our family's favorite moments! Here's a snapshot of our life from July 2021!
Life lately
July flew by so fast I can hardly believe it's August already. Z turned 6 months & started solid foods, we enjoyed a getaway in the mountains and swam to our heart's content.
Baby Zach (6 months)
So, I'm not really sure how we're already halfway through Zach's first year of life. But I know that 6 months of effort to create these delicious cheeks and rolls have been six months well spent.
6 months feels heavy to me this time around. Halfway through the first year of loving him and I can't believe how quickly we arrived at this point.
He is smiling and rolling over. He's a professional hair-grabber and started leaning in to give kisses this month (melt my heart). He can sit in a bumbo but still cannot sit up on his own (probably because I never put him down). He still snuggles to sleep on me 4x a day and I'm just trying to soak him in.
This month we had four young couples over, and all four women were pregnant. I suddenly became acutely aware that, for the first time in my life in a room full of pregnant ladies, I wasn't one of them and would never be again.
So to the young momma with more babies on your horizon - I hope you know. I hope you know how blessed you are and what a magical time of life you are living in. I hope you know the miracles happening every second in your body and cherish the process of creating a new life. Treasure being wholly needed and give yourself completely to the joyful task of motherhood.
As for me, sometimes knowing I won't have another baby to snuggle makes it hard to breathe because I'm going to miss it so much it hurts. So I'm going wring out every last drop of this season. Every smile, every snuggle, every chubby squishy roll, every tear and every milestone - I will be here cherishing them all.
Because time is a thief and a gift - a confusing dichotomy that brings gratitude & discontent. Joy and sadness. An ache to return, remain and advance all at once.
Baby food
This is the last first time I'll introduce solid foods to one of my babies. As you can see by his initial reaction it took some getting used to. I call the 2nd photo, "This is NOT a boob." This post: Starting Solid Foods with Your Baby explains how I've started with all 6 of my kids.
I waited until he was 6 months old because I just wasn't ready, and 3 more meals to prepare every day seemed daunting. But it's a fun milestone and one that allows the rest of the family to enjoy mealtime.
However, for me, it's one more step towards us becoming separate people. One more move in the direction of independence. One more way he needs me less and I'm left to unwillingly yield to the irreversible passing of time.
Z is my little buddy, he does everything with me. From cooking to doing the laundry, he's always in my arms. One of his favorite things to do is watch me fill up my cup and drink from it. He's always trying to steal a sip.
But his most favorite activity to join me in is brushing my teeth. He kicks his feet and squeals and reaches for my toothbrush. I love it so much I rarely brush my teeth without him (and I do it like 4x/day)!
When I think about not having a baby on my hip to share all these special moments with it makes me so incredibly sad. So I'm just making sure to enjoy each and every one with my squishy little sidekick.
He is a finger sucker - which is so cute but so different for me since I've had mostly thumb suckers! He's just so adorable when he sleeps and sucks on his chubby little fingers.
Getaway
It's no secret that Deer Valley is our favorite place to retreat to in our state. Well one Saturday morning I snapped and told Ritch we needed to get away. He rearranged his schedule and we left Monday morning for a little family reset and relaxation.
There's so much to do at the ski resorts in the summer. We got lift tickets for a day that they were operating all the way until 8 pm, and enjoyed the scenic views, spotting wildlife, etc.
We didn't really "hike" on this trip, because I wanted it to be relaxing haha! But we did climb rocks and explore at the top of the mountain (after riding the lift to get up there).
We ate at one of our favorite mid-mountain lunch spots and enjoyed playing a game of hide-and-seek on the lawn while I nursed Zach. It was exactly the quiet, relaxing day we needed breathing in the fresh mountain air.
The location we chose to stay this time had an awesome pool with a water slide and an amazing view. The kids would've been happy just playing here all day and night. Our room had it's own hot tub so we enjoyed relaxing there too. All around it was a great few days and just what we needed.
We stopped at Silver Lake on our way home for a leisurely stroll around the lake. It was beautiful weather and we even got caught in a rainstorm. The BEST end to a great getaway.
Sports
The kids all had another swim meet this month and the biggest surprise to me was Naomi! After crying her way through her first few practices (because she "missed me" lol) I chose not to have her swim in the first meet in June.
This month I felt like she was ready and she did amazing! I honestly thought she'd piddle in last place in her heat and everyone would clap for her because she's so tiny and cute to make her feel better - however she totally crushed it and got second in her heat! I was so surprised and happy for her.
Bethany talks like she's the coach's favorite and loves going to practice and meets. I've seen her improve dramatically and she says she wants to swim in the fall! I'm excited that she loves the sport!
The little girls are still at swim lessons and Mara (who I honestly think is going to be my serious swimmer when she's old enough) is a little gusty fish. She started wearing this cap every time she goes to the pool to play or for lessons because she wants to be like her older siblings. She is just too cute.
Gabe finished his basketball season this month. It was amazing to watch him go from having never handled a ball to scoring a basket in the last game! Ritch assistant "coached" with one of his closest friends even though he knows very little about basketball.
I loved going to the games every week and getting to watch Gabe play and spend time with good friends. We're unsure how exactly we're going to navigate the sports world with 6 kids - but I'm certain we will only jump in if it's with good friends.
Ritch's Birthday
Ritch has officially entered the last year of his 30's and we enjoyed celebrating him. He asked for steak, potatoes, and this Eclair Cake for his birthday dinner. His birthday was on a Sunday so we had church most of the day and celebrated in the evening.
The biggest part of his celebration was that I surprised him with a brand new piano! He had NO idea it was coming until it was being delivered and it was one of the best surprises I've ever given someone.
We bought our old piano for next to nothing on a local yard sale page. It was beautiful but (according to Ritch) did not play well. He plays all the time and so does Bethany. Gabe also plays the piano (although he's not as enthusiastic about it), Naomi will start in the fall, and I plan on having all our kids at least learn the basics.
We had been talking about investing in a new one, but it wasn't until Ritch found this particular model that he got really excited about it. The feature on this piano that sold him was silent mode. You can flip a switch and play it using headphones - and since someone is always napping or sleeping around here this means he can play whenever he wants without worrying about waking anyone up. It has been played nonstop since it was setup in our home, and I see it as an investment in our family's musical future for generations!
A few of my favorite things...
Here are a few things I'm loving this month.
Baby spoons. These silicone and wood baby spoons are my favorite. I've used them for 3 babies and they are perfect for feeding little mouths!
Vitamix. I know this isn't a new favorite but making baby food reminds me just how much I love my blender.
Also, these bibs. They wipe off relatively easily, you can wash them with soap and water in the sink, and they dry really fast.
Recipes I'm Making on Repeat
Here are a few recipes I made this month!
As always, the best chocolate chip cookies.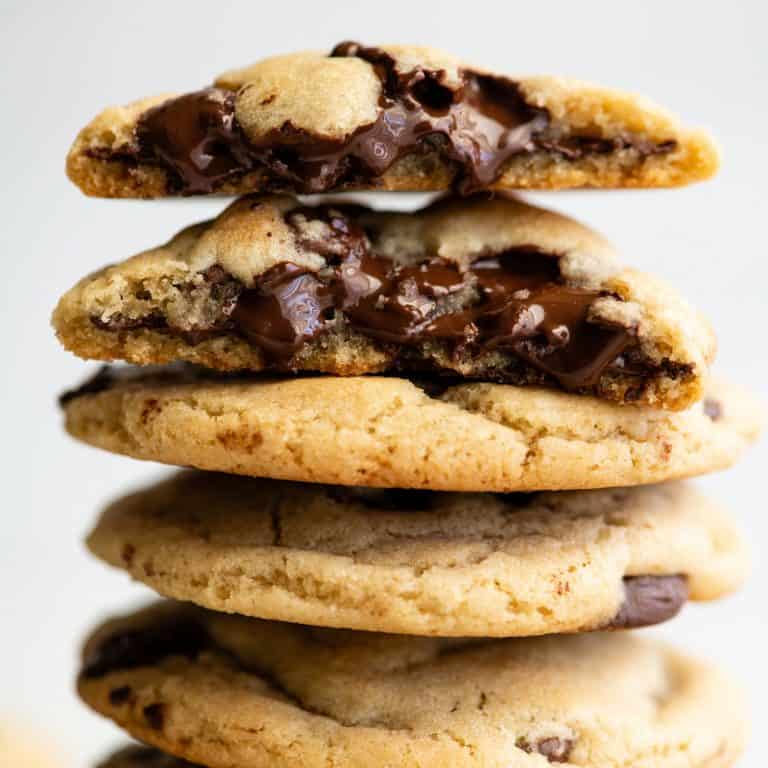 Summer desserts call for homemade whipped cream, always.
Our garden is pumping out the basil, so there's been lots of fresh pesto, pesto pasta and pesto chicken.
The first food I introduced to Z was homemade baby food sweet potatoes.
I've been making this homemade naan bread on repeat. Pictured is a double batch I made for guests.
Snapshots
Here are some snapshots of our life in July!
Blurry Z on a swing.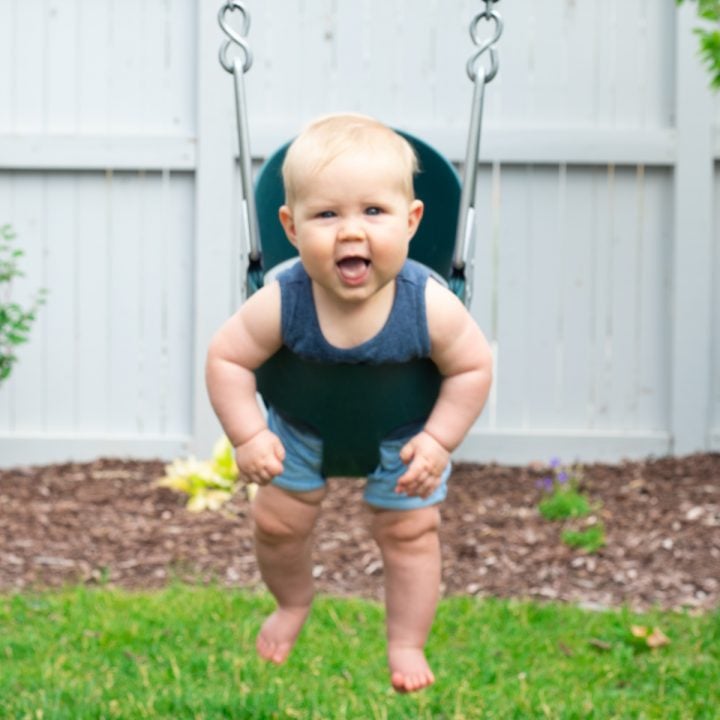 Z found himself in the mirror and wasn't too sure how he felt about it.
It was unseasonably rainy for July in the dessert - but we didn't take it for granted and played in the rain a lot this month.
Gabe got a haircut!
Z sat in a high chair for the first time!
K is just too cute hiking in her little headband.
Where Z spends most of his time.
Top of Bald Mountain.
Little swimmer football player.
Sweet sisters sharing a bed on vacation.
If you make something from JoyFoodSunshine I would love to see your creations. Follow along with me on Instagram, Pinterest, Facebook, Twitter and Youtube. Tag me in your photos #joyfoodsunshine @joyfoodsunshine Don't forget to rate this recipe and leave a comment below.
This post contains affiliate links, which means that if you purchase a product through a link you clicked on here, I receive a portion of the sale. Thank you for supporting JoyFoodSunshine!