My love language is dessert. Sometimes I even eat it for dinner. However, in my opinion, dessert has to be chocolatey…like insanely chocolatey. Or full of peanut butter. Or, if you make me something that's both insanely chocolatey and full of peanut butter…you'll win me over for life.  Seriously, the only time I eat desserts that are vanilla-y or fruity is when I'm trying to be polite…but I usually consider them a waste of calories and time (which is the opposite of my husband and kids, whose desserts of choice include vanilla cake, key lime pie, and gummy bears. No thanks).This Puppy Chow recipe meets all this criteria, and then some! Plus it's gluten-free and dairy-free!
This Puppy Chow Recipe is one of my top five favorite desserts. I'm usually satisfied with just a small amount of something sweet after dinner. However, when it comes to puppy chow, I could literally eat an entire batch myself. It's the only treat that I consider truly dangerous (or maybe it should consider me dangerous).

I'm a midwesterner (born and raised) so I call this treat "Puppy Chow." It has other names too, like muddy buddies, monkey munch, etc., but no matter what you call it, it's delicious.
Listen carefully now, my version of this Puppy Chow Recipe is not for the faint of heart. You will never find weak puppy chow in my kitchen. You know what I mean? The stuff that is so thinly coated with chocolate and peanut butter that the powdered sugar barely sticks to it? Not on my watch. I want clumps, and globs, and hunks, and chunks of chocolate-peanut buttery goodness.
Start by melting equal parts of chocolate (semi-sweet or dark) and peanut butter together. (Look at that picture up there, seriously look). If you want it to be dairy free, just use dairy-free chocolate chips!
Then  put some cereal in the bottom of a large bowl, pour some of the peanut butter/chocolate mixture on top, and then continue to alternate cereal/chocolate/cereal, etc. until you've used up all the ingredients. The key here is to start VERY conservatively with the amount of cereal! You do NOT, I repeat, do NOT want to use too much cereal. It will ruin your puppy chow and your day.
Next, mix it all together, making sure the cereal is thickly coated . Then put it somewhere to cool off (outside in the winter, or in the fridge when it's warm) before adding any powdered sugar.
This step is absolutely crucial. I am not into sickenly  sweet desserts, so I like to use as little powdered sugar as possible. If you add the powdered sugar while the mixture is still warm it will soak right in and won't help separate the chunks at all. Making sure your mixture is slightly cooled will mean you can use less powdered sugar!
Once the mixture is at or just below room temperature, but not hard, add the powdered sugar until there is a thin coating and some of the pieces start separating. It's helpful to use a bowl with a lid, so you can shake it to coat the cereal evenly.
Next, let it cool down even more (for about 15 or 20 more minutes) before adding a little more powdered sugar. You want to add just enough so that the puppy chow can be eaten without making your hands a chocolatey-mess.
I LOVE this dessert because you get the maximum amount of insane deliciousness with minimal effort.  Seriously, it only has four (4!) ingredients! It is gluten-free and can be dairy-free & vegan (with the right choice of chocolate)! It's perfect to feed a crowd too, because people can take as much or as little as they'd like!
Puppy Chow Recipe: Substitutions 
There are only 4 ingredients here people! But there are a few ways you can change this recipe up if you'd like!
Chocolate. I recommend using a dark or semi-sweet variety. In my opinion, making this Puppy Chow Recipe with milk chocolate makes it too sweet. But if you have a serious sweet tooth by all means use whatever chocolate you prefer! If you need an allergy-friendly chocolate use Enjoy Life Foods!
Rice Cereal. Chex is my favorite cereal to use (or a generic equivalent)! However many people love Crispex!
Peanut Butter. You can substitute any nut or seed butter if you're allergic to peanuts!
Powdered sugar. There's really no substitute for this. You could make your own refined sugar free variety but it will NOT be white. So if you're OK with that then go for it! 😉
Puppy Chow Recipe
Instructions
Melt peanut butter and chocolate together, either on the stovetop or in the microwave.

Next, add 3 cups of cereal to a large bowl. Pour 1 cup of your chocolate/peanut butter mixture over the cereal.

Add 3 more cups of cereal to the bowl and then pour the rest of the chocolate/peanut butter mixture on top.

Stir until the cereal is evenly coated. If there are pools of chocolate/peanut butter at the bottom of your bowl, add more cereal 1/4 cup at a time until all that deliciousness is coating your cereal. Remember we WANT clumps, so do NOT add too much cereal!

Let the mixture cool slightly (I throw mine in the fridge or outside on my porch if it's cold out). You do not want it to harden!

Once your mixture is at or below room temperature, add 1 cup of powdered sugar. Mix until combined.

Let cool for about 15 minutes.

Add more powdered sugar 1/4 cup at a time until your cereal is coated to your satisfaction.

Store in an airtight container at room temperature, if it lasts more than 0.3 seconds.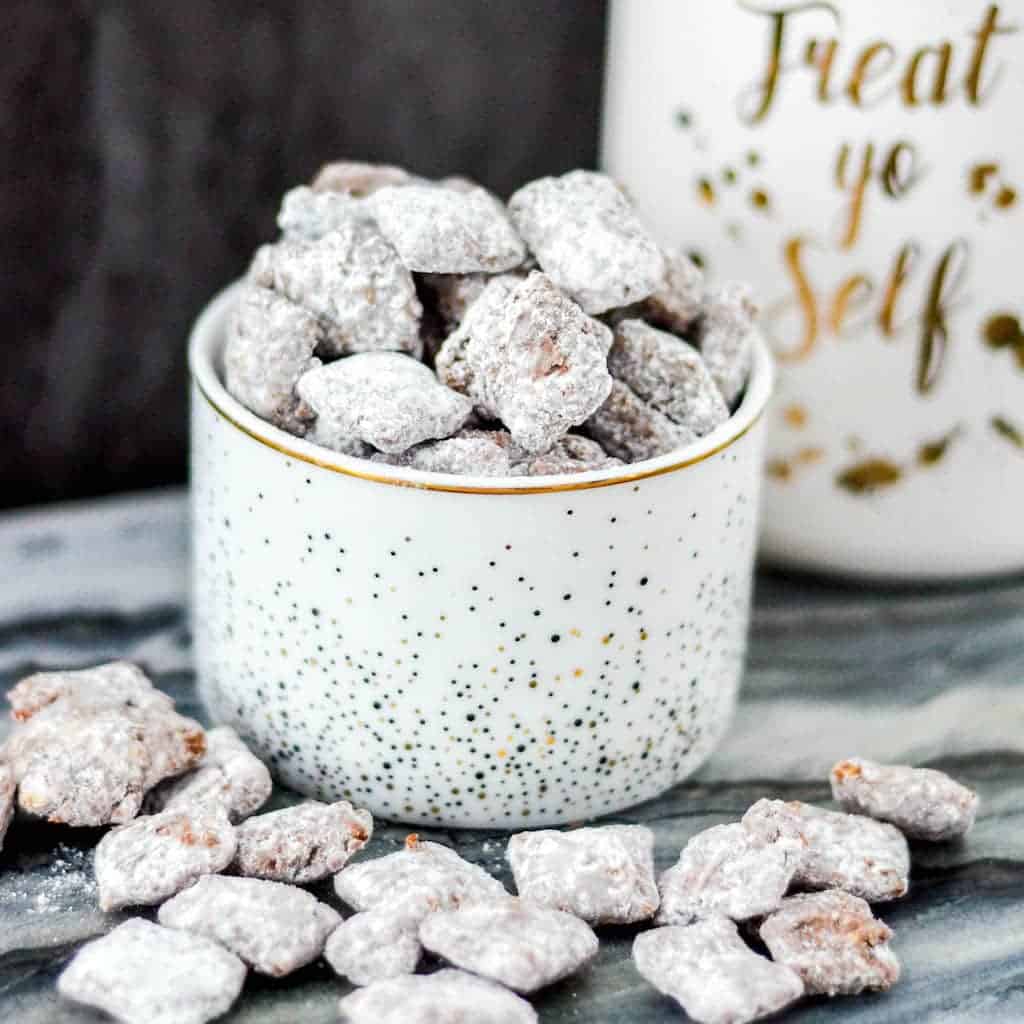 Question: What's the dessert in your life that should consider you dangerous?
If you make something from JoyFoodSunshine I would love to see your creations! #joyfoodsunshine
Instagram: @joyfoodsunshine
Pinterest: JoyFoodSunshine
Facebook: JoyFoodSunsine
Twitter: @joyfoodsunshine
Pin me for later! 🙂
This post contains affiliate links, which means that if you purchase a product through a link you clicked on here, I receive a portion of the sale. Thank you for supporting JoyFoodSunshine!