Homemade 2-Ingredient Paleo Powdered Sugar Recipe! Make your own healthy powdered sugar in 5 minutes! It's a great gluten-free & refined sugar free powdered sugar substitute!
Today we are going to make homemade Paleo Powdered Sugar! I have a few recipes on my list of favorites that call for powdered sugar! Even though sometimes I just go ahead and use the regular-old processed variety…I never love how I feel after I eat it!
So I set out to create this powdered sugar substitute recipe and I'm so glad that I get to share it with you! In less than 5 minutes you can make your own powdered sugar that has no refined sugar, no artificial ingredients, no fillers and it's vegan!
How to Make Homemade Powdered Sugar Substitute!
You only need three things to make this Paleo Powdered Sugar!
A Vitamix
Ccoconut sugar and
Tapioca flour!
1. Measure ingredients and put into the Vitamix
Start by measuring out your coconut sugar and tapioca flour and adding them to your Vitamix. Another high-powered blender would work, but I don't recommend a food processor or a low-quality blender, because they don't have enough power to make this Powdered Sugar Substitute recipe!
2. Blend the paleo powdered sugar
Next, blend on high speed for 30-60 seconds, or until your mixture is fluffy and has the consistency of powdered sugar! Let it settle for at least 30 seconds before removing the top, otherwise you run the risk of inhaling a cloud of powdered sugary fumes! 🙂
3. Remove from the Vitamix and Use!
Remove from your Vitamix and use immediately in your favorite recipe or sprinkle it on top of brownies (or brownies)! Or you can store it for later in a glass jar at room temperature!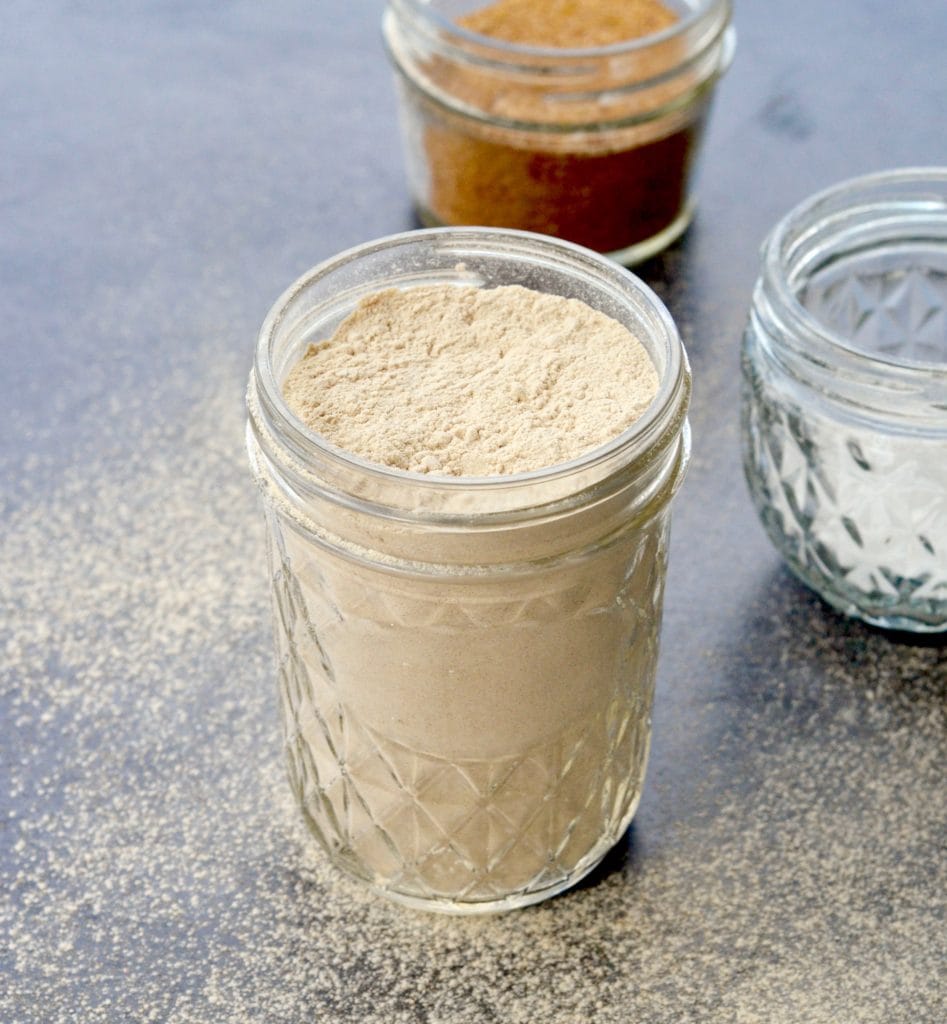 Paleo Powdered Sugar Substitute: Ingredients and Substitutions
Here are some possible substitutions in this paleo powdered sugar substitute recipe. Just be sure that you choose ingredients that meet your dietary needs! Also remember color and texture will vary depending on the sugar you choose! Coconut sugar is my favorite unrefined granulated option, but maple sugar sounds pretty darn delicious!
Coconut sugar. Any other granulated sugar can be used in place of coconut sugar (e.g. date sugar, sucanant, organic cane sugar, raw sugar, maple sugar, etc). Just be sure to choose a variety that complies with your dietary needs.
Tapioca flour. Cornstarch or arrowroot powder can be used in place of tapioca flour.
IF YOU MAKE SOMETHING FROM JOYFOODSUNSHINE I WOULD LOVE TO SEE YOUR CREATIONS! DON'T FORGET TO RATE THIS RECIPE AND LEAVE A COMMENT BELOW! ALSO, FOLLOW ALONG WITH ME ON INSTAGRAM, PINTEREST, FACEBOOK, YOUTUBE AND TWITTER FOR MORE RECIPE INSPIRATION AND A GLIMPSE INTO OUR EVERYDAY LIFE!
Homemade Paleo Powdered Sugar (2 Ingredient Powdered Sugar Substitute)
Homemade 2-Ingredient Paleo Powdered Sugar Recipe! Make your own healthy powdered sugar in 5 minutes! It's a great powdered sugar substitute! Gluten-free, dairy-free, refined sugar free, paleo & vegan!

Servings
1
cup powdered sugar
Instructions
Add coconut sugar and tapioca flour to your

Vitamix

.

Start blending on low speed and gradually increase to high.

Blend for 30-60 seconds, or until your mixture obtains a fluffy, powdery consistency (like powdered sugar), and is light brown in color.

Let the mixture settle in your

Vitamix

for at least 30 seconds before removing the top!

Remove from blender and use in your favorite dessert!

Store in an airtight container at room temperature.
Notes
This recipe produces a 1:1 yield of coconut sugar: powdered sugar.
Nutrition
Serving:
1
TBS
|
Calories:
46
kcal
|
Carbohydrates:
12.3
g
|
Sugar:
12
g
We had an amazing weekend! We played in the pool, took the kids to the zoo (SO fun) and spent some time with friends! Unfortunately, my sweet Naomi wasn't so sweet, and this momma didn't get to see the fireworks. :*( I'm still super sad that I had to miss such a precious experience with Gabe and Bethany…but if I had to pick one word that sums up motherhood (besides joy) it's sacrifice.
This post contains affiliate links, which means that if you purchase a product through a link you clicked on here, I receive a portion of the sale. Thank you for supporting JoyFoodSunshine!