Resurrection Rolls
Posted Mar 26, 2016, Updated Jun 15, 2023
This easy resurrection rolls are made with canned crescents and marshmallows. They are a great way to celebrate the true meaning of easter.
They are so easy to make. So let's get started…first you gather your ingredients, crescent rolls, marshmallows, butter, cinnamon and sugar. I like to have everything all set up before my kids wake up so we don't waste any time. Open up that package of rolls…which is always so hard for me. Maybe because this is literally the only time I buy them in a year so I don't have a lot of practice. As you can see I am terrible at separating those little triangles, oh well!
How to Make Resurrection Rolls
We explain that the marshmallow represents Jesus' body. By the time Easter Sunday rolls around, we have already spent two weeks learning about every aspect of the Easter story. We use this activity more as a review, but you can definitely tell the Easter story from one of the Gospels as you go. We discuss how Jesus died (Matthew 27:45-57) and why (John 3:16-17).
The butter and cinnamon/sugar represent the spices and oils used to anoint Jesus's body for burial. We explain that Jesus really died. (Matthew 6:57-61). We let the kids get crazy messy and dip the marshmallows first in butter, then in cinnamon sugar…with plenty of finger licking in between.
Then we explain that the rolls represents the tomb. We have the kids put the marshmallow on the dough and then roll it up very tight. We use this opportunity to teach them that the tomb was heavily guarded and secure (Matthew 27:62-66). The Romans put a huge rock in front of the entrance to the tomb and assigned armed guards to keep watch outside. We emphasize how it would be impossible for a mere man to get in or out of the tomb.
Practically speaking…you want to make sure that you close all the seals and cracks as you cover the marshmallow with the roll, otherwise you'll have a gooey mess after baking!
The oven represents the time Jesus was dead in the tomb. We put the rolls in the oven and discuss how Jesus was in the tomb from Friday to Sunday.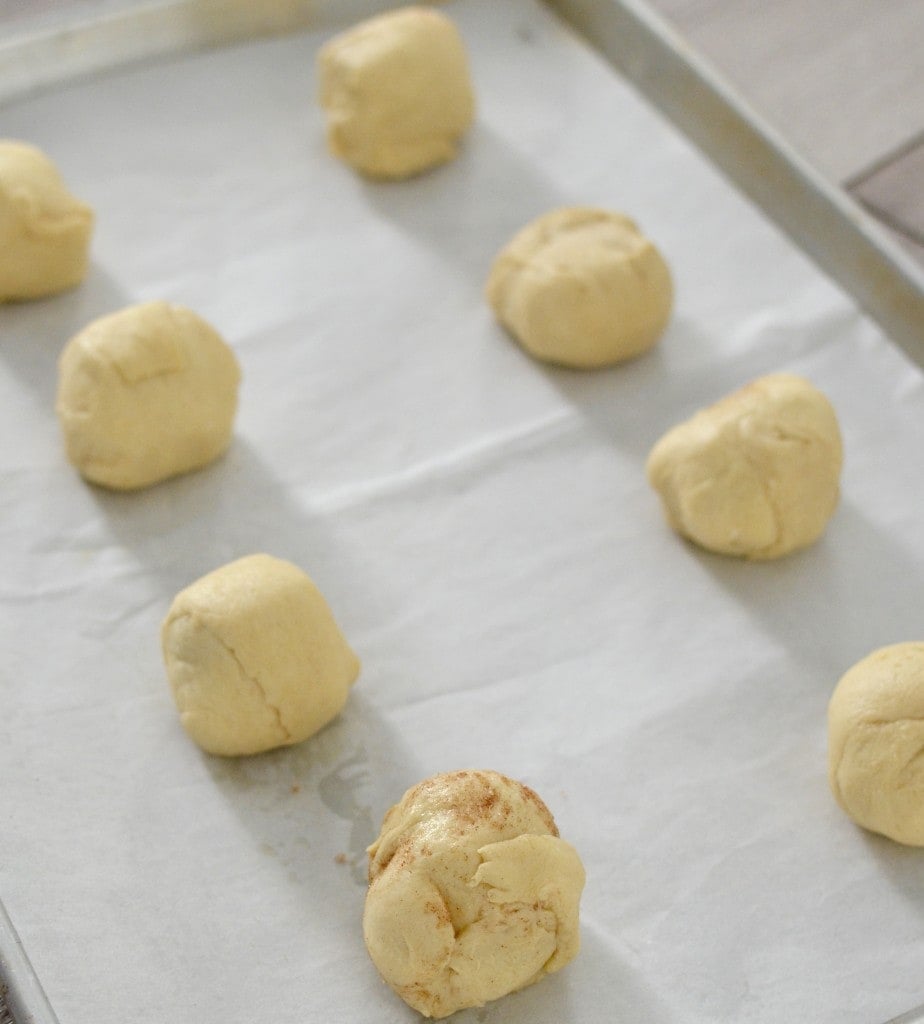 Then we remove the rolls and discuss the resurrection. (Matthew 28:1-20) The kids open the rolls to see that the marshmallow is GONE! Just like Jesus's body was no longer in the tomb when the women came to see him on Sunday. We discuss the importance of the resurrection in our lives and that salvation comes by grace alone through faith alone (Ephesians 2:8-9).
Then we let the kids go at it.
Recipe FAQs
Why are these called the Resurrection Rolls?
These rolls represent the death and resurrection of Jesus Christ. They are the perfect Easter recipe to do with kids.
What are some good verses to read along with making Ressurection Rolls?
Some good verses to read over would be Matthew 27:45-57, John 3:16-17, Matthew 6:57-61, Matthew 27:62-66, Matthew 28:1-20, and Matthew 6:57-61.
Can I use giant marshmallows?
You can use any size. I found the regular-sized ones to work the best.
More Delicious Recipes
If you make and love our recipes, it would mean so much to me if you would leave a comment and rating! And don't forget to follow along with us on Instagram, Pinterest, Facebook, and Youtube – be sure to tag @joyfoodsunshine and use the hashtag #joyfoodsunshine so we can your creations!
Easy Resurrection Rolls
This easy resurrection rolls are made with canned crescents and marshmallows. They are a great way to celebrate the true meaning of easter.
Ingredients
1

package of Pillsbury Crescent Rolls

8 rolls

2

TBS

butter

melted

3

TBS

sugar

½

tsp

cinnamon
Instructions
Preheat the oven to 375 degrees F. Line a baking sheet with parchment paper, set aside.

Separate the 8 crescent rolls and lay them on a plate, set aside.

Melt 2 TBS butter in a small bowl and set aside.

Mix together the sugar and cinnamon in a small bowl.

Dip one marshmallow in butter, turning to coat it completely.

Roll the butter-dipped marshmallow in the cinnamon sugar mixture until coated.

Put the marshmallow inside a crescent roll and make sure you seal it completely. Do not leave any holes or openings. Set it on the prepared baking sheet.

Repeat with remaining marshmallows and rolls.

Bake in preheated oven for 9-12 minutes until golden brown.

Serve warm and enjoy!
Notes
Storage
Refrigerate this in an airtight container for up to 3 days. After 3 days, freeze up to 2 months. 
Nutrition
Serving:
1
roll
|
Calories:
77
kcal
|
Carbohydrates:
12
g
|
Protein:
0.3
g
|
Fat:
4
g
|
Saturated Fat:
2
g
|
Polyunsaturated Fat:
0.4
g
|
Monounsaturated Fat:
1
g
|
Trans Fat:
0.1
g
|
Cholesterol:
8
mg
|
Sodium:
56
mg
|
Potassium:
2
mg
|
Fiber:
0.1
g
|
Sugar:
9
g
|
Vitamin A:
88
IU
|
Vitamin C:
0.01
mg
|
Calcium:
2
mg
|
Iron:
0.1
mg
Nutrition information is automatically calculated, so should only be used as an approximation.
Did you enjoy this recipe? Have a question? Leave a comment below!
This post contains affiliate links, which means that if you purchase a product through a link you clicked on here, I receive a portion of the sale. Thank you for supporting JoyFoodSunshine!