Today I have a bonus post for you! All week I've talked about how much we love Easter! I couldn't let the celebration come and go without sharing this fun activity with you all! This is something my kids look forward to every year, and it is really a great picture of the true meaning of Easter!
They are SO easy to make! So let's get started…first you gather your ingredients, crescent rolls, marshmallows, butter, cinnamon and sugar!  I like to have everything all set up before my kids wake up so we don't waste any time! Open up that package of rolls…which is always SO hard for me. Maybe because this is literally the only time I buy them in a year so I don't have a lot of practice! LOL As you can see I am terrible at separating those little triangles, oh well! 🙂
We explain that the marshmallow represents Jesus' body. By the time Easter Sunday rolls around, we have already spent two weeks learning about every aspect of the Easter story. We use this activity more as a review, but you can definitely tell the Easter story from one of the Gospels as you go! We discuss how Jesus died (Matthew 27:45-57) and why (John 3:16-17).
The butter and cinnamon/sugar represent the spices and oils used to anoint Jesus's body for burial. We explain that Jesus really died. (Matthew 6:57-61). We let the kids get crazy messy and dip the marshmallows first in butter, then in cinnamon sugar…with plenty of finger licking in between. 🙂
Then we explain that the rolls represents the tomb. We have the kids put the marshmallow on the dough and then roll it up very tight. We use this opportunity to teach them that the tomb was heavily guarded and secure (Matthew 27:62-66). The Romans put a huge rock in front of the entrance to the tomb and assigned armed guards to keep watch outside. We emphasize how it would be impossible for a mere man to get in or out of the tomb.
Practically speaking…you want to make sure that you close all the seals and cracks as you cover the marshmallow with the roll, otherwise you'll have a gooey mess after baking!
The oven represents the time Jesus was dead in the tomb. We put the rolls in the oven and discuss how Jesus was in the tomb from Friday to Sunday.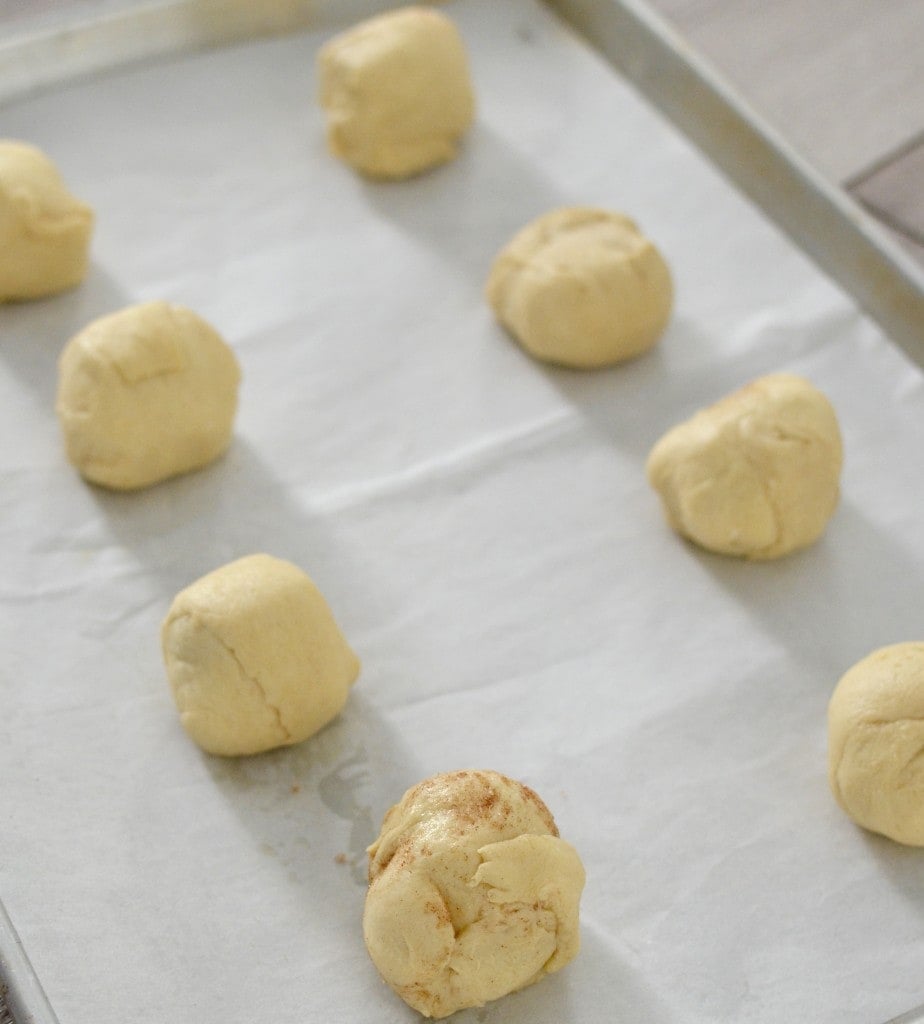 Then we remove the rolls and discuss the resurrection! (Matthew 28:1-20) The kids open the rolls to see that the marshmallow is GONE! Just like Jesus's body was no longer in the tomb when the women came to see him on Sunday. We discuss the importance of the resurrection in our lives and that salvation comes by grace alone through faith alone (Ephesians 2:8-9)!
Then we let the kids go at it. YUM!
Resurrection Rolls
Ingredients
1

package of Pillsbury Crescent Rolls

8 rolls

2

TBS

butter

melted

3

TBS

sugar

½

tsp

cinnamon
Instructions
Preheat the oven to 375 degrees F. Line a baking sheet with parchment paper, set aside.

Separate the 8 crescent rolls and lay them on a plate, set aside.

Melt 2 TBS butter in a small bowl and set asdie.

Mix together the sugar and cinnamon in a small bowl.

Dip one marshmallow in butter, turning to coat it completely.

Roll the butter-dipped marshmallow in the cinnamon sugar mixture until coated.

Put the marshmallow inside a crescent roll and make sure you seal it completely! Do not leave any holes or openings. Set it on the prepared baking sheet.

Repeat with remaining marshmallows and rolls.

Bake in preheated oven for 9-12 minutes until golden brown.

Serve warm and enjoy!