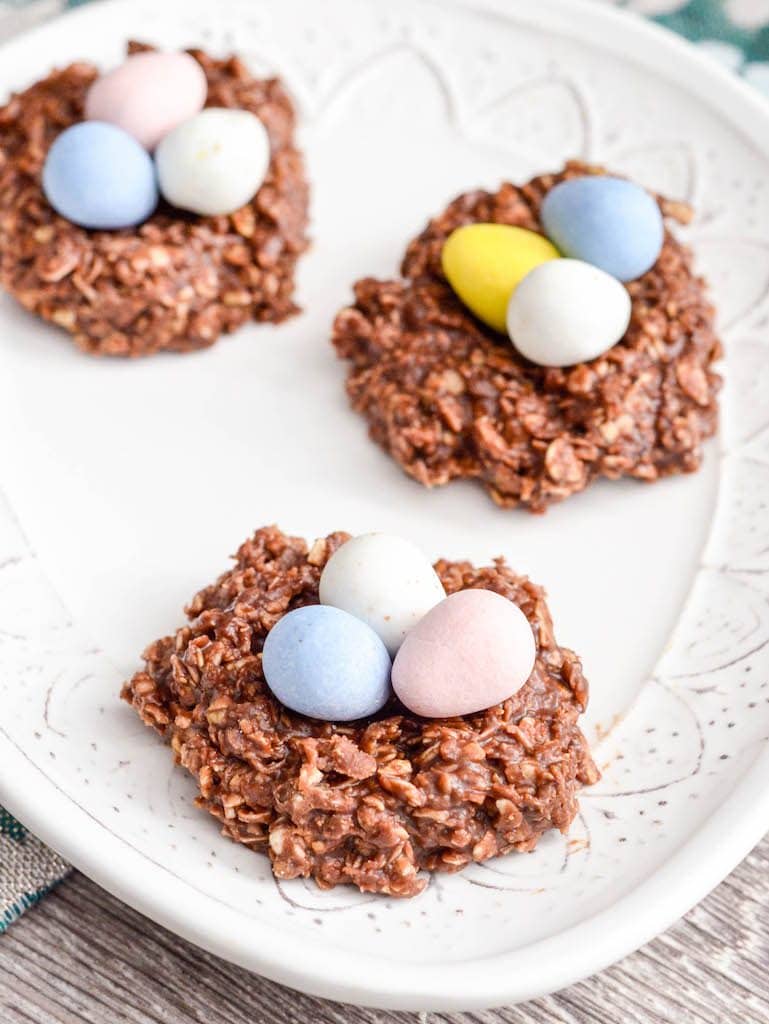 Watch out world! I turned one of my favorite treats into a vehicle for one of my favorite candies! I created this No Bake Chocolate Peanut Butter Cookie Nests recipe last year when we were studying nests in our homeschool unit. I've made them 1,347,000 times since because they're so delicious!
Does anyone else feel like there's a new holiday every week?! St. Patty's Day, Pi day, national [insert every food on the planet] day, now Easter! I love celebrating special days with my kids , and I'm always looking for ways to make them super fun…most of which usually involve food! I'm not crafty (at all), but I can make a cookie or a pancake look like just about anything…#bossmom.
Many celebratory recipes include lots of sugar and butter. I have nothing against those two ingredients in moderation, however with the sheer volume of things to celebrate in life I have found fun ways to party with food that won't make me my kids act like sugar monsters from the black lagoon! That's where these No Bake Chocolate Peanut Butter Cookie Nests come in!
These No Bake Chocolate Peanut Butter Cookie Nests! They're made with only eight (yes 8!) healthy ingredients! They are gluten-free, dairy-free, refined-sugar-free AND vegan! Wow! If you're not interested in making them into cute little nests…you can just plop them into whatever shape you desire then let them meet their maker (YOUR mouth).
No Bake Chocolate Peanut Butter Cookie Nests: Substitutions 
There are only 8 ingredients in this recipe, and there aren't many ingredients I'd recommend changing! But here are two possible substitutions.
Peanut Butter. Any nut or seed butter works great in this recipe!
Coconut oil. Butter or ghee can be used as a substitute for coconut oil! Just be sure to choose a fat source that complies with your dietary needs!
No Bake Chocolate Peanut Butter Cookies
Ingredients
Instructions
Line a baking sheet with wax paper. Set aside.
Combine peanut butter, honey salt and coconut oil in a saucepan and heat until melted and well-combined.
Stir in vanilla and cocoa powder.
Add quick-cooking oats and mix well.
Add coconut and stir until completely combined.
Drop 1 TBS portions of mixture onto your prepared baking sheet. Press into the shape of nests (if desired). Continue until you've used all your cookie mixture.
Let cool in the refrigerator or freezer until hardened. Top with your favorite candy eggs.
Serve cool or at room temperature. Store in an airtight container in the refrigerator!
https://joyfoodsunshine.com/no-bake-chocolate-peanut-butter-cookies/
In an earlier post I talked about how much we LOVE Easter in our household. I've been preparing the kids for almost two weeks now, and I can't wait for Sunday! I got my daughters the cutest Easter dresses in the world. And my son looks so dapper in his little gray suit coat (be still my heart)! We're trying to decide where we are going to go out for brunch after church…so if any of my SLC readers  have some rockin' suggestions I'm all ears!
Question: What's your favorite Easter tradition? 
If you make something from JoyFoodSunshine I would love to see your creations! #joyfoodsunshine
Instagram: @joyfoodsunshine
Pinterest: JoyFoodSunshine
Facebook: JoyFoodSunsine
Twitter: @joyfoodsunshine
Pin for later:
This post contains affiliate links, which means that if you purchase a product through a link you clicked on here, I receive a portion of the sale. Thank you for supporting JoyFoodSunshine!