Balsamic Slow Cooker Pot Roast! Easy, healthy make-ahead main dish recipe that takes 5 minutes of prep time! Paleo, gluten-free & dairy-free! No browning required!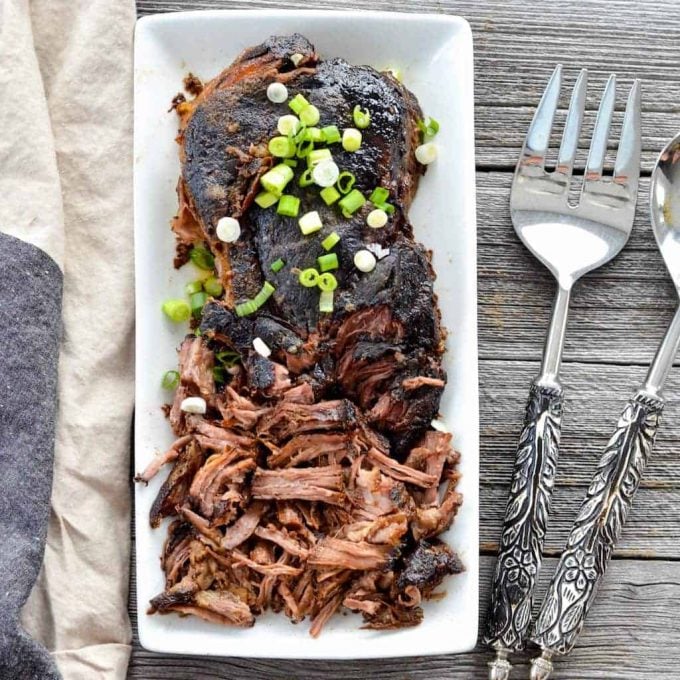 We're not a big ham or turkey family on the holidays. That might sound crazy, but my family would prefer this slow cooker pot roast recipe over any of the traditional holiday main dishes!
I L-O-V-E this balsamic slow cooker pot roast recipe for SO many reasons. Here are the top 3!
It is a healthy and delicious main dish option! This Slow Cooker Balsamic Pot Roast is paleo, gluten-free and dairy-free!
This recipe takes very little prep work and can be made ahead of time!
This Slow Cooker Balsamic Pot Roast uses my favorite condiment of all time…Balsamic Vinegar!
How do you make slow cooker pot roast?
Let's walk through the steps in making the BEST, easy slow cooker pot roast recipe and answer some commonly asked questions!
Step 1: Make The Sauce & Rub
You'll need to small bowls/containers to make the sauce and rub for this recipe. Both are simple and come together in minutes! You can mix the sauce directly in the crockpot and spoon it over the roast. However I like to mix it separately and pour it over the rubbed roast so it covers it!
Step 2: Rub the Roast
Rub olive oil all over the roast and place it in the slow cooker. Then use your hands to spread the rub all over the roast, pressing it down so it sticks.
Step 3: Add sauce & cook
Next simply pour in the balsamic sauce and let the slow cooker do all the work! I usually toss this Paleo Pot Roast into my crockpot right before I go to bed the night before I want to serve it. We eat dinner early (I'm talking 5 PM on the dot), and I want to ensure this slow cooker pot roast with balsamic vinegar has enough time to be cooked low and slow for as long as it takes! Added bonus…it frees me up to enjoy the holiday instead of spending the whole day cooking!
Do you have to brown a roast before putting it in the crockpot?
NO! That's another beautiful thing about this balsamic pot roast recipe, there is no need to brown it before putting it in the slow cooker!
Step 4: Remove the Sauce & Shred the Meat
I like to separate the sauce from the meat to strain and thicken it for serving. However you can simply add thickener to the slow cooker towards the end of the cooking time if you prefer.
To separate the sauce from the meat, remove the pot roast from the slow cooker and place it in a 9×9″ serving dish.
Then place a strainer in a bowl and pour the contents of the slow cooker into the strainer. The bowl will catch the sauce and remove any fat.
Then transfer the sauce to a saucepan, add the thickener of your choice, and cook until it's thick.
Shred the meat and add some (but not all) of the thickened sauce to the shredded meat. Reserve the rest to serve alongside of the roast!
Serving suggestions
Here are some of our favorite dishes to serve with this balsamic pot roast!
Slow Cooker Balsamic Pot Roast: Substitutions
There are only a few simple ingredients in this recipe, but here are some potential substitutions.
Olive Oil. Any neutral oil can be used in place of olive oil. I have used avocado oil in the past with great results!
Honey. Maple syrup is a great substitute for honey!
Honey Mustard. Dijon, regular yellow, spicy brown, really the possibilities are endless here! Just choose a mustard that will compliment the balsamic vinegar well!
Beef Broth. You can use chicken or vegetable broth but I highly recommend beef broth as it yields the best flavor!
A note about high-quality balsamic vinegar…
A premium balsamic vinegar should be thick, sweet, and could easily be eaten alone. I recommend this 25-Year Aged Balsamic Vinegar or this Garlic Cilantro Balsamic Vinegar. Both of these can be purchased from my absolute favorite family-owned shop in my hometown….The Twisted Olive!
IF YOU MAKE SOMETHING FROM JOYFOODSUNSHINE I WOULD LOVE TO SEE YOUR CREATIONS! DON'T FORGET TO RATE THIS RECIPE AND LEAVE A COMMENT BELOW! ALSO, FOLLOW ALONG WITH ME ON INSTAGRAM, PINTEREST, FACEBOOK, YOUTUBE AND TWITTER FOR MORE RECIPE INSPIRATION AND A GLIMPSE INTO OUR EVERYDAY LIFE!
Balsamic Slow Cooker Pot Roast
Slow Cooker Balsamic Pot Roast! Easy, healthy make-ahead main dish recipe that takes 5 minutes of prep time! Paleo, gluten-free & dairy-free!
Ingredients
Instructions
Generously grease the bowl of your slow cooker. Set aside
Make the rub:
In a small bowl, mix together garlic powder, onion powder, sea salt and pepper. Set aside.
Make the sauce:
In a medium bowl whisk together balsamic vinegar, honey, mustard and beef broth. Set aside.
Putting it together:
Coat the roast in 1 TBS olive oil (I spread it around with my hands). Set in your slow cooker.

Evenly sprinkle the roast with the rub, pressing it into the meat so it sticks.

Pour sauce over roast and turn your slow cooker onto low.

Cook on low for 8-12 hours, occasionally spooning more sauce over the roast, until it is very easily shredded with a fork.

Shred and continue cooking on low for another 1 hour.

Just before you are ready to serve, remove the meat from the sauce and strain the sauce through a fine mesh strainer into a large bowl (do NOT pour it down the drain)!

Transfer sauce to a saucepan and whisk in 1 TBS tapioca flour or arrowroot powder.

Cook on medium heat until sauce becomes thick.

Pour ¼ of the thickened sauce over the meat and save the rest for people to spoon on when you serve!

Eat and enjoy!
Notes
I always start cooking this roast at night before I go to sleep so that I can be sure it has adequate time to cook well. Nothing worse than rushing a roast! 😉 If you cook the roast overnight, be sure to check the meat after 9 hours.  If it's ready, shred it and transfer the meat to a 9x9" baking dish or a casserole dish with a lid! Add a little bit of the reserved liquid, and store the meat, covered, in the fridge until it's almost time to eat.
Keep the sauce covered in a small saucepan to thicken and warm close to dinner! Then when you're ready to eat simply warm the meat, covered, in the oven at about 325 degrees until it's warmed through!
Nutrition
Calories:
306
kcal
|
Carbohydrates:
5.7
g
|
Protein:
25.9
g
|
Fat:
19.1
g
|
Saturated Fat:
1.5
g
|
Polyunsaturated Fat:
0.5
g
|
Monounsaturated Fat:
2.3
g
|
Cholesterol:
54
mg
|
Sodium:
364
mg
|
Potassium:
357
mg
|
Sugar:
3.5
g
|
Vitamin A:
60
IU
|
Calcium:
148
mg
|
Iron:
2.3
mg
Seriously, whenever I want to make a special-yet-healthy main dish…I choose this Slow Cooker Balsamic Pot Roast! I promise you will love it just as much as we do!
This post contains affiliate links, which means that if you purchase a product through a link you clicked on here, I receive a portion of the sale. Thank you for supporting JoyFoodSunshine!