This healthy Spiralized Sweet Potato Stir Fry is a veggie-lovers dream! Spiralized vegetables are stir-fried in a sweet hoisin peanut sauce that is so delicious you will want to lick the bowl clean! This amazing dinner recipe is ready in 20 minutes and is vegan & gluten-free! A great meatless main dish recipe!
Have you tried spiralizing vegetables?! I recently purchased a spiralizer and am in love. The first thing I HAD to do was create this Spiralized Sweet Potato Stir Fry! It has all of my most favorite vegetables in one dish, AND they are stir-fried in a homemade peanut sauce that is totally to die for!
This Spiralized Sweet Potato Stir Fry is healthy, easy, ready in under 30 minutes, and is totally vegetarian (with vegan options). And it's not only adored by veggie-loving adults! My 3-year-old son kept asking for "more noodles!" I'm pretty sure he ate more than I did..which never happens when it comes to vegetables!  Any veggie-packed meal that keeps my toddler coming back for more is a winner in my book!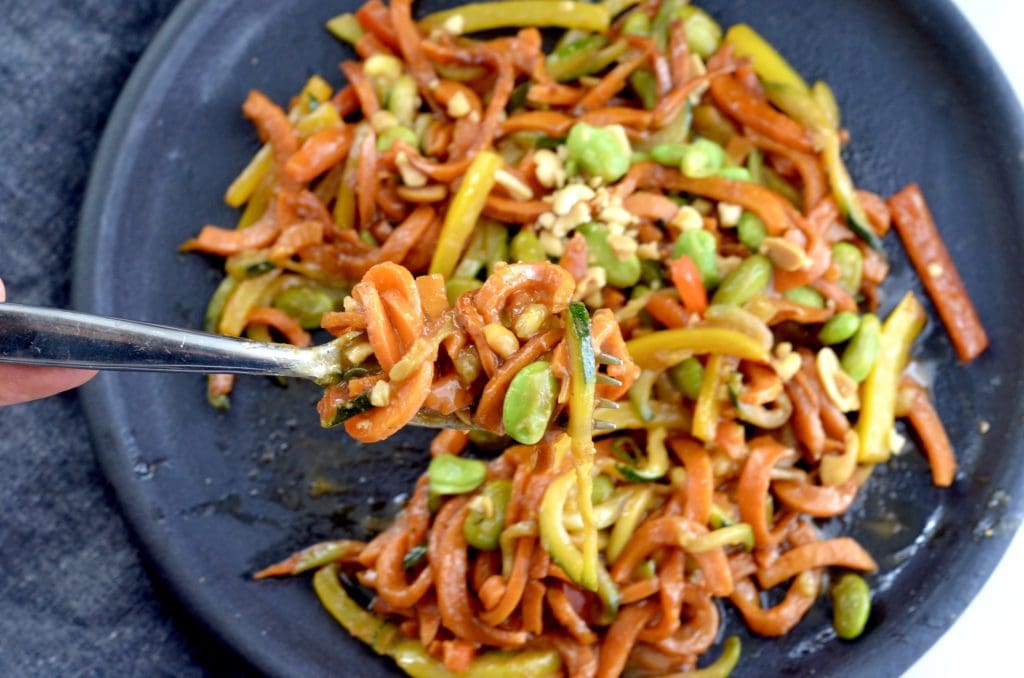 How to make Spiralized Sweet Potato Stir Fry
1. Spiralize the vegetables! 
This will be the most time consuming part of this sweet potato noodles recipe, however even then it isn't hard at all if you have the right tools! I love my spiralizer. It's so easy to use and cranks out spiralized vegetable noodles in no time!
Can you spiralize vegetables by hand? 
YES! Before I bought a spiralizer I used a hand-held vegetable peeler/spiralizer and it works really well (although it does take longer)!
2. Make the Peanut Sauce
Making the homemade peanut sauce is super simply! Just whisk everything together and your'e ready to go! If you use a peanut butter variety that is solid and not runny, you may need to gently warm it in the microwave before adding the other ingredients so that it mixes easily.
2. How do you cook sweet potato noodles?
The wonderful thing about spiralized sweet potatoes is that they only take about 5 minutes to cook! Forget about the long baking/roasting time with whole or cubed sweet potatoes! They cook so fast and easy it's amazing! I recommend sautéing them in oil (in this case, a mixture of peanut & sesame oils)
Heat the oil in the sauté pan or wok.  Before adding the sweet potato noodles (and other vegetables) to the pan, be sure to add oil to the pan and heat it over medium-hight heat. Waiting to add the noodles until the oil is warm will prevent them from becoming mushy!
Don't overcook! I really mean it when I say this spiralized sweet potato stir fry cooks in 5 minutes flat! Plus, the vegetables will continue cooking after the pan is removed from the heat, so keep that in mind!
Do you need cook spiralized vegetables? 
Yes, and no. Some vegetables, like carrots and zucchini, don't technically need  to be cooked. However sweet potatoes absolutely do. So if you wanted to create a raw stir fry, you would have to leave out the sweet potatoes and substitute them with carrots!
Can you cook spiralized zucchini. 
If you notice, there is spiralized zucchini in this sweet potato stir fry recipe. The zucchini cooks the fastest of all the ingredients, which it why it is added last during stir-frying. It cooks so quickly that you could even just toss it in when all the other veggies are cooked to your liking, and the heat from the other vegetables will cool the zoodles!
Serving suggestions for Sweet Potato Stir Fry
Keep it meatless. I love serving Sweet Potato Noodle Stir-Fry with this recipe for Crispy Hoisin Tofu! They are a match made in heaven…and result in a delicious gluten-free, dairy-free, vegan meal the whole family loves!
Add your favorite protein. This spriralized sweet potato recipe can be served as a side to your favorite protein! Cashew chicken, orange chicken, stir-fried beef. The possibilites are endless!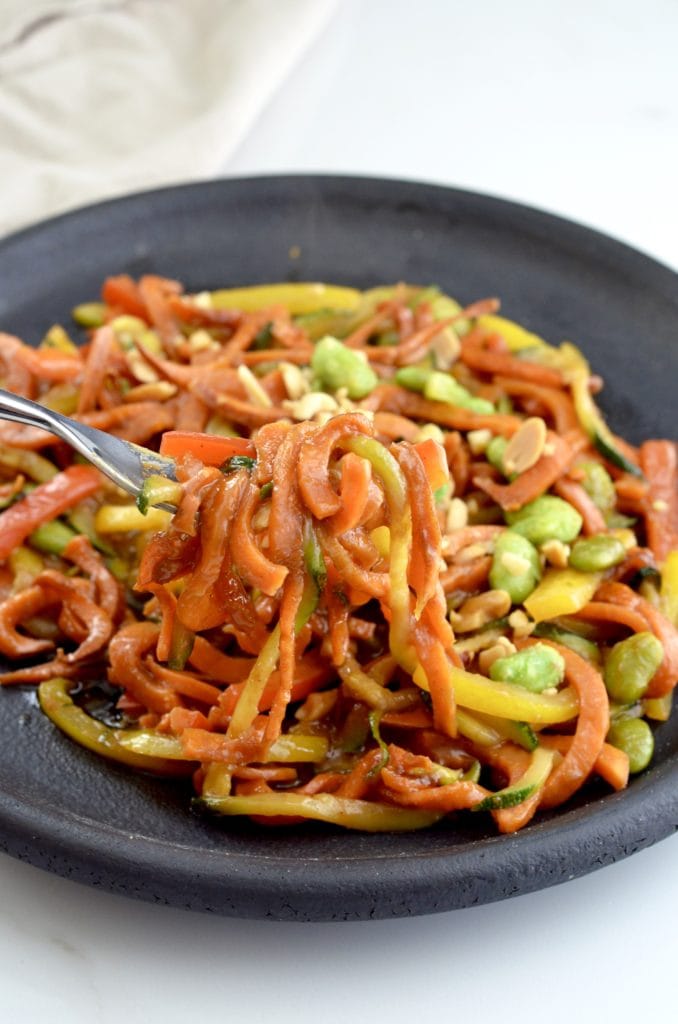 Spiralized Sweet Potato Stir Fry: Substitutions 
Here are a few possible substitutions that can be made in this sweet potato noodle stir fry recipes!
Sweet potatoes. Purple sweet potatoes are an amazingly pretty option for this dish! Regular potatoes can be used as well, but they are not paleo.
Zucchini. If you don't love zucchini you can omit it. Or substitute another spiralized vegetable like carrots!
Bell Peppers. We LOVE bell peppers, but if you don't, simply substitute your favorite sitr-fried vegetables! Some great ideas are broccoli, baby corn, water chestnuts, etc.
Honey. Maple syrup can be used in place of honey for a vegan version!
Soy sauce. Coconut aminos are a great, paleo-friendly, soy-free substitute for soy sauce!
Sesame oil. I highly recommend purchasing some sesame oil if you LOVE Asian cooking. It imparts a flavor that truly cannot be beat! However, if you must, feel free to substitute peanut oil, or any other neutral oil like olive or avocado.
Peanut oil. The same thing apples here as does with sesame oil! The flavor of peanut oil is amazing, however any other neutral oil works too.
Powdered garlic/ginger. the powders can be replaced by the real thing…fresh minced garlic and fresh ginger really kick up the flavor. However, I am cooking for kids, so I like to use the powders so they enjoy it too!
IF YOU MAKE SOMETHING FROM JOYFOODSUNSHINE I WOULD LOVE TO SEE YOUR CREATIONS! DON'T FORGET TO RATE THIS RECIPE AND LEAVE A COMMENT BELOW! ALSO, FOLLOW ALONG WITH ME ON INSTAGRAM, PINTEREST, FACEBOOK AND TWITTER FOR MORE RECIPE INSPIRATION AND A GLIMPSE INTO OUR EVERYDAY LIFE!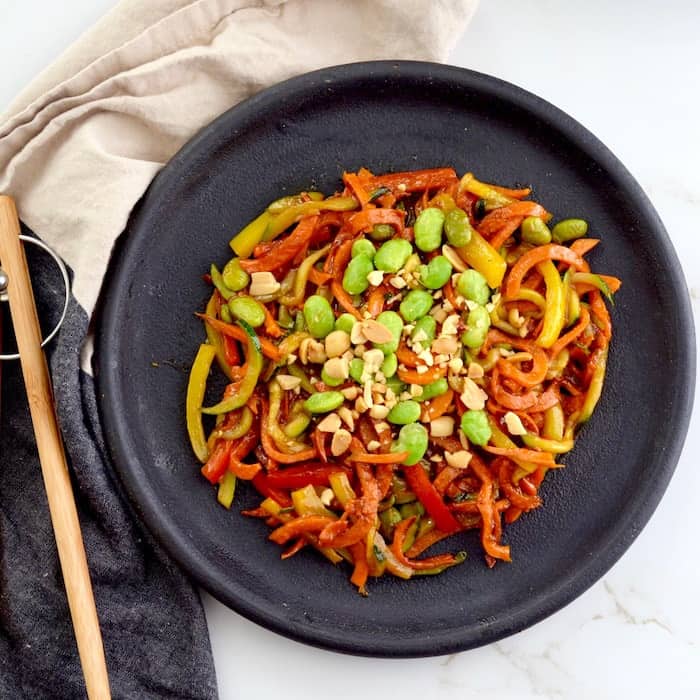 Spiralized Sweet Potato Stir Fry
This healthy Spiralized Sweet Potato Stir Fry is a veggie-lovers dream! Spiralized vegetables are stir-fried in a sweet hoisin peanut sauce that is so delicious you will want to lick the bowl clean! This amazing dinner recipe is ready in 15 minutes and is vegan & gluten-free! A great meatless main dish recipe!
Ingredients
1

medium sweet potato

1

medium zucchini

1

small bell pepper

1

TBS

peanut oil
Instructions
Prepare Veggies:
Cut off both tips of the sweet potato to create flat ends. Run the sweet potato through a

spiralizer

, using the correct blade to make noodles (see spiralizer instructions). Set aside.

Repeat with zucchini, set aside.
To make the sauce:
Whisk together all ingredients in a small mixing bowl. Set aside. (Note: if your peanut butter has a solid consistency (not runny/liquidy) you will need to melt it before adding the rest of your ingredients).

Set sauce aside.
Stir-Fry:
Add the sweet potato noodles and peanut oil to a sauté pan or wok. Cook over medium-high heat until they just begin to brown.

Add bell peppers and continue to cook.

Once peppers become slightly soft, add zucchini and edamame. Cook for 2-5 minutes or until zucchini is slightly soft and edamame is slightly browned.

Add sauce and cook until the sauce is thick and evenly coats all your veggies!

Serve immediately with crushed peanuts and some tofu on the side!
Nutrition
Serving:
0.5
cup
Calories:
208.8
kcal
Carbohydrates:
12.3
g
Protein:
4.2
g
Fat:
12.3
g
Saturated Fat:
1.9
g
Polyunsaturated Fat:
4.1
g
Monounsaturated Fat:
5.7
g
Cholesterol:
0.2
mg
Sodium:
616
mg
Potassium:
276
mg
Fiber:
3.4
g
Sugar:
11.3
g
Vitamin A:
9150
IU
Vitamin C:
110.6
mg
Calcium:
21
mg
Iron:
0.8
mg
This post contains affiliate links, which means that if you purchase a product through a link you clicked on here, I receive a portion of the sale. Thank you for supporting JoyFoodSunshine!