These Healthy Greek Yogurt Pancakes are so fluffy! They are easy to make (one bowl) and are the perfect delicious and nutritious breakfast recipe that your whole family will love! Gluten-free & Refined Sugar-Free Options!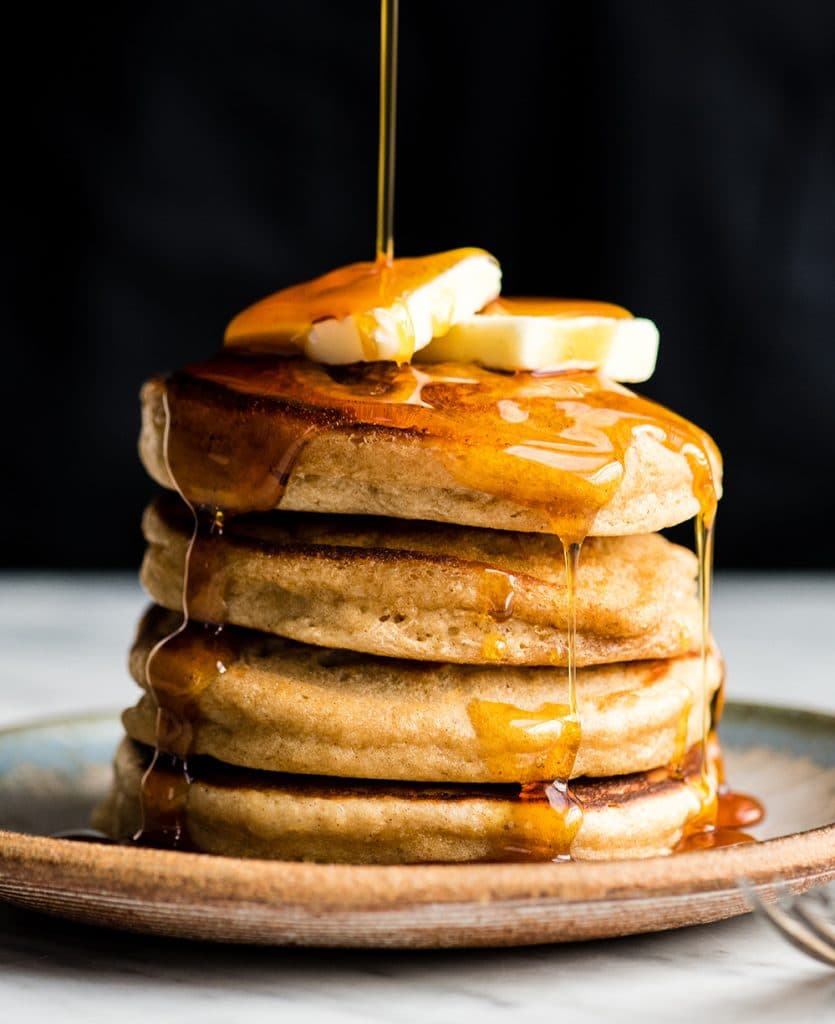 My love for breakfast knows no bounds. I could seriously eat breakfast food all day every day and never get tired of it. Smoothies? Always. Oatmeal? Sign me up! Muffins? Yes Please.
These Healthy Greek Yogurt Pancakes have become my go-to recipe when I want to make a special breakfast for my family! They're super easy to whip up in one bowl, made with vanilla Greek yogurt, and are easily made gluten-free!
These Greek yogurt pancakes are so healthy that they don't put you in a pancake coma after you're finished eating them. Instead, they leave you feeling energized and ready to tackle the day ahead!
These healthy pancakes can hold their own even without maple syrup (although hello, why someone would not douse their pancakes in the best substance ever is beyond my realm of understanding).
How do you make Greek Yogurt Pancakes
Let's walk through the process of making this Greek Yogurt Pancakes Recipe step-by-step to ensure your success!
First, Make your own Oat Flour
Since we always have old-fashioned oatmeal on hand, I choose to make homemade oat flour because it is SO easy and inexpensive! To make oat flour to use in these Greek Yogurt Pancakes,
Measure 1 cup of old-fashioned oats and put it in the container of a Vitamix (or another high-powered blender.
Blend for 10-15 seconds.
Remove and use in the recipe!
You can choose to use store-bought oat flour as well! It is an inexpensive, gluten-free baking flour!
1. Combine the wet ingredients
The first step in this recipe is to combine the wet ingredients in a large mixing bowl. You will only be using one bowl in this recipe, so be sure to choose one that will accommodate all the ingredients well.
2. Whisk the wet ingredients together
I recommend using a wire whisk to combine the wet ingredients. This will ensure that they are all fully combined and there are no lumps of yogurt or wisps of egg left in the batter!
3. Add the dry ingredients.
Since this is a one-bowl recipe, the dry ingredients are whisked in after the wet ingredient mixture is homogenous (uniform throughout). You can always mix the dry ingredients together in a separate bowl and add them to the wet ingredients if you prefer!
4. Whisk until the batter is smooth and thick
The batter should be homogenous (uniform throughout) and thick before proceeding to cooking the Greek Yogurt Pancakes.
5. Add more flour 1 TBS at a time if necessary
The batter in the photo below is a touch thin. I had to add a few more TBS of flour to achieve the desired consistency. That is normal. If your yogurt is thin/watery or your eggs are unusually large, then you may need more flour.
Greek Yogurt Pancakes: Mix ins
Pancakes can be all things to all people. Feel free to add your favorite mix-ins or leave them as-is! My daughter prefers her with cinnamon chips and sprinkles.
My son loves his pancakes loaded with chocolate chips! And my hubby is more of a plain with syrup kind of man. I personally love mine slathered with peanut butter and smothered with pure maple syrup (surprise surprise right)?
6. Cook the Greek Yogurt Pancakes
Scoop 1/4 cup portions of the Greek Yogurt Pancake batter onto a greased skillet or griddle. Cook for 2-4 minutes per side over medium-low heat.
I recommend cooking these Greek Yogurt Pancakes in melted butter for the best taste and flavor. However you can use cooking spray or coconut oil to grease the pan/griddle as well.
Use an electric griddle
My favorite way to cook pancakes is on an electric griddle. I appreciate being able to set it to a specific temperature without worrying about adjusting the heat at all. You can cook pancakes in a skillet over medium/low heat, but just be sure to watch them carefully and adjust the intensity of your flame as needed.
7. Remove and Serve!
Once the Greek Yogurt Pancakes are browned on both sides, remove them from the griddle and serve! Look at how fluffy they get when they cook!
FAQs about making Greek Yogurt Pancakes
Here are a few commonly asked questions when it comes to making the best Greek yogurt pancakes recipe!
Can you substitute Greek Yogurt for eggs in pancakes?
I do not recommend using yogurt as a substitute for eggs. In this Greek yogurt pancake recipe the eggs are important component to achieving the fluffiness pictured above.
How do you make Gluten-Free Greek Yogurt Pancakes?
To make this recipe gluten-free, just be sure to use gluten-free oat flour (gluten-free old fashioned oats blended into flour), and all-purpose gluten-free flour. You can also substitute the oat flour completely with all-purpose gluten-free flour!
How do you make thick & fluffy pancakes?
As you can see from the photos, these Greek yogurt pancakes are super fluffy. Here are a few reasons they are so thick and fluffy:
Leavening agents. The fluffiness comes from the addition of baking powder and baking soda to give them a nice rise.
Eggs. Eggs also add to the fluffiness of these Greek yogurt pancakes.
Greek Yogurt. Using yogurt instead of milk makes these healthy pancakes super thick (but still light)!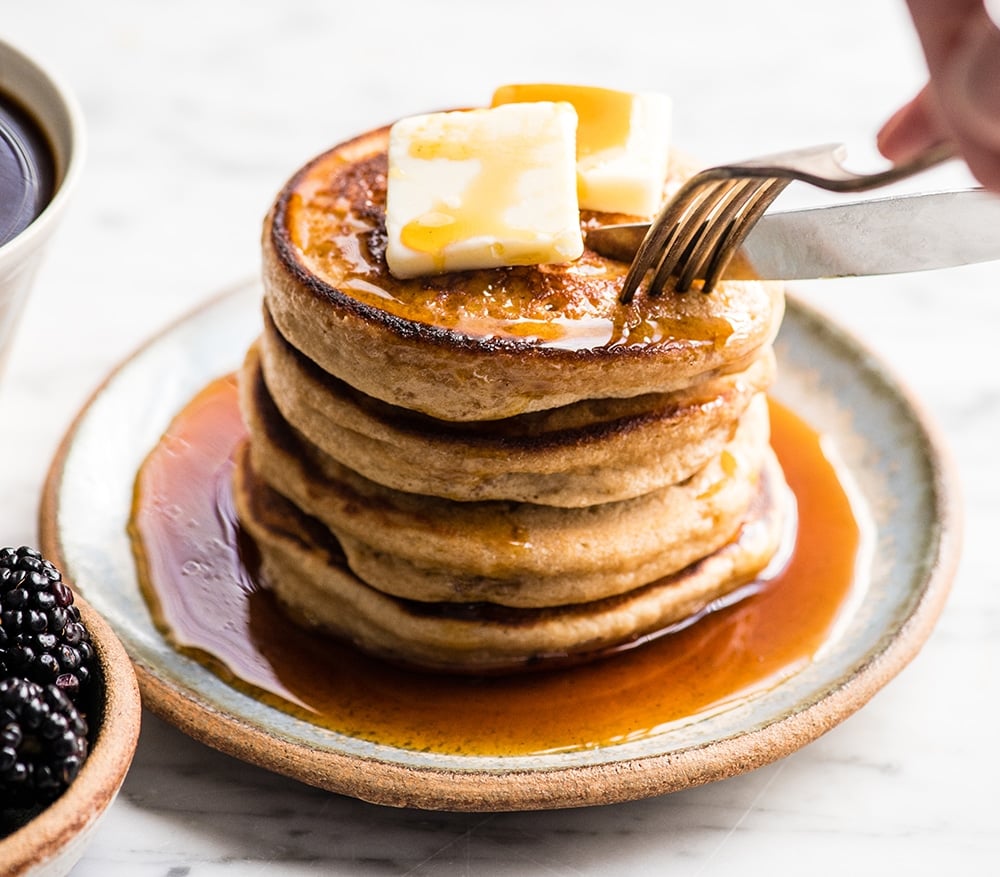 Greek Yogurt Pancakes: Ingredients & Substitutions
Let's take a minute to chat about the ingredients in this Greek yogurt pancake recipe, as well as possible substitutions.
Oat flour. In the post above I explain how to make your own oat flour. I love using oat flour because of the nutrients and fiber it contains. You may also substitute the oat flour with all-purpose flour, white whole wheat flour, or all-purpose gluten-free flour.
All-purpose flour. I really feel like the blend of flours is important in this Greek yogurt pancakes recipe. The addition of AP flour with oat flour makes these pancakes more hearty and easy to flip. You can substitute gluten-free all purpose flour, whole wheat flour or more oat flour (but if you make this choice the pancakes will be more delicate)
Vanilla Greek yogurt. I prefer a sweetened variety (usually Greek God's Vanilla Honey Greek yogurt) because it makes the pancakes sweeter. If you want to use plain Greek yogurt you may need to adjust the amount of sugar/coconut sugar in the recipe. You can make these fun by using your favorite Greek yogurt flavor!
Granulated sugar. Any granulated sugar works well in this recipe! For a refined sugar free version use coconut sugar.
Milk. Any dairy-free or regular dairy milk works perfectly in these healthy greek yogurt pancakes!
Can you substitute yogurt for milk in pancakes?
As you can see below, this Greek yogurt pancake recipe only calls for 1-2 TBS of milk if the batter is not thin enough. So yes! You absolutely can use yogurt in place of milk when making pancakes, like these!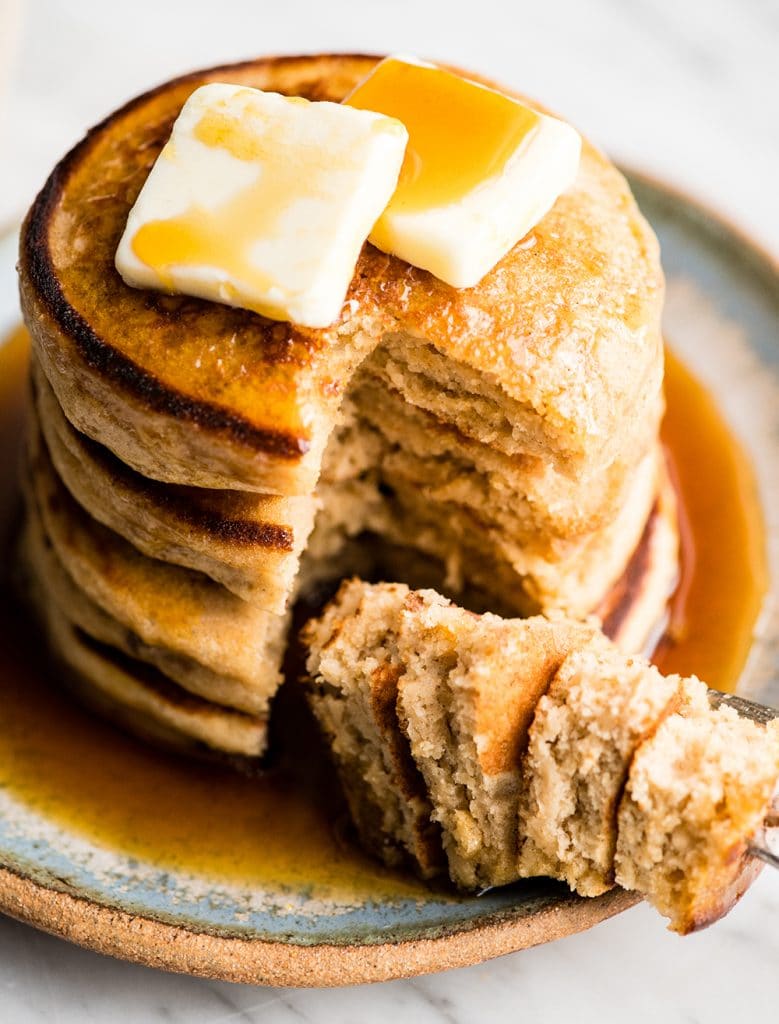 IF YOU MAKE SOMETHING FROM JOYFOODSUNSHINE I WOULD LOVE TO SEE YOUR CREATIONS! DON'T FORGET TO RATE THIS RECIPE AND LEAVE A COMMENT BELOW! ALSO, FOLLOW ALONG WITH ME ON INSTAGRAM, PINTEREST, FACEBOOK AND TWITTER FOR MORE RECIPE INSPIRATION AND A GLIMPSE INTO OUR EVERYDAY LIFE!
Healthy Greek Yogurt Pancakes Recipe (gluten-free option)
Healthy Greek Yogurt Pancakes Recipe! An easy, one-bowl, delicious and nutritious breakfast recipe that your whole family will love! Freezer-friendly with gluten-free and refined sugar free options!! #easybreakfast #pancakes #recipe #greekyogurt #breakfast #vitamix #healthy
Instructions
Preheat an electric griddle to 350 degrees F.

In a large bowl mix together the Greek yogurt, eggs and vanilla. Whisk until mixture is smooth.

Add sugar, oat flour, all-purpose flour, baking powder, baking soda, salt and cinnamon in a small bowl. Whisk until completely combined.

If the batter is too thick, add milk 1 TBS at a time until it reaches your desired consistency.

Grease a griddle or skillet by melting butter on it and moving it around until the surface is coated.

Pour ¼ cup portions of pancake batter onto the greased, heated surface.

Cook until bubbles start forming in the batter and the sides become set (about 2-4 minutes)

Flip and cook for 2-4 minutes on the second side, or until golden brown.
Nutrition
Serving:
1
pancake
|
Calories:
55.9
kcal
|
Carbohydrates:
8
g
|
Protein:
2
g
|
Fat:
1.9
g
|
Saturated Fat:
0.8
g
|
Polyunsaturated Fat:
0.3
g
|
Monounsaturated Fat:
0.4
g
|
Cholesterol:
26.2
mg
|
Sodium:
89.2
mg
|
Potassium:
39.2
mg
|
Fiber:
0.5
g
|
Sugar:
4.5
g
|
Vitamin A:
75
IU
|
Calcium:
41
mg
|
Iron:
0.4
mg
This post was originally published on September 12, 2016. It has been updated with new photos, instructions, and a video!
This post contains affiliate links, which means that if you purchase a product through a link you clicked on here, I receive a portion of the sale. Thank you for supporting JoyFoodSunshine!