Smoothies are an easy and delicious way to sneak some fruit, veggies and protein into your day! Here's a list of our favorite easy & healthy smoothie recipes that are nutritious and tasty, plus my tips on making the best smoothies!
I drink a smoothie every day, and have for almost a decade! So I decided to create a post with all my favorite smoothie recipes in one place!
All of our smoothie recipes are easy to make (in less than 5 minutes), nutritious and kid-approved. I love making healthy smoothie recipes to sneak some fruits, veggies and protein into our daily lives in a way my kids absolutely love.
This post will start with my tips on making the best smoothies, and then I'll share a list of all my favorite healthy smoothie recipes!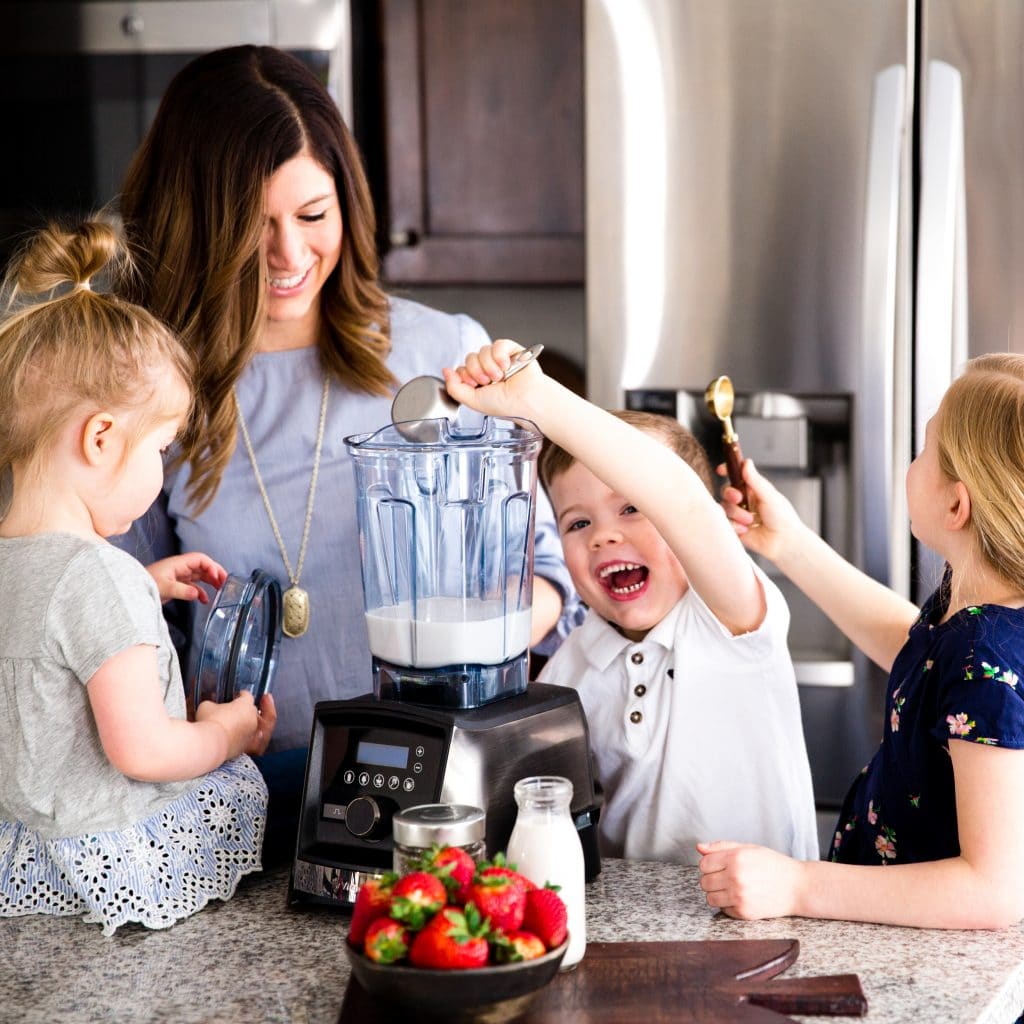 Tips for making the best smoothie recipes
If you've been around my blog for a while then you know that I exclusively blend with a Vitamix (and have for over a decade)! So it's not surprising that I will tell you that the best way to make silky smooth smoothies is to use a Vitamix blender!
I bought my first Vitamix because I was sick of finding chunks in my smoothies. I wanted a blender that would pulverize anything and everything I put into my smoothie recipes and the Vitamix was the answer. If you don't have a Vitamix yet I highly recommend getting one ASAP!
Check out my Vitamix Buying Guide where I give my exhaustive reasons for choosing a Vitamix blender a decade ago, and my top recommendations about which model to buy!
Tip #2 Use Frozen Ingredients
Using frozen fruit and greens is key to making the thickest, creamiest smoothies. You'll notice I typically do not use ice in my smoothie recipes, because it waters down the flavor and gives smoothies an icy texture - of which I am not a fan.
Freeze Bananas
In my opinion, bananas are an essential ingredient to make the best healthy smoothies for both natural sweetness and a creamy texture. So, make sure to purchase bananas designated to freeze for smoothies when you go grocery shopping!
To freeze bananas for smoothies, let the bananas ripen then cut them into halves or thirds. Flash freeze on a baking sheet, then transfer to an airtight, freezer-friendly container to store!
Fruit to use in a smoothie
Here are some suggestions for fruits to use in these smoothie recipes.
mango
pineapple
strawberries
blueberries
raspberries
peaches
cherries
oranges
grapefruit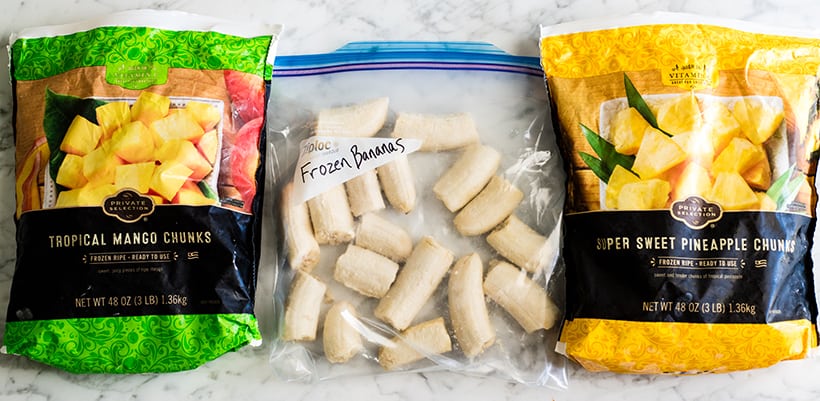 Freeze Greens
If using greens, I recommend freezing them for thick cold smoothies - however you don't really have to. I usually just buy large containers of greens at the store and toss them directly in the freezer so I always have some on hand.
Blend and freeze greens in cubes
If you don't have a lot of space in your freezer, you can take fresh greens and blend them with a small amount of water until the mixture is smooth. Then freeze in ice cube trays and store frozen cubes of greens in an airtight container in the freezer. I used to do this when we lived in a condo and didn't have an extra freezer in the basement!
Greens to use in these healthy smoothie recipes
spinach
kale
swiss chard
romain lettuce
beet greens
carrot tops
collard greens
celery
When making a smoothie, it's important to always add the liquid ingredients into the blending container first. This ensures the other ingredients don't get stuck under the blades! It also creates a vortex that pulls everything into the blades for a smooth blend!
Best liquids to use in healthy smoothies
I always use some sort of non-dairy milk in my healthy smoothies because I think it gives them the best taste and texture. However there are many different liquids that could be used:
Almond Milk (my personal favorite)
Coconut Milk
Any percentage of dairy milk
Rice Milk
Oat Milk
Cashew Milk
Coconut Water
Water (not recommended, but can be used)
Best Healthy Smoothie Recipes
Ok - now it's time to jump into all our favorite healthy smoothie recipes! Which one will YOU make first?
Smoothie Recipes
Smoothies are a an easy and delicious way to sneak some fruit, veggies and protein into your day! This is a list of my favorite smoothie recipes that are healthy and tasty!
I hope you found this post helpful, and that you start working your way through making all of these delicious smoothie recipes.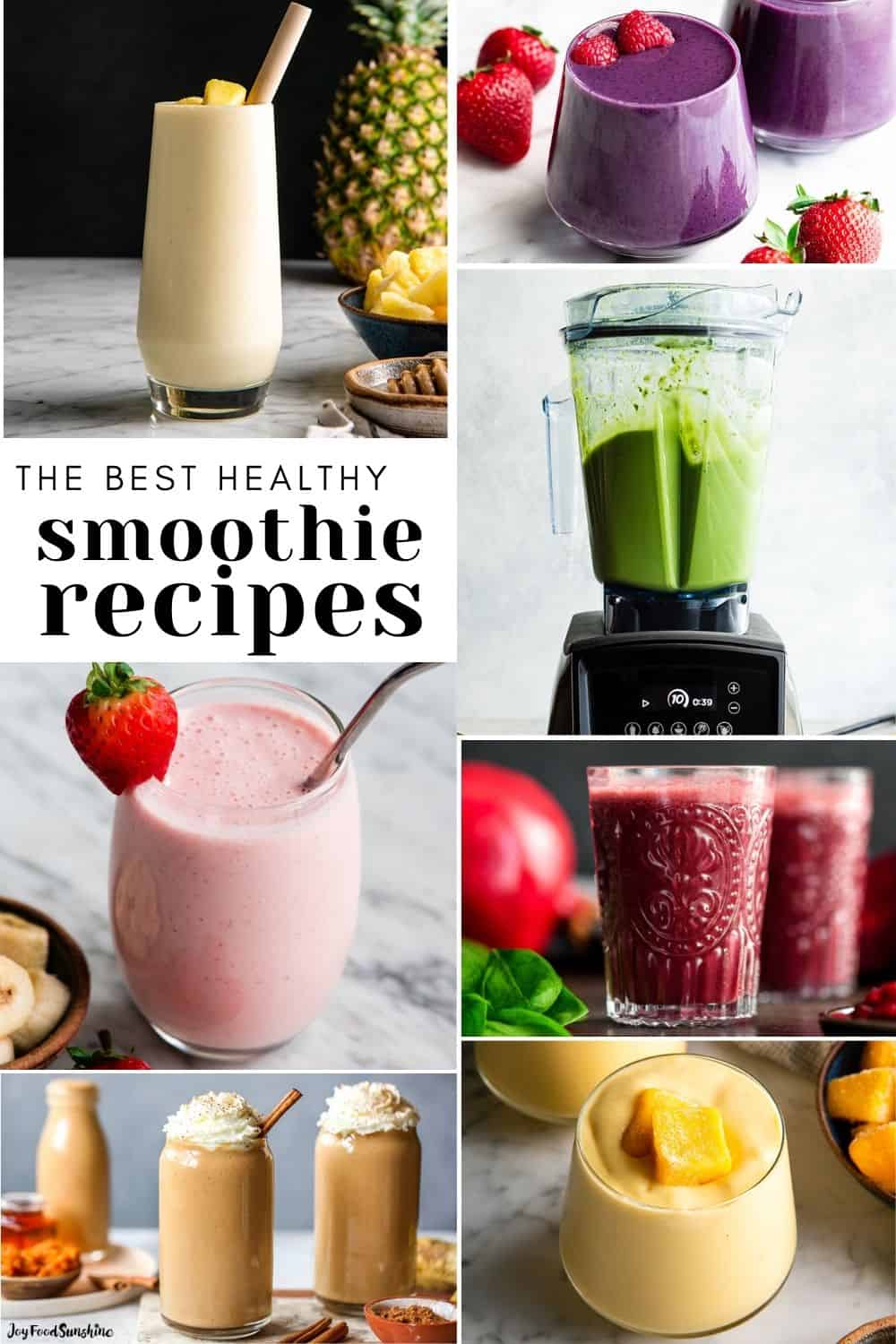 IF YOU MAKE SOMETHING FROM JOYFOODSUNSHINE I WOULD LOVE TO SEE YOUR CREATIONS! DON'T FORGET TO RATE THIS RECIPE AND LEAVE A COMMENT BELOW! ALSO, FOLLOW ALONG WITH ME ON INSTAGRAM, PINTEREST, FACEBOOK, YOUTUBE AND TWITTER FOR MORE RECIPE INSPIRATION AND A GLIMPSE INTO OUR EVERYDAY LIFE!
This post contains affiliate links, which means that if you purchase a product through a link you clicked on here, I receive a portion of the sale. Thank you for supporting JoyFoodSunshine!