This Healthy Sweet Potato Casserole recipe is the perfect Thanksgiving side dish! It's only sweetened with applesauce and is paleo, vegan, gluten-free, dairy-free & sugar free!
Can you believe Thanksgiving is ONE week away?! ONE!! I am so excited I can't even tell you! I've shared many of my favorite Turkey Day recipes, but this Healthy Sweet Potato Casserole ranks in the top three for sure! This recipe is literally bursting with rich flavors, is velvety smooth, and crazy healthy! That's right, no butter or brown sugar or marshmallows are needed to make this delicious dish!
Naturally sweetened with applesauce and spiced with cinnamon and nutmeg, this healthy sweet potato casserole is a sure-fire crowd pleaser! It's nutritional profile can't be beat either…vegan, paleo, gluten-free, and dairy-free with absolutely NO sugar added! Everyone at your Thanksgiving celebration will be able to enjoy this dish!
I know what you're thinking…really? Could something so healthy really replace the classic recipe laden with not-so-good-for-you ingredients? The answer is YES! Seriously, there are many healthier dishes that my husband says are good…but you can "tell it's healthy." This healthy sweet potato casserole is NOT one of those recipes!
I made it for a group of friends and one of the men gave it the thumbs up and asked for the recipe! (In my circle it's the ladies who are more likely to enjoy healthier fare). Many of us are plant lovers who have meat eating husbands (can I get a hand raise from all my veggie ladies out there?!) So if we get the meat and potatoes man stamp of approval on a healthier dish it has to be a winner…right? 😉
Not only is this healthy sweet potato casserole delicious, but it's very easy to make! Simply bake your sweet potatoes and let cool slightly. Then toss the rest of the ingredients (except for the pecans) into your Vitamix (or other high-powered blender) and blend until smooth. The reason I use a blender is that I am a total texture person, and a lumpy casserole will not do.
Top the casserole with chopped pecans and a dash of salt and you're good to go.You can add a sprinkle of cinnamon sugar (either using regular granulated sugar or coconut sugar) but this step is totally optional and can absolutely be omitted without sacrificing flavor if you are set on an sugar-free dish! Then bake for about 25 minutes until the nuts are golden-brown and the sweet potatoes are slightly bubbling and you're done!
And of course, in true Homemade Holidays fashion….this recipe can EASILY be made ahead of time! Here are a few ways you can get a head start with this recipe:
You can only bake your sweet potatoes: If you like the idea of a completely fresh baked and made casserole, you can at least bake your sweet potatoes the day before! Just let them cool and store them in the fridge until you're ready to use them!
Prepare the dish but do not bake: Again, if you want to bake it fresh the day of then make the casserole but do not add the pecans on top. Store your dish in the fridge, tightly covered in plastic wrap until you're ready to bake it. Remove it from the fridge while your oven is preheating and add the topping. Then bake according to the directions and you're good to go!
Bake the whole thing and warm it the next day: You absolutely can go ahead and make this casserole from start to finish and then store it in the fridge. When you're about ready to serve it pull it out of the fridge and pace it in a warm oven until it is heated through and the top becomes slightly crispy again!
As you can see, there are so many ways to get the bulk of the "work" required to make this healthy sweet potato casserole done before the big day…which leaves you free to spend time with friends and family instead of slaving away in the kitchen! 😉
Healthy Sweet Potato Casserole: Substitutions
Here are a few possible substitutions you could make in this recipe!
Coconut oil: Butter, vegan butter or ghee are all acceptable substitutions for coconut oil!
Unsweetened apple sauce: you can make your own homemade applesauce and use it in this recipe! I do not recommend any other substitutions!
Pecans: Walnuts or crushed almonds can be used in place of pecans…although I truly believe that pecans are the best!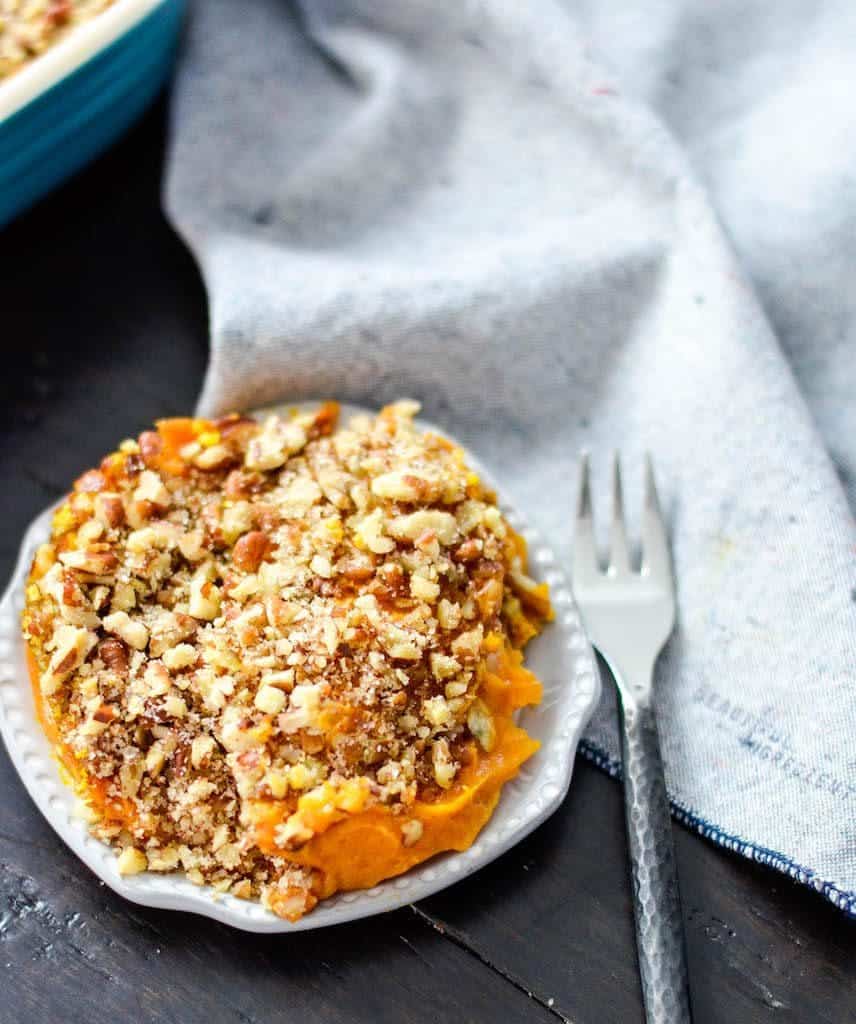 IF YOU MAKE SOMETHING FROM JOYFOODSUNSHINE I WOULD LOVE TO SEE YOUR CREATIONS! DON'T FORGET TO RATE THIS RECIPE AND LEAVE A COMMENT BELOW! ALSO, FOLLOW ALONG WITH ME ON INSTAGRAM, PINTEREST, FACEBOOK, YOUTUBE AND TWITTER FOR MORE RECIPE INSPIRATION AND A GLIMPSE INTO OUR EVERYDAY LIFE!
Healthy Sweet Potato Casserole
This Healthy Sweet Potato Casserole recipe is the perfect Thanksgiving side dish! It's only sweetened with applesauce and is paleo, vegan, gluten-free, dairy-free & sugar free!
Instructions
Preheat oven to 450 degrees.

Wrap sweet potatoes in aluminum foil or place in greased covered baking dish and bake in preheated oven until soft (about 1-1.5 hours). You can also cook them in a slow cooker, in the microwave or boil them!

Remove from oven, cut in half and let cool.

Remove skins and set sweet potatoes aside.

Reduce oven to 375 degrees F.

Add apple sauce and sweet potatoes to your blender (

Vitamix

) and blend until smooth

Add melted coconut oil (butter/earth balance/ghee), cinnamon, salt and nutmeg and blend until combined.

Transfer to a 9" baking dish and sprinkle the top with pecans and optional topping

Bake at 375 for 25-30 minutes until potatoes begin to slightly bubble and toping is lightly browned.

Let cool for 10 minutes before serving.
Notes
You can easily make this dish head of time in one of two ways: 1) Bake the dish completely, let cool and store, loosely covered in plastic wrap, in the fridge. Then reheat at 300 degrees until warmed through. 2) Make the sweet potato mixture and do not add toppings. Place it in your baking dish tightly covered in the refrigerator until you are ready to serve. Then add topping and bake according to the instructions.
Nutrition
Calories:
163.7
kcal
Carbohydrates:
11.9
g
Protein:
1.8
g
Fat:
12.9
g
Potassium:
231.9
mg
Fiber:
2.8
g
Sugar:
5
g
Vitamin A:
2070
IU
Vitamin C:
7.5
mg
Calcium:
26
mg
Iron:
0.9
mg
More Delicious Thanksgiving recipes:
Obviously I recommend making this cranberry sauce stuffing recipe as part of your Thanksgiving feast! Here are some of the recipes we make on Thanksgiving:
This post contains affiliate links, which means that if you purchase a product through a link you clicked on here, I receive a portion of the sale. Thank you for supporting JoyFoodSunshine!