I drink a smoothie every day! In this post I share my tips and teach you how to make a smoothie & share our favorite smoothie recipes! Making smoothies is easy, healthy and delicious.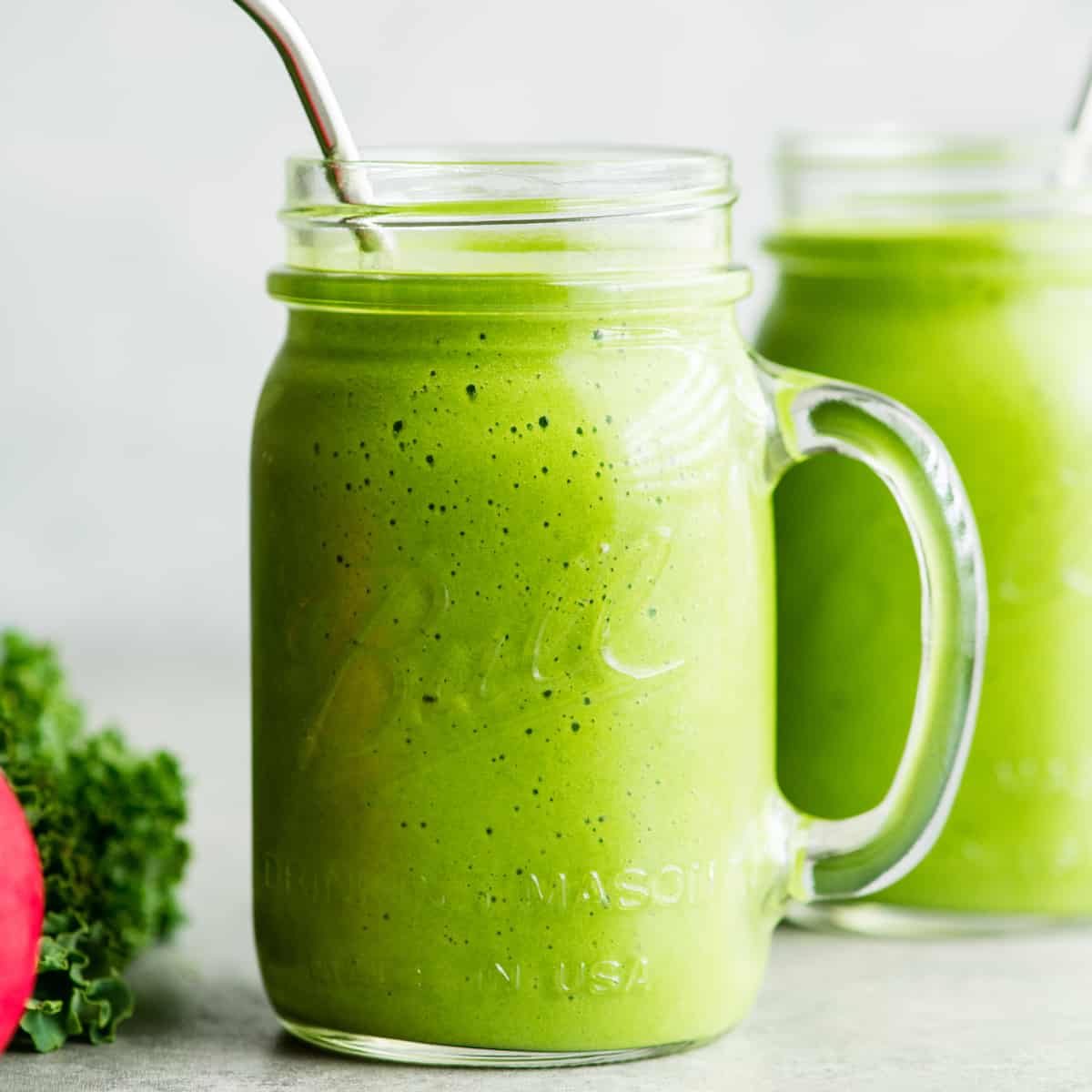 I drink a smoothie every day, and have for over a decade.
I'm not exaggerating either, I pack my blender (Vitamix, of course) and take it with me whenever we travel. I love starting my day with a glass full of fruit, greens and protein.
It's really easy to learn how to make a smoothie, since all of our smoothie recipes are made in less than 5 minutes!
Once you learn how to make smoothies that are nutritious and delicious – even your kids will enjoy them! I love making smoothies to sneak some fruits, veggies and protein into our daily lives in a way my kids absolutely love.
So, I'm going to break down how to make smoothies and I include a list of all of my favorite easy smoothie recipes.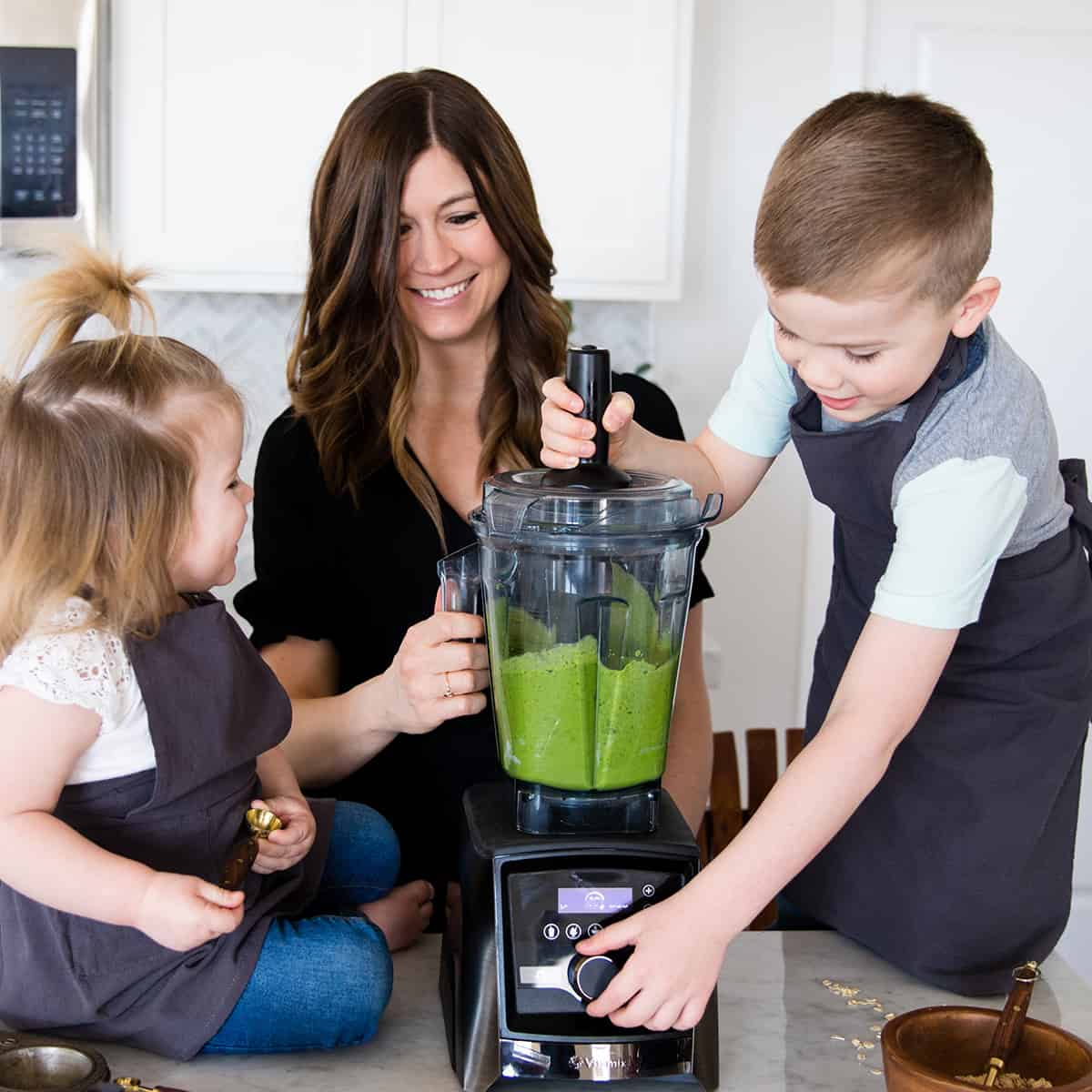 The first step in learning how to make a smoothie is to understand that not all blenders are created equal.
I bought my first Vitamix because I was sick of chunky smoothies. I have not-so-fond memories of literally trying to make a smoothie in my food processor because I had one, and spending money on a fancy blender was a stretch for us financially. The chunks of spinach made me gag, and we decided to buy a reconditioned Vitamix (that is still blending strong 11 years later).
I wanted a blender that would pulverize anything and everything I put into my smoothies and the Vitamix was the answer (plus I used it to make baby food)!
Check out my Vitamix Buying Guide where I give my exhaustive reasons for choosing a Vitamix blender a decade ago, and my top recommendations about which model to buy!
How to make smoothies: Tip #2: Add liquid ingredients first
When making a smoothie, it's important to always add the liquid ingredients into the blending container first. This ensures the other ingredients don't get stuck under the blades. It also creates a vortex that pulls everything into the blades for a smooth blend.
Best liquids for smoothies
I always use some sort of non-dairy milk in my smoothies because I think it gives them the best taste and texture. However there are many different liquids that could be used:
Almond Milk (my personal favorite)
Coconut Milk
Any percentage of dairy milk
Rice Milk
Oat Milk
Cashew Milk
Coconut Water
Water (not recommended, but can be used)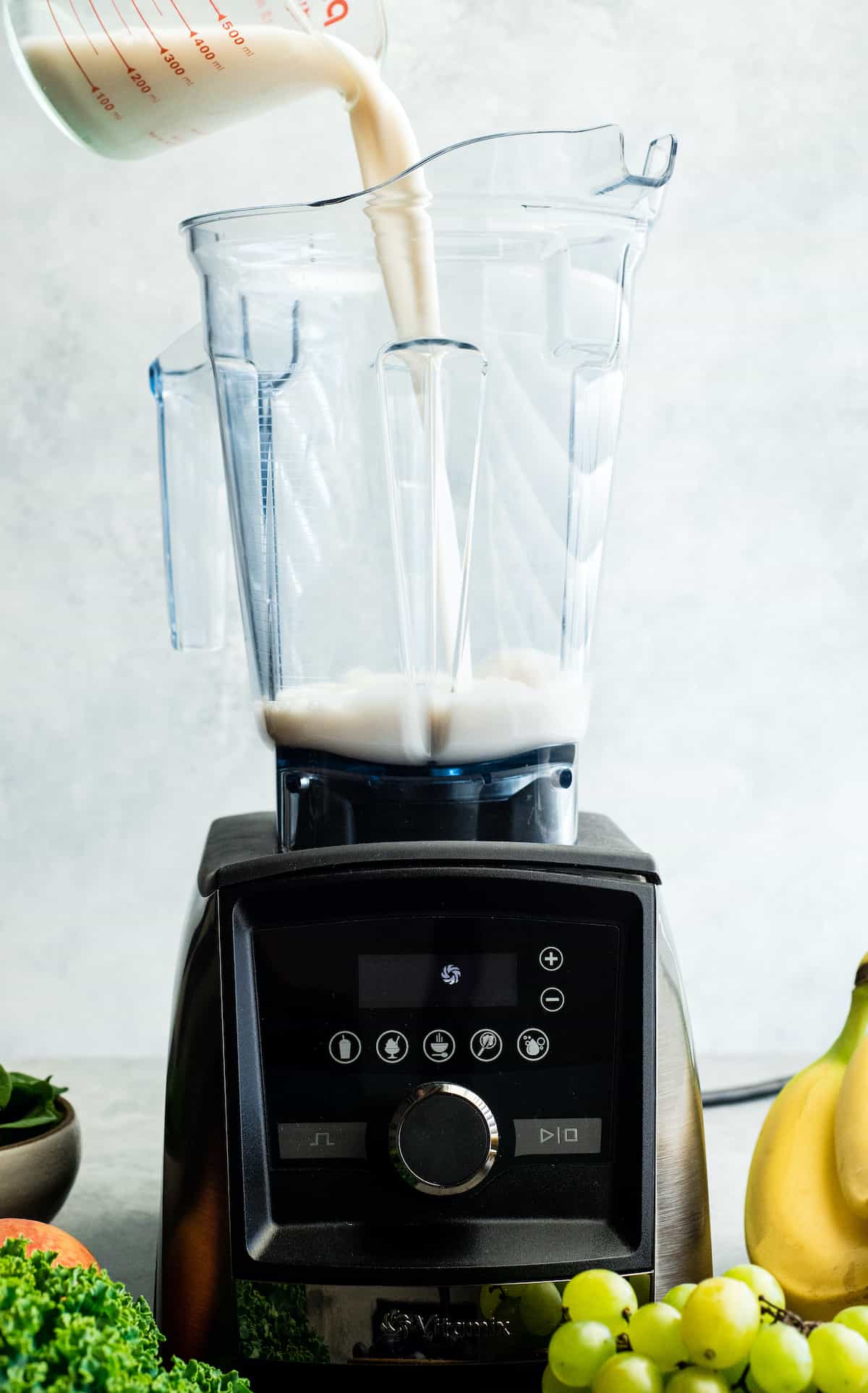 How to make a Smoothie: Tip #3 Use Frozen Ingredients
Using frozen fruit and greens is crucial to making the thickest, creamiest smoothies. You'll notice I typically do not use ice in my smoothie recipes, because it waters down the flavor and gives smoothies an icy texture – of which I am not a fan.
Fruits for Smoothies
Here are some suggestions for fruits to use to make the best smoothies (all frozen, of course).
bananas
mango
pineapple
strawberries
blueberries
raspberries
peaches
cherries
oranges
grapefruit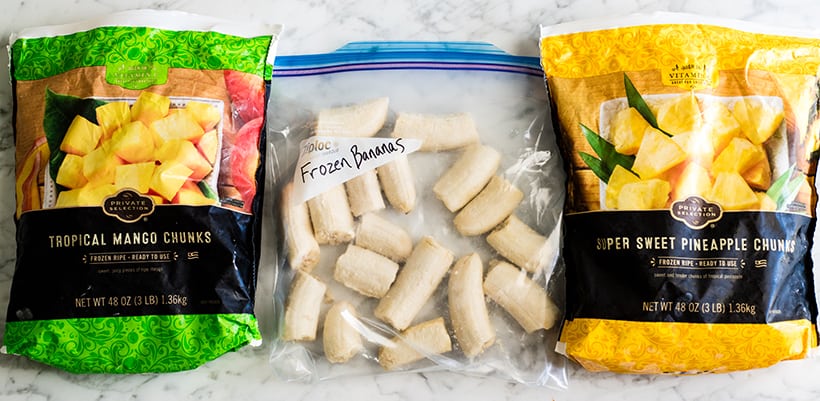 Greens for smoothies
spinach
kale
swiss chard
romain lettuce
beet greens
carrot tops
collard greens
dandelion greens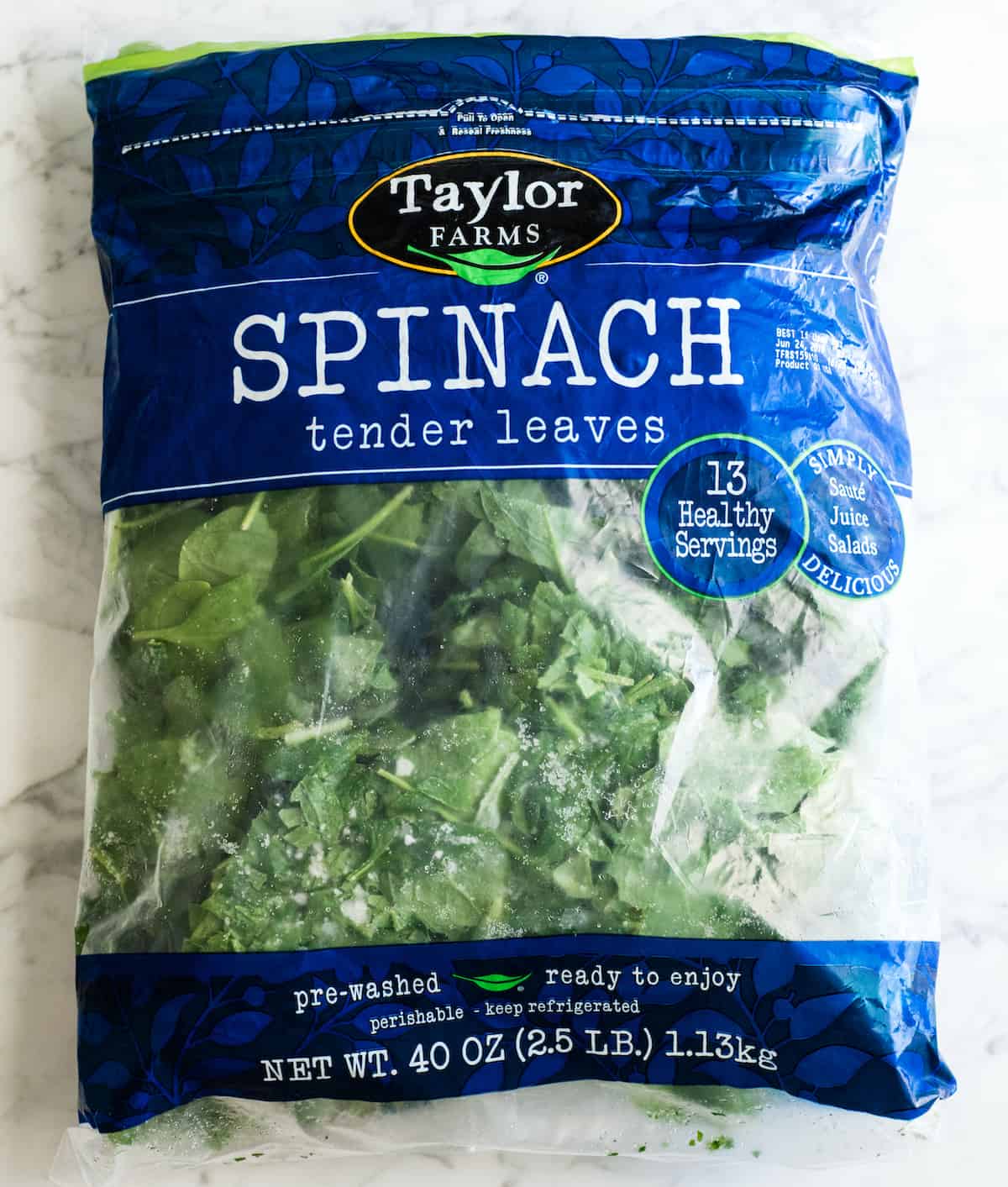 I typically like to add the greens first, then the frozen fruit on top to help push the greens into the blades. However, you can choose which order to put them in!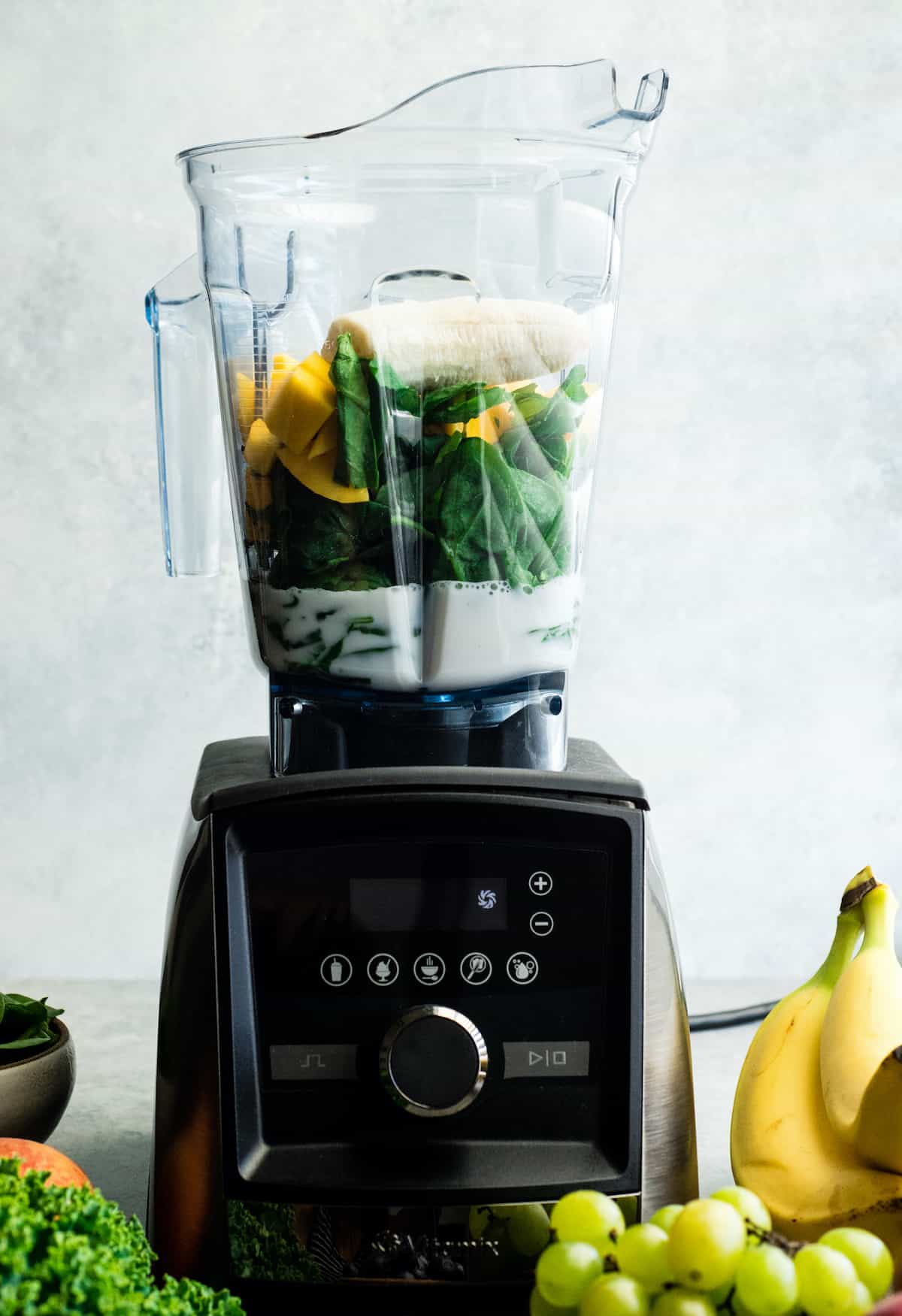 How to make a smoothie: Tip #4 Pre-portion add-ins.
I prefer to measure out all the add-ins I want in my smoothies and store them in small containers that are ready to go in the mornings. This way I am not trying to find the perfect combination of protein powders, seeds, etc. during the busy and often rushed hours of the mornings.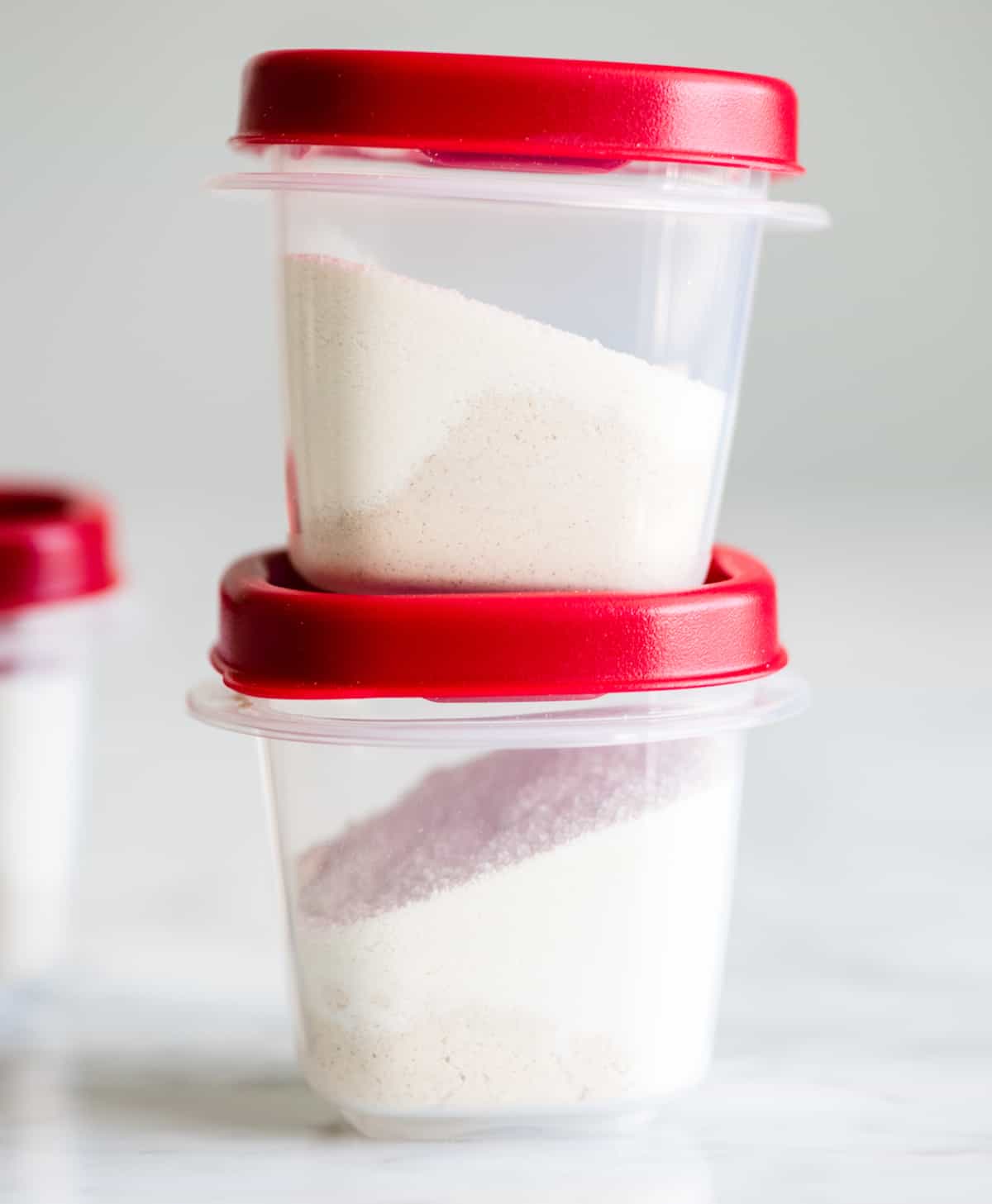 Blend & Tamp
Finally, once you have put all of the ingredients in your blender (liquids first, remember), it's time to blend. Be sure the lid is secure. Always start blending on low speed and increase to high.
I have my smoothie making down to a science and I almost always blend my smoothies for 50 seconds exactly. Make sure to keep pressing the ingredients down into the blades with the tamper (if you're using a Vitamix), and blend until the mixture is completely smooth.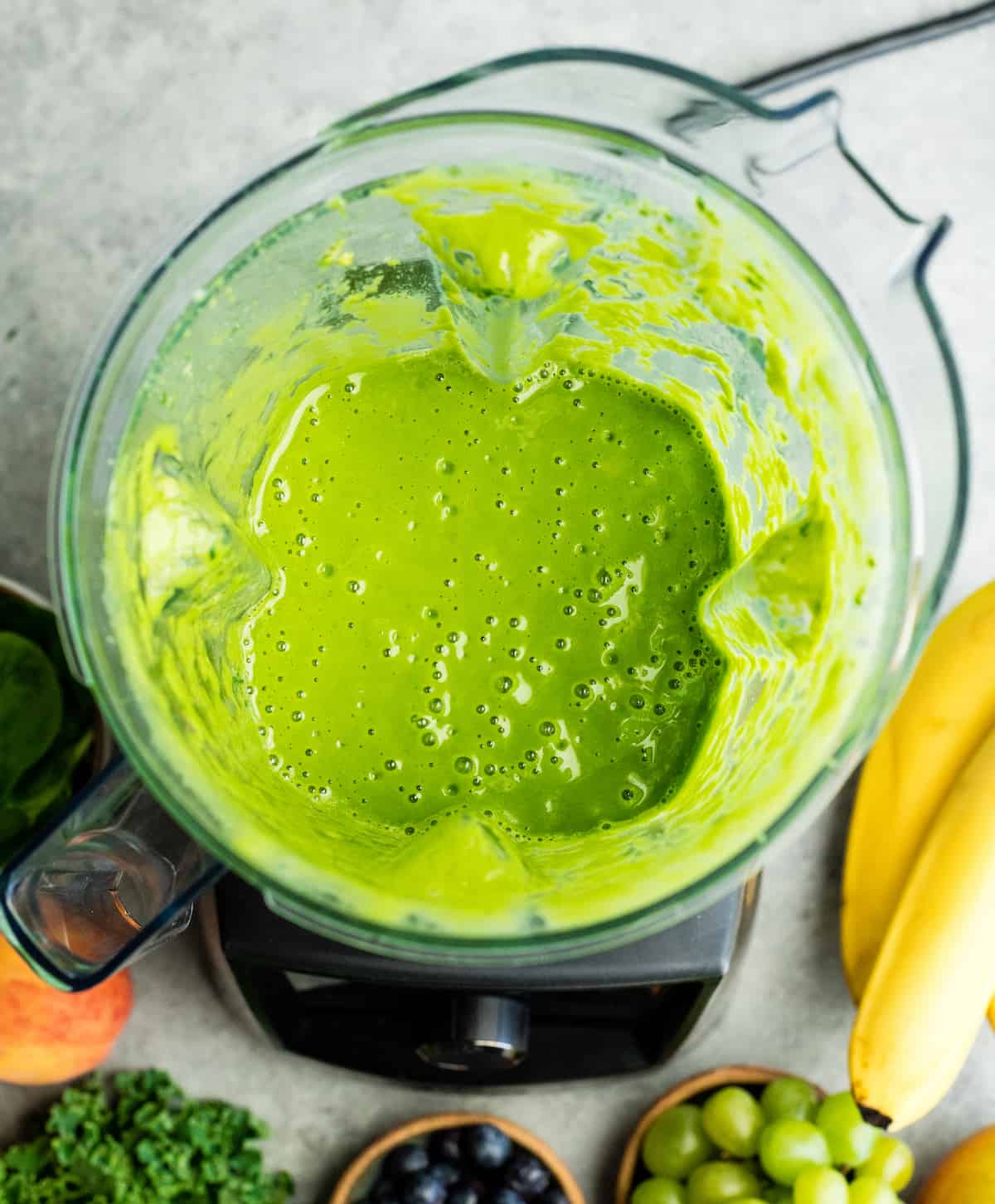 Smoothie Making FAQS
How do you freeze bananas for smoothies?
In my opinion, bananas are an essential ingredient to make the best healthy smoothies for both natural sweetness and a creamy texture. So, make sure to purchase bananas designated to freeze for smoothies when you go grocery shopping.
To freeze bananas for smoothies, let the bananas ripen then cut them into halves or thirds. Flash freeze on a baking sheet, then transfer to an airtight, freezer-friendly container to store! 
How do you freeze greens to use in smoothies?
Freeze Greens
If using greens, I recommend freezing them for thick cold smoothies – however you don't really have to. I usually just buy large containers of greens at the store and put them directly in the freezer so I always have some on hand.
Blend and freeze greens in cubes
If you don't have a lot of space in your freezer, you can take fresh greens and blend them with a small amount of water until the mixture is smooth. Then freeze in ice cube trays and store frozen cubes of greens in an airtight container in the freezer. I used to do this when we lived in a condo and didn't have an extra freezer in the basement! 
What liquid do you put in smoothies?
My top recommendations are: almond milk, coconut milk, whole milk, coconut water and oat milk.
Do you put ice in a smoothie?
No. I usually choose to use frozen ingredients instead of putting ice in my smoothies.
Do you need yogurt in smoothies?
No, yogurt isn't a necessary ingredient in smoothies. It adds protein, flavor and creaminess but it isn't required to make smoothies.
Can I just blend frozen fruit?
You really do need at least a splash of liquid to make a smoothie, so If you'd prefer to just use frozen fruit you can always use water as the liquid so that the ingredients will blend.
How do you thicken smoothies?
My favorite way to thicken smoothies is using frozen ingredients or yogurt.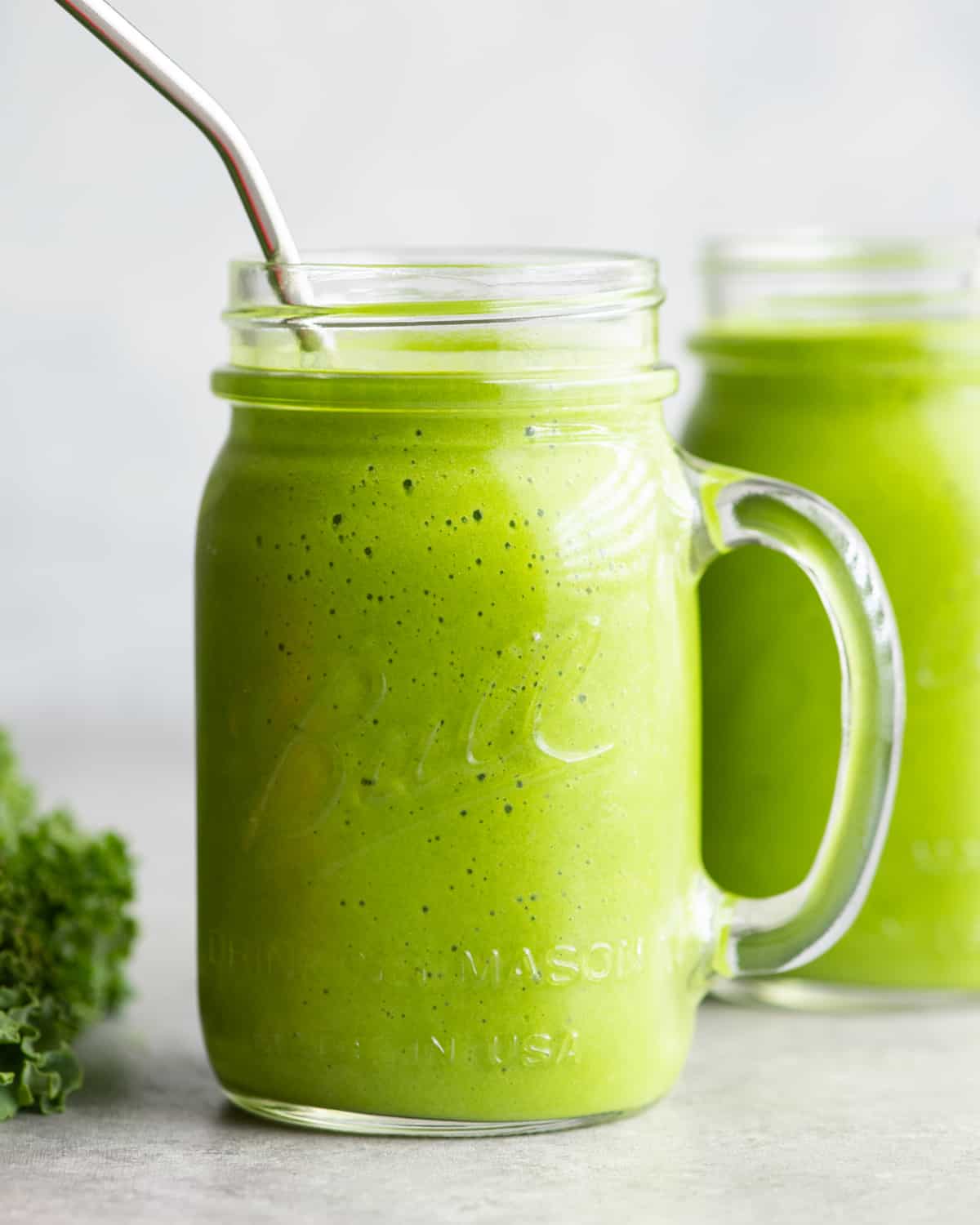 If you make and love our recipes, it would mean so much to me if you would leave a comment and rating! And don't forget to follow along with us on Instagram, Pinterest, Facebook, and Youtube – be sure to tag @joyfoodsunshine and use the hashtag #joyfoodsunshine so we can your creations!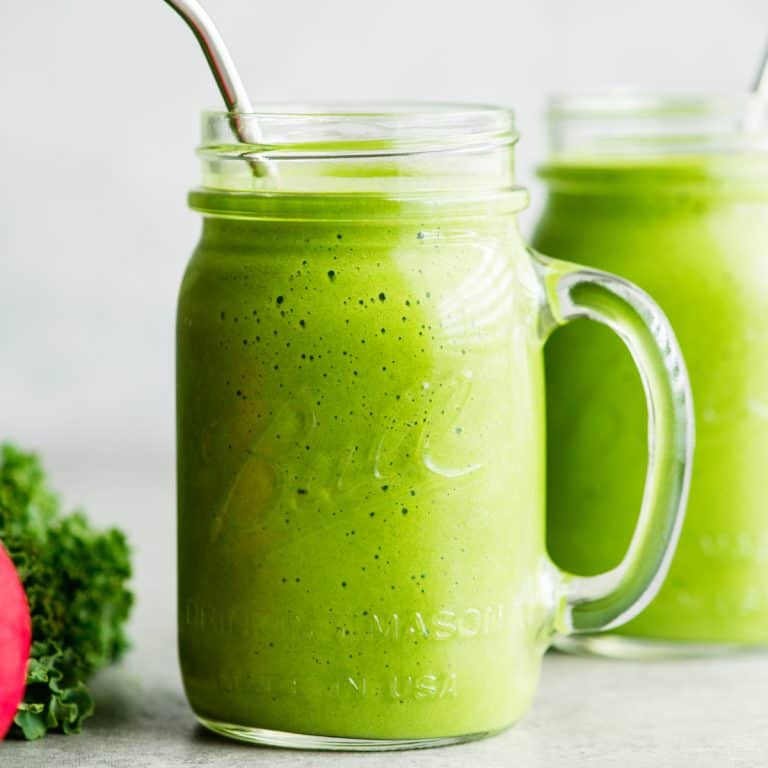 Best Smoothie Recipe (How to Make a Smoothie)
Start your day right with this easy best smoothie recipe. I drink a smoothie every day! In this post I share my tips and teach you how to make a smoothie! Making smoothies is easy, healthy and delicious.
Ingredients
1 ½

cups

unsweetened almond milk

1

cup

greens,

frozen

1

medium banana,

frozen

1

cup

fruit,

frozen

2

TBS

add-ins

(protein powder, collagen, honey, etc).
Instructions
Put ingredients into the container of a Vitamix blender in the order listed.

Start blending on low speed and increase to high.

Blend on high speed for 50-60 seconds until mixture is smooth.

Pour into glasses and enjoy!
Notes
Smoothie liquid suggestions: 
Almond milk, coconut milk, dairy milk, rice milk, oat milk, cashew milk, coconut milk, coconut water. 
Smoothie Greens Suggestions
Spinach, kale, Swiss chard, romaine lettuce, beet greens, carrot tops, collard greens, dandelion greens.
Fruit Suggestions
Mango, pineapple, strawberries, blueberries, raspberries, blackberries, grapefruit, oranges, peaches, cherries, grapes. 
Add-in suggestions: 
Protein powder, nut butter, collagen powder, maca, chia seeds, ground flaxseed, bee pollen, acai berry powder, raw cacao nibs, coconut oil, cinnamon, honey.
Nutrition
Serving:
8
oz
|
Calories:
153
kcal
|
Carbohydrates:
33
g
|
Protein:
3
g
|
Fat:
3
g
|
Saturated Fat:
1
g
|
Polyunsaturated Fat:
1
g
|
Monounsaturated Fat:
1
g
|
Sodium:
274
mg
|
Potassium:
484
mg
|
Fiber:
5
g
|
Sugar:
21
g
|
Vitamin A:
3209
IU
|
Vitamin C:
16
mg
|
Calcium:
264
mg
|
Iron:
1
mg
Nutrition information is automatically calculated, so should only be used as an approximation.
Did you enjoy this recipe? Have a question? Leave a comment below!
Smoothie Recipes
Smoothies are a an easy and delicious way to sneak some fruit, veggies and protein into your day! This is a list of my favorite smoothie recipes that are healthy and tasty!