Paleo Zucchini Cookies are a healthy and nutritious recipe loaded with sneaky veggies that tastes like dessert but can be served for breakfast! They're gluten-free, grain-free, dairy-free, paleo AND are ready in 20 minutes!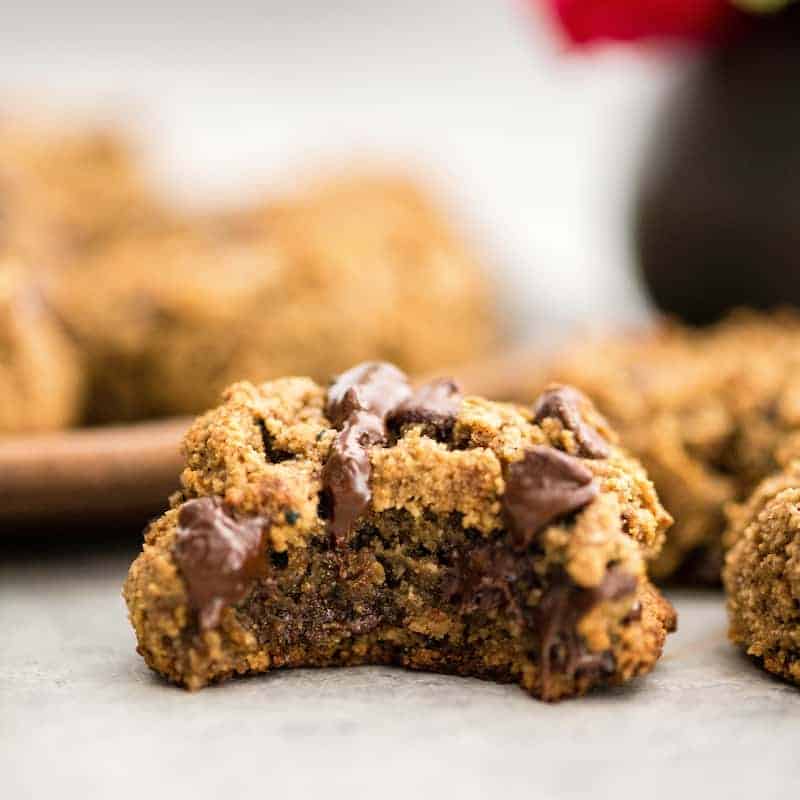 This post was originally published on March 17, 2016. It has been updated with new photos and a video, however the recipe remains the same.
I've mentioned before that my kids are into sweet breakfasts. I remember the first time I made them "cookies" in the morning…they flipped and thought I was the coolest mom in the world.
Since they loved it, I made it my mission to create healthy breakfast cookies that have a serving of veggies in them. I always start the day with a healthy dose of greens, so I try to do what I can to be sure my kids do too!
You can serve these paleo breakfast cookies first thing in the AM…but they also hold their own as a delicious after dinner dessert! They are dairy-free, gluten-free, paleo and refined-sugar free!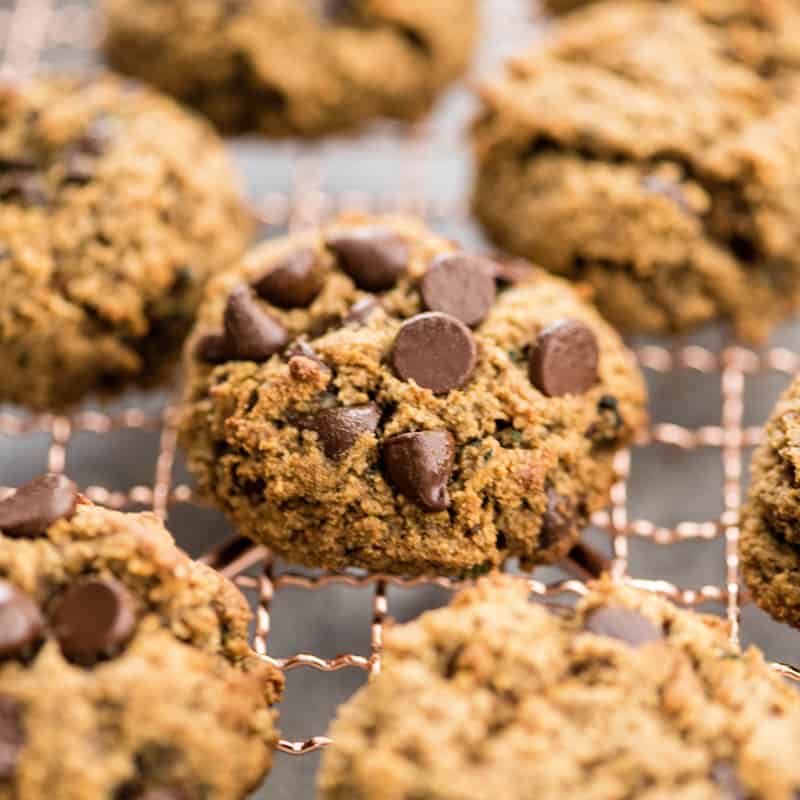 How to make Paleo Zucchini Cookies
1. Blend
This step is actually optional if you do not mind having flecks of zucchini visible in your zucchini cookies! However, in my house, my kids would not approve of anything green in their cookies, so I always blend the zucchini with the other wet ingredients! I also really enjoy the texture of these paleo breakfast cookies when the zucchini is fully blended.
2. Line the baking sheet
Lining your baking sheet with parchment paper ensures these healthy zucchini cookies are easily removed from the baking sheet. They are very soft, so this is an important step!
3. Let them cool
After baking let the cookies cool on the baking sheet for at least 5 minutes. This gives them time to hold their shape more when removed from the pan!
4. Freezer-friendly!
This recipe makes soft, cakey cookies that are also hearty! They held up very well in the freezer! They're great to have on hand for the mornings when you don't have the brain power to think about breakfast. You can just pull some out of the freezer, heat in the microwave for about 1 minute, and have a healthy delicious breakfast you and your kids will love!
Equipment needed to make Paleo Zucchini Cookies:
Vitamix. These Paleo Zucchini Cookies are so easy and taste amazing. They are made in the Vitamix, which is super important because it blends the zucchini so fine that even the most scrupulous observer won't be able to find a trace of green! 🙂
Cookie Scoop The dough on these healthy zucchini cookies is pretty soft (as you can see in the video). Using a cookie scoop to put the dough on the baking sheet makes the process much easier, and far less messy!
Baking sheet. A good baking sheet really matters! I love these made by Nordic Ware!
Parchment Paper. I buy my parchment paper in pre-cut sheets in bulk once every few years! I am never without it in the kitchen!
Paleo Zucchini Cookies: Ingredients & Substitutions
Almond flour. I do not recommend making any substitutions for the almond flour. Especially do not substitute coconut flour, as they are not interchangeable. You could try a 1:1 gluten-free or paleo baking flour if you would like to try it.
Coconut flour. there is no substitute for coconut flour in this recipe!
Coconut oil. Butter or ghee can be used in place of coconut oil.
Coconut sugar. Any granulated sugar works well in place of coconut sugar! Just be sure to choose a variety that complies with your dietary needs.
Chocolate Chips. I used chocolate chunks, but you can use chips of your choosing! To keep these paleo make sure your chocolate is paleo-friendly! I have also used white chocolate chips and Hershey's cinnamon chips (a pantry staple…so yum) both with rave reviews from my family!
If you're looking for more healthy cookie recipes, try these:
IF YOU MAKE SOMETHING FROM JOYFOODSUNSHINE I WOULD LOVE TO SEE YOUR CREATIONS! DON'T FORGET TO RATE THIS RECIPE AND LEAVE A COMMENT BELOW! ALSO, FOLLOW ALONG WITH ME ON INSTAGRAM, PINTEREST, FACEBOOK AND TWITTER FOR MORE RECIPE INSPIRATION AND A GLIMPSE INTO OUR EVERYDAY LIFE!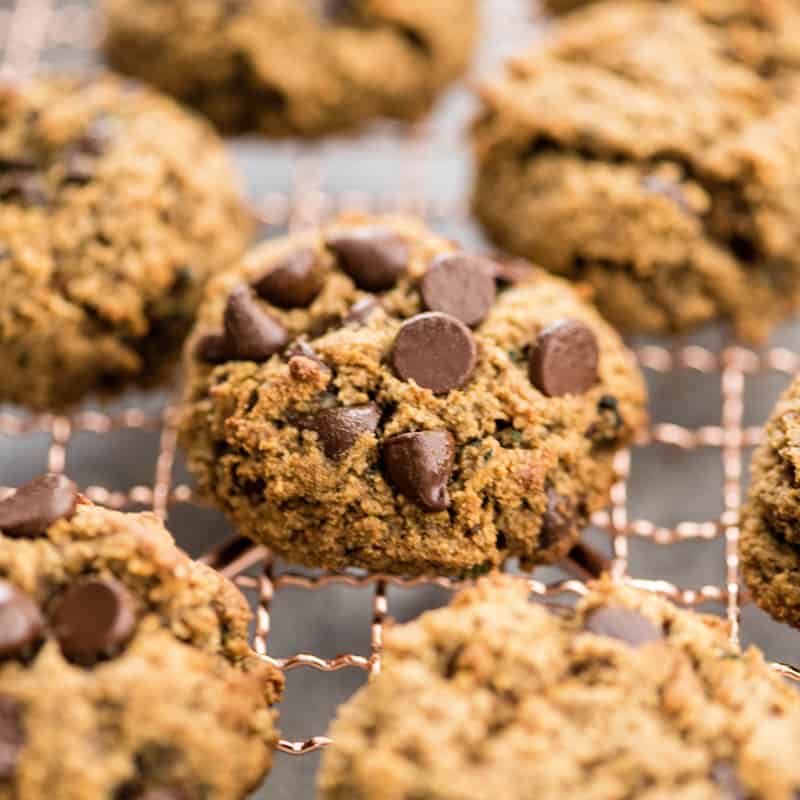 Paleo Zucchini Breakfast Cookies
Paleo Zucchini Cookies are a healthy and nutritious recipe loaded with sneaky veggies that tastes like dessert but can be served for breakfast! They're gluten-free, grain-free, dairy-free, paleo AND are ready in 20 minutes!
Instructions
Preheat oven to 375 degrees F. Line a baking sheet with parchment paper and set aside.

In a medium-sized bowl, mix together dry ingredients (almond flour, coconut flour, baking soda, salt and cinnamon). Set aside.

Put zucchini, coconut oil, almond butter and coconut sugar in your blender (

Vitamix

) or

food processor

). Blend ingredients together until smooth.

Add egg and vanilla and blend for 15 seconds or until just combined.

Pour wet ingredients into dry ingredients and mix very well.

Add chocolate chips.

Scoop 2 TBS portions of cookie dough onto cookie sheet lined with parchment paper.

Bake for 10-13 minutes until cookies are slightly browned.

Let the cookies cool on the baking sheet for at least 5 minute before removing to a wire rack to cool!
Recipe Video
Nutrition Facts
Paleo Zucchini Breakfast Cookies
Amount Per Serving
Calories 134.4
Calories from Fat 82
% Daily Value*
Total Fat 9.1g 14%
Cholesterol 15.5mg 5%
Sodium 216mg 9%
Potassium 45.2mg 1%
Total Carbohydrates 11.9g 4%
Protein 3.2g 6%
* Percent Daily Values are based on a 2000 calorie diet.
This post contains affiliate links, which means that if you purchase a product through a link you clicked on here, I receive a portion of the sale. Thank you for supporting JoyFoodSunshine!