Dessert Sushi (Rice Krispie Roll Cake)
Posted Nov 18, 2016, Updated May 28, 2018
This easy Rice Krispie Roll Cake can also be called "Dessert Sushi!" A super fun desert to serve with a group of girlfriends! Stuff it with your favorite sweets and dig in! It can be gluten-free and dairy-free!
Yes, dessert sushi is a thing! And yes, I made it out of rice crispy treats. It's amazing, and you're going to want to make it ASAP!
I mean, really, this dessert sushi is a rice krispie roll cake that looks remarkably similar to sushi…but it's delicious and fun and perfect to snack on while binge watching your favorite show on Netflix!
It's also gluten-free and vegan-friendly! I'm going to walk you through this dessert sushi recipe step-by-step. Because the instructions seem long and daunting but it's really super simple to make!
Step 1: Get your fillings ready.
You want to have all of your sushi fillings laid out and ready to go before you begin. The reason is because the rice krispies will begin to harden as they cool, which makes them very difficult to roll! You'll want to work super fast to ensure that doesn't happen, which is why having all your ingredients at the ready is so important.
Step 2: Make the rice krispie "wrapper"
Really you just make rice krispie treats (the best recipe EVER right here) and spread the krispie mixture out smooth and thin on a large baking sheet. You do need to work fast because you do not want your rice krispies to harden before you can roll them (like I said above)!
Step 3. Cut the rice krispies before filling! 
Cut the rice krispes into 3 or 4 pieces widthwise (depending on how large you want your sushi rolls to be). This will ensure you know how much filling to add!
Step 4: Add the fillings
See the picture below for the proper spacing. You want to be sure to load those rolls with fillings…the best part! I could've definitely added one more "column" of filling on each of my rolls!
Step 5: Roll it up
This can be a touch tricky if the parchment paper wants to stick to the roll. Be sure to remove the parchment paper as you roll the desert sushi. After you have finished rolling, make the rolls smaller (less thick) by applying pressure while rolling them back and forth. You want to seal and tighten the rice krispies so the dessert sushi doesn't fall apart!
Step 6: Garnish, Cut & Serve
Feel free to coat the outside of the dessert sushi with just about anything! I rolled the S'mores variety in graham cracker crumbs. But really the sky's the limit. Sprinkles, cocoa powder, powdered sugar, etc! Adding a coating helps the pieces of dessert sushi be less sticky!
In this blog post I made two different varieties:
1. Chocolate Peanut Butter Dessert Sushi
This variety consists of a rice krispe wrapper stuffed with peanut butter "logs" and chocolate! To make this specific variety you need to prepare your peanut butter "logs" before you make the rice krispe treat wrapper. I make them, roll them, and pop them in the freezer so they don't melt when added to the slightly warm rice krispes!
If you'd like an easier chocolate peanut butter combo simply fill your rice krispe roll cake with your favorite peanut butter cups!
2. S'mores Dessert Sushi
This one is super simple! It's just filled with chocolate and marshmallows, then coated with graham cracker crumbs!
Really, the sky's the limit with your fillings! Want fruity? Try some fresh strawberries (or gummy bears)! Like a little sweet and salty? Fill it up with some pretzels and caramel! There is no going wrong with whatever you choose!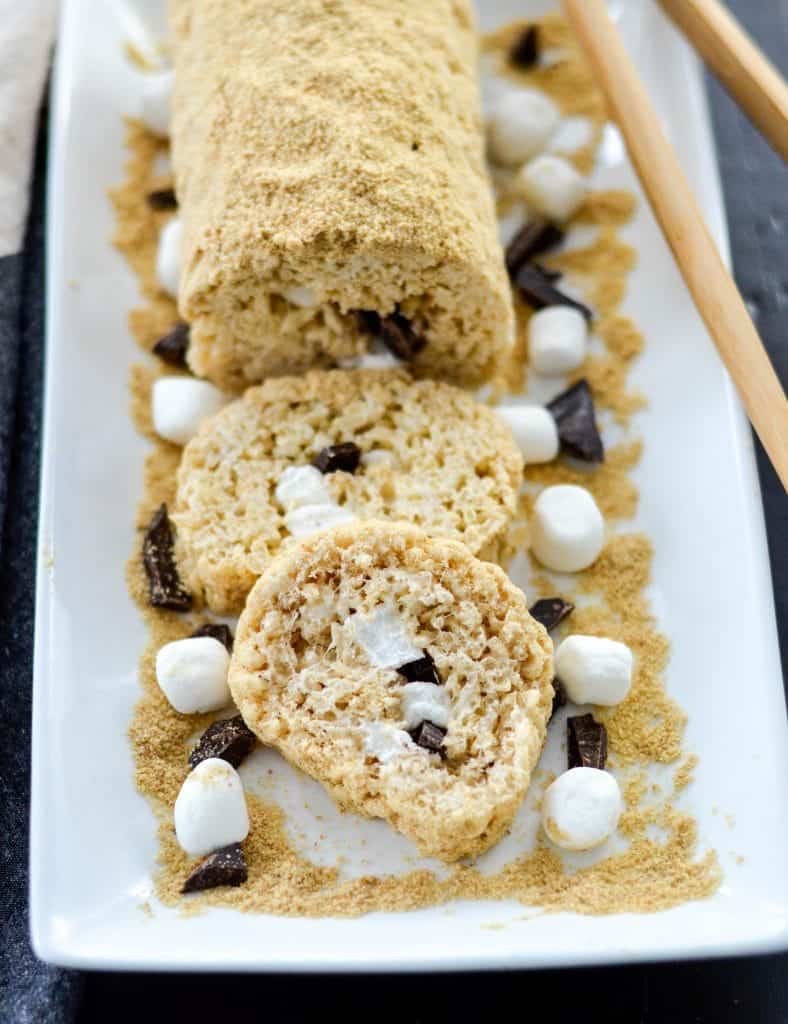 Dessert Sushi: Ingredients & Substitutions
Here are a few notes about the ingredients and possible substitutions in this recipe!
Marshmallows.Mini marshmallows work the best when making rice krispie treats because they melt faster! For a vegan variety, check out these vegan marshmallows!
Coconut oil. Vegan butter, regular butter, and ghee are all great substitutes for coconut oil! When I'm making them for my family I usually use butter!
Crispy Rice Cereal. crispy rice cerealRegular rice krispies and brown both work great in this recipe!
Graham Crackers. gluten-free grahamsChoose your favorite variety that meets your dietary needs! I love these !
Dessert Sushi (Rice Krispe Roll Cake)
This easy Rice Krispie Roll Cake can also be called "Dessert Sushi!" A super fun desert to serve with a group of girlfriends! Stuff it with your favorite sweets and dig in! It can be gluten-free and dairy-free! #dessertsushi #ricekrispie #cake #dessert #recipe #glutenfree #dairyfree
Ingredients
Chocolate Peanut Butter Sushi:
Instructions
Make the Peanut Butter Filling:
Mix together peanut butter, coconut oil (butter/vegan butter) and vanilla.

Add graham crackers, powdered sugar and salt and stir until completely combined.

Roll into a log the size and shape of your sushi.

Place in freezer while you make the rice krispes.
Setting up for success:
Line a large baking sheet with parchment paper and lightly grease, set aside.

Gather all your sushi filling ingredients and set them near your pan. You will need to work quickly!

Remove peanut butter filling from freezer just before you are ready to use it. (Keeping it frozen ensures it won't melt on the slightly warm rice krispes)
Make the Rice Krispe Wrapper:
In a medium bowl, mix together the rice krispe cereal and salt.

Grease a large bowl and pour half of the rice krispe mixture into it. Set aside both bowls.

In a medium/large saucepan melt coconut oil (butter) and marshmallows over low heat, stirring frequently until mixture is smooth and all the marshmallows are melted.

Remove from heat and stir in vanilla until completely combined.

Working quickly, pour half of the marshmallow mixture into the greased bowl.

Pour the other half of the krispe/salt mixture into the greased bowl.

Pour the rest of the marshmallow mixture into the bowl and stir until combined.

Quickly pour the rice krispes onto your prepared large baking sheet. Use a greased spatula or your greased hands to evenly spread out the mixture into a large rectangle.
Putting it all together:
Cut your rice krispe rectangle into 3 or 4 smaller rectangles widthwise.

Put 4 "rows" of your fillings (see photos) onto each rectangle, leaving about 3 inches of space at the end without fillings.

Use the parchment paper to roll each one into a log, carefully pulling it away as you go.

Use your hands (greased) to squeeze the roll together and make it smaller and tighter.

If desired, sprinkle your rolls with graham cracker crumbs, sprinkles, chocolate chips, etc.

Slice into 1" thick pieces and serve!

Store tightly wrapped in plastic wrap in an airtight container at room temperature!
Nutrition
Serving:
1
piece
|
Calories:
136.8
kcal
|
Carbohydrates:
21.2
g
|
Protein:
1.4
g
|
Fat:
5.4
g
|
Saturated Fat:
3.2
g
|
Polyunsaturated Fat:
0.3
g
|
Monounsaturated Fat:
1.6
g
|
Cholesterol:
9
mg
|
Sodium:
168.7
mg
|
Potassium:
40
mg
|
Fiber:
0.6
g
|
Sugar:
8.7
g
|
Vitamin A:
630
IU
|
Vitamin C:
8.7
mg
|
Calcium:
6
mg
|
Iron:
0.6
mg
Nutrition information is automatically calculated, so should only be used as an approximation.
Did you enjoy this recipe? Have a question? Leave a comment below!
This post contains affiliate links, which means that if you purchase a product through a link you clicked on here, I receive a portion of the sale. Thank you for supporting JoyFoodSunshine!