This is the BEST pumpkin bread recipe! It's easy (no mixer), dense & moist with a perfect crumb, loaded with fall spices and just the right amount of sweetness. Use fresh or canned pumpkin!
It took me many years (and many failed attempts) to create what I could confidently call the perfect pumpkin bread recipe.
I wanted a simple pumpkin bread that wasn't overly sweet and didn't have any weird ingredients (like water – which in my opinion, just doesn't belong in a quick bread)!
So here it is…the BEST pumpkin bread recipe EVER! It's easy to make and doesn't require the use of a mixer! It's dense & moist with a perfect crumb! Plus, this pumpkin bread is loaded with fall spices with just the right amount of sweetness. You can add chocolate chips or cinnamon chips to make it even more special!
Pumpkin Bread: Ingredients & substitutions
Before we walk through how to make pumpkin bread, let's chat about the ingredients in this pumpkin bread recipe!
Pumpkin puree. This recipe calls for 1 1/2 cups of pumpkin puree, which equals one, 15 oz can of pumpkin puree! If you have fresh homemade puree, feel free to use that as well! Just be sure you have drained the water out of it so that it's thick and isn't runny.
Salted Butter. Using butter gives this pumpkin bread the best taste and texture. Coconut oil, canola oil or ghee can be used in place of butter with great results. You can substitute part of the butter with applesauce, but I prefer it with the butter. You can use unsalted butter, but you may need to increase the amount of sea salt!
Brown Sugar. Both light and dark brown sugar work perfectly in this recipe. If you want a more molasses taste, use dark. I usually opt for light because it's what we always have on hand.
Granulated sugar. Any white granulated sugar works great in this recipe. I use organic cane sugar!
Eggs. I have not tried an egg replacement in this recipe, if you do let me know how it goes!
All-purpose flour. Bread flour and pastry flour also work well in this pumpkin bread recipe! You can use an all-purpose gluten-free baking flour for a gluten-free version as well!
Cinnamon. Choose a high quality ground cinnamon for the best flavor!
Pumpkin Pie Spice. I used to make pumpkin pie spice exclusively from scratch, but now I just buy some at the beginning of the season (5 kids = no time LOL)! I have included a recipe for 1 TBS of pumpkin pie spice in the recipe card, but here it is:
Homemade Pumpkin Pie Spice (1 TBS)
Stir the following spices together and use in the recipe in place of pumpkin pie spice.
1 ½ tsp cinnamon
½ tsp nutmeg
½ tsp cloves
½ tsp allspice
How do you make pumpkin bread?
This pumpkin bread recipe comes together in one bowl without any fancy ingredients!
Mix together wet ingredients & sugars
Begin by mixing together the pumpkin puree and melted butter.
Next, add sugars and stir or whisk until the sugars are dissolved and the mixture is homogenous (uniform throughout).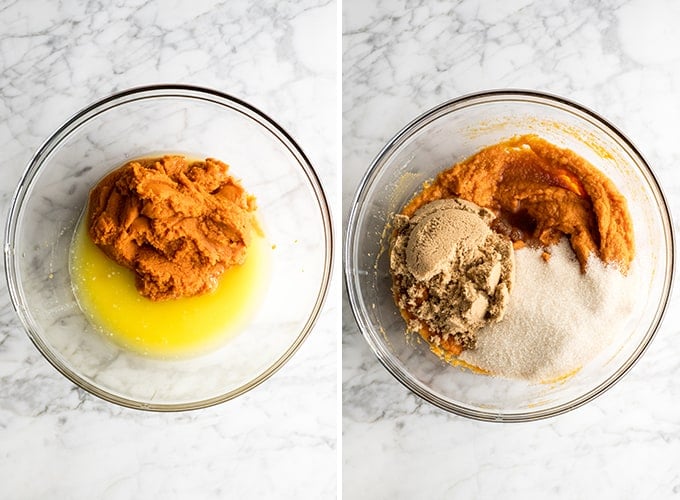 Add eggs & dry ingredients
Add eggs and stir until they're throughly combined. Then add the dry ingredients. You can either mix the dry ingredients together in a small bowl before adding them to the wet ingredients, or just toss them on top. Just be sure to stir them well so they're evenly distributed.
At this point you can add mix ins if you'd like to!
Possible mix ins include (but are not limited to):
Chocolate chips
cinnamon chips
nuts (pecans, walnuts, etc.)
rasins
dried cranberries
white chocolate chips
Put batter in a loaf pan
Grease a 9×5″ loaf pan and pour batter into the pan. You could line it with parchment paper or foil for easy removal, but I find that as long as the pan is throughly greased, this pumpkin bread comes out easily!
Bake
Bake at 350 degrees F for about 1 hour. I recommend baking on the lowest rack in your oven to avoid the top becoming too brown before the center fully baked through. You can also tent the loaf pan with foil if it begins to brown too much.
How do you know when pumpkin bread is done?
You can be sure this pumpkin bread recipe is done when a cake tester or toothpick inserted in the center of the loaf comes out clean. The top will be set and the edges will be slightly browned.
Cool
Let the pumpkin bread cool in the baking pan on a wire rack for at least 1 hour. After 1 hour (or longer) transfer the pumpkin bread to a wire rack to cool completely.
Note: the crust becomes softer if the pumpkin bread cools in an airtight container in the refrigerator overnight!
Store
Store this pumpkin bread in an an airtight container or plastic bag in the refrigerator for up to 1 week!
Serve!
We love serving this pumpkin bread recipe as a special breakfast, snack or dessert! It's great for gifting as well! Here are some serving suggestions:
FAQs about how to make pumpkin bread
Can you freeze pumpkin bread?
YES! To freeze this pumpkin bread recipe follow these instructions, after the bread has cooled:
Slice the loaf.
Individually wrap each slice of pumpkin bread with plastic wrap.
Place wrapped pieces in a freezer-friendly airtight container or plastic bag.
Freeze!
Why did my pumpkin bread not rise?
My first recommendation is to check and see if your baking soda, baking power and eggs are fresh. Next, be sure to not overfill the pan. The bread needs some space to rise in the pan, and if the batter reaches the top of the pan it will fall. If you have extra batter I suggest making muffins with it!
What can I make with pumpkin?
I have lots of delicious ideas for you if you're looking to make something with pumpkin, besides this pumpkin bread of course!
IF YOU MAKE SOMETHING FROM JOYFOODSUNSHINE I WOULD LOVE TO SEE YOUR CREATIONS! DON'T FORGET TO RATE THIS RECIPE AND LEAVE A COMMENT BELOW! ALSO, FOLLOW ALONG WITH ME ON INSTAGRAM, PINTEREST, FACEBOOK, YOUTUBE AND TWITTER FOR MORE RECIPE INSPIRATION AND A GLIMPSE INTO OUR EVERYDAY LIFE!
Best Pumpkin Bread Recipe
This is the BEST pumpkin bread recipe! It's easy (no mixer), dense & moist with a perfect crumb, loaded with fall spices and just the right amount of sweetness. Use fresh or canned pumpkin!
Instructions
Preheat oven to 350 degrees F.

Grease a 9x5" loaf pan, set aside.

In a small bowl, mix together flour, pumpkin pie spice, cinnamon, baking powder, salt and baking soda. Set aside.

In a large bowl whisk together pumpkin puree and melted butter.

Add brown sugar and granulated sugar and stir until combined and there are no lumps.

Add eggs and vanilla and stir to combine.

Add dry ingredients and stir until batter is smooth.

If desired, add mix-ins like chocolate chips, cinnamon chips, walnuts, etc. and stir until evenly distributed.

Pour batter in to prepared loaf pan and use a spatula to smooth out the top.

Bake in preheated oven for 60-65 minutes, or until a cake tested inserted into the center of the loaf comes out clean.

Let pumpkin bread cool in the loaf pan on a wire rack for at least 1 hour before removing it, or overnight.
Notes
How to store pumpkin bread: 
Store pumpkin bread in an airtight container or plastic bag in the refrigerator.
Note:  The crust gets softer after it has been chilled in the refrigerator.
Homemade pumpkin pie spice (1 TBS)
1 tsp ground cinnamon
½ tsp ground nutmeg
½ ground ginger 
½ tsp ground cloves
½ tsp ground allspice
Nutrition
Calories:
306
kcal
|
Carbohydrates:
49
g
|
Protein:
4
g
|
Fat:
11
g
|
Saturated Fat:
6
g
|
Cholesterol:
74
mg
|
Sodium:
285
mg
|
Potassium:
118
mg
|
Fiber:
1
g
|
Sugar:
31
g
|
Vitamin A:
370
IU
|
Vitamin C:
1
mg
|
Calcium:
58
mg
|
Iron:
2
mg
This post contains affiliate links, which means that if you purchase a product through a link you clicked on here, I receive a portion of the sale. Thank you for supporting JoyFoodSunshine!